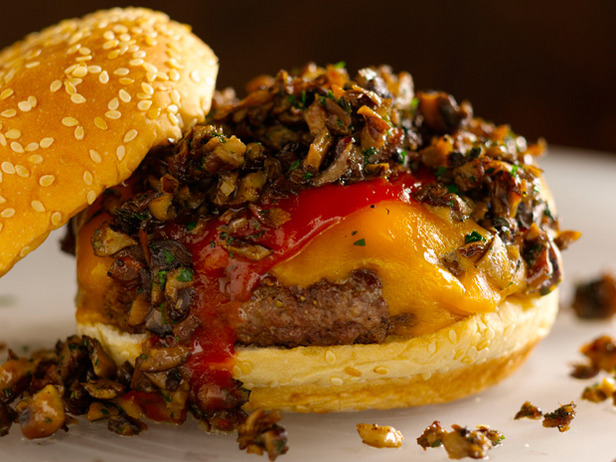 Wild Mushroom Cheddar Burgers
Recipe courtesy of Bobby Flay – His line of grilling tools are available at Kohl's
Makes 4 servings.
Ingredients:
2 tablespoons olive oil
1 tablespoon unsalted butter
12 ounces assorted mushrooms (cremini, lobster, chanterelle and shiitake), coarsely chopped
1 shallot, finely diced
Kosher salt and freshly ground black pepper
3 tablespoons chopped fresh flat leaf parsley
1 tablespoon chopped fresh thyme
1 ½ pounds ground chuck (80/20 percent) or ground turkey (90/10 percent)
Kosher salt and freshly ground black pepper
2 tablespoons canola oil
4 slices sharp Cheddar
4 hamburger buns, split and toasted, if desired
Directions:
1. Heat the oil and butter in a large cast-iron pan over high heat until almost smoking. Add the mushrooms and cook, stirring occasionally, until soft, about 5 minutes. Add the shallot, some salt and pepper and cook until the mushrooms are golden brown, about 5 minutes longer. Stir in the parsley and thyme and transfer to a bowl.
2. Divide the meat into four equal portions about 6 ounces each. Form each portion loosely into a ¾-inch-thick burger and make a deep depression in the center with your thumb. Brush both sides with the oil and sprinkle with salt and pepper.
3. Heat a grill pan over high heat. Cook the burger until slightly charred on both sides and cooked to desired doneness. Add the cheese to the burgers during the last minute of cooking and cover with a basting cover or tent with foil.
4. Top the cheeseburgers with a few large spoonfuls of the mushrooms. Serve with the hamburger buns.