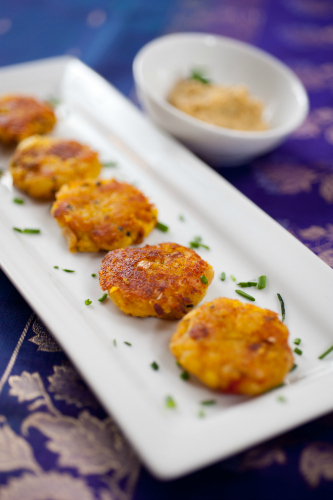 Potato Cutlets
Ingredients:
2 medium Russet potatoes, peeled and cubed (2 cups)
1/2 teaspoon ground turmeric (divided)
1 tablespoon oil
1/2 teaspoon cumin seeds
1/2 cup chopped onion
1/4 cup chopped tomato
1 fresh green chili pepper, chopped (more or less to taste)
1/2 tablespoon grated fresh ginger
1/8 teaspoon cayenne pepper (more or less to taste)
1/4 teaspoon salt (more or less to taste)
1/4 cup minced fresh cilantro
Instructions:
1. Place potatoes in 2-quart saucepan. Add enough water to cover potatoes. Add ¼ teaspoon turmeric and bring to a boil. Reduce to a simmer and cook about 20 minutes or until potatoes are tender when pierced with a fork. Drain and discard water. Reserve potatoes.
2. Heat oil in a skillet over medium-high heat (the oil should be hot but not smoking). Add cumin seeds and stir until seeds change color from light brown to semi-dark brown.
3. Add onion, tomato, and green chili pepper. Cook for 1 minute while stirring. Add remaining ¼ teaspoon turmeric, ginger, cayenne, and salt. Stir to blend.
4. Add potatoes and mash as they cook over medium heat for 2 to 3 minutes. Add cilantro and mix.
5. Preheat oven to 400°F.
6. Using 1 tablespoon of potato mixture for each, form potato mixture into balls and flatten into round patties. Spray with cooking spray or brush with oil.
7. Place the patties on a baking sheet. Bake each side for 3 to 5 minutes. (If desired, cook in a skillet: Place potato patties in a slightly-oiled, heated skillet and brown on both sides until golden brown.)
Yield: 14 cutlets
"Excerpted with permission from Indian Inspired Gluten-Free Cooking by Alamelu Vairavan & Margaret Pfeiffer, MS, RD, CLS. Reprinted Courtesy of Hippocrene Books, Inc. Photo credit: Linda Guminey."

Indian Inspired Gluten-Free Cooking

by Alamelu Vairavan & Margaret Pfeiffer
isbn 978-0781813068
Pub. date 5/15/13