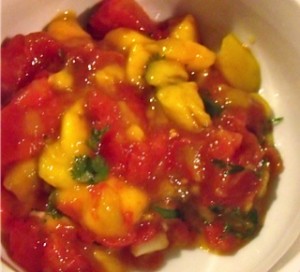 It's mango time! I have been thrilled with the flavor and price of fresh mangos lately, so we've been going through a lot of them.
Mango Salsa
Ingredients:
2 large mangos, chopped
4 small tomatoes, chopped (or 2 large)
3 cloves garlic, chopped
1 green onion, chopped
2 stems cilantro, chopped
lime juice (from 1 key lime, 1/2 full size lime or a few squirts of lime juice)
Instructions:
1) Combine all ingredients
2) Chill for at least an hour to give the flavors time to blend
3) Serve with chips or as a condiment with fish, rice or…..
The salsa is delicious and can be used with many foods. If it sounds good, try it!