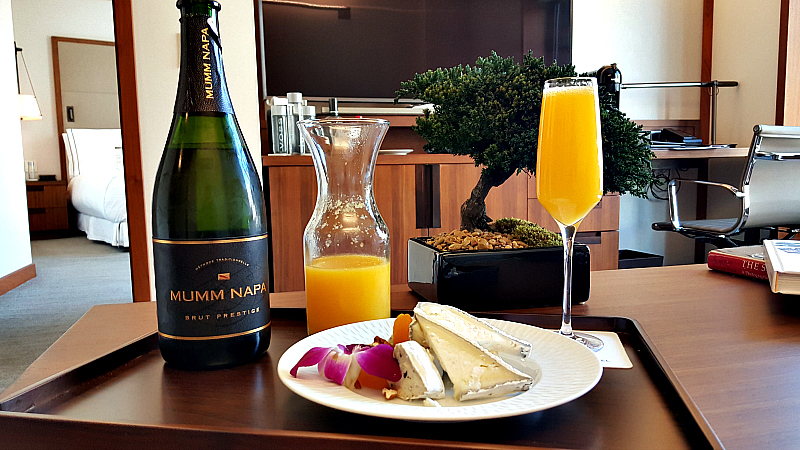 The Clement All Inclusive
Have you ever wanted to have a personal chef? Yes, of course! When you stay at The Clement all inclusive hotel in Palo Alto, you'll have that experience.
At The Clement, food and drinks are included. The on-site chef and kitchen staff are ready to handle all of your needs, even if you have dietary restrictions or are just plain picky.
Prior to my arrival, I was emailed a questionnaire to complete. They used my responses to stock my room with my favorite beverages and snacks and the kitchen staff was prepped with my allergy information.
After I got comfortable in my room, I popped a bottle of Mumm Napa Brut Prestige and made myself a fresh squeezed orange juice mimosa. They also had a cheese plate and fresh fruit waiting for me in the room's mini-fridge.
I also met with the chef to discuss dinner and find out which of the menu items would work with my allergies. However, he encouraged me to ignore the menu and just let him know what I felt like eating.
My meal was simple and just what I wanted - Brussels sprouts and heirloom carrots cooked in a garlic sauce and served with coconut rice. If you are someone who prefers seafood or a fine cut of meat, they can do that for you, too.
They keep their kitchen stocked with a variety of food, but expect to make special trips to pick up additional special requests as needed. My dinner used ingredients they already had, but they were perfectly willing head to the market for me. Also, the guest pantry is well-stocked, so guests can help themselves to self-service food and drinks 24/7.
Photo Gallery