Anaheim White House
Looking for a classy meal out? The Anaheim White House is a great choice!
We went to the restaurant for a family birthday lunch. The food, decor and service was perfect for this special occasion. On weekends and in the evening, reservations are definitely recommended. It wasn't crowded for our late, weekday lunch and we had the Abraham Lincoln private dining room all to ourselves.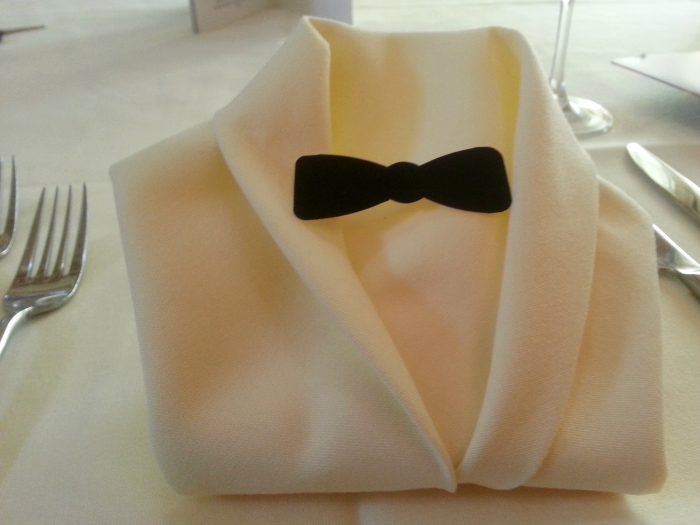 The menu is fantastic. We all had a hard time choosing, since everything sounded so good. We ordered a few appetizers to share. Then we made sure we all ordered different entrees, so that we could taste each others.
As you can see from the photos, they really do a great job with presentation. Every dish was special.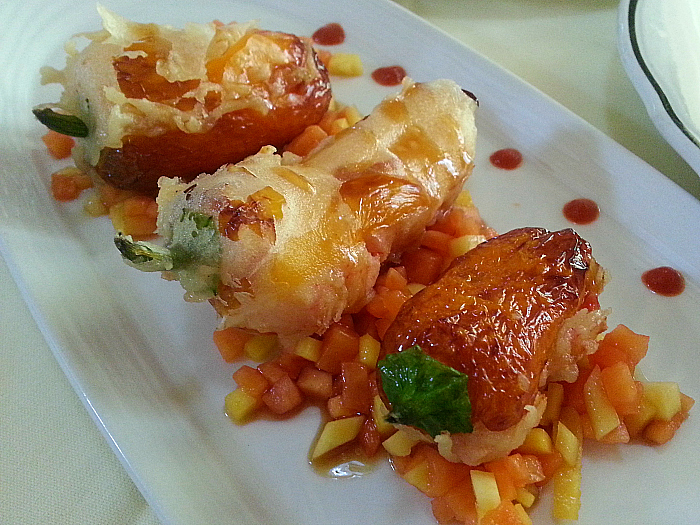 Sweet Pepper Al Frommagio
Our appetizers (top photo) included Lobster Ravioli, Tempura Artichoke Hearts and Sweet Pepper Al Frommagio. The Lobster Ravioli is said to be Gwen Stefani's favorite!
I had gluten free & vegetarian Kale Raviolis served with mango cream. I hadn't ever had a combination like this before, but the fruit worked well with the pasta. It was delicious!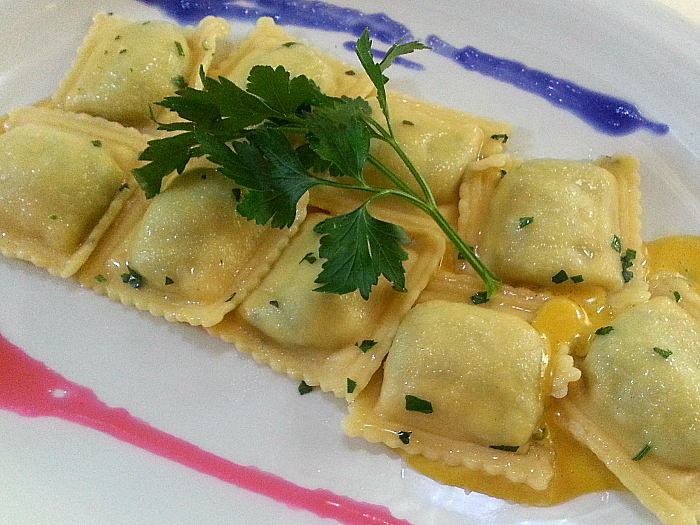 The White Chocolate Salmon is a White House favorite. The salmon is steamed and served on top of Belgium 'white chocolate mashed potatoes.' The chocolate flavor comes through and this clever dish has a unique flavor profile that works well.
My family loved the generously portioned Blackened Ahi Tuna. It's served with salad in an edible bowl and a relish made of mango and papaya.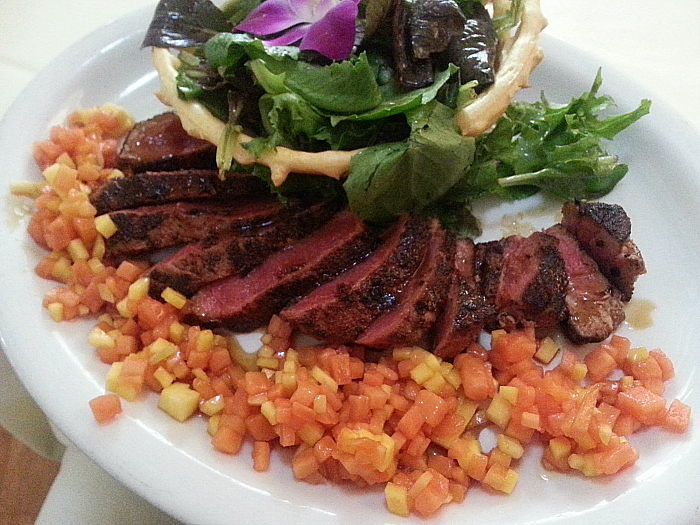 We were absolutely satisfied and stuffed, but it was nice to have a special dessert to finish off our wonderful meal.
The Anaheim White House is a great place for a special dinner or lunch. If you have a large group, they can arrange for a private banquet. I attended one a few years ago on their upstairs balcony and it was lovely.
Happy Birthday!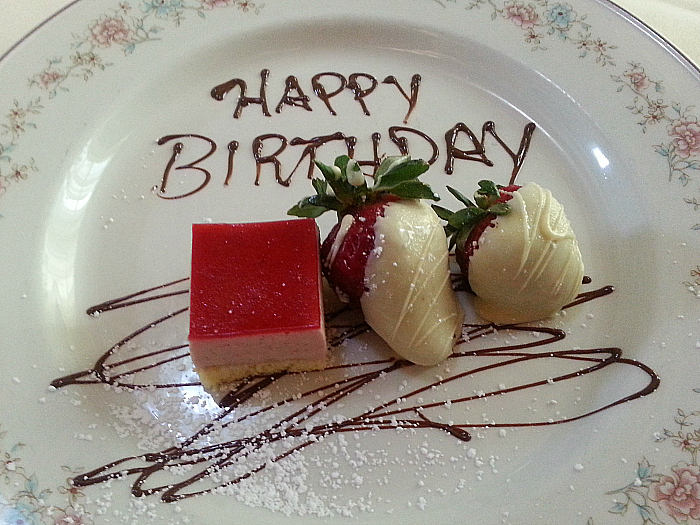 If you need one more reason to visit the Anaheim White House, I can give you a big one. Restauranteur Bruno Serato is known around Anaheim for more than just owning a fine restaurant. After realizing how many hungry children there are in the Anaheim area, he began Catarina's Club (named after his mother). Each week he provides over 6,000 hot meals to low income children. They've already served over a million meals. The organization has also helped many families relocate from local motels to homes.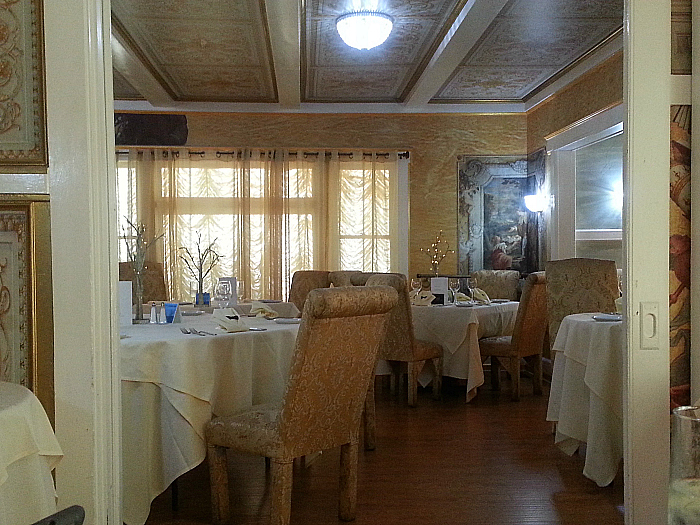 The Anaheim White House
887 S Anaheim Blvd.
Anaheim, California 92805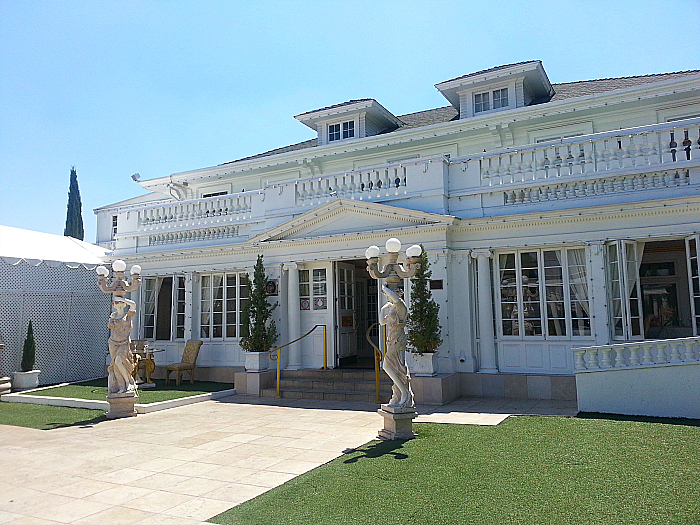 Check out my other restaurant reviews, so you can plan your next delicious adventure.
Take advantage of these California vacation deals, so you can save money and have a great time.