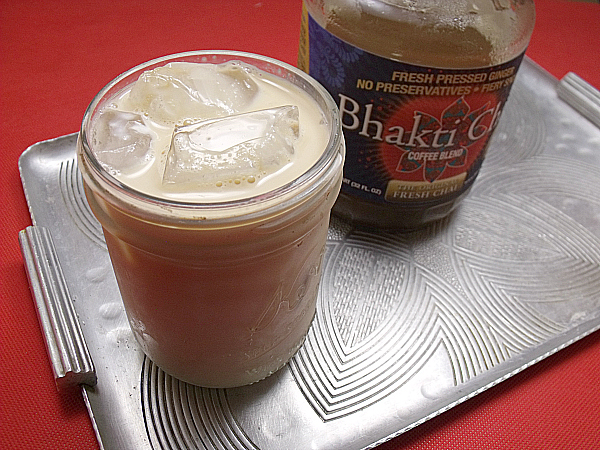 I love chai… the good stuff, made from scratch by experts. I've attempted to recreate this at home using powders and mixes. It's ok, but is nowhere near as good as the real thing.
Bhakti Chai is the real deal and I can mix it up at home in less than minute!
The liquid concentrate is made from fair trade black tea, organic fresh-pressed ginger and spices. It's full of flavor, rich in antioxidants and gluten-free.
I sampled Bhakti Chai in the following varieties:
Original – Contains cane juice for sweetness
Coffee Blend – Like the Original, but with cold-pressed organic coffee added
Unsweetened – No sweetener at all. Agave, honey or stevia may be added
This time of year, I prefer my chai iced. The concentrates can also be used for hot chai, if that's what you prefer.
Since it's concentrated, you'll need to add your own liquid of choice – milk, water, almond milk, rice milk or something similar. They recommend mixing 1 part Bhakti with 1 part other liquid. This can be adjusted as needed, if you like it extra strong or extra mild.
My first iced chai was made with low-fat milk. It was creamy and rich. My next batch was made mixing it with cold water and adding a few ice cubes. This is my favorite combination. When I make it hot later in the year, I may want to go back to milk. For a hot Summer day, mixing it with water for a light and energizing treat is just perfect!