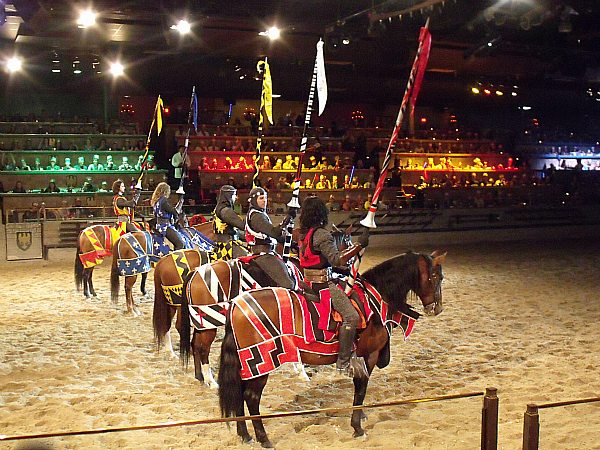 Dinner and Tournament
Yes, Medieval Times vegetarian entrees are available, so I had a great time.
A Dinner & Tournament has been on my to-do list for decades.
For several years, I drove by their Buena Park location on my way to work every weekday, but had never been.
Finally, I have experienced it for myself.
And … the food and show were fabulous!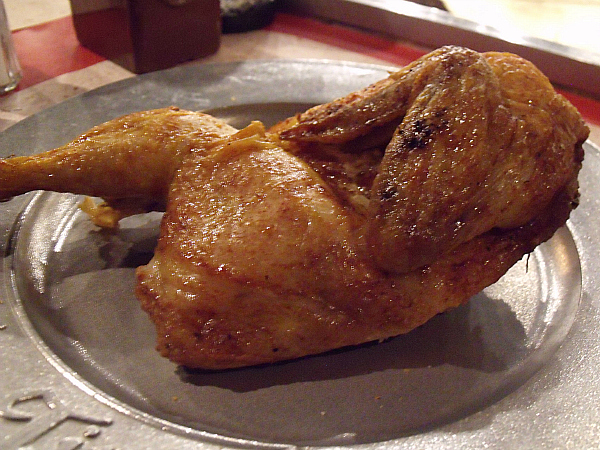 When I think of food at Medieval Times, I naturally think of big hunks of meat that are eaten without utensils.
My meat-eating family was thrilled with this, so they liked the chicken and ribs.
I saw on the website ahead of time that they do have a vegetarian option available.
To be honest, I wasn't expecting it to be that good, since their specialty is meat.
I planned on enjoying the show, but expected to be making my own dinner after we got home.
Medieval Times Vegetarian Stew
To my surprise, it was delicious and filling!
The bucket of stew contained rice, potatoes, beans, vegetables and seasoning.
Vegetarians get to use spoons while the meat eaters use their hands for the entire meal.
I was full after eating about 1/2 of it, so my son finished it off. We both thought it was great.
They were very accommodating to vegetarians, so it wasn't awkward at all.
We were asked if there were any vegetarians in our party when we checked in.
Then, they double checked again when we were seated.
I could see other vegetarians sitting near me, so I was definitely not the only one.
Trained Horses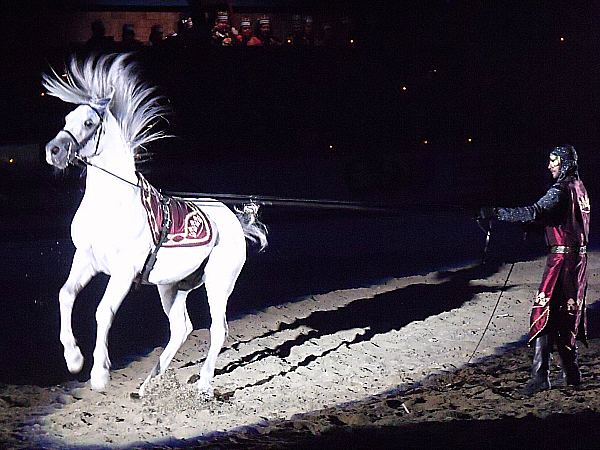 There are several options for tickets. You can choose a regular ticket or add on an upgrade.
We got the "Royalty" upgrade which includes preferred seating, commemorative program, cheering banner and DVD.
Our seats were in the second row near the King, so the view was fantastic. It was really nice being close to the action.
"Our knight" came over to talk with us several times and even handed roses to many of the ladies in the audience.
I would definitely recommend getting an upgrade, since it doesn't cost much more. It really adds to the experience.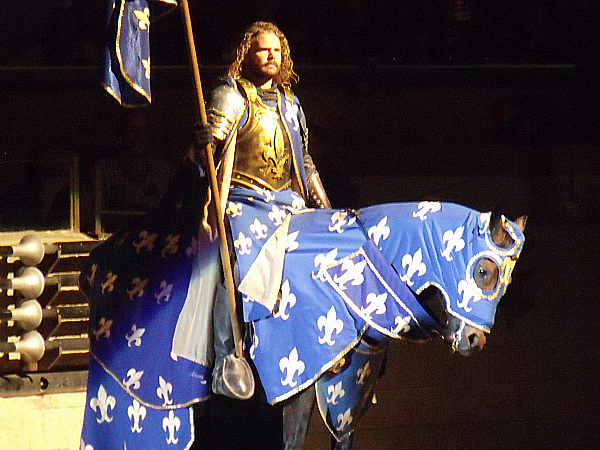 The show was a lot of fun. It's very interactive and they definitely make the audience feel like part of the show.
We didn't just watch the jousting. We experienced the whole tournament and the story that went along with it from start to finish.
Knights were able to show off with some skill tests and then they competed one on one.
There was jousting and hand-to-hand combat with an assortment of medieval weapons. They aren't just props.
Wooden lances were shattered and metal weapons sparked as they crashed together.
It was choreographed well and no one was hurt, of course. This was amazing to watch.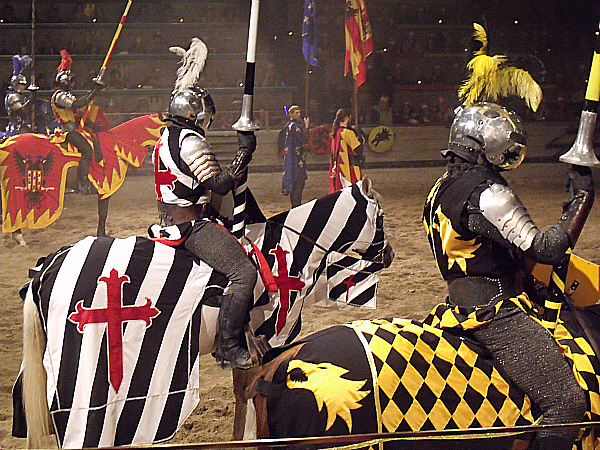 There were also horse demonstrations and a falconer who showed off his skills. It was beautiful to see the falcon swoop down low over the audience.
Medieval Times is fun for a date, a family night out or a large group activity.
I am definitely going to have to go back again!