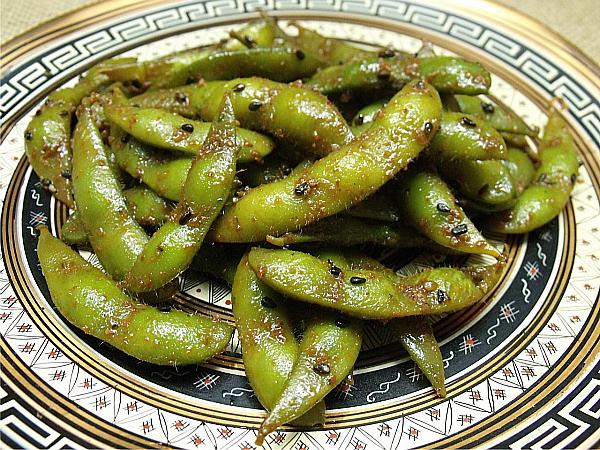 Edamame makes a wonderful snack or side dish. These immature soybeans taste great and contain fiber, protein, vitamins and minerals. I like ordering them in restaurants and eating them with a little bit of salt.
Thanks to Melissa's, we can now enjoy this nutritious food at home.
This Ready-To-Eat Spicy Edamame is actually better than what I've had in restaurants. It tastes very fresh and has extra seasoning added.
I am a wimp, so I had my fire-breathing kids try it out first to see if it was 'safe' for me. Yes, it is. The edamame is spicy as in flavorful, not catch your mouth on fire spicy. It does have a kick, but I thoroughly enjoy it.
The Spicy Edamame is full of flavor. Ingredients include: sesame oil, soy sauce, black and white sesame seeds, ginger and chile pepper. It looks pretty and tastes delicious.
You'll find the product in the refrigerator section of the grocery store. It's already been cooked, so is ready to eat. My family prefers it cold, probably just because we can start eating it a minute earlier, but you can also heat it in the microwave.