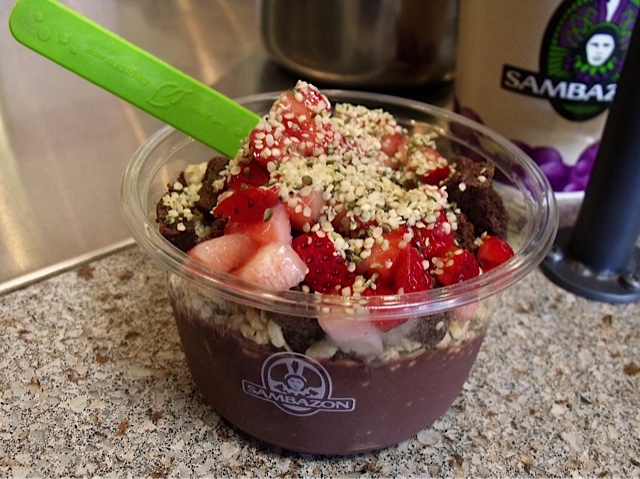 SAMBAZON AÇAÍ CAFÉ
3138 West Balboa Blvd.
Newport Beach, CA
Doesn't this look delicious? It was!
I use Sambazon Açaí Smoothie Packs at home a lot. They are packed full of nutrition and taste great.
This was my first time to go to the Sambazon Açaí Cafe and also my first time to have my açaí in a bowl instead of in a smoothie. Now, I'm hooked. I plan to go back to the cafe and to also make these at home.
Sambazon had a special event at the cafe for bloggers, so I got to tour the cafe and make my own bowl under the guidance of the açaí bowl professionals there.
The bowls start with a liquid and two Sambazon Açaí Smoothie Packs. I chose Pacific Chocolate Hemp Milk for my liquid. Then most people add a banana, which I chose to skip. The mixture gets blended until it's thick and smooth.
Then it's time for the toppings. Mine is topped with hemp granola, strawberries, gluten-free brownies and hemp seeds.
This was my breakfast and it was just perfect. The bowl filled me up and energized me for the day. Yes, I know that brownies don't usually get added to breakfast, but they really were good and everything else was incredibly nutritious. With or without brownies açaí bowls can be a satisfying meal or dessert!