Oh my! The desserts at Tamarind of London are both beautiful and delicious!
Pastry Chef Mark Medina has done an amazing job with the dessert menu. He's taken traditional Indian desserts and combined them in new ways. Parts of the dishes are familiar, but they are combined in unique ways for a one of a kind treat. The results are exquisite.
Gulab Jamin is a dessert that I've had at Indian buffets before. The dumplings are soaked in a sweet syrup and make a nice finish to a savory meal. This is a dessert you'd expect to see on the menu at an Indian restaurant. Chef Medina adds his own special touch to it by topping the hot dumplings with a cookie and then adding a scoop of rich, cold pistachio and cardamom kulfi, fresh mint and a blackberry. This modern interpretation of the traditional dessert is a real treat.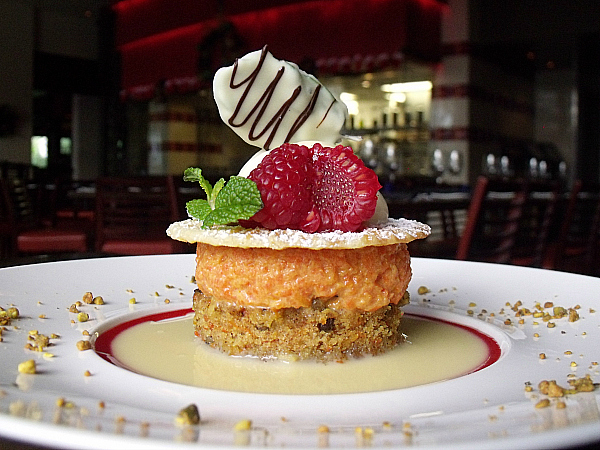 Another dessert I've had buffet style before is Carrot Halwa. His elevated version has a layer of carrot cake on the bottom along with a cookie that separates the warm and cold. The flavors and textures work well together.
My favorite dessert was the Ras Malai. Like the others, it is absolutely beautiful and a perfect combination of flavors (paneer dumplings, rose pastry cream, pistachio, berries, pomegranate…) and a variety of soft and crunchy textures.
The desserts are easy to share and a wonderful way to finish a meal in a memorable way. If you'll be celebrating a birthday or anniversary at the restaurant, you can let the hostess know in advance when you make your reservation so that Chef Mark can prepare an extra special dessert for the occasion.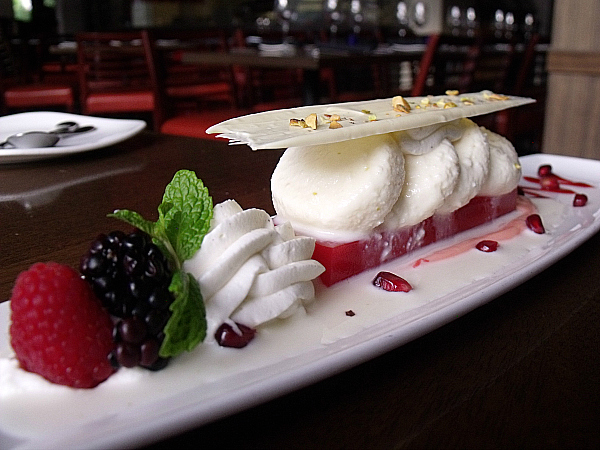 Tamarind of London
7862 East Pacific Coast Highway
Newport Beach, California 92657
949-715-8338