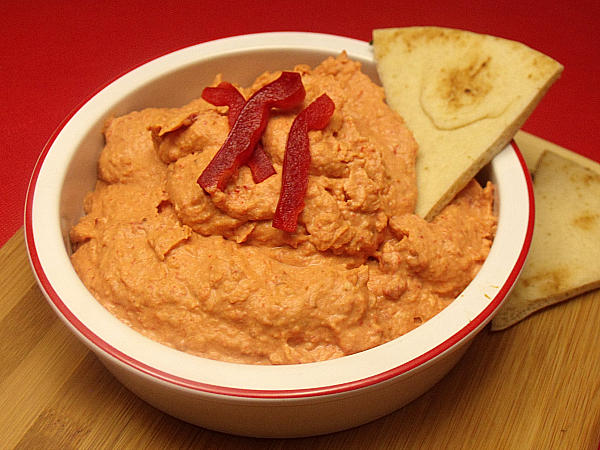 Hummus is something that I buy at the grocery store and order at restaurants regularly. It tastes great and is a good source of protein.
For some reason, I hadn't ever thought of making it myself. Now that I know how easy it is to make and how much better homemade tastes, I make it often!
Roasted Red Pepper Hummus
Ingredients:
15 ounce can Chickpeas (Garbanzo Beans), drained
1/2 cup Roasted Red Bell Peppers (store bought or homemade, instructions below)
1/4 cup Tahini (Tahina)
1/4 cup Lemon Juice (approx. 1 large lemon)
3 Garlic Cloves
1/2 t Salt
Roasted Red Pepper Instructions:
Pre-heat oven to 400º
Remove pepper's core, seed and stem. Slice into wedges.
Place cut side down on baking sheet lined with parchment paper or silicone baking mat.
Roast approx. 15 minutes until skin is blackened and peppers are tender.
Peel peppers prior to using.
Hummus Instructions:
Combine all ingredients in blender or food processor.
Blend briefly until smooth and creamy.