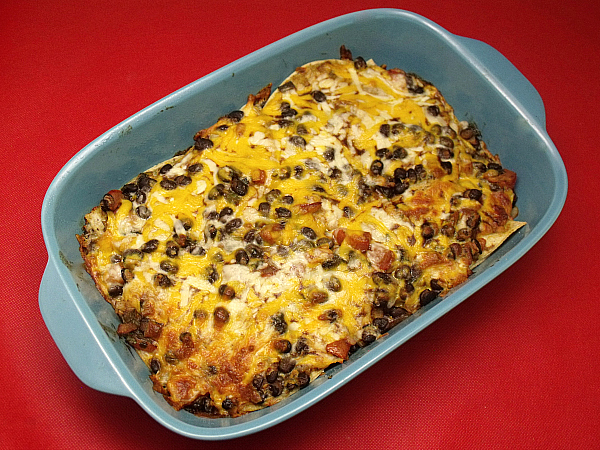 This delicious casserole is easy to assemble and doesn't take long to bake. I'm a wimp, so I go easy on the spice. Those of you who like it hot can add more before it goes into the oven or just douse it with hot sauce before you eat.
Vegetarian Mexican Tortilla Casserole
Ingredients:
2T Olive Oil
1 Mexican Green Onion, chopped
3 Cloves Garlic, chopped
2T Cilantro, chopped
1 15 oz. Can Black Beans
1/2 t cumin
1/2 t Hatch chile powder
Salt to taste
1 cup shredded cheese
9 Corn Tortillas
Optional:
Sour Cream and/or guacamole
Instructions:
Pre-heat oven to 400°.
Heat olive oil in a skillet. Add onion and garlic when the oil is hot.
Cook for 2-3 minutes until soft and then add all other ingredients (except tortillas and cheese).
Simmer for 5-10 minutes.
Lightly cover baking dish with non-stick cooking spray.
Place three tortillas in the bottom of the dish. Top with 1/3 of the seasoned bean mixture and 1/4 cup cheese.
Repeat for the 2nd layer.
Repeat for the 3rd layer using the remaining mix and a 1/2 cup of cheese.
Bake for 15-20 minutes until cheese starts to brown.