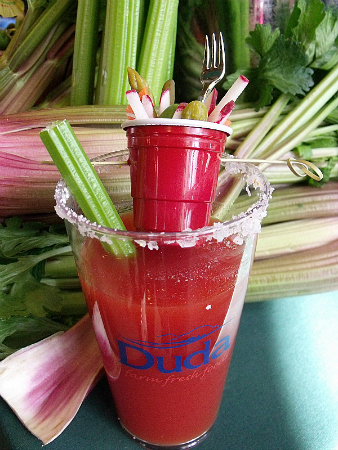 One time at band Camp Blogaway, the other food bloggers and I were challenged to a fun little competition by Duda Farm Fresh Foods.
When we arrived at our tables we each had a Duda cup with a Dandy Celery Straw in it. These celery straws are amazing. Instead of being a semi-circle like celery usually is, they are an enclosed circle and can, in fact, be used as a straw. They aren't franken-food and are non-GMO. This particular variety of celery grows this way.
We were given an assortment of ingredients to create our own drink. The lime salt and juice added some nice flavor to mine and it's cute enough to serve at a party as is or with a "21 and over" addition.
Virgin Bloody Mary Recipe
Beverage Ingredients:
Tomato Juice
1 t Lime Juice
Garnish Ingredients:
Margarita Lime Salt
Dandy Celery Straw
Dandy Radish MiniSticks
Pickled Veggies (Carrot, Asparagus, Green Bean, Gherkins)
Olives
Supplies:
Large Glass
Small Disposable Cup
Bamboo Skewer or Pick
Instructions:
Rim the glass with salt.
Fill with tomato juice, lime juice and vodka (optional) to a couple inches from the top of the glass.
Stir with the celery straw to blend and leave the straw in the glass.
Poke the skewer/pick through both sides of the little red cup just below the rim.
Fill cup with veggies and balance on top of the glass.
Serve and enjoy!