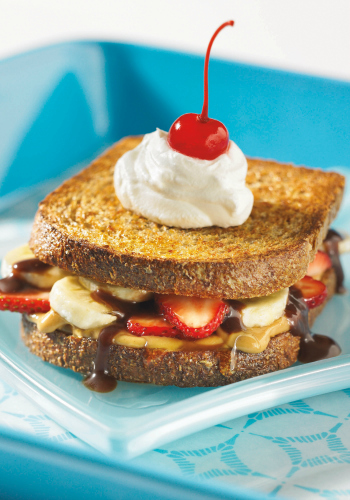 Photo credit: Colin Erricson
Banana Split Panini
Serves 2
Preheat panini grill to high
Ingredients:
4 slices honey wheat bread
1 tbsp butter, melted
2 tbsp creamy peanut butter
1 banana, sliced
1⁄2 cup thinly sliced strawberries
1 tbsp liquid honey
1 tbsp chocolate syrup
2 tbsp whipped cream
2 maraschino cherries (with stems)
Instructions:
1. Brush one side of each bread slice with butter. Place two slices on a work surface, buttered side down, and spread with peanut butter. Evenly layer with banana and strawberries. Drizzle with honey and chocolate syrup. Cover with top halves, buttered side up, and press gently to pack.
2. Place sandwiches in grill, close the top plate and cook until golden brown, 3 to 4 minutes. Serve immediately, topped with whipped cream and cherries.
"Excerpted from 200 Best Panini Recipes by Tiffany Collins © 2013 Robert Rose Inc. www.robertrose.ca Reprinted with publisher permission."