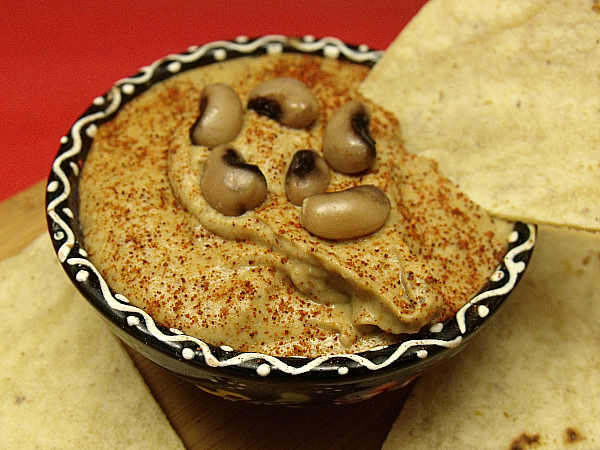 Black eyed peas on New Year's Day are a Southern tradition that are said to bring good fortune throughout the new year. I'm not from the South, but am happy to eat delicious food and can always use some good luck,
Usually, when I make hummus, I use chickpeas (garbanzo beans) and tahini. For this lucky dish, I used blackeyed peas instead.
Black Eyed Pea Hummus
Ingredients:
1 11 oz. Pkg. Melissa's Steamed Black Eyed Peas (or one 15 oz. can, drained)
4 Green Onions, chopped
4 Cloves Garlic, chopped
3 T Extra Virgin Olive Oil
2 T Lemon Juice
1 t Hatch Chile Powder
1/2 t salt (more or less to taste)
Instructions:
Combine all ingredients in a high speed blender. (The KitchenAid Diamond Blender gets the job done quickly.)
Blend until creamy.
Scoop into a serving bowl.
Serve with chips or pita bread.
Optional: Top with additional Hatch chile powder and a few black eyed peas.