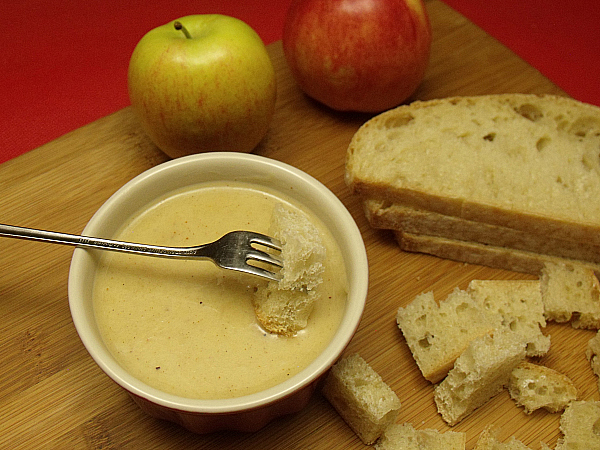 Fondue can make an ordinary meal feel like a party. Last year I took a fondue making class and learned that it's a whole lot easier to make than I thought. Often fondue is made with wine or other 'adult' beverages, but this one is made with sparkling cider and is great for all ages.
Roth Grand Cru Cheese from Wisconsin is known for it's good melting qualities. I prefer the Original that has been aged for 4 months. My son prefers the bolder taste of the Reserve that is aged 6-9 month. We compromised for this fondue and used 4 ounces of each, which made both of us happy, but either type can be used. The flavor of the cheese is absolutely delicious.
Cheese Fondue
Ingredients:
8 ounces Shredded/Grated Cheese (I used Roth Grand Cru Alpine-style Cheese)
1/2 cup Sparkling Apple Cider
1 t Cornstarch
1/4 t Ground Nutmeg
1/4 t White Pepper
Bread, fruit or other dippers
Instructions:
Toss cheese and cornstarch together. The cornstarch will lightly coat the pieces of cheese.
Put water in the bottom of a double boiler and bring to a boil.
Add sparkling cider to the top pan and let it quickly come to a boil. Then reduce heat to medium.
Slowly add cheese too the hot cider stirring frequently until cheese is melted and creamy. Add nutmeg and pepper.
Serve in a fondue pot or individual ramekins. If you don't have a heat source under the fondue, you'll need to eat it quickly while it's still hot.
Serve with bread, fruit or veggies.