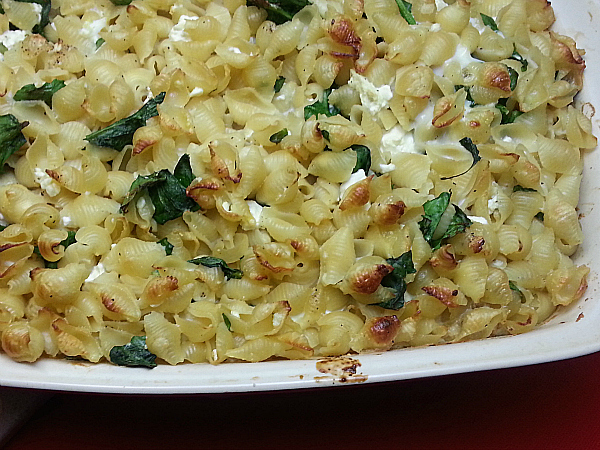 Macaroni and cheese is my favorite comfort food. I make it at home regularly and often order it when I'm out at restaurants. This feta cheese version is lighter than some and also contains the flavor and nutrition of spinach.
When I make mac 'n cheese, I like to make enough for a meal and leftovers. This recipe will feed a crowd as is. The recipe can also be halved, if you don't like leftovers as much as I do.
Feta and Spinach Mac 'n Cheese
9″ x 12″ Deep Baking Dish, buttered
Pre-heat oven to 400°
Ingredients:
2 1 lb. packages of pasta (elbow mac, small shells, etc.)
6 Eggs
4 cups Milk
1 t Salt
1 t Granulated Garlic (or garlic powder)
1/2 t Black Pepper
1 bunch Spinach
1 lb. Feta Cheese, crumbled
Instructions:
Cook pasta according to package instructions.
Mix together eggs, milk, salt, garlic and pepper.
Pour cooked, drained pasta into buttered baking dish. Add liquid mixture, spinach and feta. Stir together.
Bake for approx. 40 minutes until top is just starting to brown.