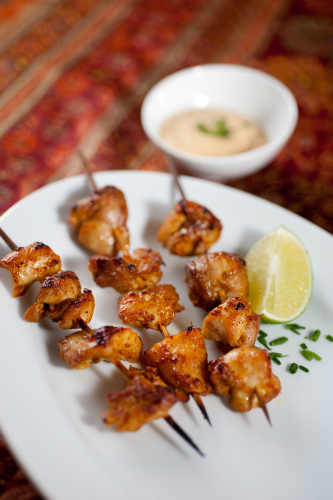 Chicken Tikka Kebabs
Ingredients:
4 boneless, skinless chicken thighs or breasts, patted dry with paper towels
Marinade:
1/2 teaspoon cayenne pepper
1/4 teaspoon ground cardamom
1/4 teaspoon dry fenugreek/methi leaves (optional)
1/4 teaspoon curry powder
1/4 teaspoon salt (more or less to taste)
1 tablespoon fresh lemon juice
1/2 tablespoon grated fresh ginger
1/2 tablespoon minced garlic
2 tablespoons plain low-fat yogurt
Equipment:
8 (6-inch) wooden skewers, soaked in water for 30 minutes
Instructions:
1. Cut the chicken into bite-size cubes.
2. Whisk the marinade ingredients in a glass bowl. Add the cubed chicken, turning to coat. Cover and marinate for 1 hour in the refrigerator, stirring several times.
3. Preheat broiler to 500°F. Line a baking sheet with foil.
4. Thread chicken cubes onto the soaked wooden skewers, leaving about 1/4-inch space between pieces to allow for even cooking.
5. Place the skewers of chicken on the baking sheet. Spray chicken lightly with oil.
6. Broil for 20 to 25 minutes, turning halfway through cooking time.
Yield: 8 kebabs
"Excerpted with permission from Indian Inspired Gluten-Free Cooking by Alamelu Vairavan & Margaret Pfeiffer, MS, RD, CLS. Reprinted Courtesy of Hippocrene Books, Inc. Photo credit: Linda Guminey."

Indian Inspired Gluten-Free Cooking

by Alamelu Vairavan & Margaret Pfeiffer
isbn 978-0781813068
Pub. date 5/15/13