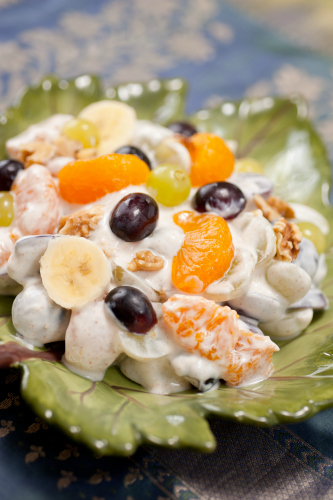 Fruit and Yogurt Medley with Walnuts
Ingredients:
1 1/2 cups plain low-fat yogurt
1/2 teaspoon sugar (or stevia equivalent)
1/2 teaspoon ground cumin
1/8 teaspoon cayenne pepper (more or less to taste)
1/2 cup seedless black grapes, halved
1/2 cup seedless green grapes, halved
1/2 firm banana, sliced
1 (5-ounce) can mandarin oranges, drained
1/4 cup chopped walnuts
Instructions:
1. Whisk the yogurt, sugar (or stevia), cumin, and cayenne pepper in a bowl until smooth.
2. Add grapes, banana, oranges, and nuts, reserving a few pieces of each. Stir gently.
3. Serve garnished with reserved fruit and nuts.
Yield: 2 cups
Serving size: 1 cup
"Excerpted with permission from Indian Inspired Gluten-Free Cooking by Alamelu Vairavan & Margaret Pfeiffer, MS, RD, CLS. Reprinted Courtesy of Hippocrene Books, Inc. Photo credit: Linda Guminey."

Indian Inspired Gluten-Free Cooking

by Alamelu Vairavan & Margaret Pfeiffer
isbn 978-0781813068
Pub. date 5/15/13