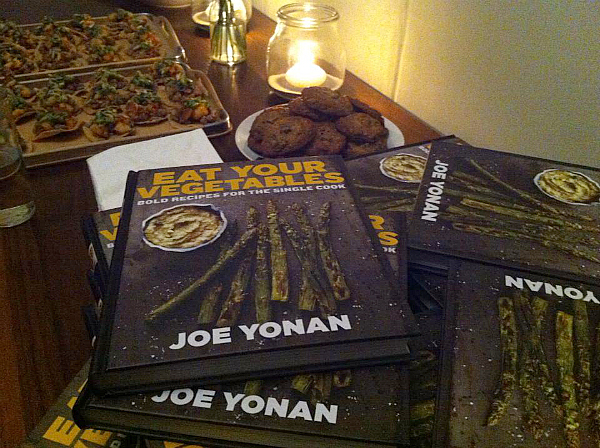 The new cookbook, Eat Your Vegetables Bold Recipes for the Single Cook, is a collection of creative and flavor-filled vegetarian recipes as well as helpful tips for making smaller portions and storing leftover ingredients.
I had the opportunity to attend the Los Angeles launch party hosted by Joe Yonan and his publicist, Sue Jean. The dishes served were all made by Joe and Sue Jean from recipes found in the new book.
The spread was colorful and intriguing. While most of the dishes looked familiar at first glance, a closer look at the label would reveal a creative combination of ingredients. For example, Joe made sure to recommend we try the Kimchi Deviled Eggs.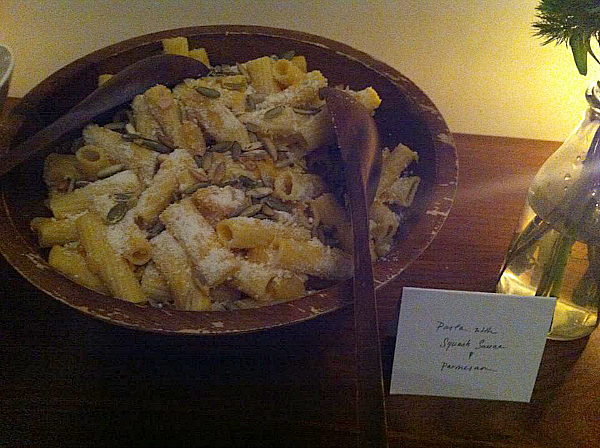 The book covers salads and entrees, appetizers and desserts. What I find to be most helpul is that Joe not only creates recipes that allow you to make a small portion, he also offers amazing tips for the single cook (or for the lone vegetarian in the house). While chatting with Joe at the launch party, he shared a few secrets in making the (delicious!) Kale and Mango Nicoise Salad. I had heard of massaging kale before, and had even tried this at home once the kale salad was dressed. However, Joe shared some of his expert tips on how to massage the kale and that if you do this before dressing the salad, the kale can keep in the fridge for up to a week when sealed in a bag or air-tight container. This expert tip on massaging kale can be found on page 22 of Eat Your Vegetables.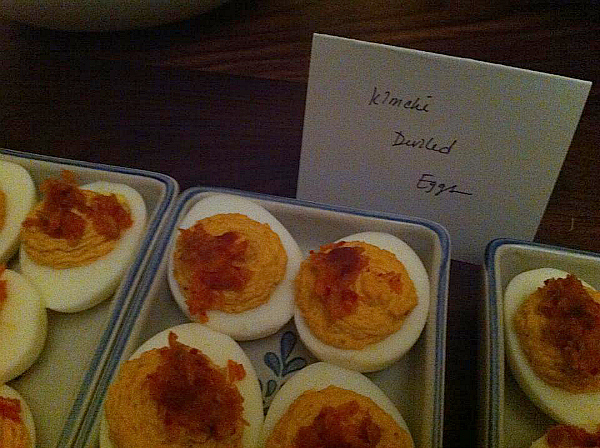 I was able to sample nearly a dozen recipes from the book. Everything was beautifully served, delicious, surprisingly filling (for a non-vegetarian such as myself). My favorite recipe of the evening was the Poblano Tapenade. I almost missed this dish as I eyed the entree items, but once I tried the tapenade I could not get enough! A close second for favorite dish of the evening were Carl's Chocolate-Chunk Cookies, that have a few extra special ingredients making them the most flavorful chocolate-chip type cookie I may have ever had!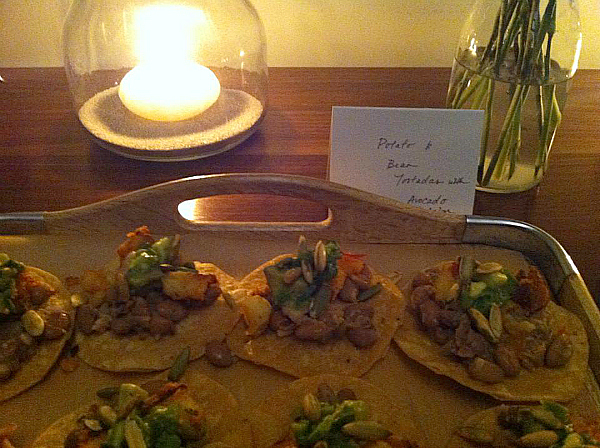 Joe Yonan is a delightful host. His warm smile greeted everyone who arrived, and beamed as he chatted about cooking tips and the book while mingling with the guests. I enjoyed meeting him and talking about the creativity in each dish that was sampled.
Eat Your Vegetables is an excellent cookbook for anyone looking to eat more vegetables or find creative new ways to prepare vegetarian dishes. I recommend starting with the Poblano Tapenade.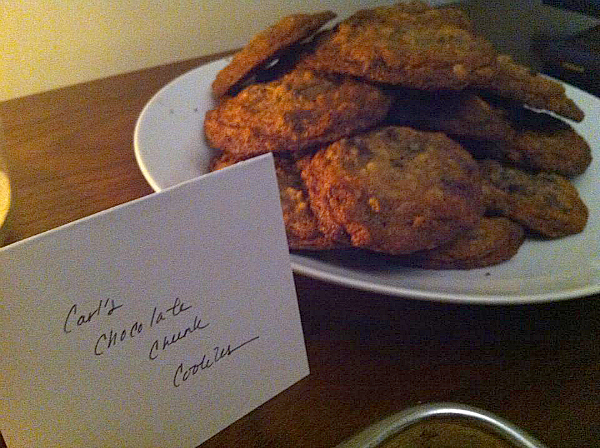 Eat Your Vegetables

Bold Recipes for the Single Cook
by Joe Yonan
isbn 978-1607744429
Pub. date 8/6/113