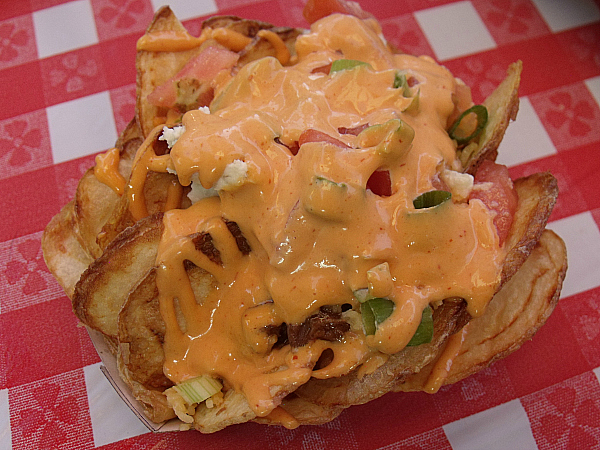 It's here!!!
LA County Fair
1101 W. McKinley Ave.
Pomona, CA 91768
(909) 623-3111
August 30th through September 29th, 2013
The Fair is a perfect time to try out new things that aren't part of your normal routine and that's especially true of the food.
I attended the media food preview before the Fair opened today and sampled a variety of familiar and new-to-me foods. I only ate the vegetarian items and friends tried and enjoyed the meaty ones.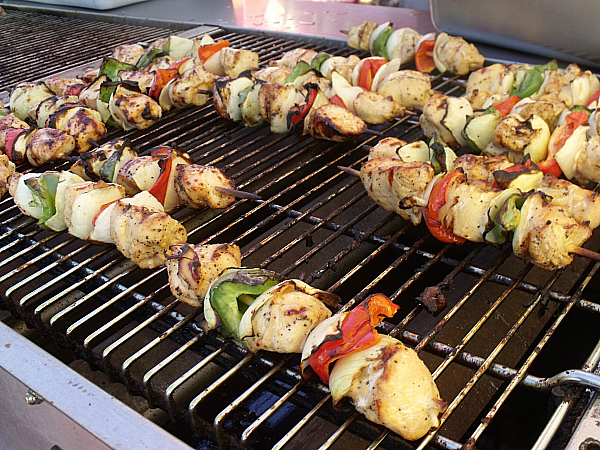 Chicken Charlie's was grilling up these beautiful kebabs with big chunks of chicken.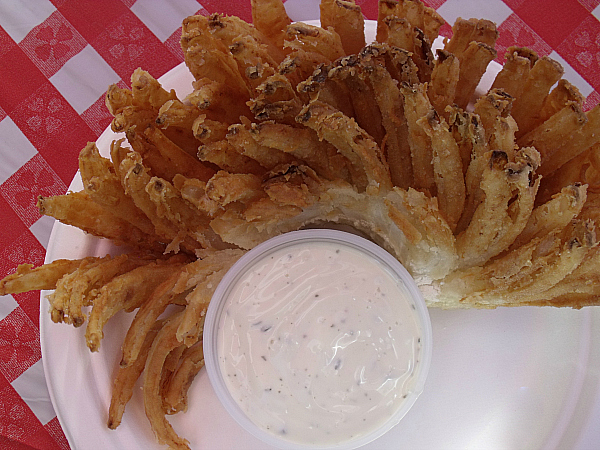 Amazingly, this was my first time to try a blooming onion and now I understand why they are so popular.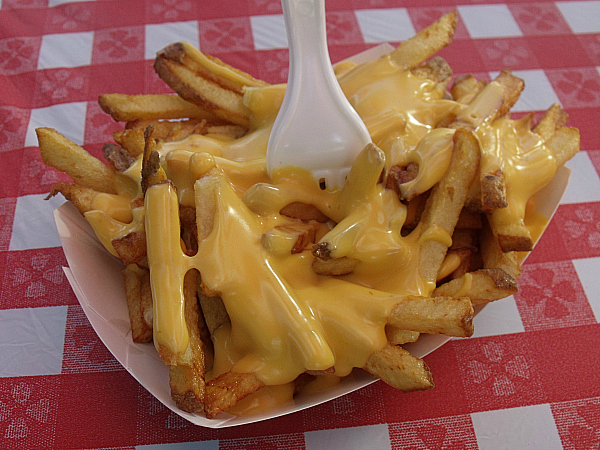 Fresh Fries does indeed make fries that are fresh. Cheesy fries are a fair classic that are fun to share with friends and family.
Harold & Belle's to Geaux served an assortment of traditional New Orleans food including crawfish, catfish and bread pudding.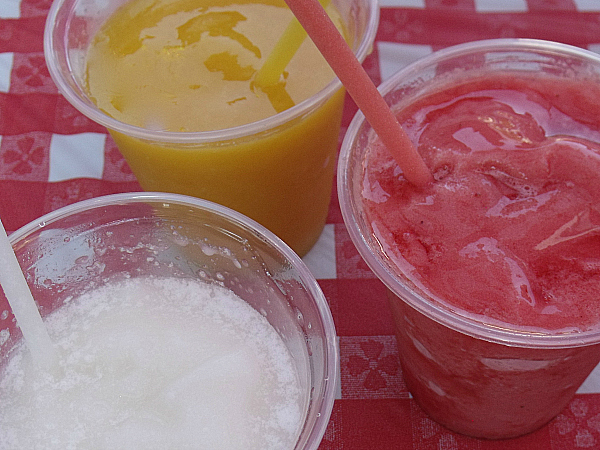 Cornucopia Cafe blends smoothies to order. These three are pina colada, mango and strawberry. I actually had them make me a strawberrry and mango blend that was a good combination.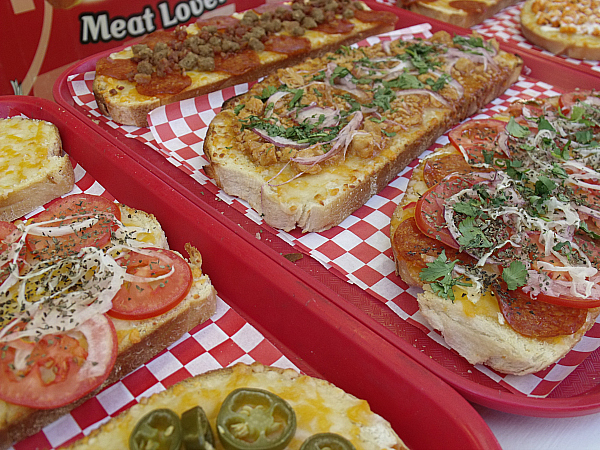 10 Pound Bun may have been my favorite food stop of the evening. They have a nice assortment of toppings for the famous sourdough bread. The people working there were so friendly and helpful that it made the whole experience extra special.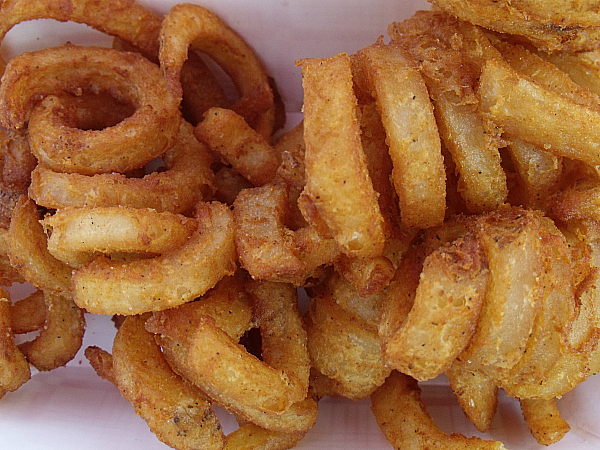 Monster Dogs was serving corn dogs and these curly fries. The seasoning was delicious!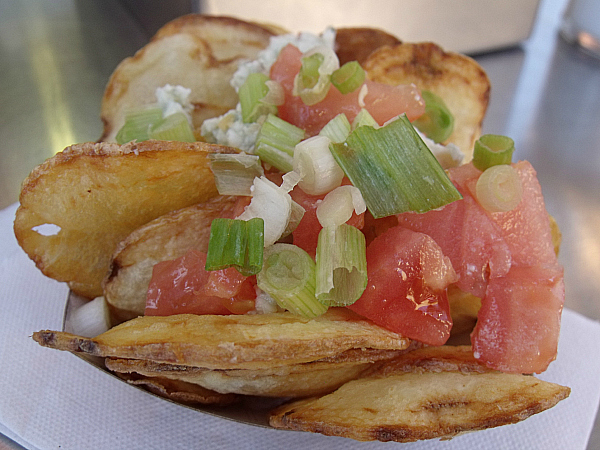 This is my vegetarian Tasti Chips creation. The photo on the top of the post is their loaded version with meat. They really wanted to add carnitas or bacon cheese to mine, but I thought it was just perfect with goat cheese, fresh tomatoes and green onions. The texture of the potatoes is great – crunchier than French fries and softer than potato chips. The foods at this booth are gluten free.
This Nutella and bacon creation from 10 Pound Buns is a fun dessert or meal.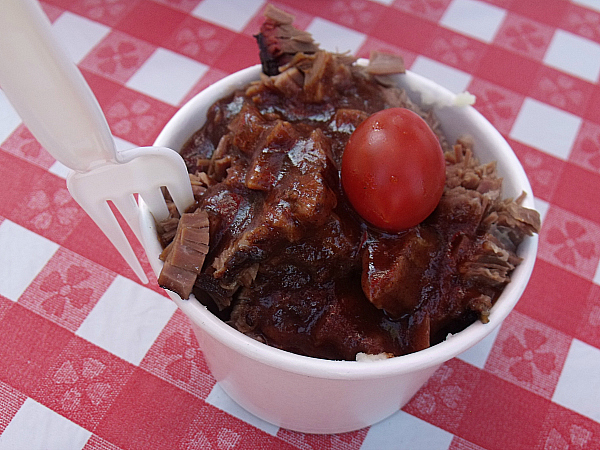 This sundae isn't exactly dessert. It's a Brisket Sundae made with mashed potatoes, BBQ beef brisket and topped with a cherry tomato.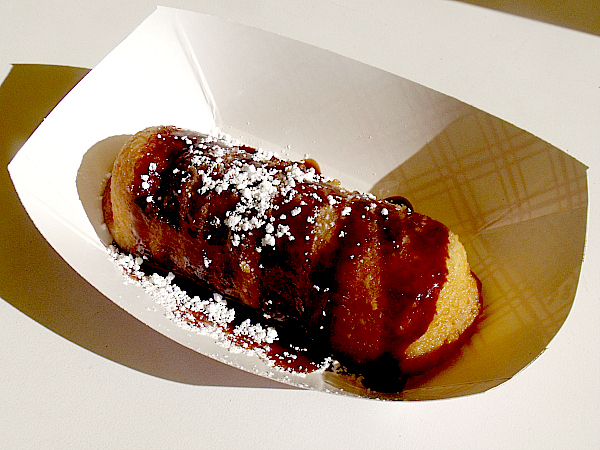 Of course, the LAFair would not be complete without a deep fried Twinkie from Chicken Charlie!