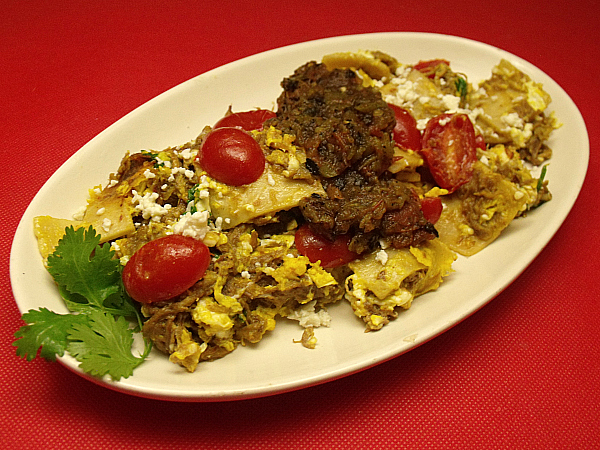 Breakfast is good anytime of the day. Eggs are my go to comfort food when I need a breakfast, lunch or dinner that is tasty, satisfying and easy to prepare.
I used Del Real Foods Seasoned Shredded Beef for this recipe, but you can easily substitute Carnitas, Grilled Chicken, Barbacoa or another one of their meats. Their meats are fully cooked and already seasoned, so it only takes a moment to heat them up in the pan.
Adding tortillas to this scramble turns it into a one pan meal that is easy on the clean up, too. Feel free to use stale tortillas in the recipe as it will taste just as good.
My family enjoys the authentic Del Real Foods meats. Since I'm a vegetarian, I leave out the meat for mine and pour on extra salsa. The Salsa de Molcajete Roja has a smoky flavor that goes well with the eggs.
Mexican Tortilla Scrambled Eggs
Ingredients:
1/2 cup Del Real Seasoned Shredded Beef (Carne Deshebrada)
2 Corn Tortillas, cut into 1 inch pieces
1 T Cooking Oil
2 Eggs
6 Grape Tomatoes, halved
1 T Fresh Cilantro, chopped
1 T Cotija Cheese, crumbled
Salt to taste
Del Real Salsa de Molcajete Roja
Instructions:
Heat cooking oil in skillet.
Add tortillas and shredded beef to pan. Cook for a couple of minutes until tortillas and meat is lightly browned and crispy.
Crack eggs into pan. Reduce heat to medium-low. Stir to scramble the eggs.
Add tomatoes, cilantro and cotija cheese. Salt, if you'd like. Cook for a few minutes until eggs are done.
Top with salsa and additional cheese, if desired. Serve and enjoy!