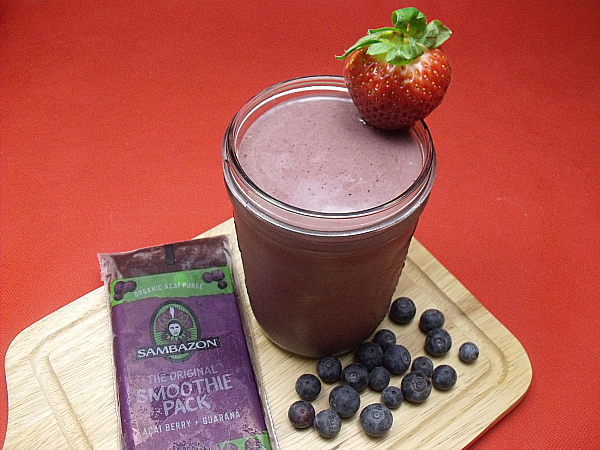 My blender and I are good friends. I regularly make smoothies for snacks or as a meal replacement. It's a great way to get a big amount of nutrition in one tasty beverage.
I've always got a supply of Sambazon Smoothie Packs in my freezer. Acai berries are super nutritious and contain antioxidants, minerals, vitamins, omegas, fiber and more. They blend well with fruits and other healthy ingredients.
This recipe uses the Original Packs that also contain guarana. I like using these when I make smoothies in the morning or afternoon, since the guarana adds a nice kick. For a late night smoothie, I'd use the acai without guarana.
Triple Berry Açaí Smoothie
Ingredients:
2 Sambazon Original Smoothie Packs
3 Large Strawberries
1/4 cup Blueberries
1/2 cup Greek Yogurt (plain, honey or vanilla)
Instructions:
Break up the Sambazon Smoothie Packs. There are other methods, but I prefer to whack the unopened packs on the edge of my granite countertop.
Put all ingredients in a blender. Mix until smooth.