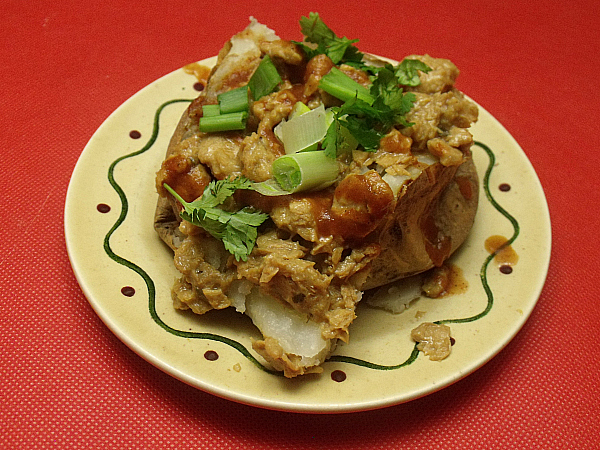 Yes, vegan carnitas – they do exist and they are delicious. They aren't meat, but they have a 'meaty' texture and the flavor of pork that has been marinated in citrus, garlic and herbs.
This is an easy meal that can be ready in minutes. Toppings can be customized to suit your taste.
Vegan Gluten-free Carnitas Baked Potatoes
Ingredients:
Potatoes
Helen's Kitchen Organic Veggie Carnitas
Green Onions, chopped
Cilantro, chopped
Taco Sauce or Salsa
Optional: Vegan Cheese Alternative
Instructions:
Bake Potatoes (I do mine in the oven when I have time, but the microwave can be a great time saver)
Heat carnitas in a skillet on medium for a few minutes until warm. No oil is needed if you stir occasionally.
Slice open the potato. Top with carnitas, taco sauce or salsa, green onion and cilantro.