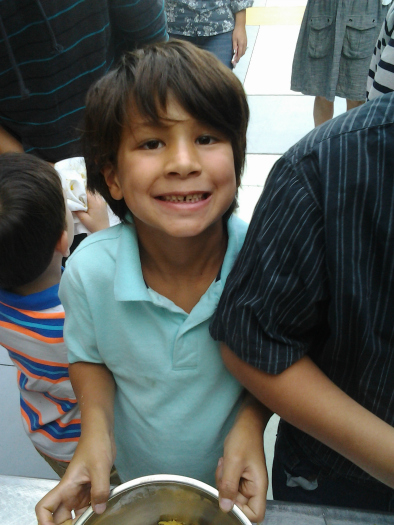 Kids in the kitchen? It could be true that you may not always want this at home but having your kids learn to cook has a great advantage. Just close your eyes and imagine a night of your own on the couch as your Marriott trained Chef-children prepare you something warm and delicious; imagine warm sugary scents drifting from the kitchen, tantalizing your senses with perfectly created confections… the possibilities could be endless!
If you have been to Renaissance ClubSport in Aliso Viejo, you know they have a whole lot to offer you as a single person or you and your family. I won't deny the fact that I could be in this place at any given moment with a single opportunity. This place is loaded with options for fun for kids and adults alike and adventure abounds.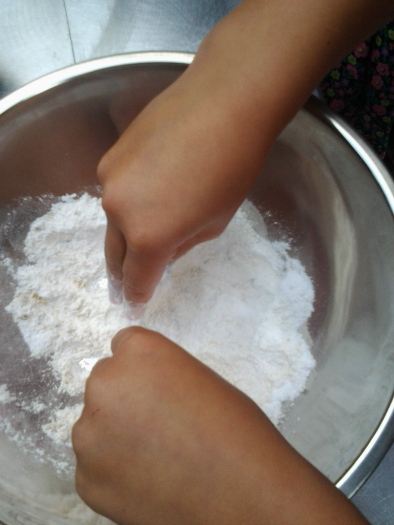 Our recent adventure with Renaissance ClubSport's "Kids in the Kitchen!" event produced delicious chewy sugar cookies thick with chocolate chips and a crisp and juicy and fresh flavor-filled apple tart.
The kids were enthusiastic as we met the coordinator and sat down to color while the other children showed up. Next we stepped into the cooking area, a modified prep center made up of a few tables set with bowls and pre-measured ingredients in tiny covered tubs all directly under beautiful blue California sky.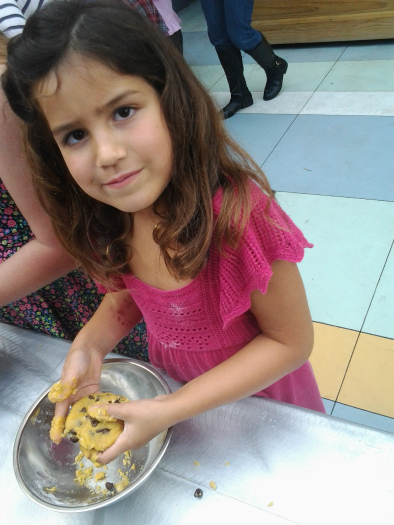 Two chefs kept the dozen or so children entertained as they explained each well orchestrated step.
One by one lids popped open and the blending of each ingredient began with muscle pro action, hands in bowl as each child connected with their food. When the ingredients were combined thoroughly, chocolate chips were incorporated into the mix and each sugar cookie formed into a ball to be flattened on a baking tray.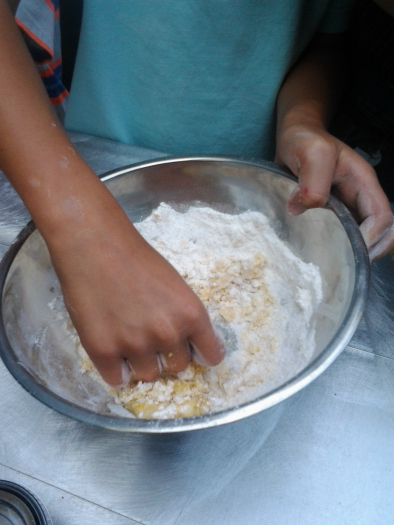 Once the trays field filled we were marched into the kitchen which invoked a stirring thrill, similar to a first time backstage pass, among the parents.
With chef selected music blaring, we lined up for a second hand washing in preparation for creating apple tarts as cookies were placed into a massive confection oven.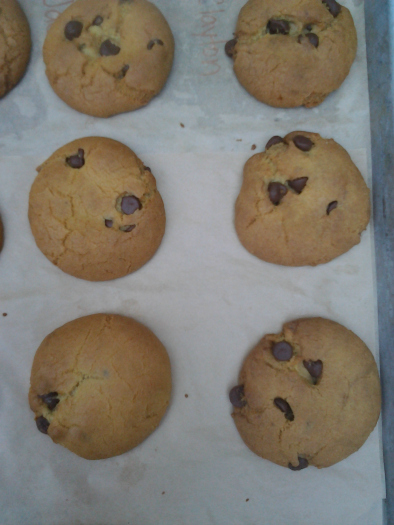 Once the apple tart mixture was prepared, the children poured pre made filling into each piece before folding them over and creating patterns with a fork to secure each little 'pocket' for baking.
We enjoyed the feeling of wholeness while listening to Santa stories, perfect for the up and coming holiday, under the cabanas with the children cuddled into chairs and appreciating every bite of what they had made.
You too can enjoy events and activities through Renaissance Sport Club by enrolling in membership or specific individual activities such as "Kids in the Kitchen", December's "Breakfast with Santa", the after school club, "Club University" and more!
Family & Children's Activities
Phone: 1-949-643-6700
KID'S WORLD
Age appropriate activities, arts and crafts and other programs in a 7,000 sq ft childcare center.
Fee: 8.00 USD
KID'S SPLASH & PLAY
Outdoor aquatic area for children to splash and play.
My kids are excited about being included in the next cooking event and are hoping that I will also enroll them in one of the many after school programs or physical education programs offered by this amazing center!!!