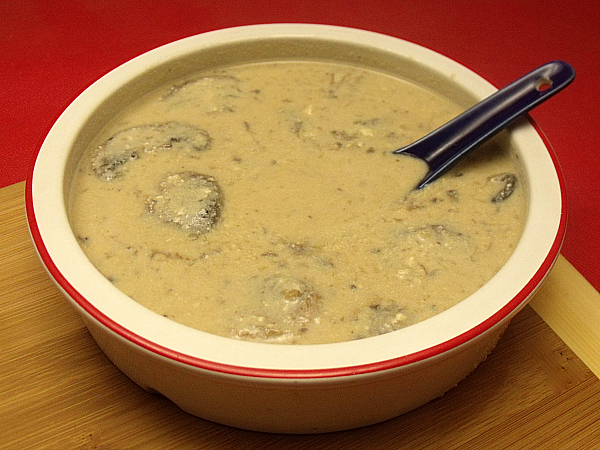 Cream soups are a wonderful way to warm up on a Winter day, but are not so great for those who avoid dairy or meat products (even canned vegetable soups often have chicken or beef stock on the ingredient list).
Silken tofu can give soups a nice creamy texture that vegans and vegetarians can eat. This recipe can be eaten as is for soup or can be used as a sauce or recipe ingredient.
The soup can be made with whatever type of mushrooms and miso you prefer. This time I used Baby Bella mushrooms and a hearty red miso for a strong flavor. I left the mushrooms in big pieces this time, but the soup can also be blended for a smoother texture.
Creamy Vegan Mushroom Miso Soup
Ingredients:
2 cups Sliced Mushrooms
2 t Minced Garlic
1 t Minced Ginger
2 T Extra Virgin Olive Oil (I used Holman Ranch EVOO)
1 T Miso Paste
4 cups Water
1 pkg. Wildwood Silken Tofu
Instructions:
Saute mushrooms, garlic and ginger in olive oil in a soup pan for a few minutes.
Add miso, water and tofu.
Simmer for about 15 minutes, stirring occasionally.
Optional: Blend briefly with an immersion blender until desired consistency if achieved.