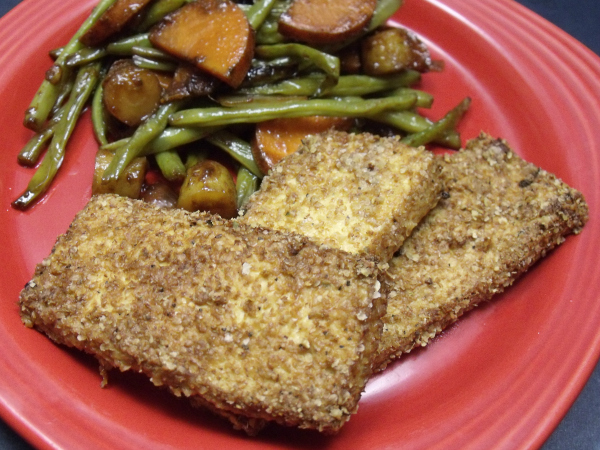 Tofu is a versatile complete protein that is super easy to incorporate into meals. The breading on this baked tofu gets an extra nutritional boost from wheat germ. This is the same marinade recipe that I used for my Vegetarian Tofu Stir Fry, but it tastes like a completely different meal.
Breaded Baked Tofu
Ingredients:
1 Pkg. Firm or Extra Firm Tofu
Marinade:
2T Soy Sauce
1T rice vinegar
1/2 t ginger
1T sesame oil
Breading:
3T Wheat Germ
1/2 t lemon pepper
Instructions:
Pre-heat oven to 350º
Line baking sheet with parchment paper
Drain tofu. Slice into pieces approx. 1/4 inch thick and then cut those slices into thirds. Place in a shallow baking dish.
Mix marinade and pour over the tofu. Refrigerate for a half hour or more prior to using.
Mix dry ingredients and dip tofu pieces into the mixture coating them completely. Place in a single layer on the baking sheet.
Bake for approx. 20 minutes. Serve warm.