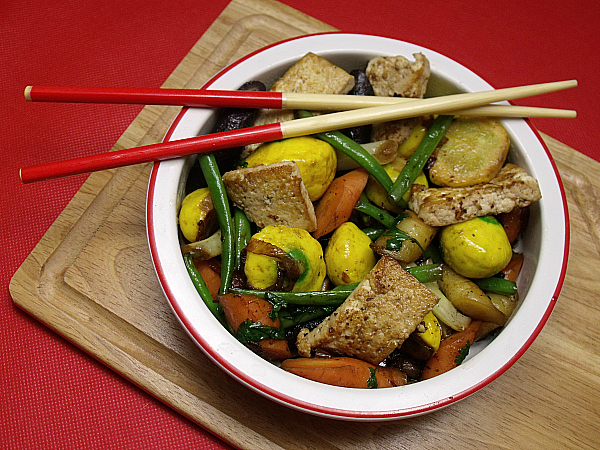 Yum! Who loves fresh seasonal vegetables? My family definitely does. This recipe can easily be adjusted depending upon what's in season. This combination was colorful and delicious.
Vegetarian Tofu Stir Fry
Ingredients:
14 ounce pkg Firm Tofu
Marinade:
2T Soy Sauce
1T Nakano Rice Vinegar
1/2 t ginger
1T sesame oil
8 c Veggies, sliced or whole depending on size:
Baby Carrots
Portobellos
Green and Yellow Beans
Baby Squash
2 cloves Garlic, sliced
1/2 Onion, sliced
Soy Sauce
Instructions:
Drain tofu and pat dry. Slice into pieces approx. 1/4 inch thick and then cut those slices into thirds. Place in a shallow baking dish.
Mix marinade and pour over the tofu. Refrigerate for a couple of hours prior to using.
Fry tofu quickly in a hot pan. Remove and set aside.
Stir fry veggies, garlic and onion. Add soy sauce as desired.
Combine veggies and tofu. Serve and enjoy!
Thank you Melissa's Produce for the tasty and pretty vegetable assortment!