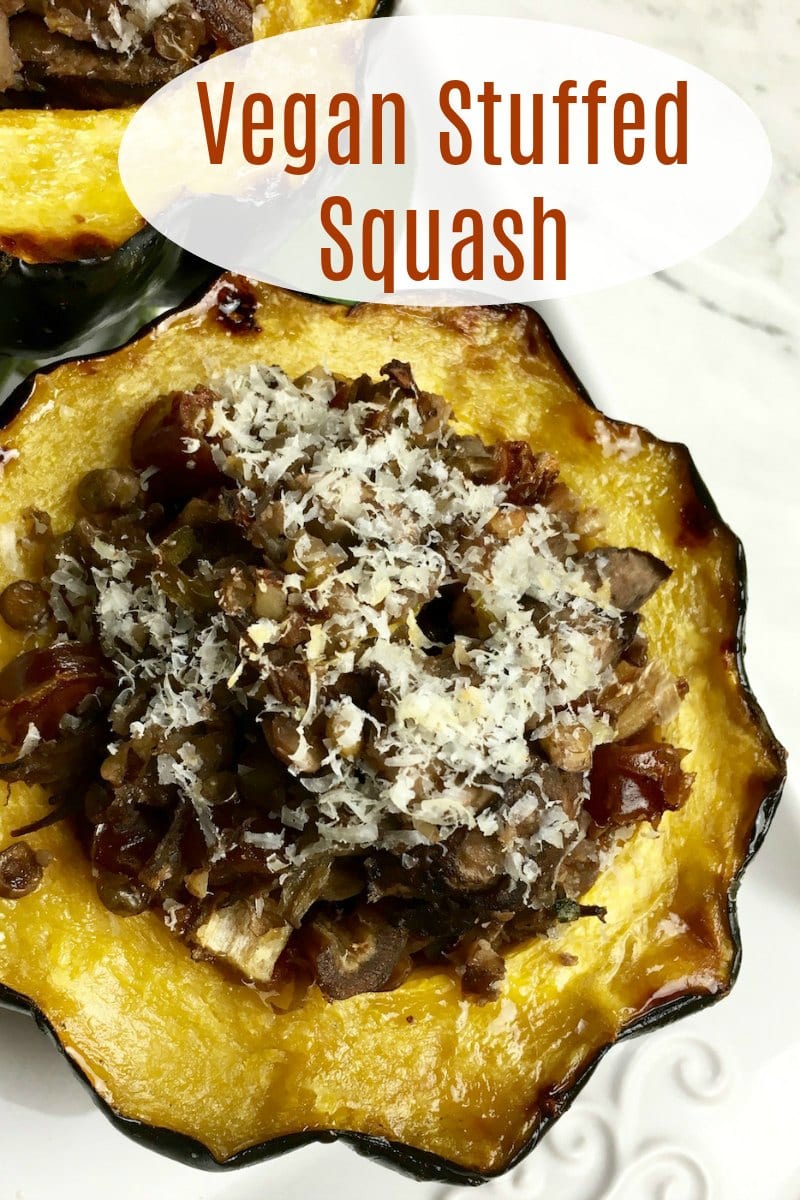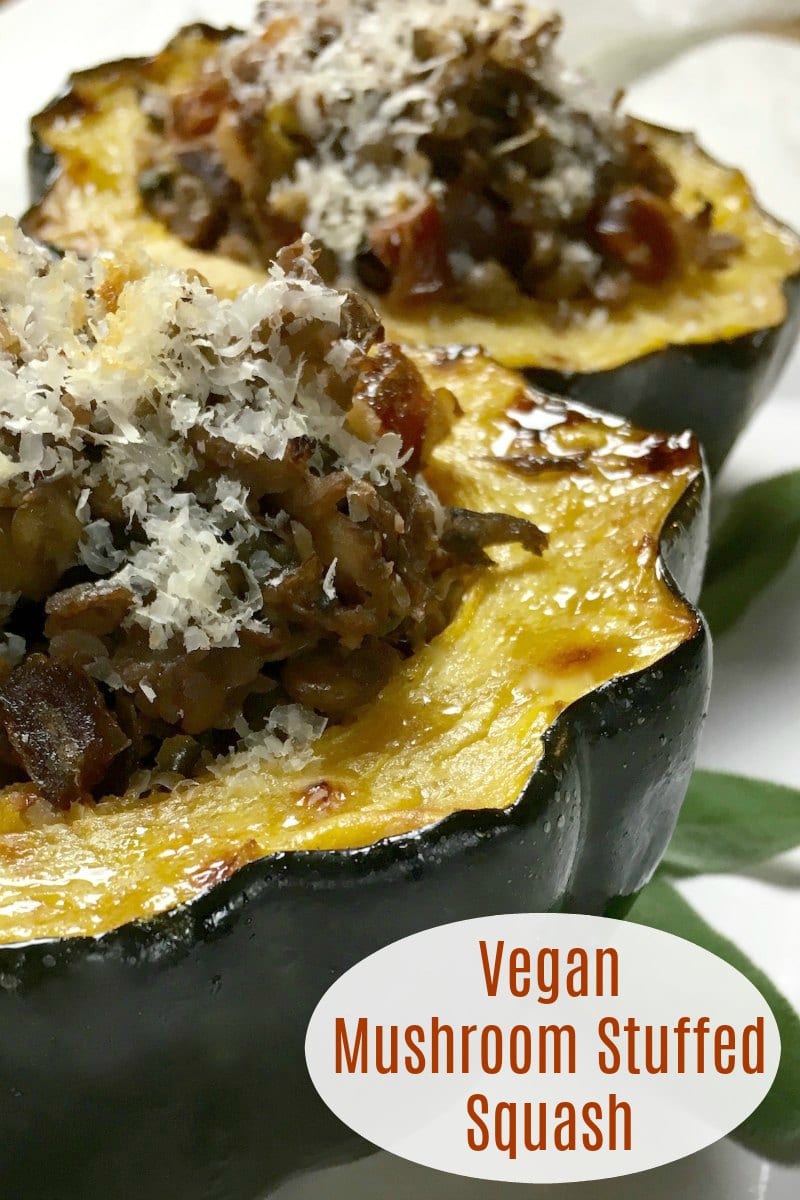 Mushroom Stuffed Squash
Vegan Comfort Food Dinner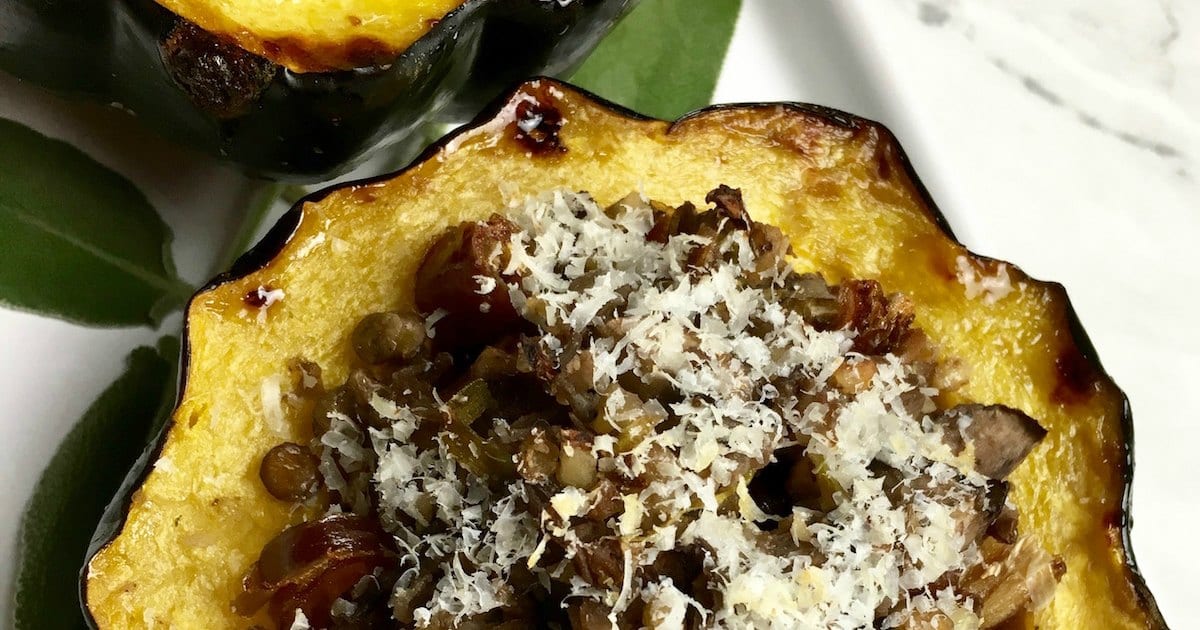 When Winter squash starts showing up at the farmer's market, it is time to make this mushroom and lentil vegan stuffed acorn squash recipe.
I love the way it looks, and the flavors of squash, mushrooms, lentils, and walnuts are a great combination.
The Medjool dates and balsamic vinegar give it a touch of natural sweetness that is delicious.
There is a lot of nutrition packed into this tasty dish, so it makes for a satisfying meal.
My first choice is baby bella (crimini) mushrooms for this recipe, since they have a nice, full flavor.
But regular white mushrooms will work just fine, if that is what you have available.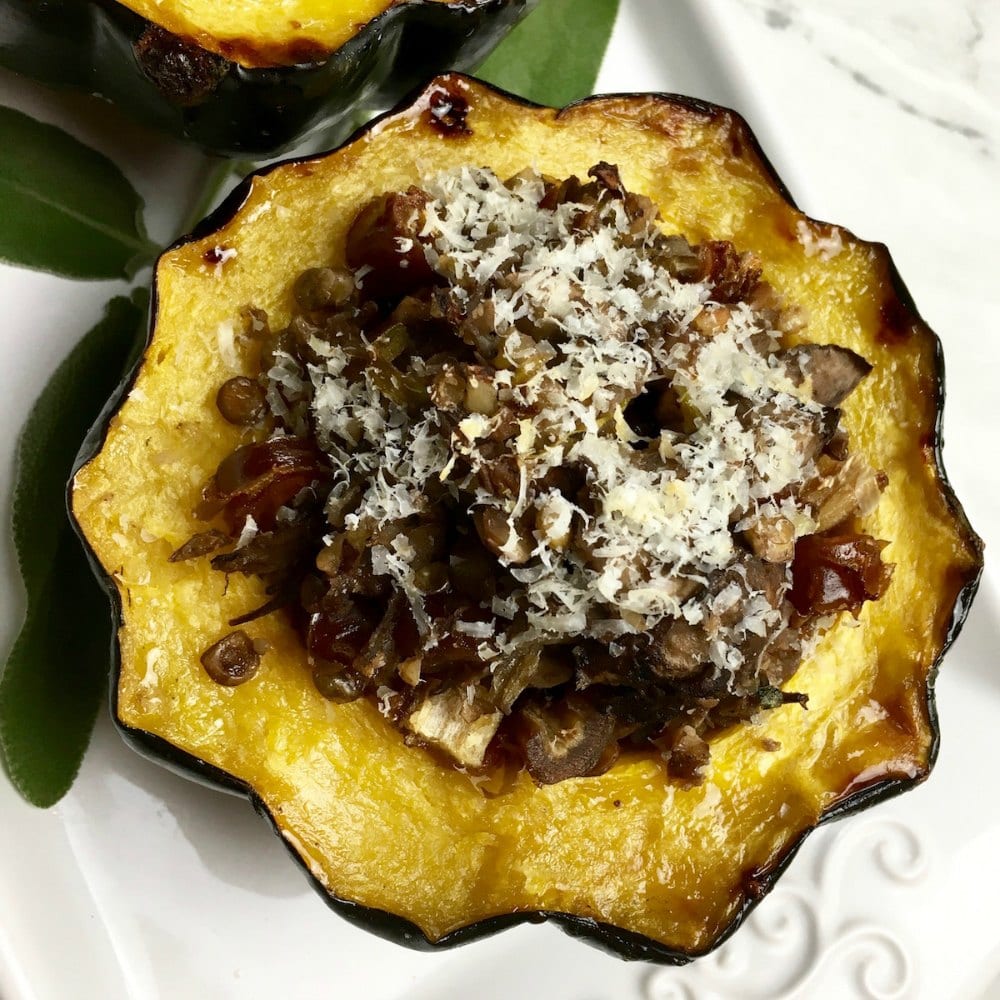 Stuffed squash are wonderful as a special occasion meal, but are also good for a regular family dinner as long as you have time to wait for the squash to cook.
The actual hands on time needed to prep this meal is short, but it does take about 45 minutes for the squash to roast and then another 10 to bake after they are stuffed.
An added bonus is that the acorn squash seeds are edible, so you can roast them just as you would roast pumpkin seeds.
You can eat the seeds as a snack or use them as a topping for a salad.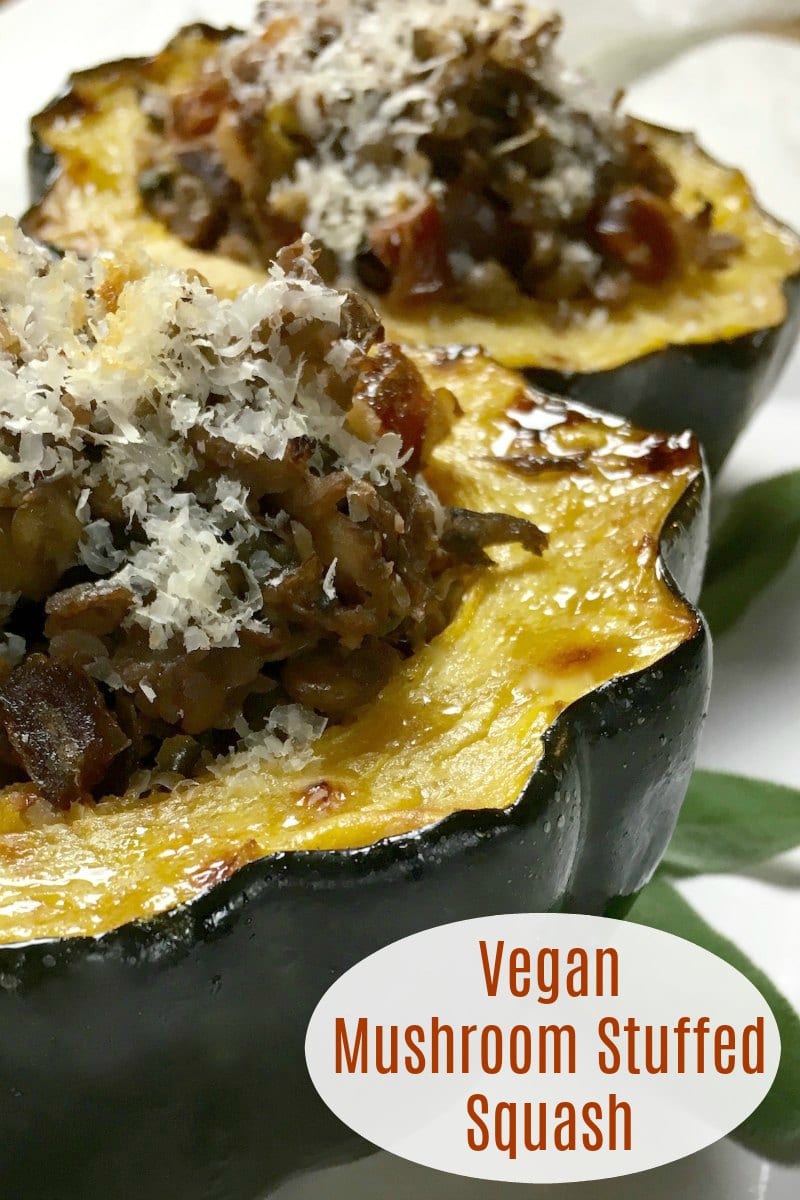 Vegan Stuffed Acorn Squash Recipe
Prep time: 20 minutes
Cook time: 60-75 minutes
Serves: 6
Ingredients
3 Acorn Squash
4 T Extra Virgin Olive Oil
5 cloves Garlic, minced
1½ lbs. Mushrooms, chopped
1/2 Yellow Onion, chopped
1 cup Cooked Lentils
1 T Fresh Sage, finely chopped
1/4 cup Balsamic Vinegar
1/4 cup Medjool Dates, chopped
1/3 cup Walnuts, chopped
Salt to taste
Black Pepper to taste
1/4 cup Vegan Parmesan Cheese Alternative (My favorite is Follow Your Heart, but I also like Go Veggie)
Supplies
Parchment Paper
Baking Dish(es)
Large Skillet
Instructions
1) Preheat oven to 400 and line baking dishes with parchment paper.
2) Cut squash in halves and scoop out seeds. (Roast the seeds later, if you would like.)
3) Place squash cut side up on top of the parchment paper in your baking dishes. Drizzle about 1 T olive oil on the squash halves and season with salt and pepper.
4) Put in preheated oven and roast for approximately 45 minutes until fork tender.
5) While squash is in the oven, prepare the stuffing. Add the rest of the olive oil, garlic and onion to a large skillet and cook for a few minutes, stirring occasionally.
4) Add mushrooms and cook for a few more minutes.
5) Stir in lentils, sage and balsamic vinegar. Cook on low for 8 to 10 minutes, stirring occasionally. Add salt and pepper, if you'd like.
6) Remove from heat and stir in walnuts and dates.
7) When squash is ready, remove from oven and let cool for a few minutes.
8) Scoop stuffing into each of the squash halves.
9) Return squash to the oven for 10 minutes to heat through.
10) Top with vegan Parmesan and serve immediately.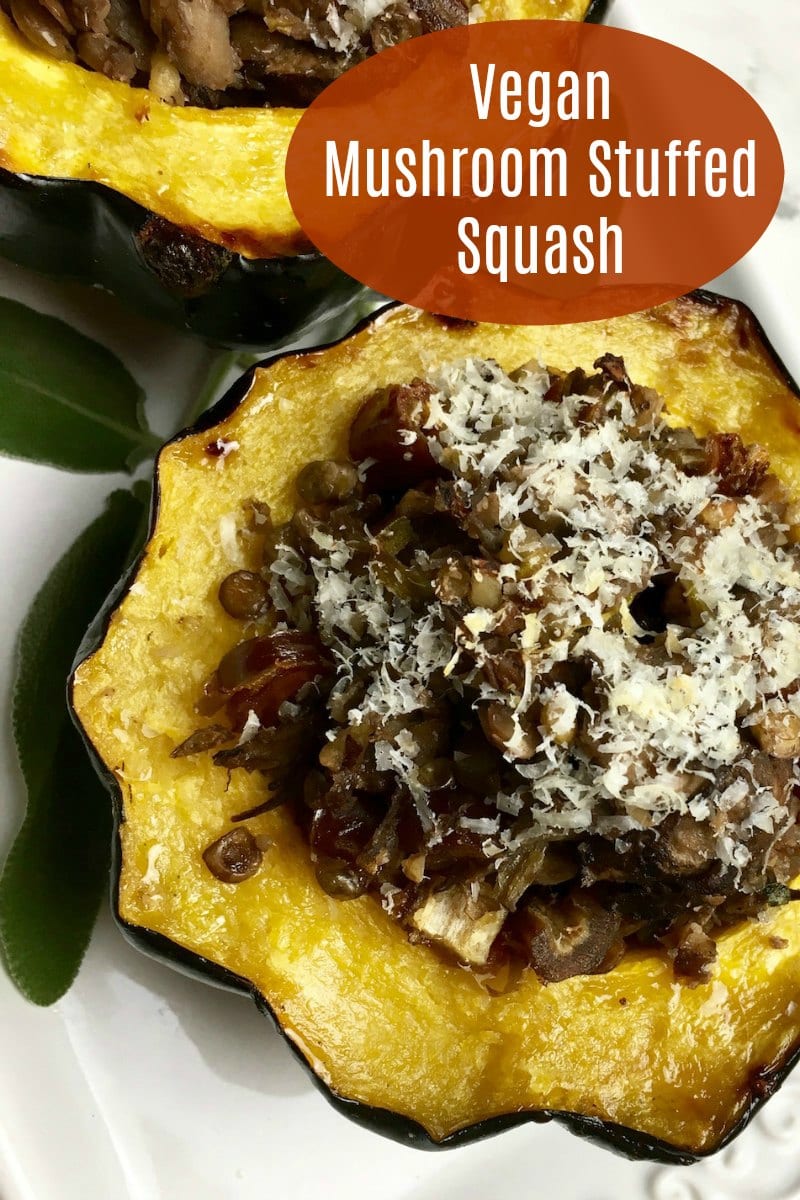 More from Mama Likes To Cook
Check out my vegetarian recipes, so you can get more great ideas for baking, cooking, blending and juicing.
Dried Mushrooms
Date Recipes
Date Travel
Shop Now
For a beautiful assortment of kitchen necessities and food gifts for the whole family, check out the current deals at these online stores.
Are you ready to have some delicious fun in the kitchen?