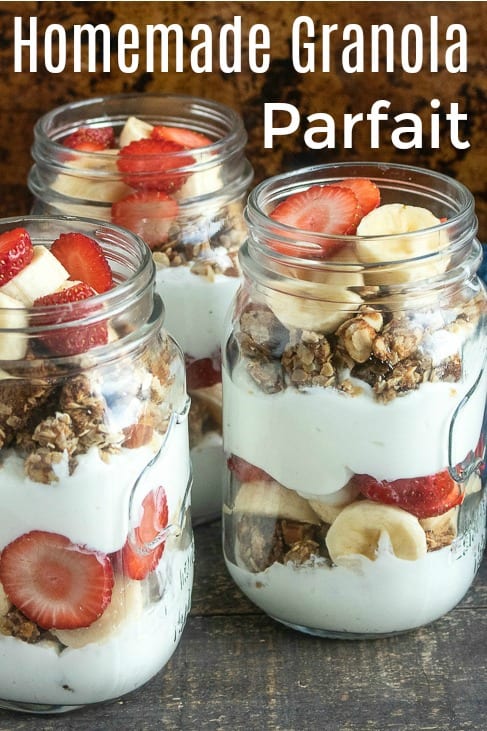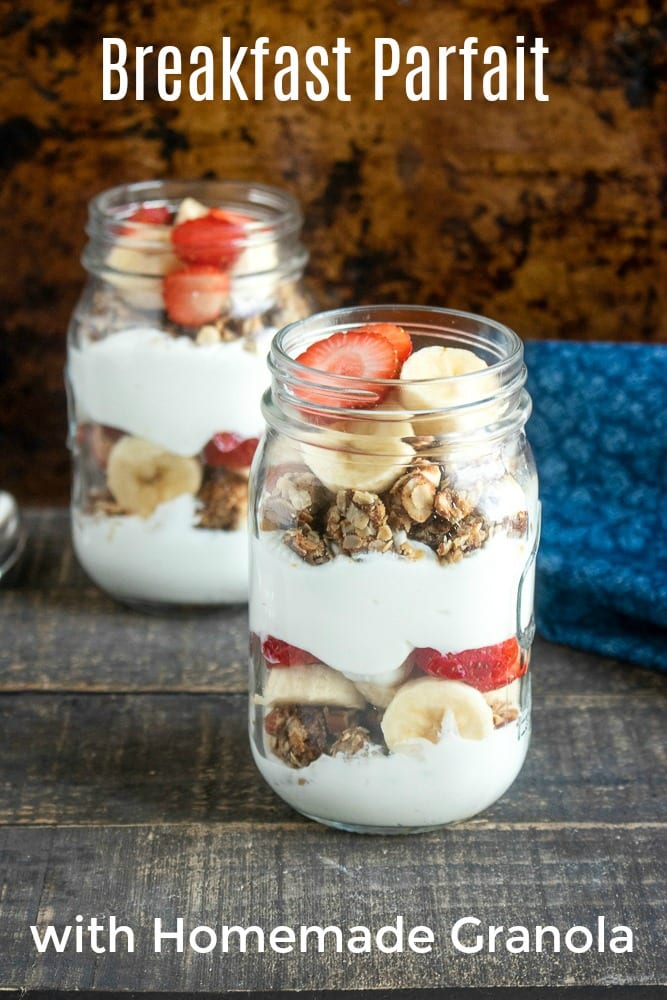 Strawberry Banana Breakfast Parfait
with homemade granola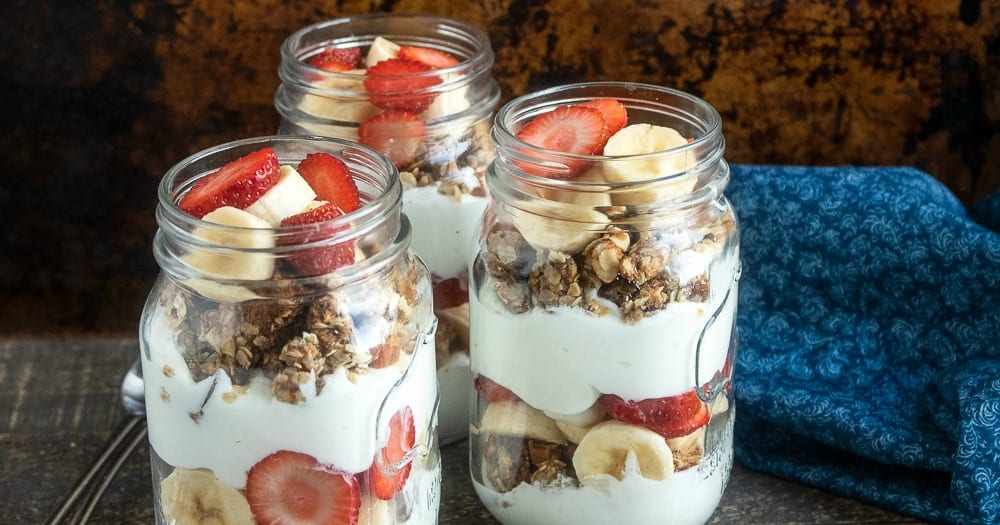 A mason jar parfait is always fun, but this vegan homemade granola breakfast parfait is extra fun.
The homemade granola is what gives this strawberry banana parfait the wow factor.
Well, there is another wow factor and that is that this parfait is vegan.
Instead of being made with regular dairy yogurt, it is made with vegan coconut yogurt and it is delicious.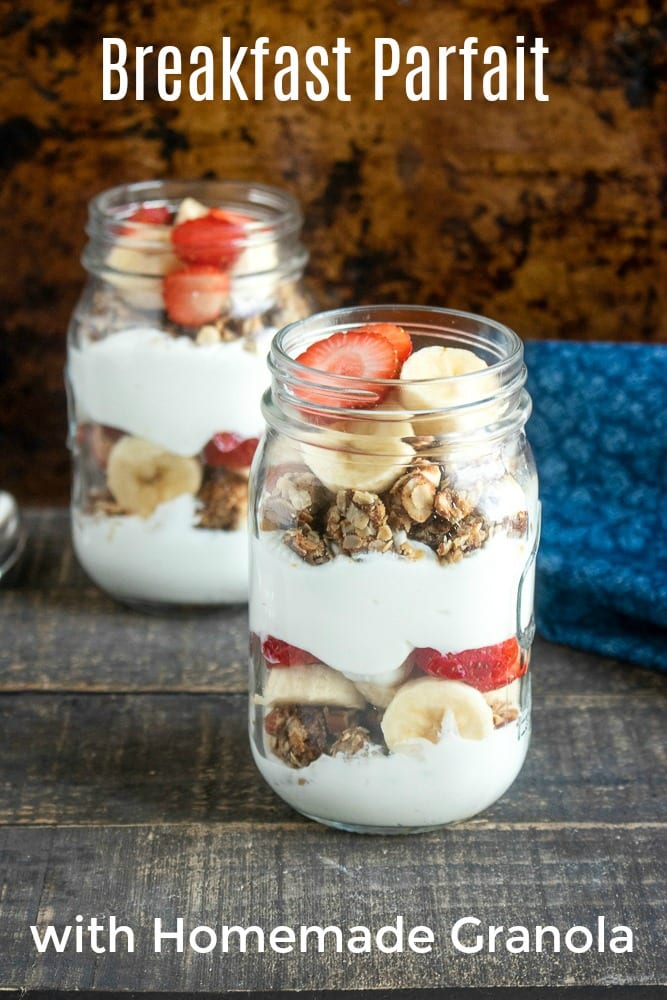 I love granola and buy store bought often, but I prefer homemade when I'm not needing to rush out the door.
It doesn't take long to make it, but it does take longer than just opening up a bag.
Two of my favorite granolas are Cascadian Farm and Nature's Path, if you'd like to make this vegan parfait without the from scratch granola.
Savor the morning with a vegan granola parfait or make this as a healthy dessert!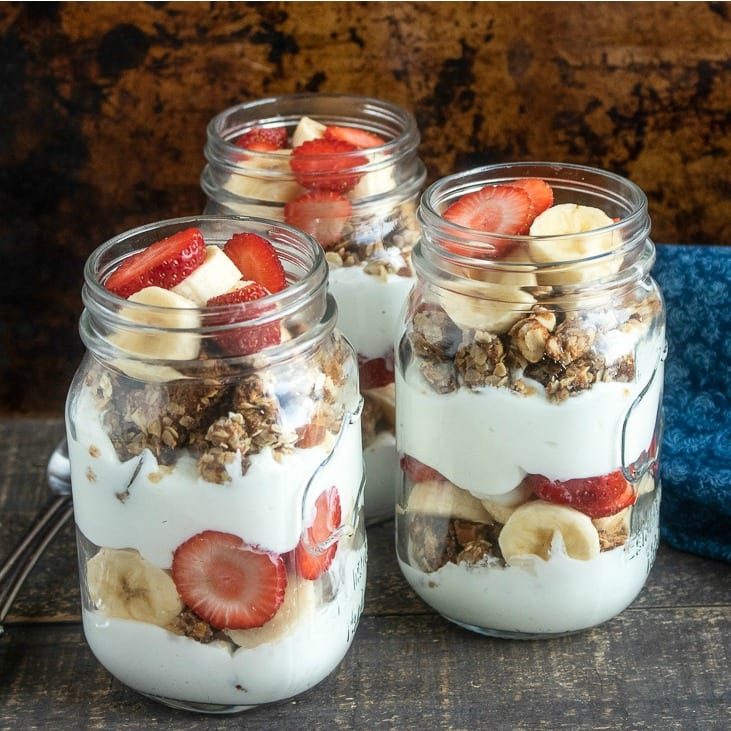 Granola Breakfast Parfait Recipe
Prep time 10 minutes
Cook time 20 minutes
Serves 4
Ingredients
6 Medjool Dates, pitted
3 T Almond Butter
2 T Coconut Oil, liquified
3 T Maple Syrup
1 t Vanilla Extract
1 cup Rolled Oats
½ t Ground Cinnamon
¼ t Ground Nutmeg
¼ cup Raw Almonds, chopped
2 T Sunflower Seeds
2 cups Coconut Yogurt
1 cup Strawberries, sliced
2 Bananas, sliced
Supplies
8×8″ Baking Dish
Parchment Paper
Blender
Mixing Bowl
4 Mason Jars (pint sized)
Instructions
1) Preheat oven to 350° and line the baking dish with parchment paper.
2) Blend the dates, almond butter, coconut oil, maple syrup and vanilla extract in a blender until smooth.
3) Transfer the creamy mixture from the blender to a mixing bowl. Add in the rolled oats, cinnamon, nutmeg, almonds and sunflower seeds. Mix by hand until well combined.
4) Arrange the granola mixture on the parchment paper covered baking dish in an even layer and pat it down.
5) Bake for about 20 minutes until light golden brown. Remove from oven and allow to cool to room temperature. It will crack as you remove it from the pan.
6) Make the parfaits, when you are ready to serve. Fill mason jars with layers of coconut yogurt, granola, bananas and strawberries.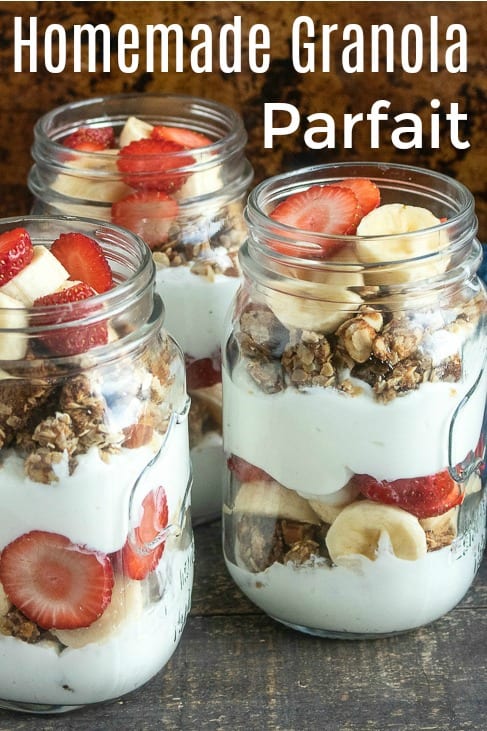 More from Mama Likes To Cook
Check out my vegetarian recipes, so you can get more great ideas for baking, cooking, blending and juicing.
Date Recipes
Date Travel
Shop Now
For a beautiful assortment of kitchen necessities and food gifts for the whole family, check out the current deals at these online stores.
Are you ready to have some delicious fun in the kitchen?