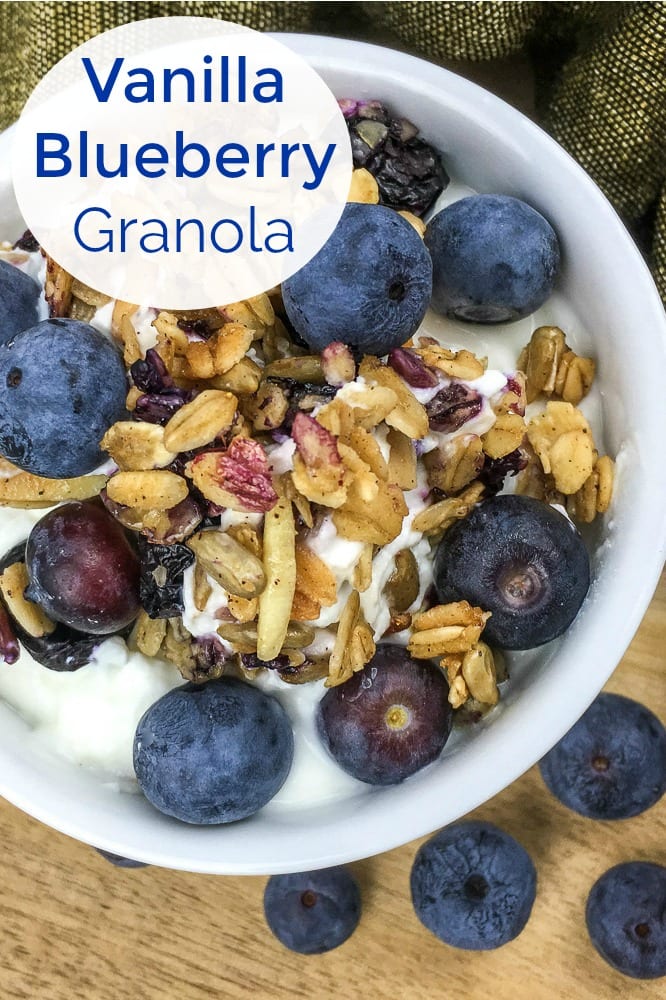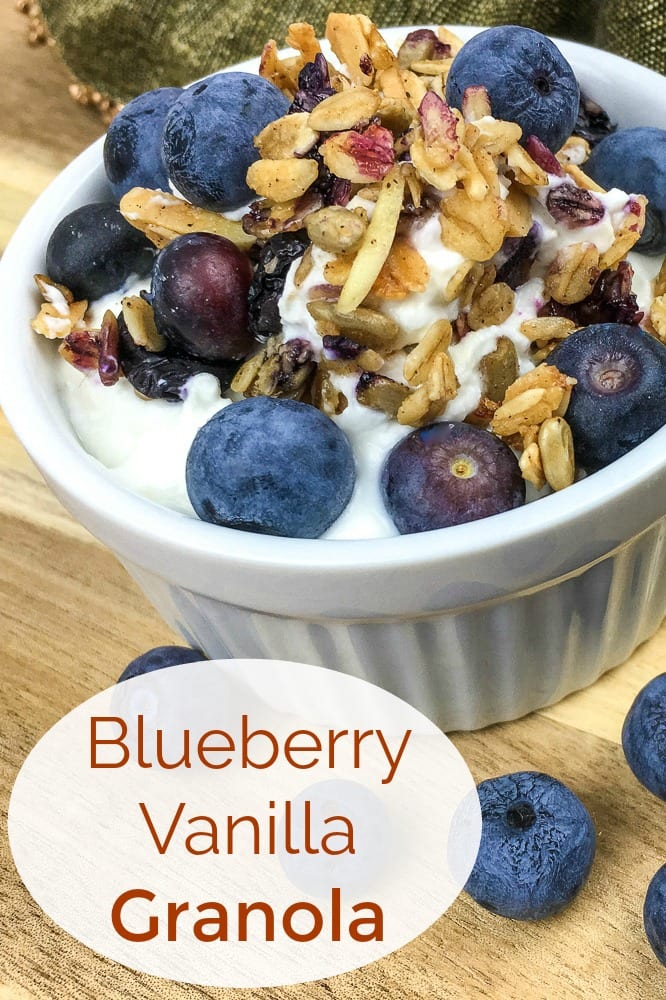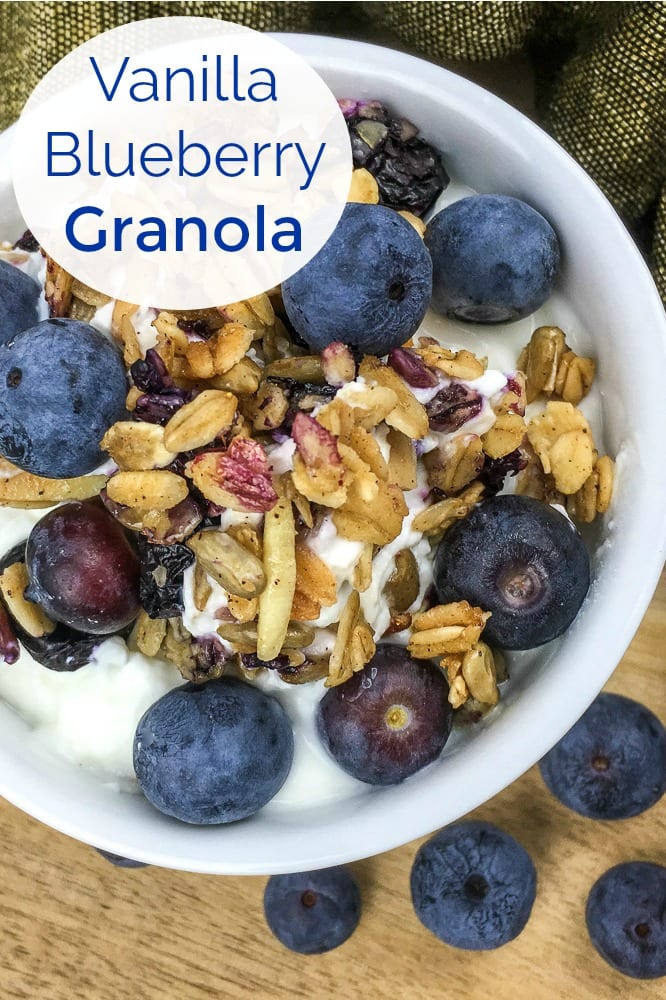 Granola Made with Fresh Blueberries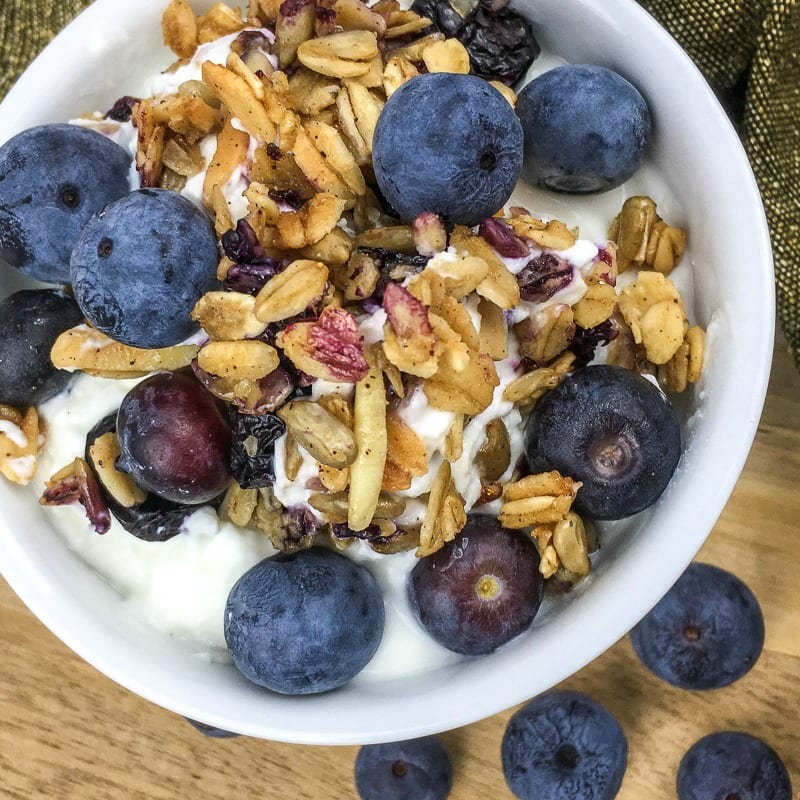 It is so important to start the day with nutritious, energizing food, so I love this easy homemade blueberry vanilla granola.
I've always loved granola, but have learned that I like it even more when it is homemade. And, of course, I am happy that it is so easy to make.
This recipe has a whole lot of blueberry goodness, since there are fresh blueberries baked into the granola and extra berries on top.
Each bite is a treat, when served in a bowl with milk or a milk alternative.
However, my favorite way to enjoy it is with yogurt. It fills me up and helps me feel energized to get through my busy mornings.
As a bonus, if you have any leftovers, the granola is a great snack to combat an afternoon slump.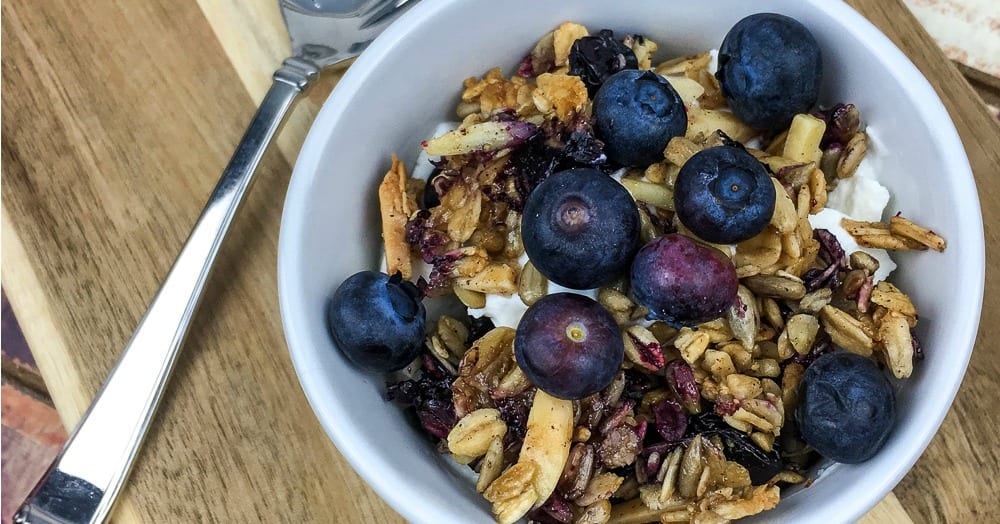 The granola is made with energy dense coconut oil that is in its liquid form.
At my house, the coconut oil is already a liquid for a few hot summery months, but is a solid as the whether cools.
If yours is a solid when you are making this granola, you can melt it quickly in the microwave or on the stove.
When you first pull the granola out of the oven, it may not seem crunchy. However, it will get crispy in just a few minutes as the granola cools.
The granola itself is vegan. Vegetarians and others may want to eat theirs with dairy, but vegans can easily use alternatives for a dairy free meal or snack.
Enjoy!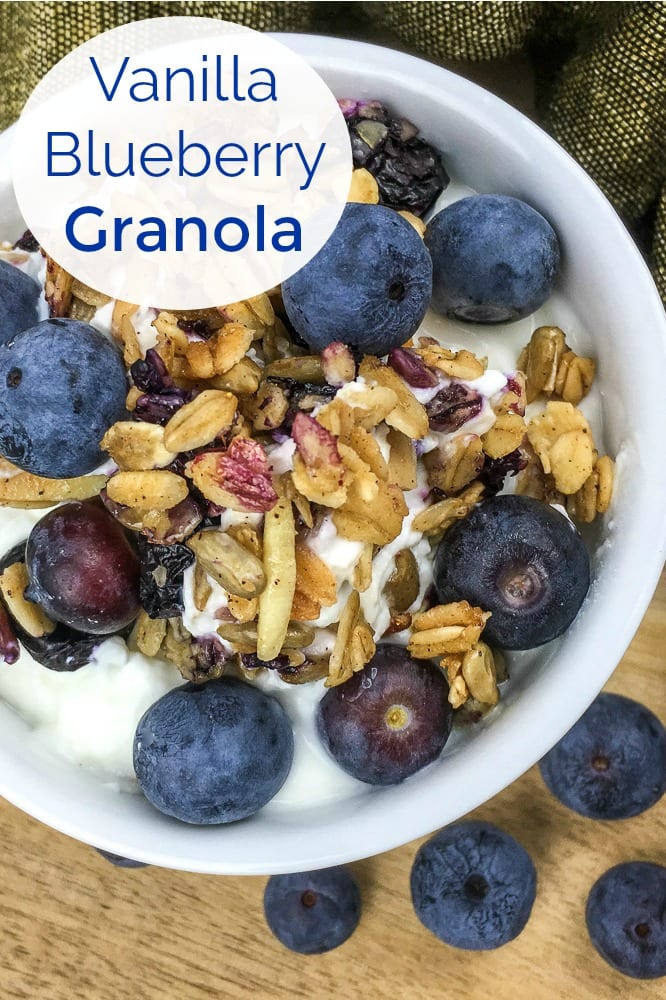 Blueberry Vanilla Granola Recipe
Prep time- 10 minutes
Cook time- 20-25 minutes
Serves 4
Ingredients
3 T Coconut Oil, melted
1 t Vanilla Extract
3 T Real Maple Syrup
1¼ cups Rolled Oats
¼ cup Sunflower Seeds, raw and unsalted
¼ cup Slivered Almonds
1 t Ground Cinnamon
¼ cup Dates, chopped
¼ t Salt
1¼ cups Fresh Blueberries
Supplies
Rimmed Baking Sheet
Parchment Paper
Mixing Bowl
Whisk
Instructions
1) Preheat oven to 375° and line rimmed baking sheet with parchment paper.
2) Whisk melted coconut oil, vanilla extract and maple syrup together in a large mixing bowl. Stir in rolled oats, sunflower seeds, cinnamon, dates and salt, so that they are lightly coated with the coconut oil mixture.
3) Fold in one cup of the blueberries gently, so that the berries remain whole.
4) Spread the granola on the parchment paper covered baking sheet in an even layer.
5) Bake in preheated oven for 10 minutes. Remove from oven and stir. Then return to oven for another 10 minutes. Do not overcook. The granola will become crispy, when it cools.
6) Serve with milk (or a milk alternative) or with yogurt. Top with remaining fresh blueberries.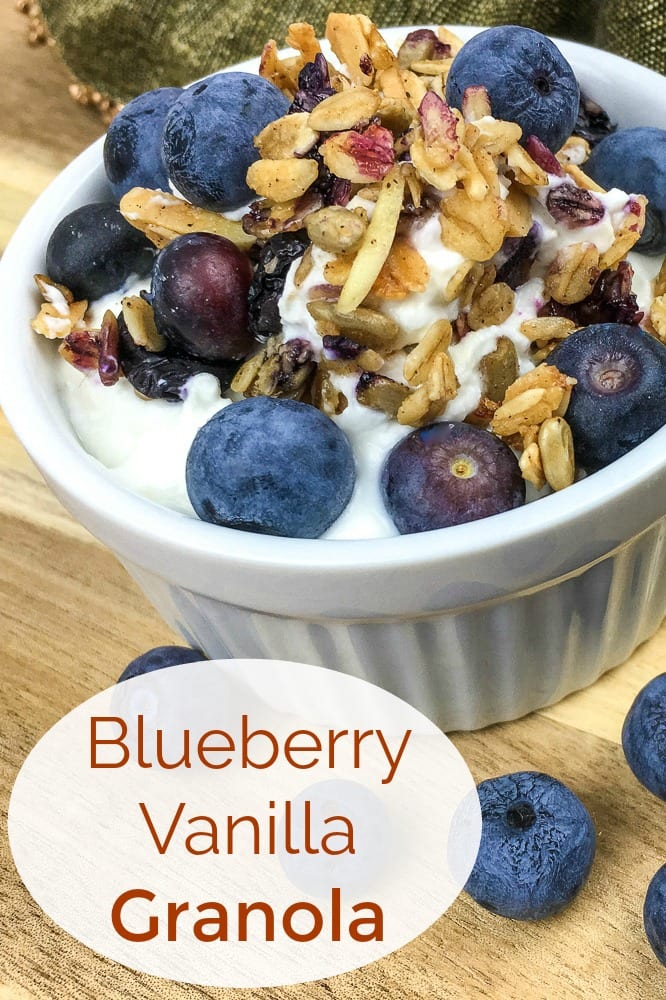 More from Mama Likes To Cook
Check out my vegetarian recipes, so you can get more great ideas for baking, cooking, blending and juicing.
Date Recipes
Date Travel
Shop Now
For a beautiful assortment of kitchen necessities and food gifts for the whole family, check out the current deals at these online stores.
Are you ready to have some delicious fun in the kitchen?