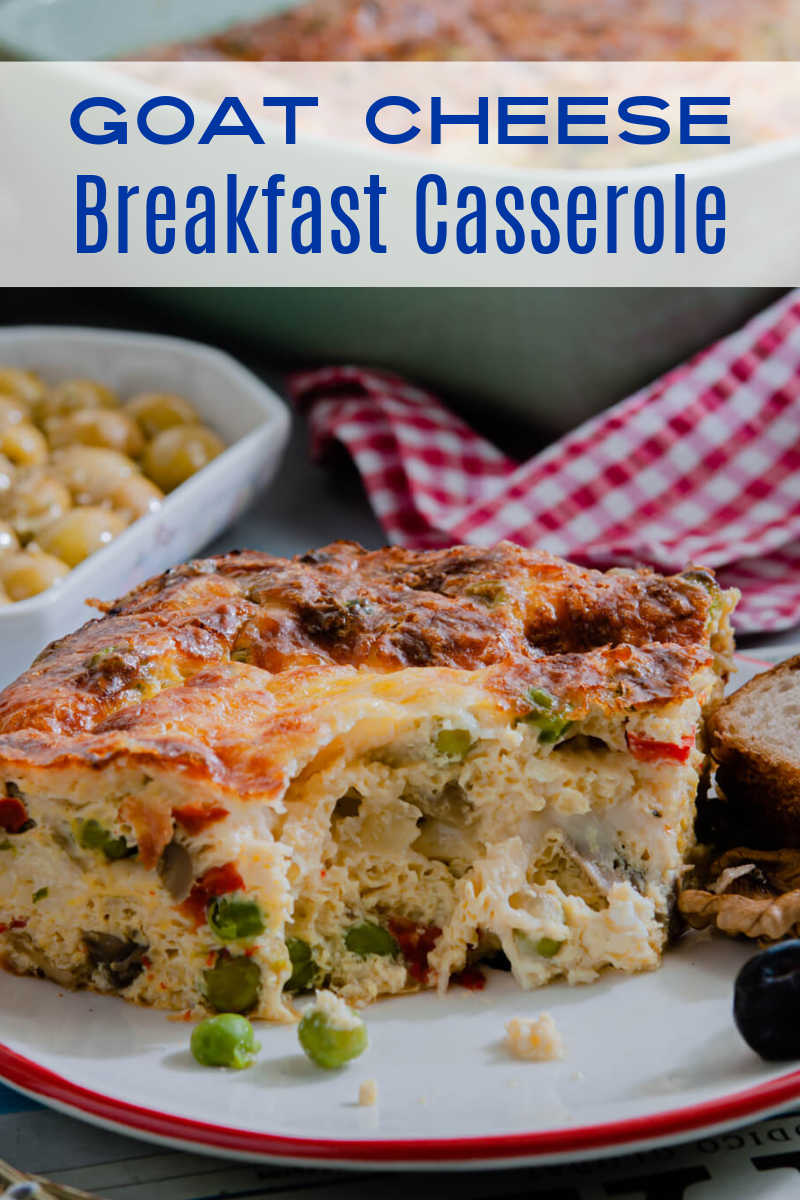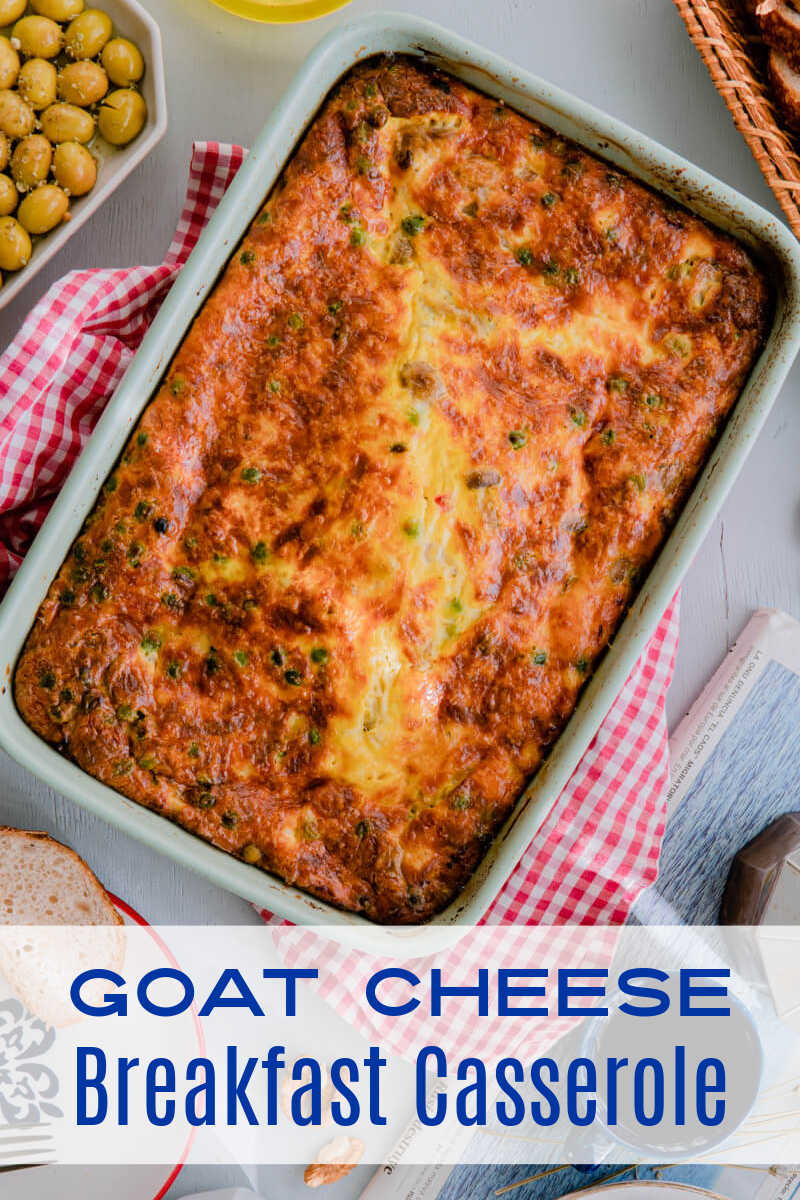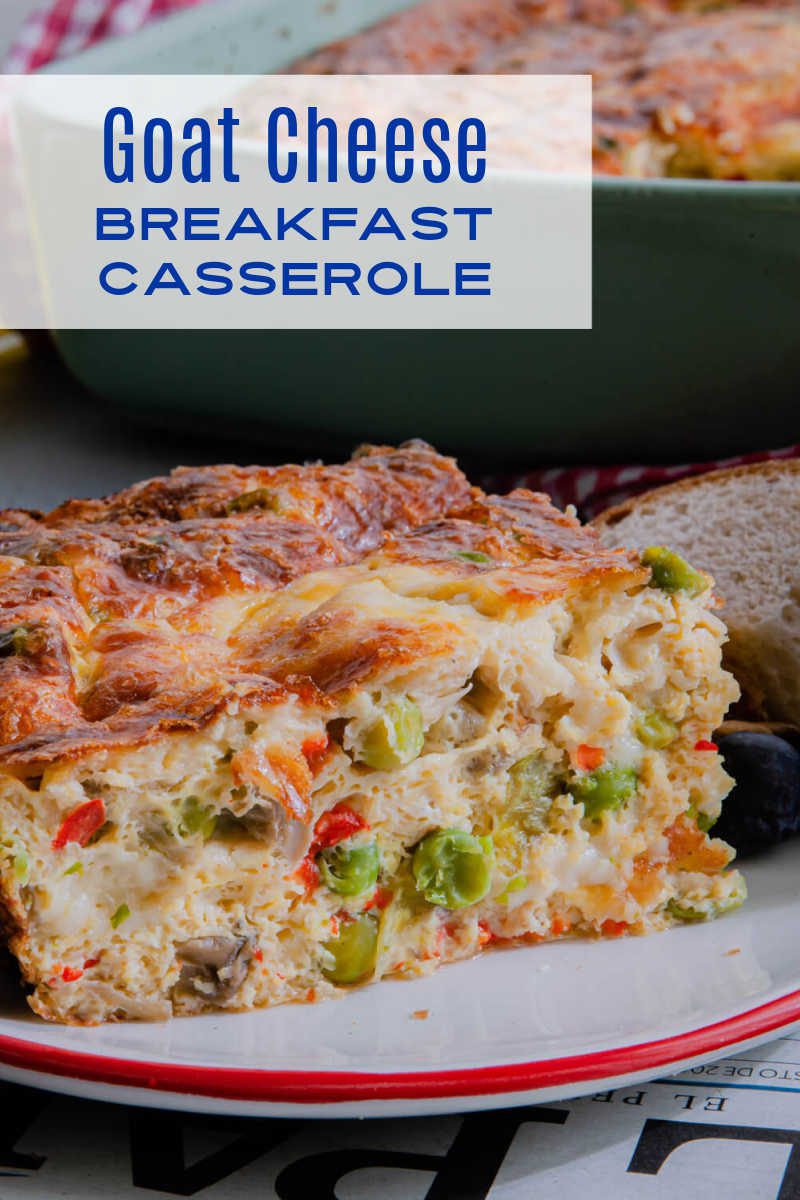 Easy Egg Casserole for Breakfast or Brunch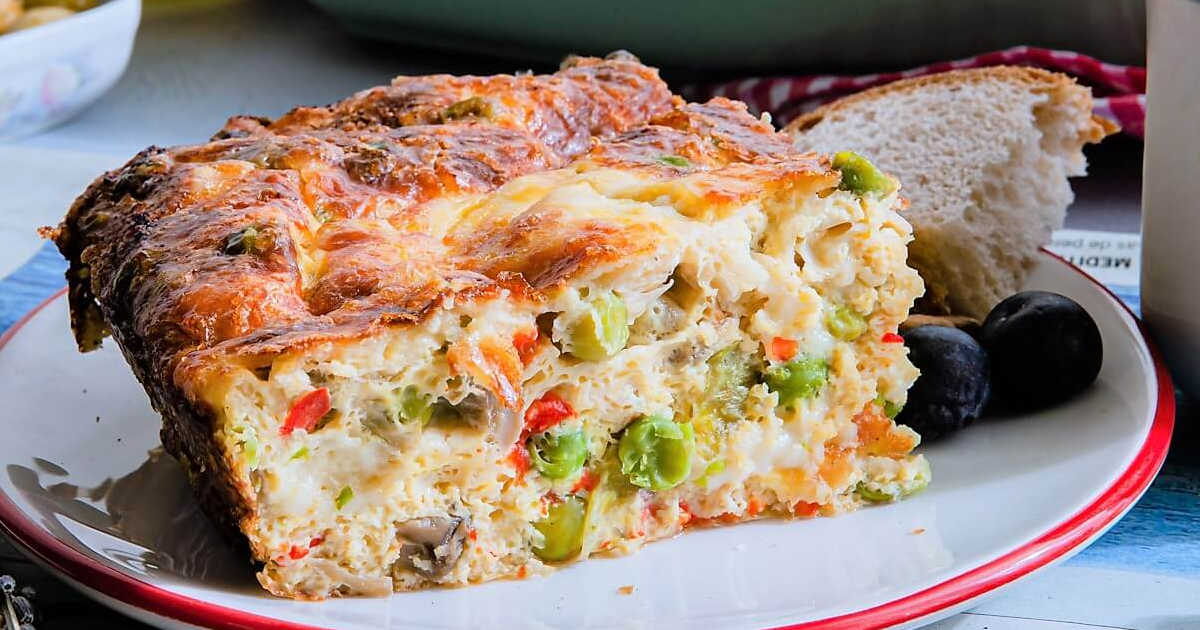 Enjoy this goat cheese breakfast casserole with mushrooms and peas for an everyday meal or a special occasion brunch.
The recipe is easy to make, but it will look and taste like it took more effort than it does.
There is protein in the egg bake, of course, and you'll enjoy the flavor and nutrition of the fresh vegetables and goat cheese.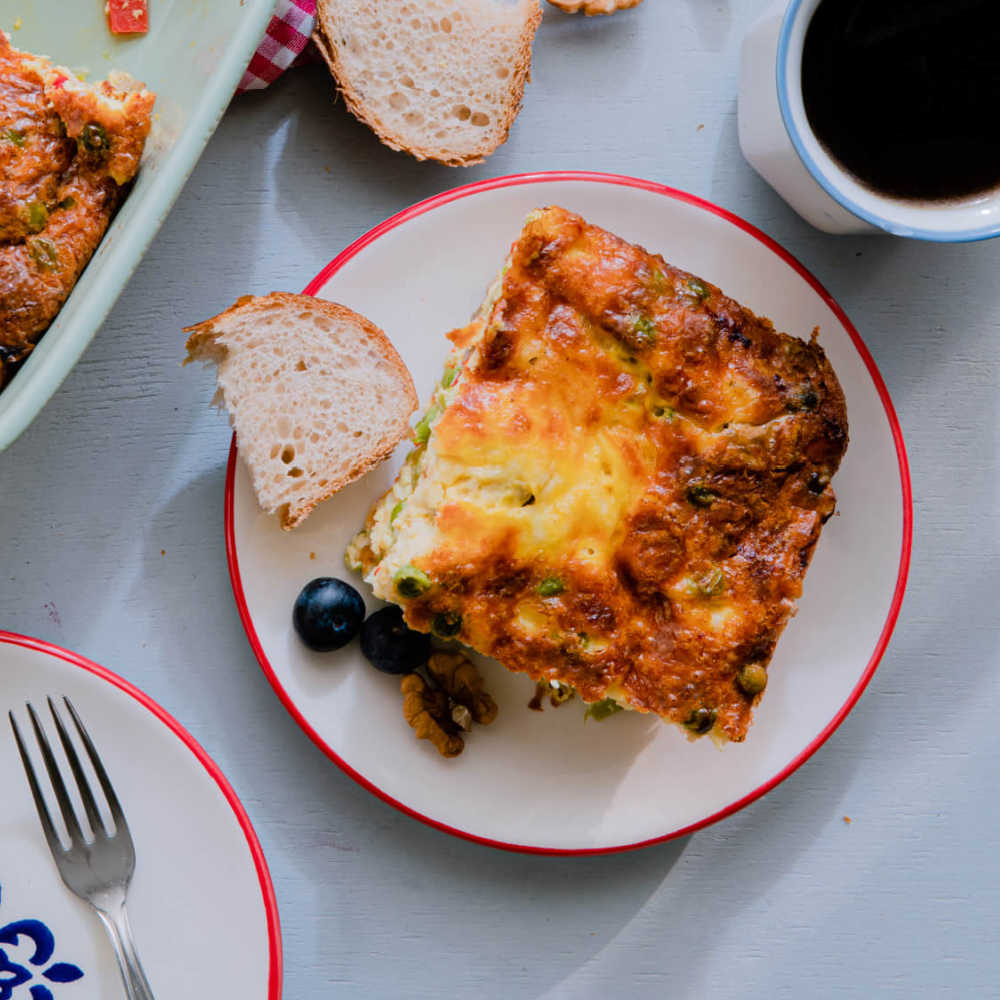 Is The Breakfast Casserole Gluten Free?
All of the ingredients in the goat cheese breakfast casserole are naturally gluten free.
As always, you will want to check package labels for hidden gluten or potential cross contamination.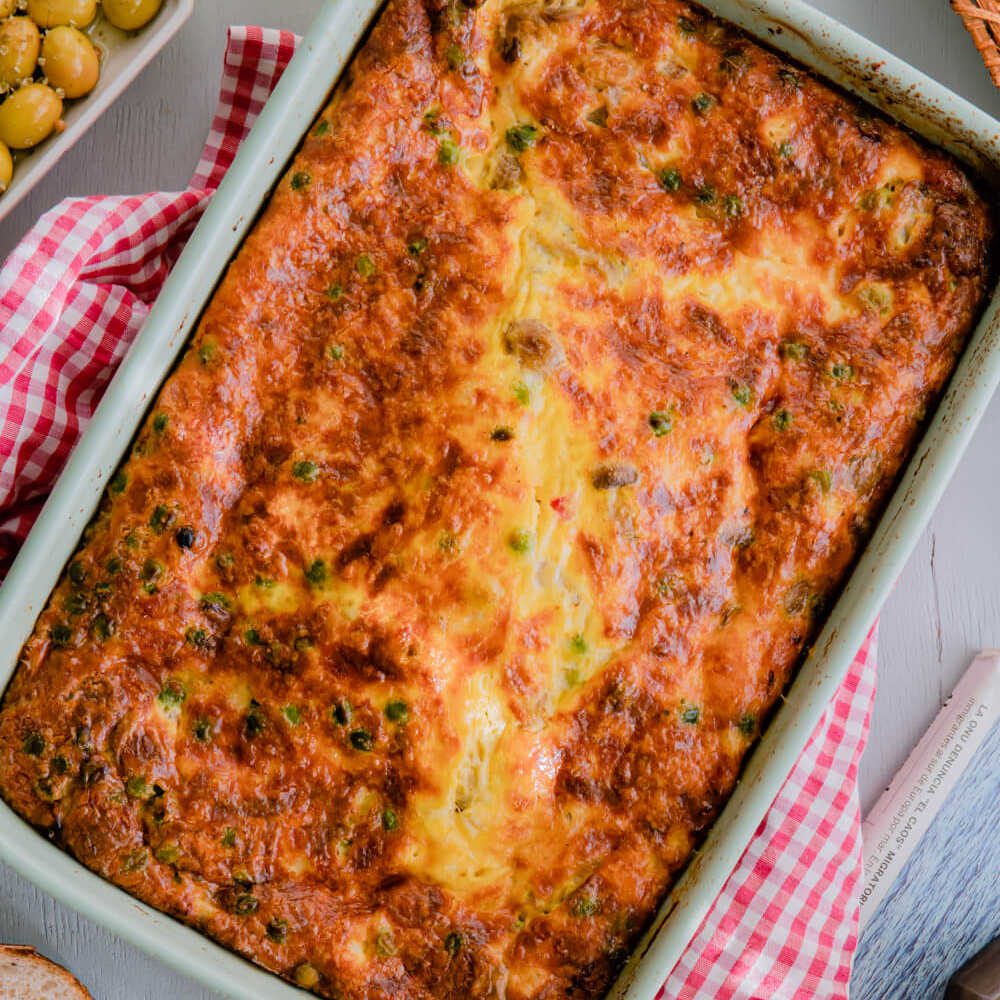 What Type of Goat Cheese Is Best In This Recipe?
A basic goat cheese without added herbs or flavors is perfect in this recipe.
You can either buy a log or a container of crumbled goat cheese.
If you want to make this a vegetarian casserole, make sure you choose a goat cheese that isn't made with animal rennet.
Most goat cheese that you find at the grocery store will be vegetarian, but you can check the label to make sure.
Any brand will do for the recipe.
I do love good artisanal cheese, but you don't need the most expensive brand for the casserole.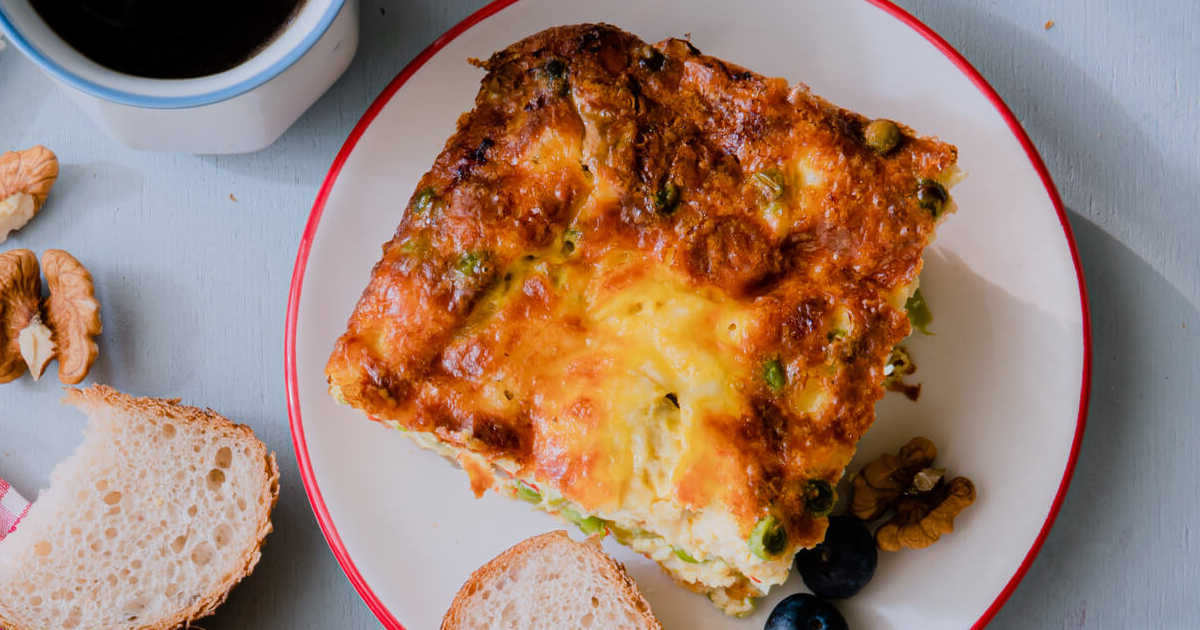 What Kind of Shredded Cheese Is Good As A Casserole Topping?
This casserole is topped with shredded mozzarella cheese.
As you can see from the photos, the mozzarella melts well and give the casserole a nice golden brown color and crispy texture.
Feel free to use another type of shredded cheese, if you'd like.
Cheddar would be good or you could try Colby Jack or another blend.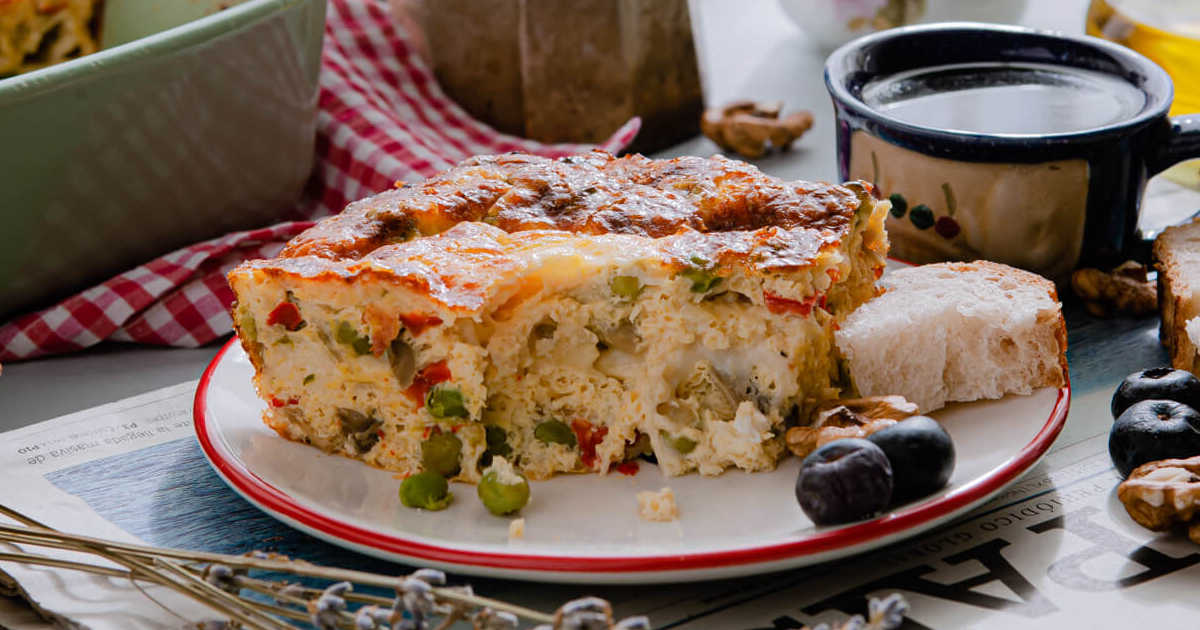 How To Store Leftover Breakfast Casserole?
Breakfast casserole leftovers are easy to store and taste great the next day.
Make sure the casserole has cooled to room temperature before refrigerating, so it doesn't "sweat" and lose its nice texture.
You can either cover the baking dish and refrigerate it as is or you can cut the casserole into individual serving size pieces.
Either wrap with plastic wrap or store in a reusable airtight container.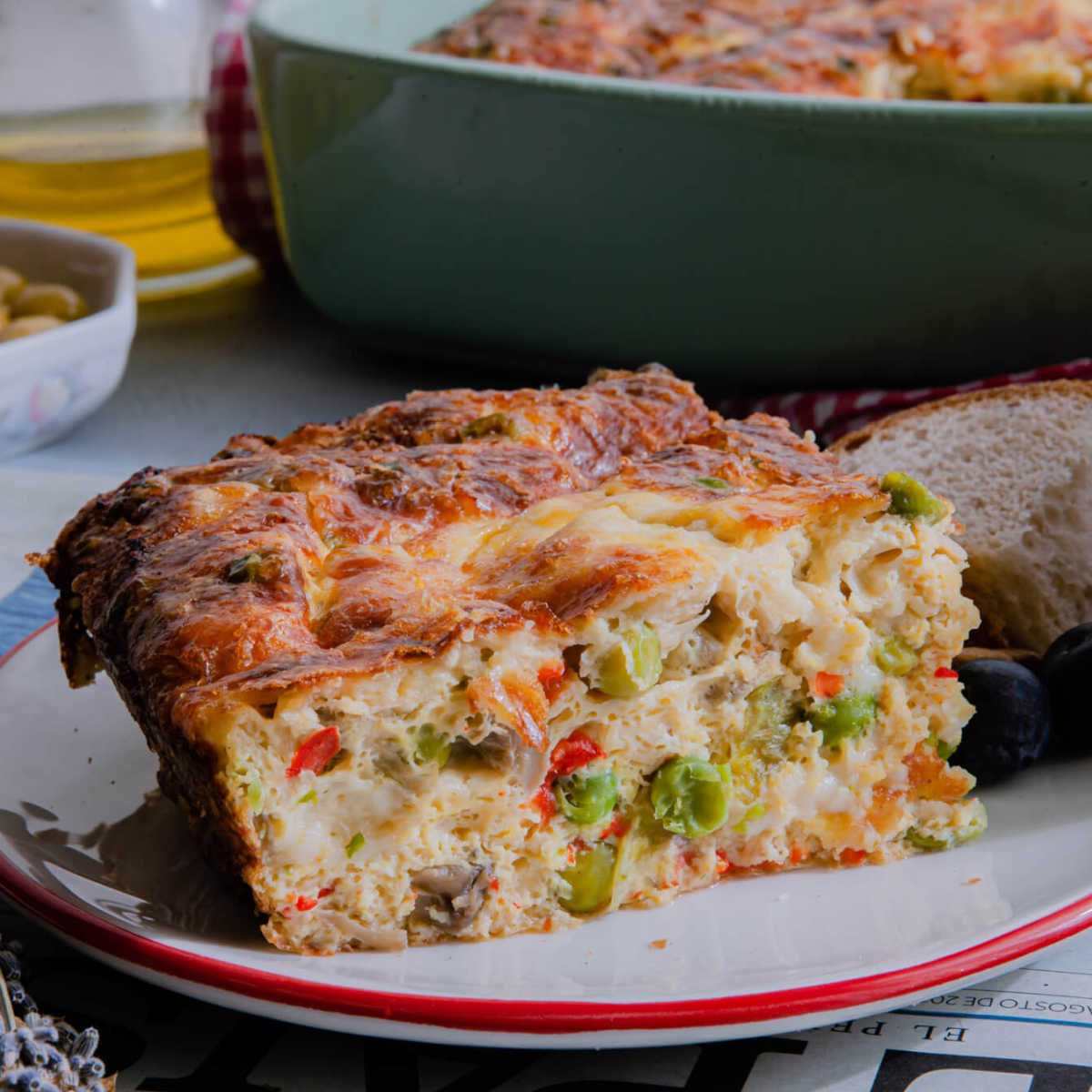 Goat Cheese Breakfast Casserole Recipe
Prep time: 15 minutes
Cook time: 40 minutes
Yield: 8 servings
Ingredients
2 T Extra Virgin Olive Oil
1 Onion, diced
12 oz. Mushrooms, chopped
1 Red Bell Pepper, diced
1 Green Bell Pepper, diced
Salt and Black Pepper to Taste
2 cups Frozen Peas
12 Eggs
½ cup Milk
1 cup Sour Cream
5 oz. Goat Cheese, crumbled
1 cup Shredded Cheese
Supplies
9″ x 13″ Baking Dish
Nonstick Cooking Spray or Parchment Paper
Skillet
Mixing Bowl
Whisk
Instructions
1) Preheat your oven to 350°. Evenly coat a 9″ x 13″ baking dish with cooking spray or line it with parchment paper.
2) Pour the extra virgin olive oil into a skillet and set the heat to medium.
3) Add the diced onion, chopped mushrooms and diced green and red bell peppers to the skillet. Stir occasionally as you cook for 8 to 10 minutes, so the veggies become soft. Add salt and black pepper to taste.
4) Stir in the frozen peas and remove the skillet from the heat.
5) In a large mixing bowl, whisk together the eggs, milk and sour cream. Stir in the crumbled goat cheese and add salt and pepper to taste.
6) Add the vegetables to the egg and goat cheese mixture and stir to combine. Pour into the prepared baking dish and top with shredded cheese.
7) Bake in preheated oven for 35-40 minutes, so the casserole is golden brown and the center is set.
8) Cool for 10 minutes. Then, slice and serve your delicious egg bake.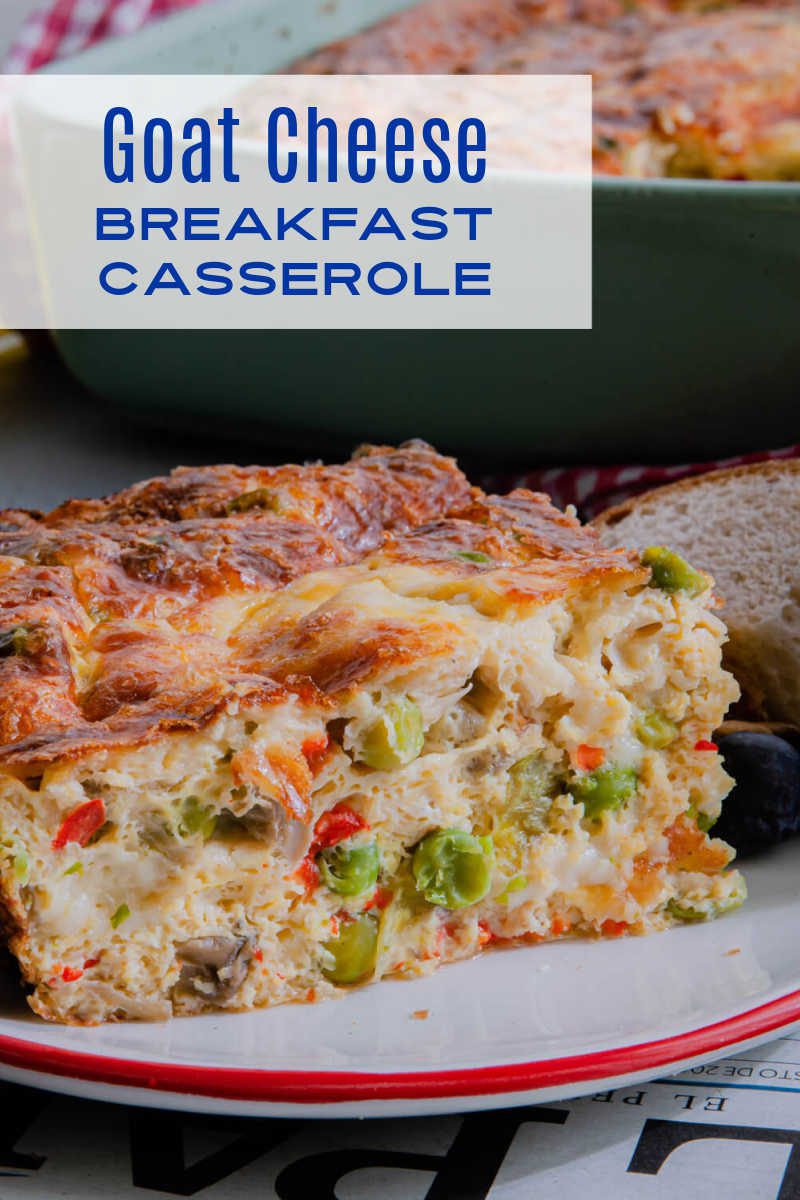 More from Mama Likes To Cook
Check out the rest of my vegetarian recipes, so you can get more great ideas for baking, cooking, blending and juicing.
Frittata Recipes
Goat Cheese Recipes
Shopping Tips
For a beautiful assortment of kitchen necessities and food gifts for the whole family, check out the deals at these online stores.
Are you ready to have some delicious fun in the kitchen?