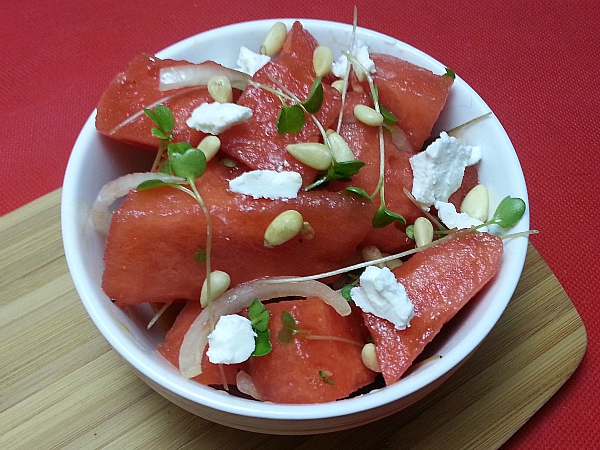 Do you like watermelon? I generally think of it as a dessert-like fruit, but this Summer I have been enjoying it in salads.
This salad has a variety of flavors and textures that come together beautifully. It's sweet, sour and tart all at the same time. I used Arugula Microgreens from Urban Produce this time. The salad also works well with pea sprouts or regular arugula. This was made with what my grocery store calls a 'personal watermelon' that is about the size of a honey dew melon.
Watermelon and Goat Cheese Salad
Ingredients:
3 T Extra Virgin Olive Oil
1 T Balsamic Vinegar
pinch salt
pinch ground pepper
1 Small Watermelon, cut into chunks
1/2 c Arugula Microgreens
1/4 cup Onion, thinly sliced
2 oz Goat Cheese, crumbled
1/2 cup pine nuts
Instructions:
Whisk together oil, vinegar, salt and pepper.
Add arugula, watermelon and onion. Toss together gently.
Can be served immediately or can be chilled in the refrigerator.
Just prior to serving, top with goat cheese and pine nuts.