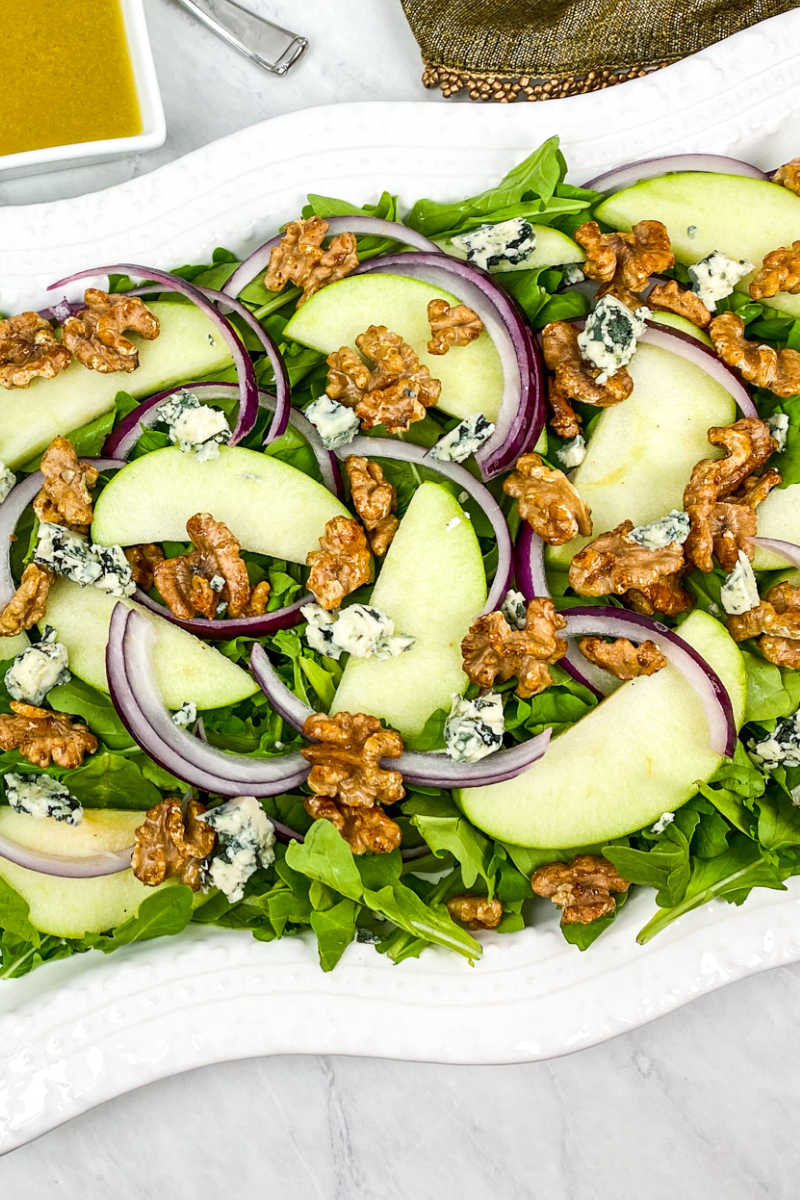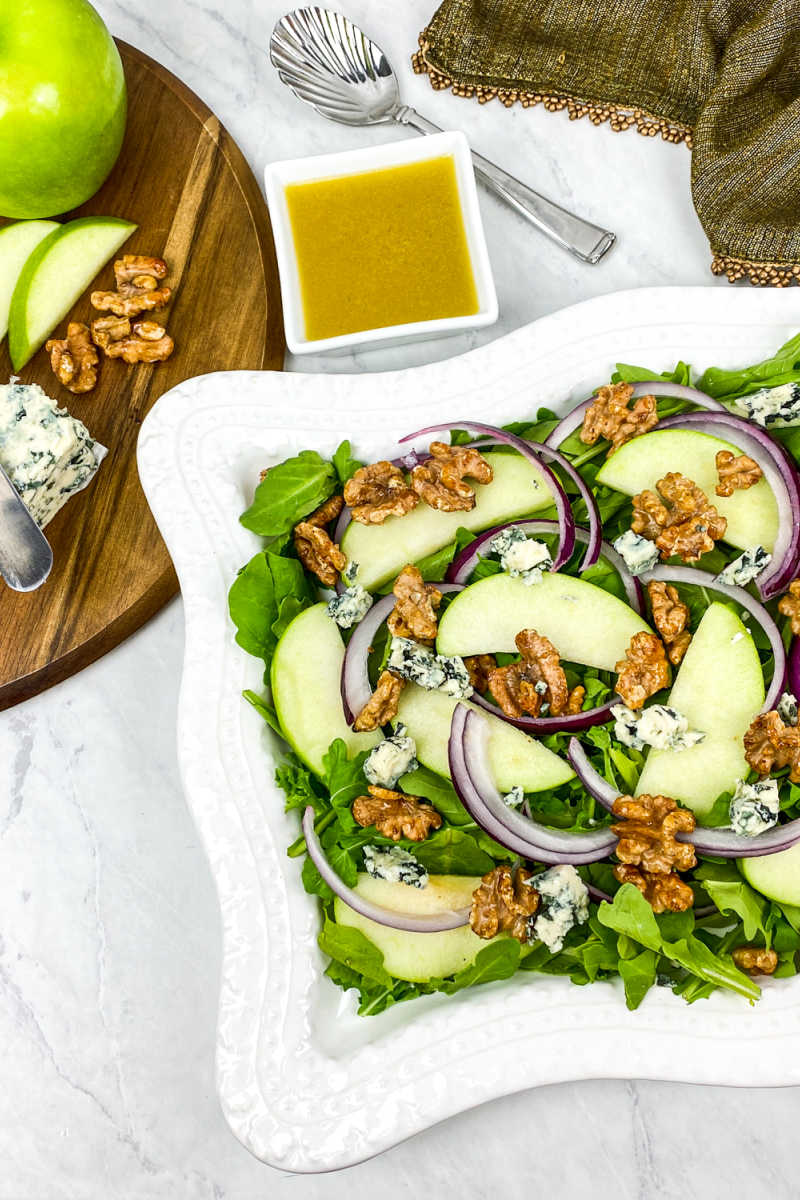 Blue Cheese Apple Salad
with Honey Roasted Walnuts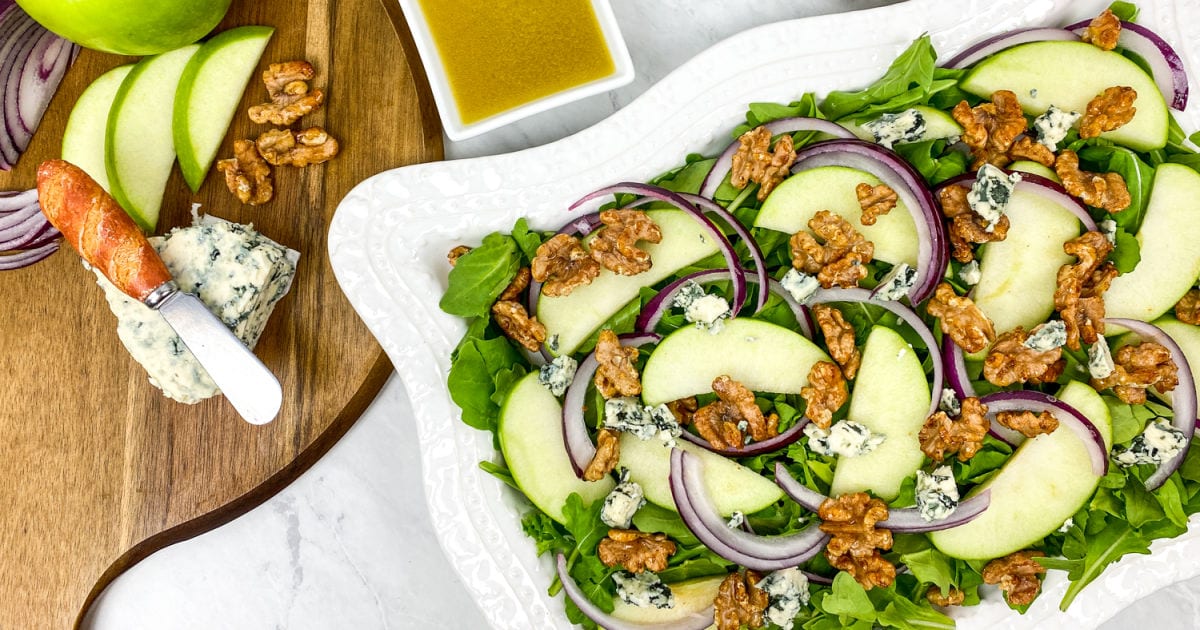 This arugula apple salad has blue cheese and honey roasted walnuts mixed in, so you will love each flavorful bite.
The salad is filling and contains a good variety of healthy nutrients, so I am happy to enjoy it as a meal.
If you want to serve it as a side salad, that's fine, too.
The recipe includes instructions for a homemade vinaigrette dressing and honey roasted walnuts, which are quick and easy to make from scratch.
However, I do understand that there are times when you want to cut corners and go with pre-made.
You can use packaged honey roasted walnuts and store bought honey dijon salad dressing.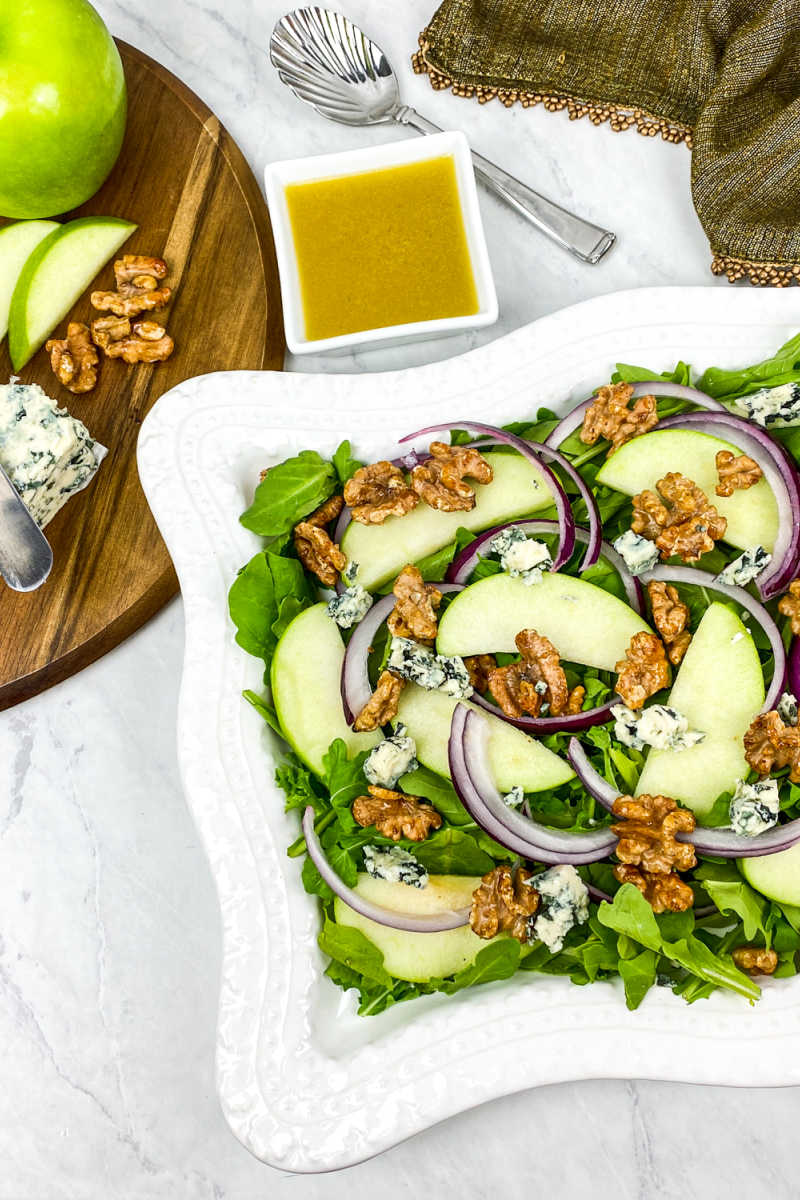 Arugula has the perfect taste to go with the flavorful ingredients in this salad.
It is also easy to grow in a backyard garden or even in pots on a balcony, so with a bit a planning you can make this salad extra special with homegrown greens.
This arugula apple salad can quickly become a family favorite.
Enjoy!
Arugula Apple Salad Recipe
Prep time: 20 minutes
Cook time: 10 minutes
Serves: 4
Ingredients
Salad
1 cup Walnuts, chopped
2 T Honey
2 t Ground Cinnamon
4 cups Arugula
2 Apples
1 T Lemon Juice
½ Red Onion, sliced thin
4 oz. Crumbled Blue Cheese
Salt and Black Pepper to taste
Dressing
¼ cup White Balsamic Vinegar
½ cup Extra Virgin Olive Oil
2 T Honey
1 T Minced Garlic
1 t Dijon Mustard
Salt and Pepper to Taste
Supplies
Baking Sheet
Parchment Paper or Silicone Baking Mat
Mixing Bowls
Tongs
Whisk
Salad Bowl
Instructions
1) Preheat oven to 350° and line a baking sheet with parchment paper or a silicone baking mat.
2) Add walnuts, honey and cinnamon to a bowl. Toss together with tongs, so that the walnuts are evenly coated.
3) Arrange the coated walnuts in a single layer on the prepared baking sheet. Bake in the preheated oven for 8 minutes. Remove from the oven and set aside.
4) Prepare the vinaigrette, when the walnuts are roasting. Add all of the dressing ingredients to a small bowl and whisk together. Taste and adjust the salt and pepper, as needed. Set aside.
5) Core and thin slice the apples. Put them in your salad bowl and sprinkle with lemon juice. Add the arugula, red onion slices, walnuts and blue cheese to the bowl. Use tongs to gently toss the salad.
6) Drizzle the salad with a bit of the dressing and toss to combine. Serve immediately with the remaining vinaigrette on the side.
More from Mama Likes To Cook
Check out my salad recipes, so you can get more delicious inspiration.
Following are some of my favorite salad recipes:
Then take a look at the rest of my vegetarian recipes, so you can have even more delicious fun in the kitchen!