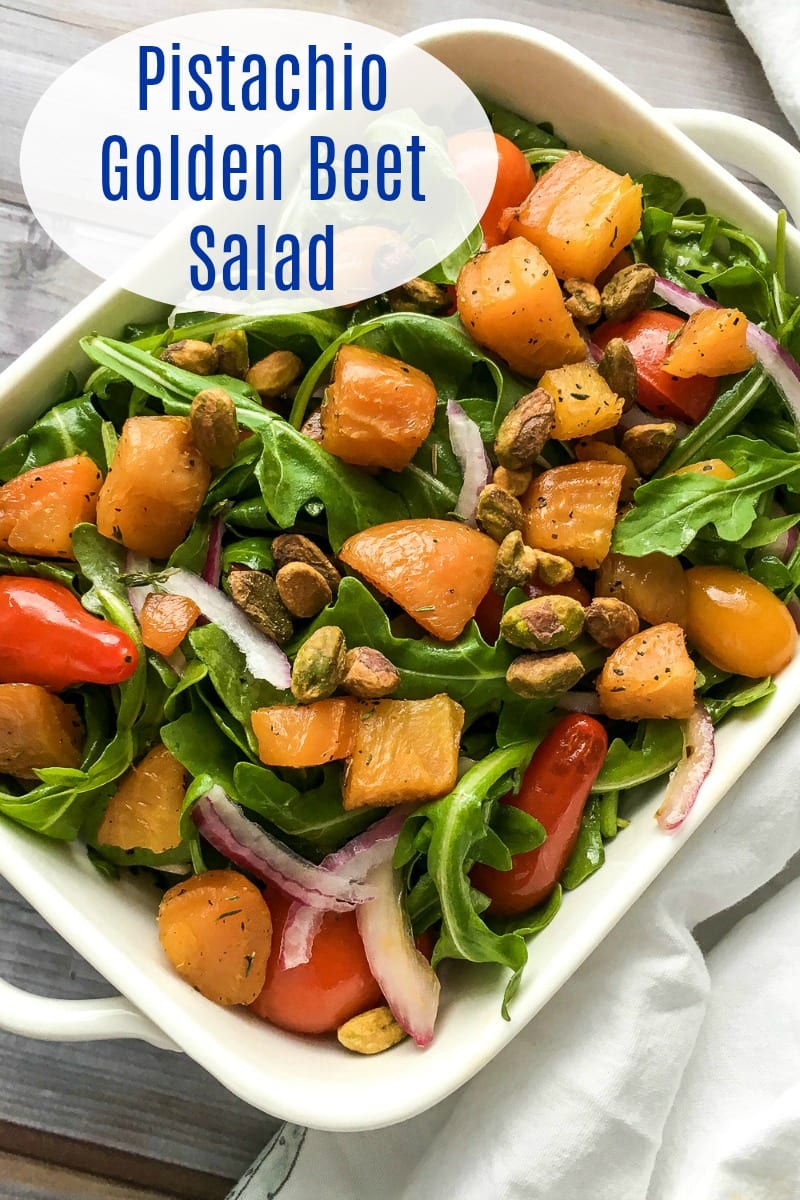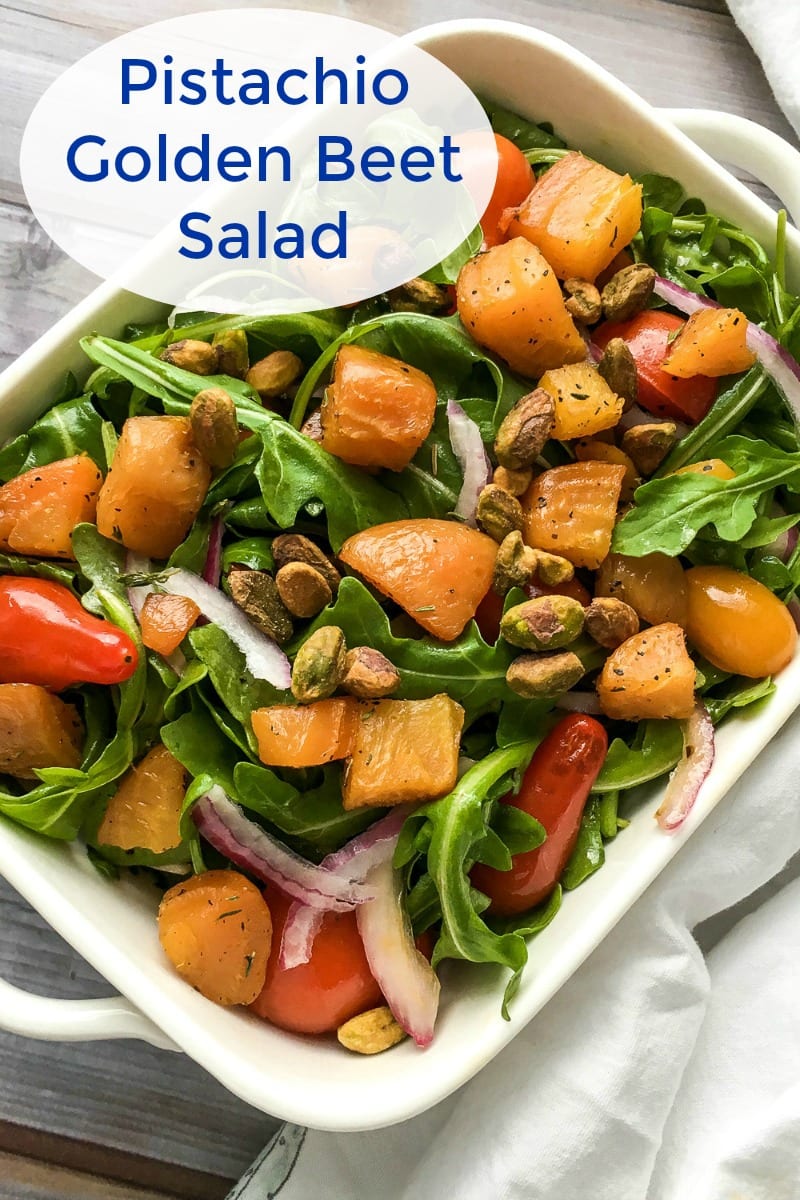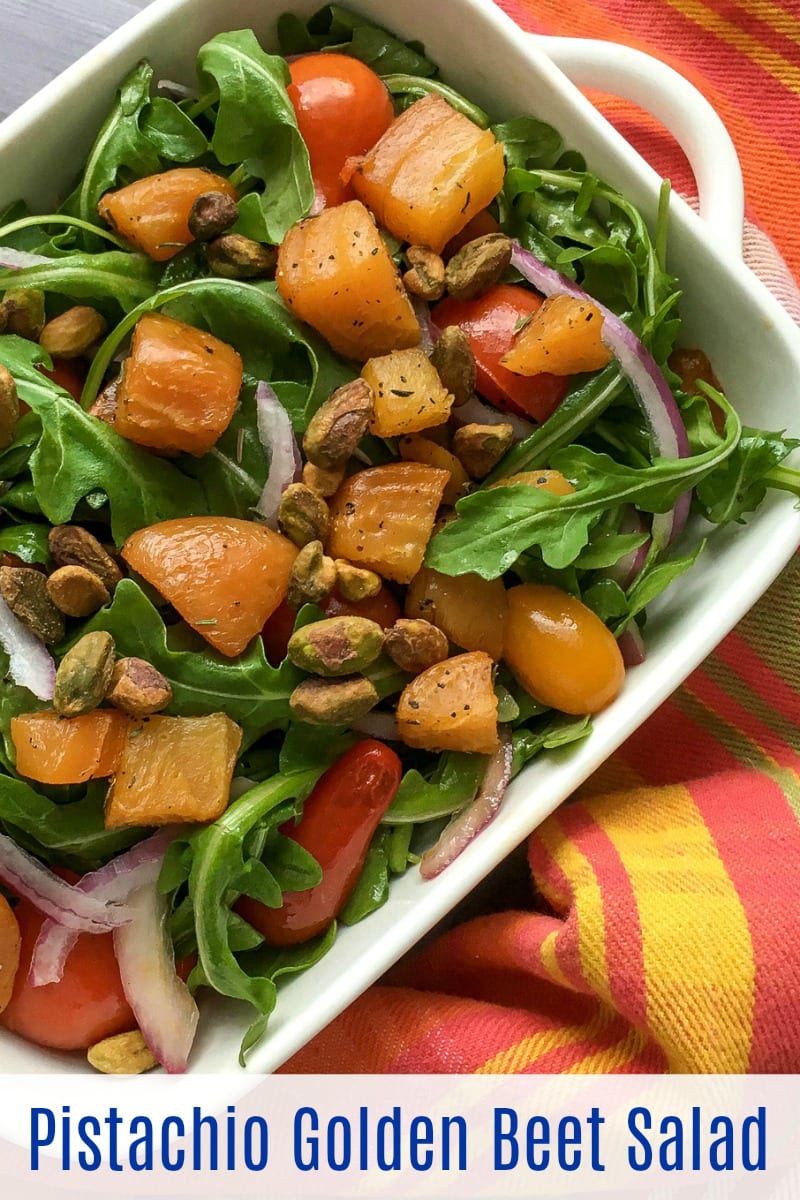 Roasted Golden Beet Salad
with Pistachios and Fresh Basil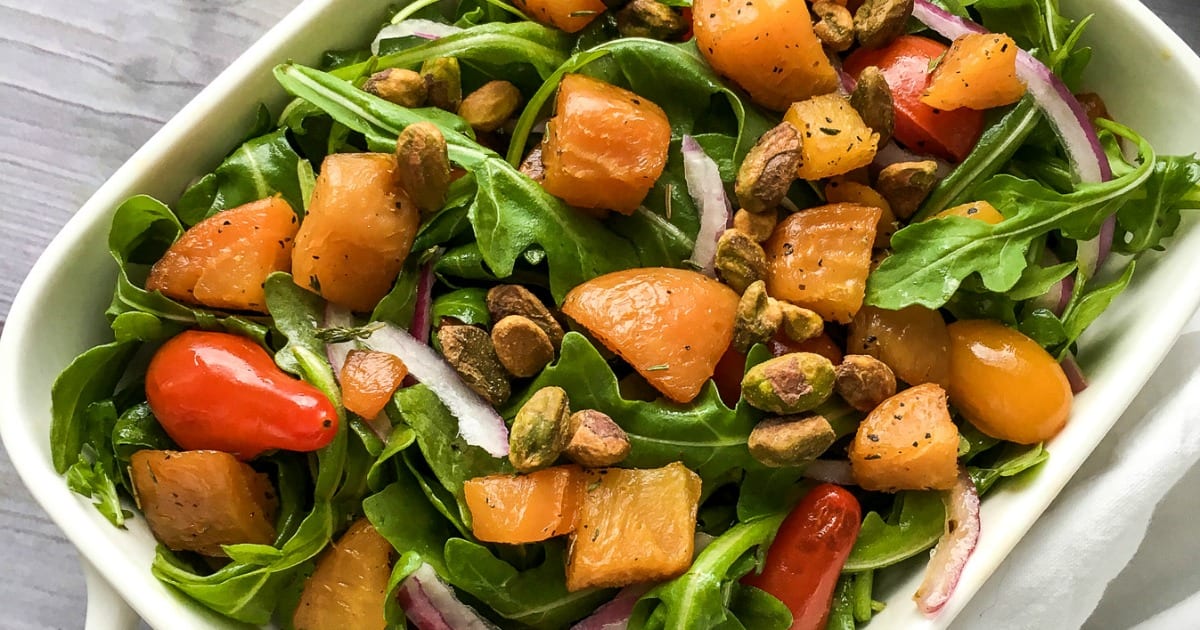 My pistachio golden beet salad is perfectly delicious and nutritious, when you want a pretty side dish or a satisfying main dish.
The first time I tried golden beets it was just because of the color, since I enjoy a variety of pretty foods.
Nutritionally, golden beets are very similar to traditional red beets.
There are, however, two main differences.
First of all, they are much less messy than red beets, so there is no need to worry about red juice staining your kitchen towels and clothing.
Second, they do taste like beets, but the golden ones are a little more sweet and a little less earthy.
While I like beets of all colors, I understand that the earthiness of the red ones is a bit much for some people.
This means that the flavor of golden beets will have a much broader appeal.
Even people who don't think they like beets will often be happy to eat golden beets.
And the pistachios are a fun addition that adds flavor, texture and nutrition to the dish.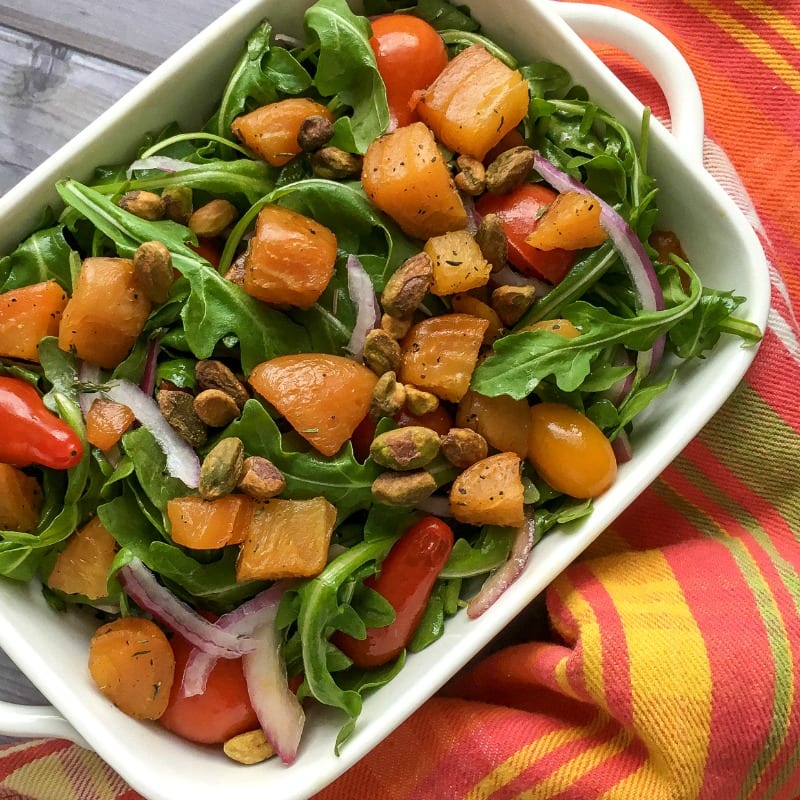 This salad and salad dressing are very quick and easy to make.
Roasting the golden beets takes a little over a half an hour.
If you'd like to roast the beets ahead of time, they can be stored in the refrigerator.
Then you can throw the salad together at the last minute, since that part of the recipe only takes a few minutes.
This salad is appealing to all of the senses, since it looks, smells and tastes fantastic.
Enjoy!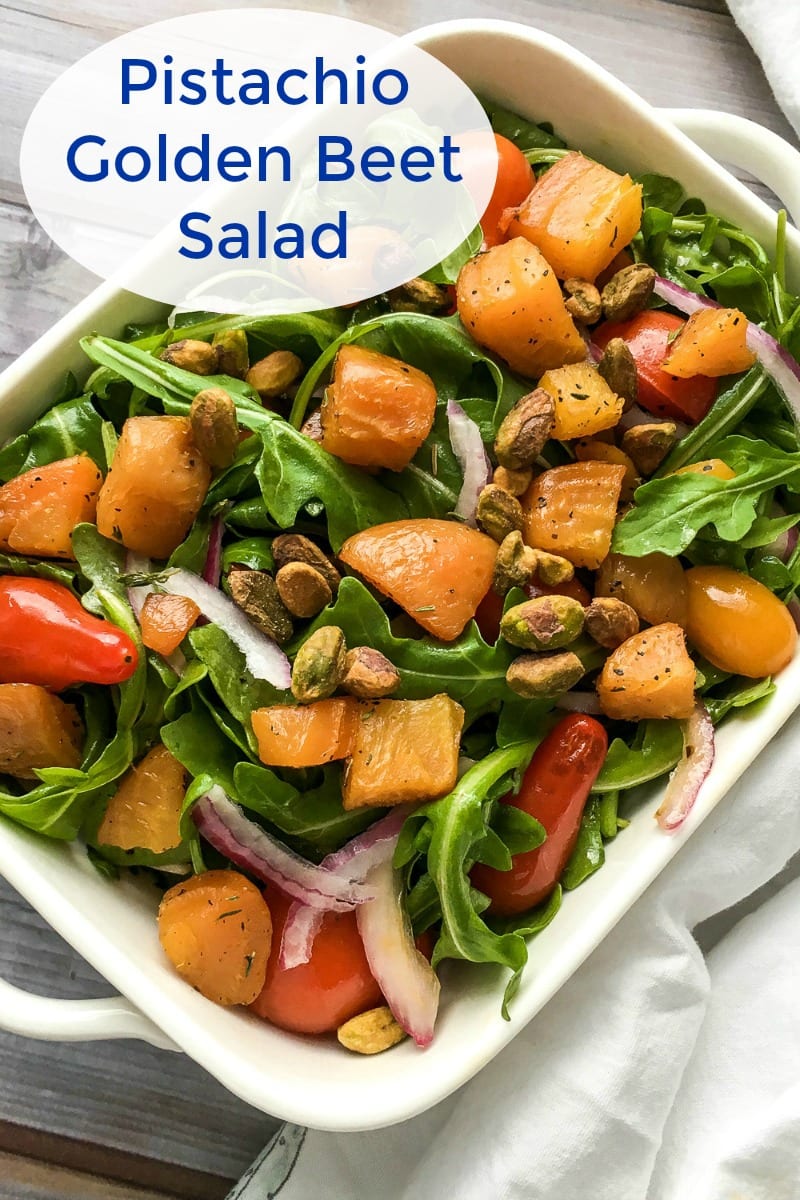 Vegan Pistachio Golden Beet Salad Recipe
Prep time: 10 minutes
Cook time: 35-40 minutes
Serves: 4-6
Ingredients
3 T Extra Virgin Olive Oil
4 Golden Beets
1 T Fresh Thyme Leaves
Salt and Black Pepper to Taste
2 cups Grape Tomatoes, halved
1 Small Red Onion, sliced thin
4 cups Arugula
3 T White Balsamic Vinegar
2 cloves Garlic, minced
¼ cup Pistachios, chopped
3 T Fresh Basil, chopped
Supplies
Large Rimmed Baking Sheet
Parchment Paper
Mixing Bowls
Whisk
Tongs
Salad Bowl or Servings Platter
Instructions
1) Preheat oven to 400° and line a baking sheet with parchment paper.
2) Peel the golden beets and cut into bite size pieces. Toss together with 1 T extra virgin olive oil and thyme leaves. Add salt and black pepper to taste.
3) Arrange beets in a single layer on the parchment paper covered baking sheet. Roast for about 35 minutes until slightly brown and fork tender. Remove from oven and set aside to cool.
4) Prepare the salad dressing in a small bowl. Whisk together the white balsamic vinegar, minced garlic and remaining 1 T extra virgin olive oil. Add salt and pepper, if desired. Transfer to a serving container.
5) Add arugula, red onion slices and tomato halves to a salad bowl or serving platter. Top with roasted golden beets, chopped pistachios and fresh basil.
6) Serve immediately with dressing on the side. If you have excess dressing, it can be refrigerated in an airtight container.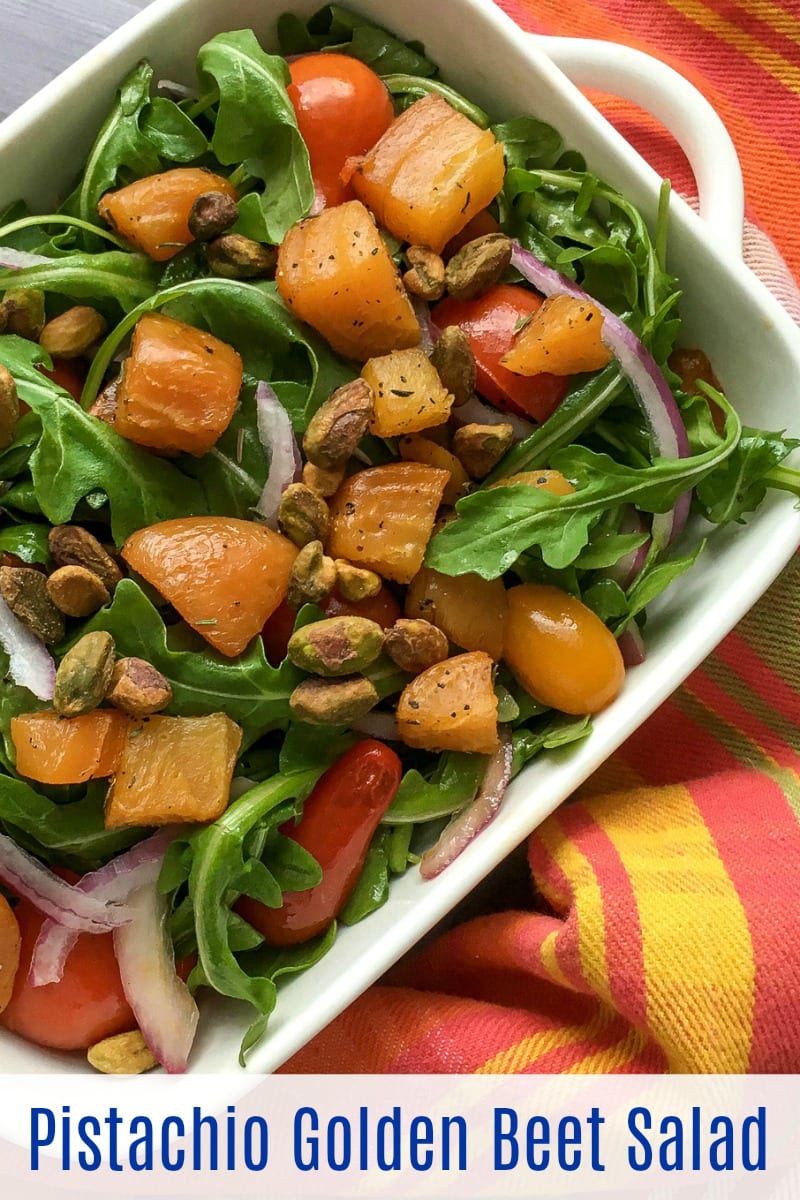 More from Mama Likes To Cook
Check out the rest of my vegetarian recipes, so you can get more great ideas for baking, cooking, blending and juicing.
Beet Recipes
Salad Recipes
Shopping Tips
For a beautiful assortment of kitchen necessities and food gifts for the whole family, check out the deals at these online stores.
Are you ready to have some delicious fun in the kitchen?