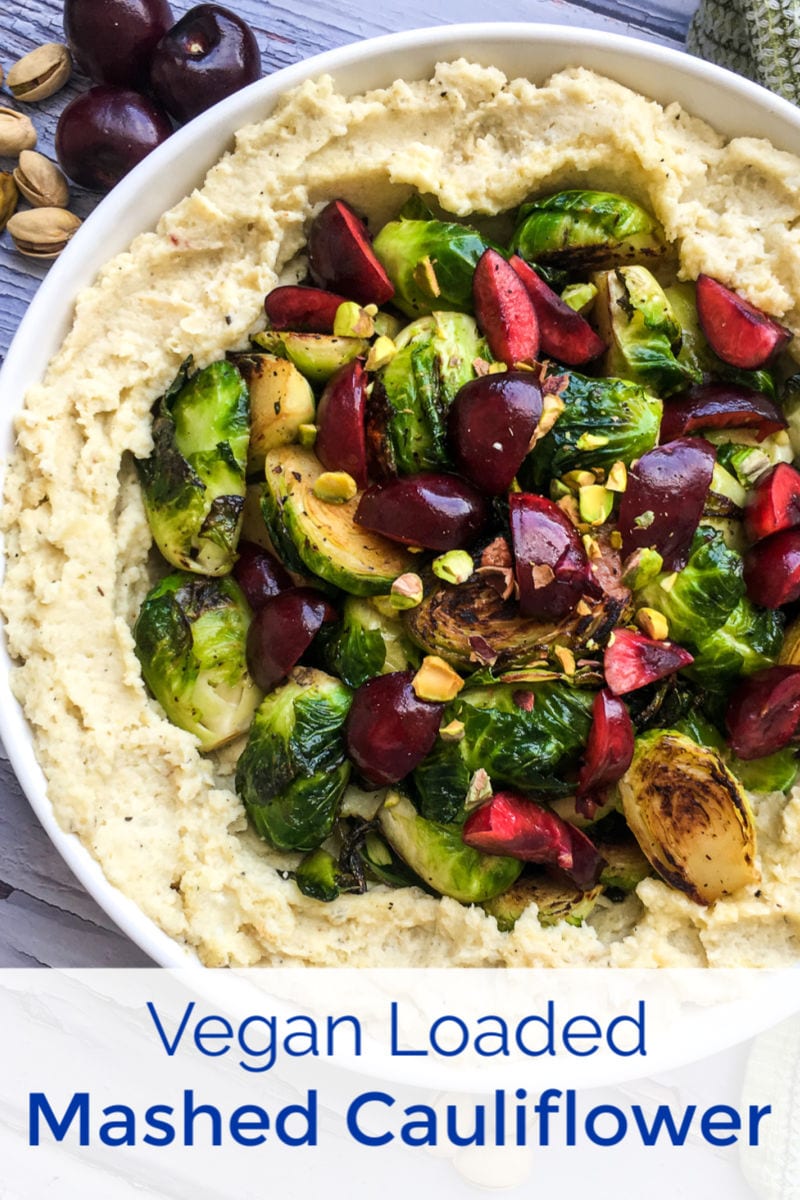 Apple Cauliflower Mash
topped with Brussels sprouts, cherries and pistachios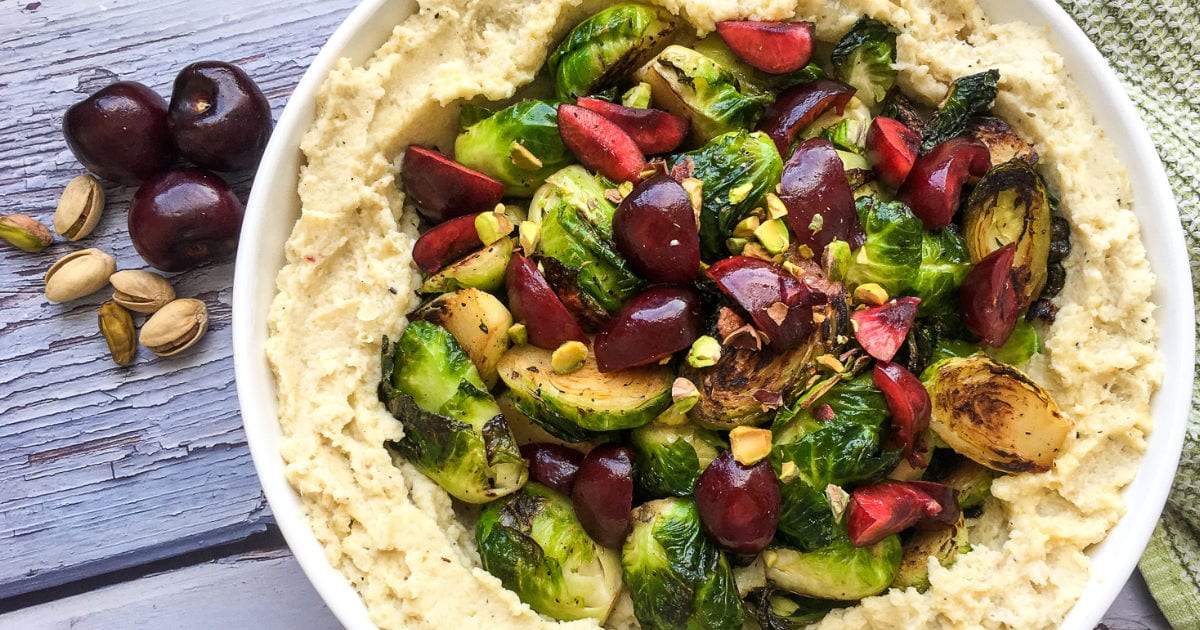 Enjoy my vegan loaded mashed cauliflower, when you want a healthy alternative to traditional mashed potatoes with the works.
The cauliflower mash is topped with Brussels sprouts, cherries and pistachios, so, yes, it is delicious.
It is a tasty twist that is different than the typical bacon and cheese topped loaded mashed potatoes.
This is a pretty side dish to go along with a meal, but I also like it as a vegan bowl lunch entree.
The wholesome ingredients are full of flavor, so it is a treat to eat.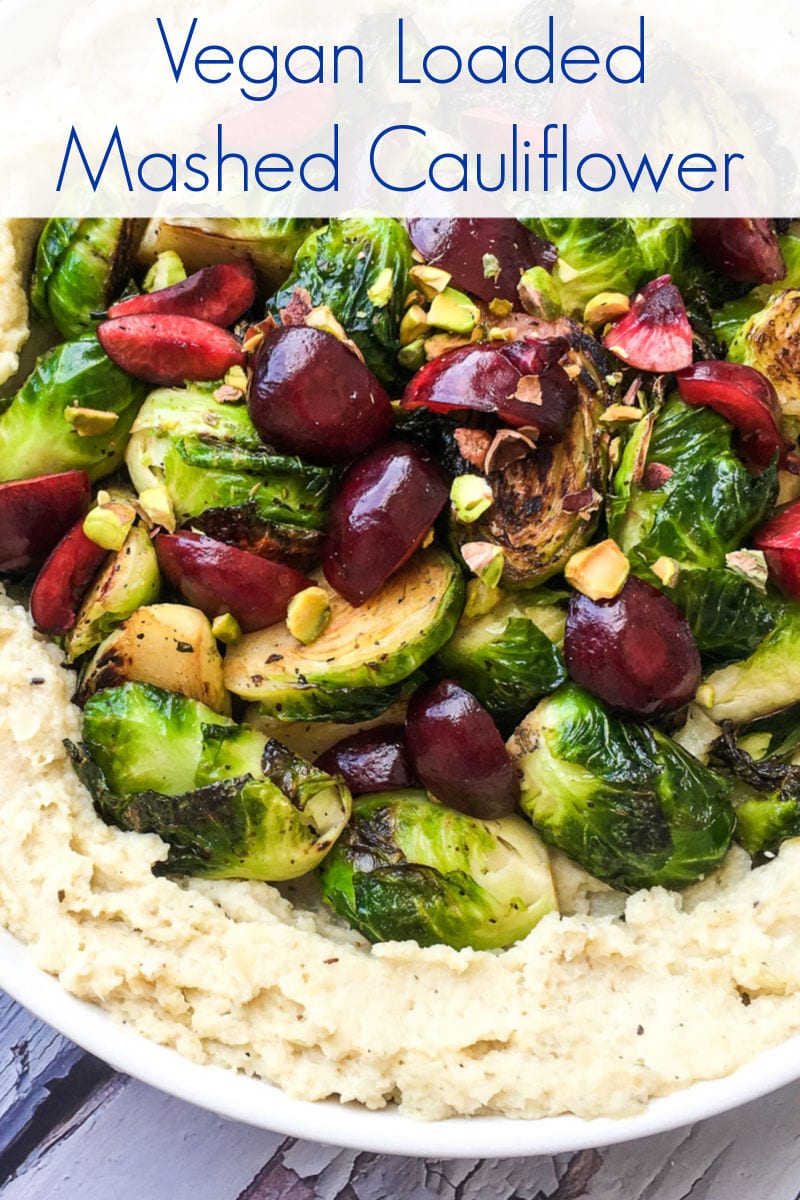 My first choice for this recipe is to use fresh cherries, but I do understand that they are not available year round.
If you are making this in the off season, feel free to substitute dried cherries for the fresh ones.
The dish will still be good, just a bit different.
I like leaving some little chunks, when I mash my cauliflower.
You can make yours extra creamy, if you prefer it that way.
Mashed cauliflower with the works looks impressive, but really is easy to put together.
Enjoy!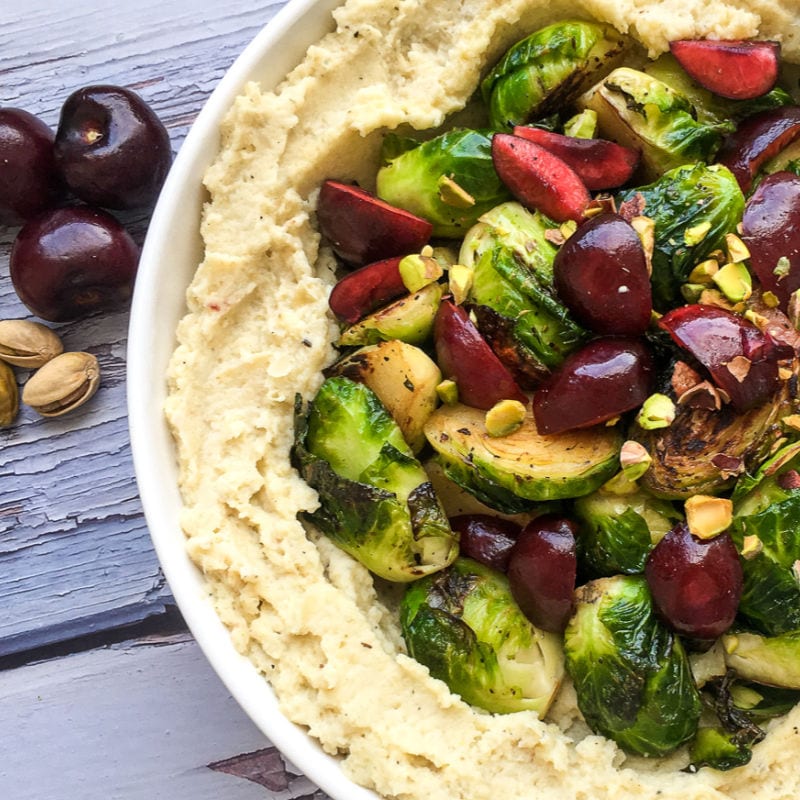 Vegan Loaded Mashed Cauliflower Recipe
Prep time 10 minutes
Cook time 30 minutes
Serves 4
Ingredients
1 Medium Cauliflower
2 Shallots
2 Apples
1 T Fresh Rosemary Leaves, minced
3 T Extra Virgin Olive Oil
Salt and Pepper to taste
1 lb. Brussels Sprouts, trimmed and halved
2 cloves Garlic, minced
1 cup Fresh Cherries, pitted and chopped (OK to substitute dried cherries)
3 T Almond Milk, unsweetened
½ cup Pistachios, chopped
Supplies
Rimmed Baking Sheet
Parchment Paper
Chef Knife
Skillet
Immersion Blender
Instructions
1) Preheat oven to 375° and line the baking sheet with parchment paper.
2) Roughly chop the cauliflower, shallots and apple. Add them along with the rosemary and 1 tablespoon of extra virgin olive oil to a large bowl. Toss to combine and season with salt and pepper to taste.
3) Arrange the cauliflower mixture in a single layer on the parchment paper covered baking sheet. Roast for about 25 minutes until cauliflower is fork tender.
4) While cauliflower mixture is roasting, heat remaining tablespoon of olive oil in a skillet. Add the minced garlic and cook the garlic alone for about 30 seconds, stirring constantly.
4) Add Brussels sprouts to the skillet and cook for about 15 minutes, stirring occasionally. Stir in cherries and cook for about 2 minutes. Then, remove from heat and stir in pistachios.
5) Transfer the roasted cauliflower mix to a large mixing bowl. Add remaining tablespoon of extra virgin olive oil and almond milk. Blend with an immersion blender until it reaches your desired consistency. Salt and pepper to taste.
6) To serve, spoon the mashed cauliflower into a large serving bowl and top with the crispy Brussels sprouts mixture.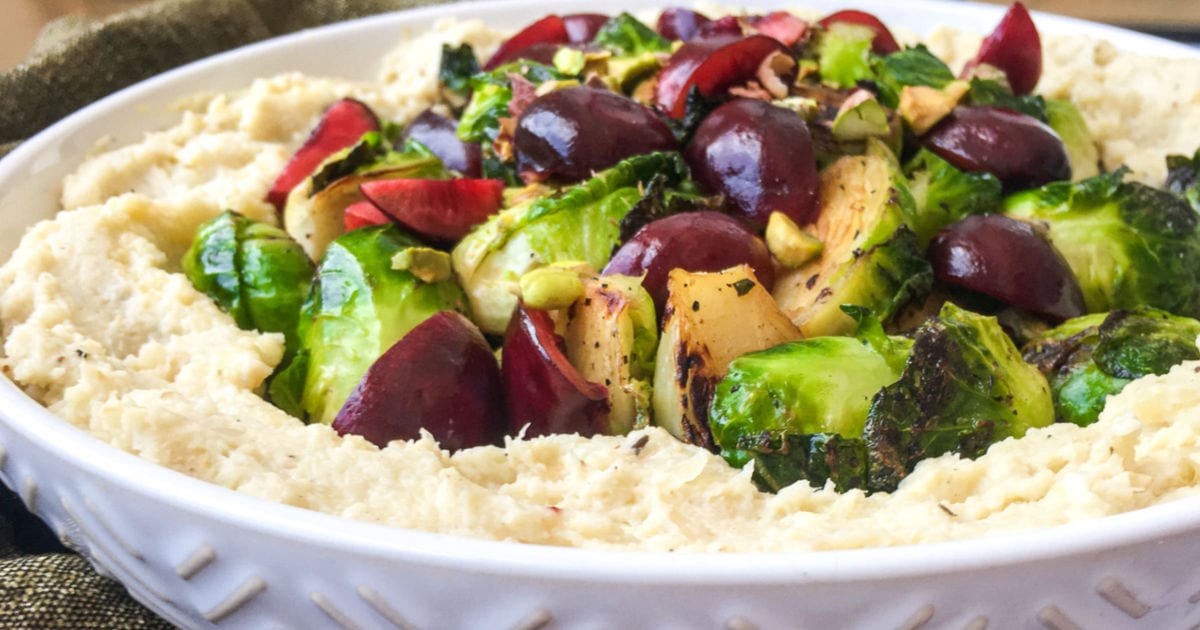 More from Mama Likes To Cook
Check out the rest of my vegetarian recipes, so you can get more great ideas for baking, cooking, blending and juicing.
Cherry Recipes
Brussels Sprouts Recipes
Shopping Tips
For a beautiful assortment of kitchen necessities and food gifts for the whole family, check out the deals at these online stores.
Are you ready to have some delicious fun in the kitchen?