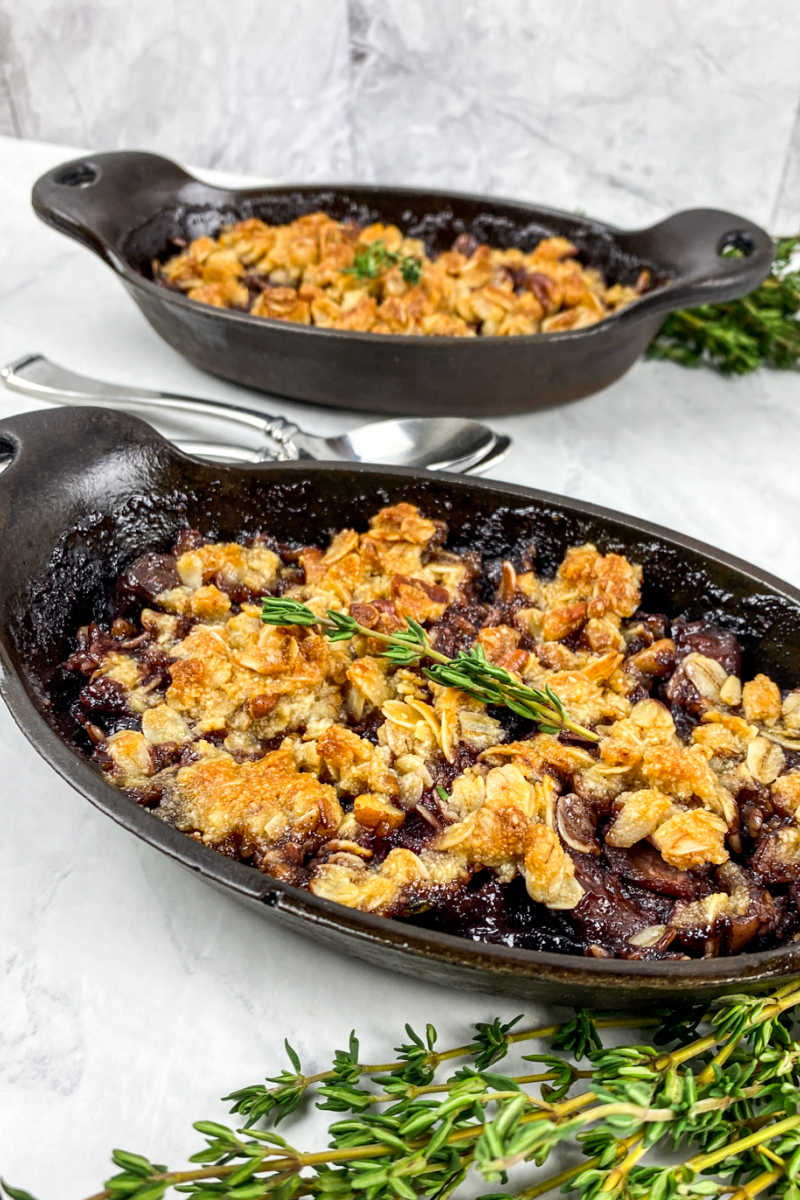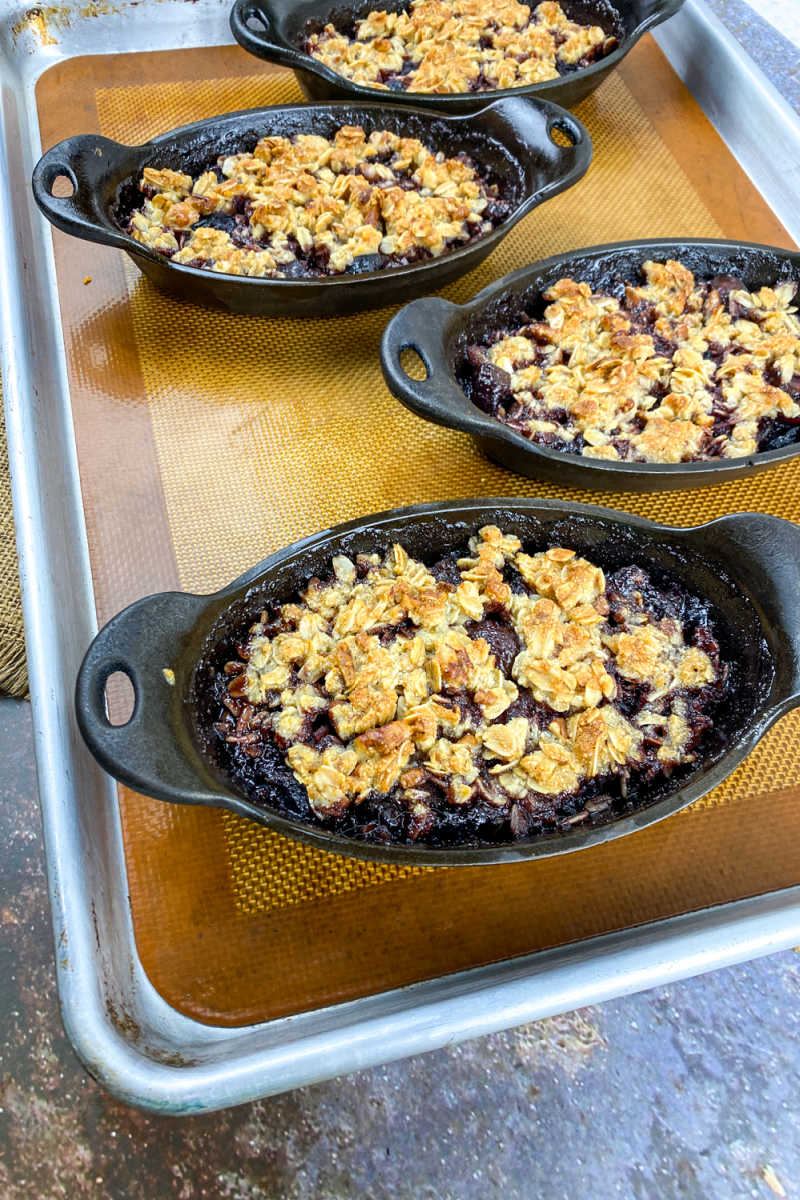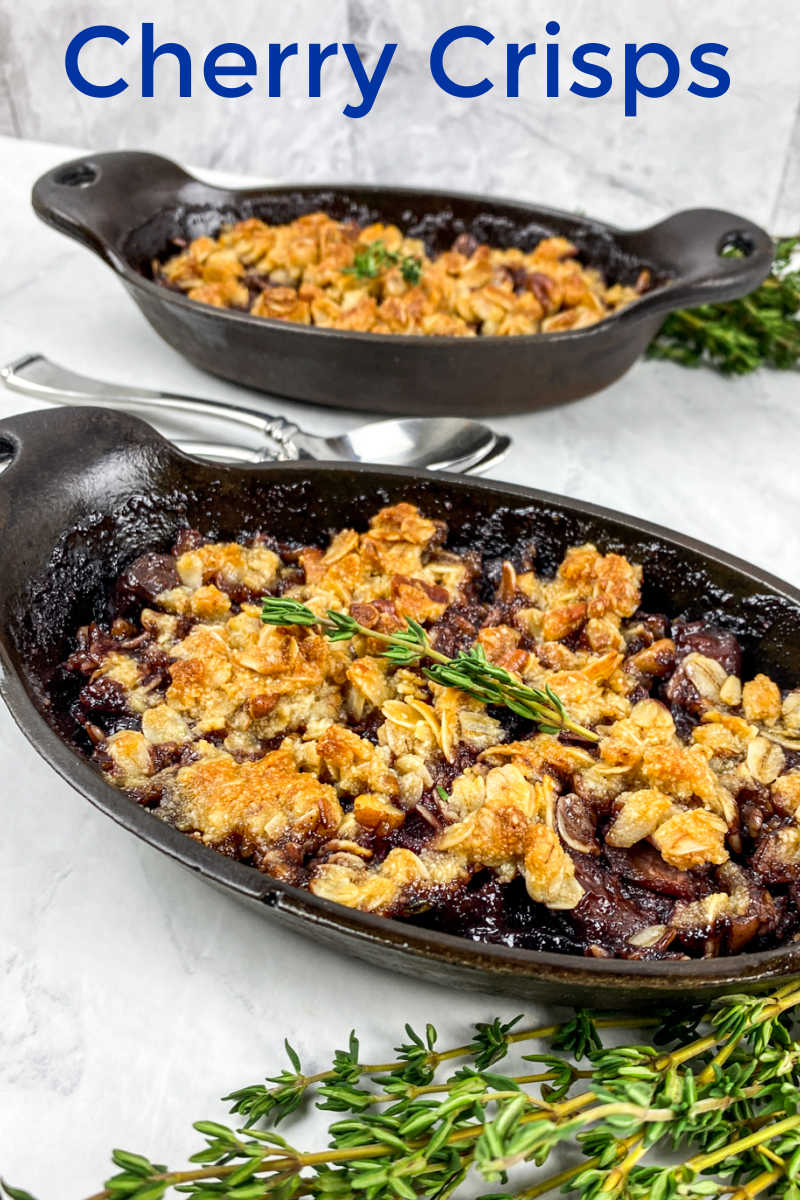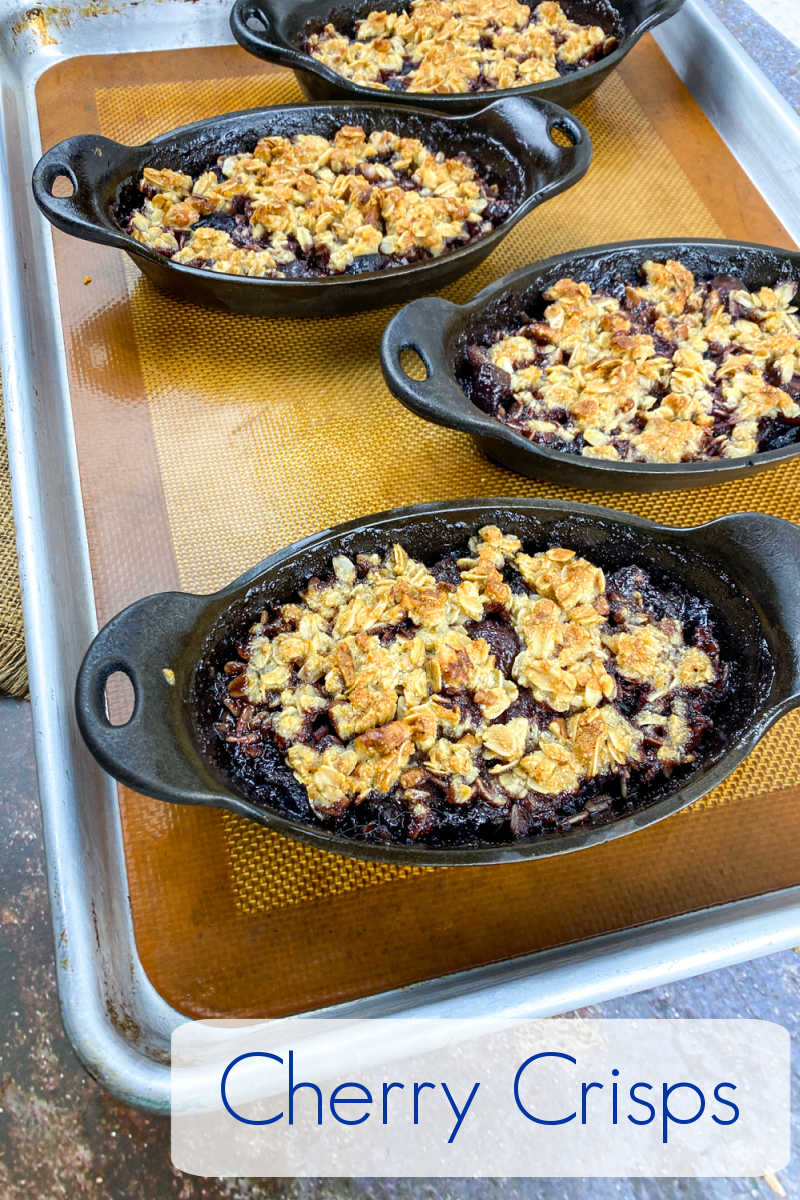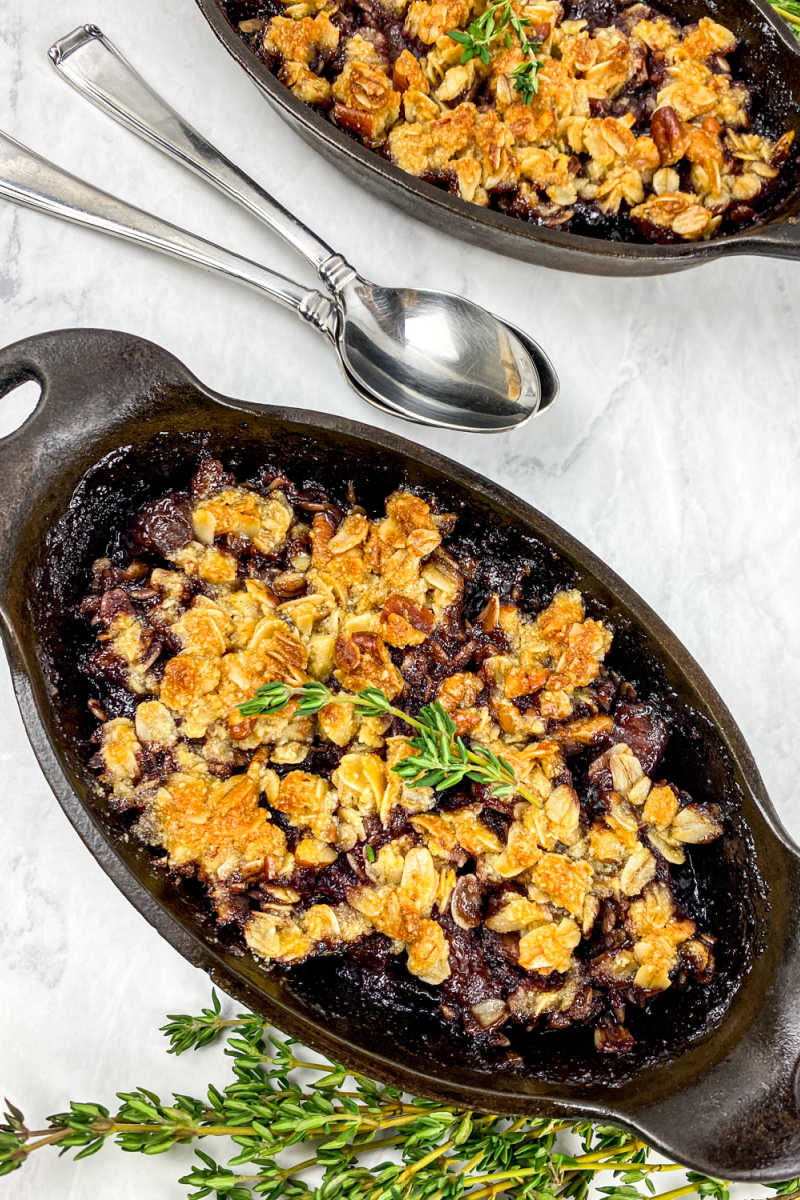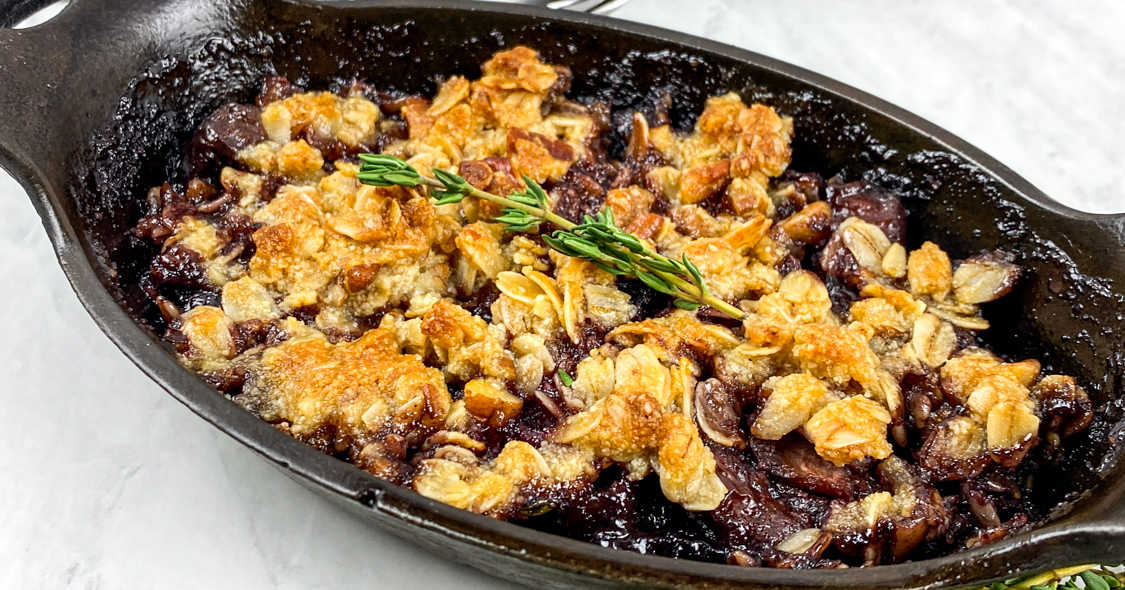 This easy cherry crisp that is baked in cast iron will satisfy your comfort food cravings, when you eat it as is warm from the oven.
Frozen cherries are my choice for this recipe, since they don't require pitting and give consistently good results.
Once the cherries have thawed, you can easily drain off the extra liquid.
This will give your crisp a better consistency and you can save the liquid to use in smoothies, cocktails or other beverages.
Choose dark cherries, tart cherries or whatever other type you prefer.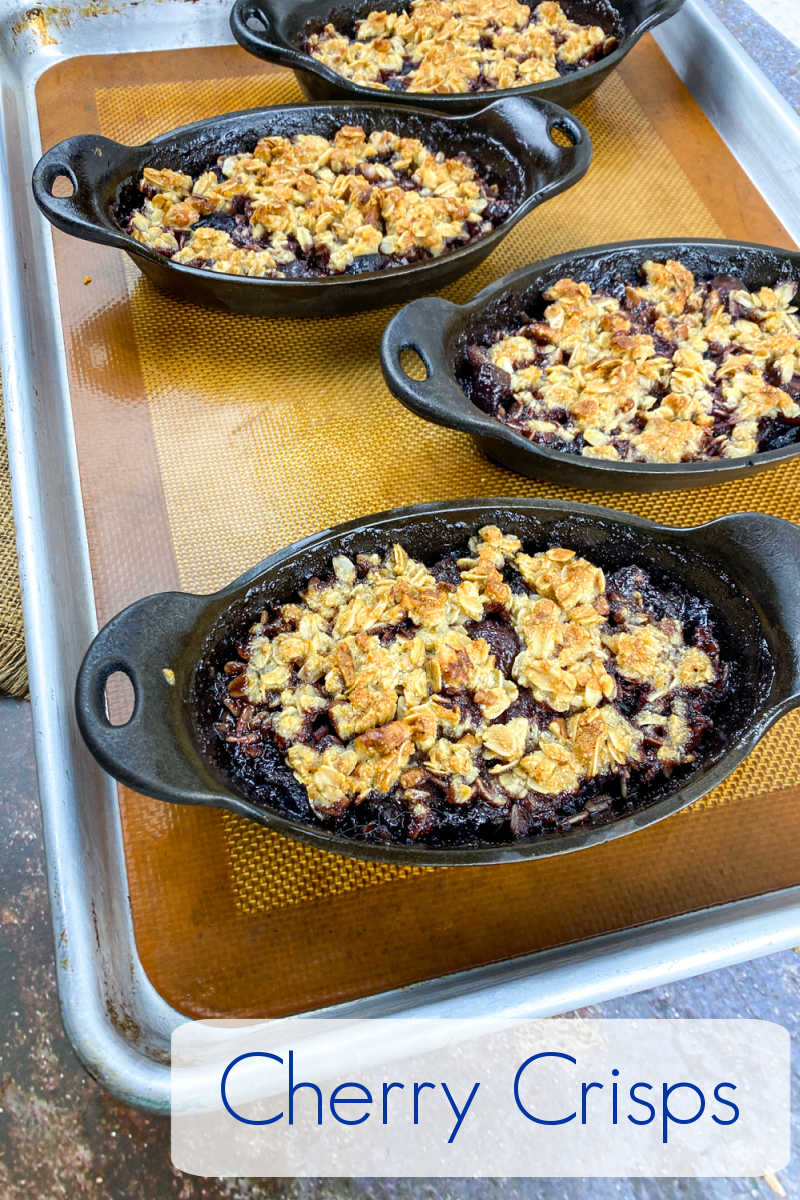 I love using these oval cast iron servers that can go from the oven to the table, but you can make this dessert in a skillet, too.
The dessert is wonderful as is, when it is still warm.
If you'd like to add a scoop of ice cream or dollop of whipped cream, that would be nice, too.
Fruit crisps are always a treat, and this one is delicious!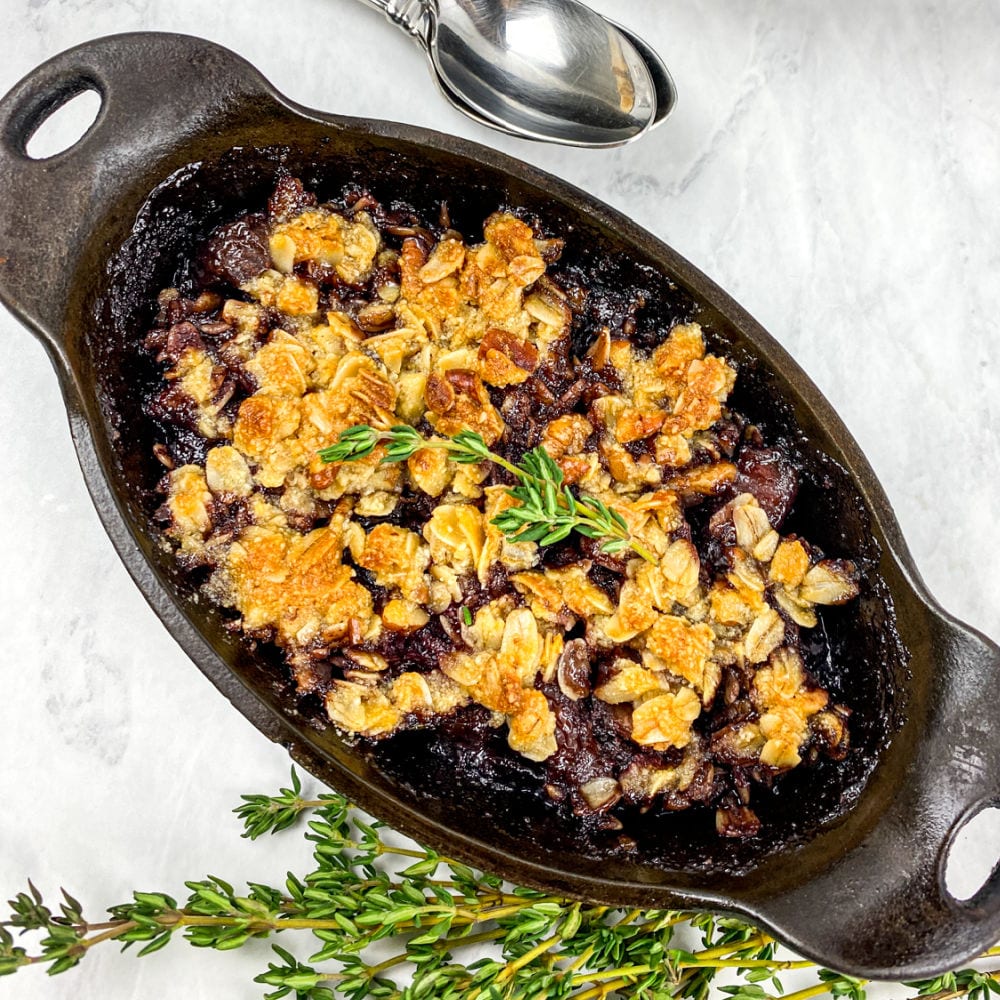 Easy Cherry Crisp Recipe
Prep time: 20 minutes
Cook time: 30 minutes
Serves: 4-6
Ingredients
Fruit Layer
4½ cups Frozen Cherries (thawed, drained and chopped)
¼ cup Maple Syrup
½ t Allspice
½ t Cinnamon
¼ t Ground Cloves
1 T Fresh Thyme Leaves
Topping
1 cup Oats
½ cup Almond Flour
½ cup Pecans, chopped
1/3 cup Maple Syrup
5 T Coconut Oil, melted
1/8 t Salt
Garnish
Fresh Thyme Sprigs
Supplies
2 Mixing Bowls
Measuring Cup
Measuring Spoons
Tongs
4 9-oz. Oval Cast Iron Mini Servers OR 10" cast iron skillet
Aluminum Foil (if using a skillet)
Instructions
1) Preheat oven to 350°.
2) Add the cherries that have already been thawed, drained and chopped to a mixing bowl with the maple syrup, allspice, cinnamon, cloves and thyme. Use tongs to toss, so that the ingredients are combined.
3) Add the dry topping ingredients (oats, almond flour, nuts) to a second mixing bowl and stir. Pour in the maple syrup and 3T melted coconut oil and stir to combine.
4) Use the remaining 2T coconut up to 'grease' the oval cast iron baking dishes or skillet, whichever you are using.
5) Pour the cherry mixture evenly in the cast iron bakeware. Top with an even layer of the oat topping mixture.
6) Bake in the preheated oven for about 30 minutes, so that the top is browned and the cherries are bubbly. If you are using a skillet instead of the oval baking dishes, loosely cover with aluminum foil and bake for another 10 to 15 minutes.
7) Remove from the oven. Let it cool for a few minutes and then serve and enjoy!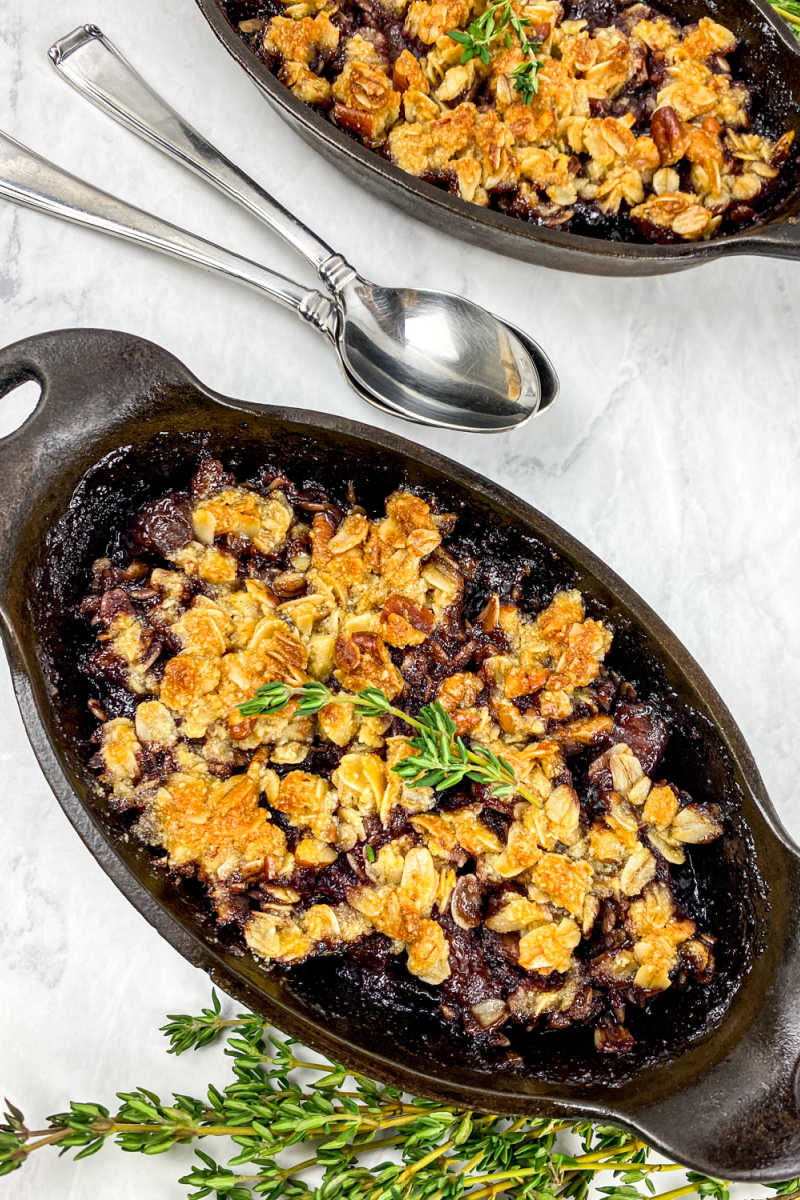 More from Mama Likes To Cook
Check out the rest of my vegetarian recipes, so you can get more great ideas for baking, cooking, blending and juicing.
Cherry Recipes
Holiday Dessert Recipes
Shopping Tips
For a beautiful assortment of kitchen necessities and food gifts for the whole family, check out the deals at these online stores.
Are you ready to have some delicious fun in the kitchen?