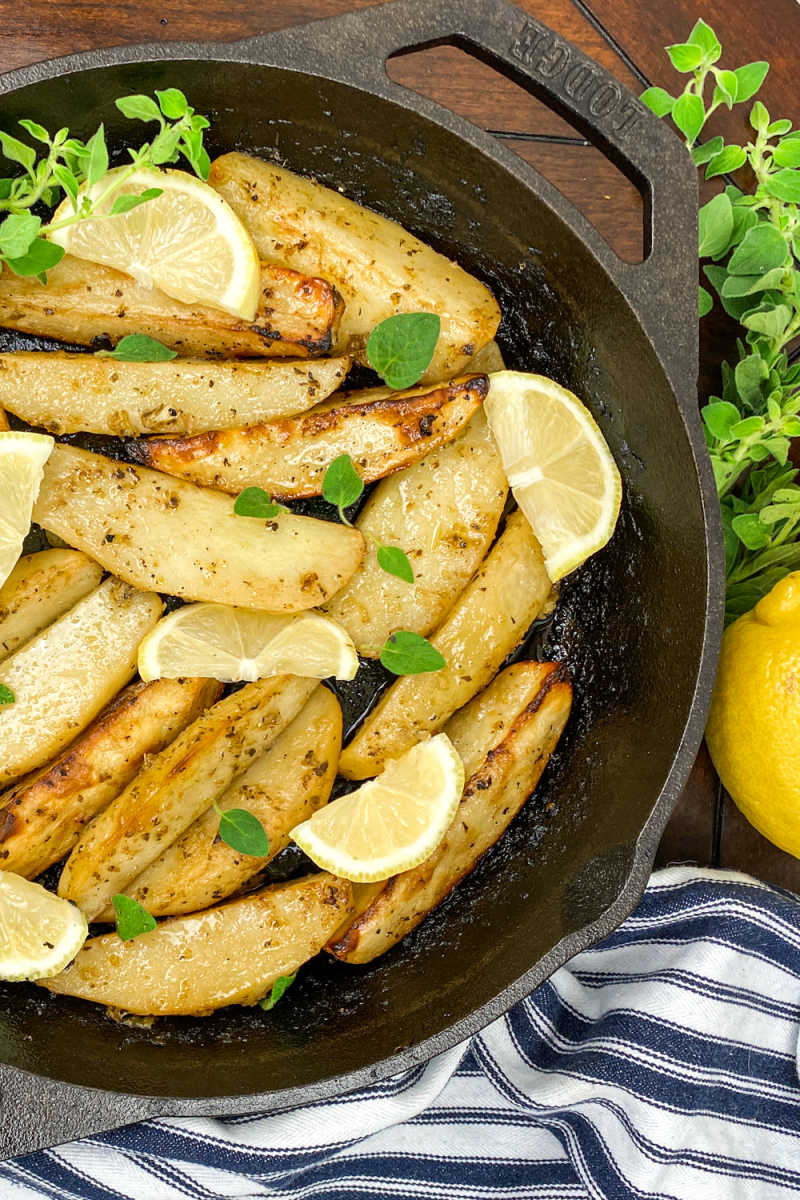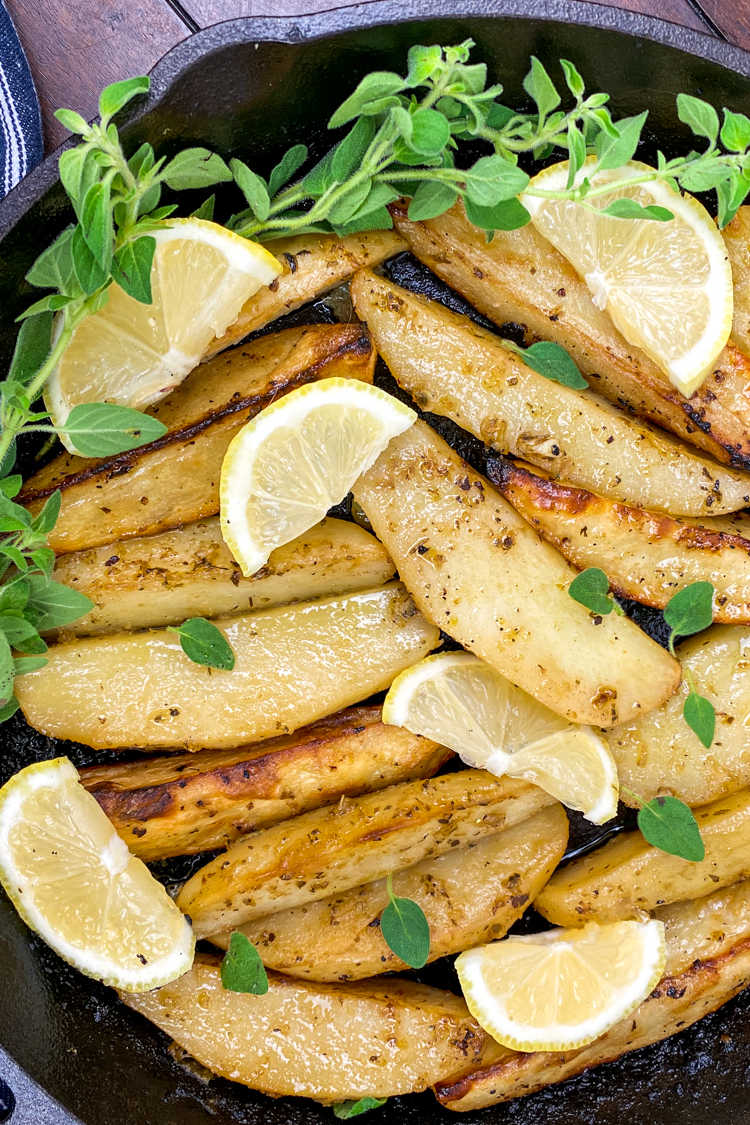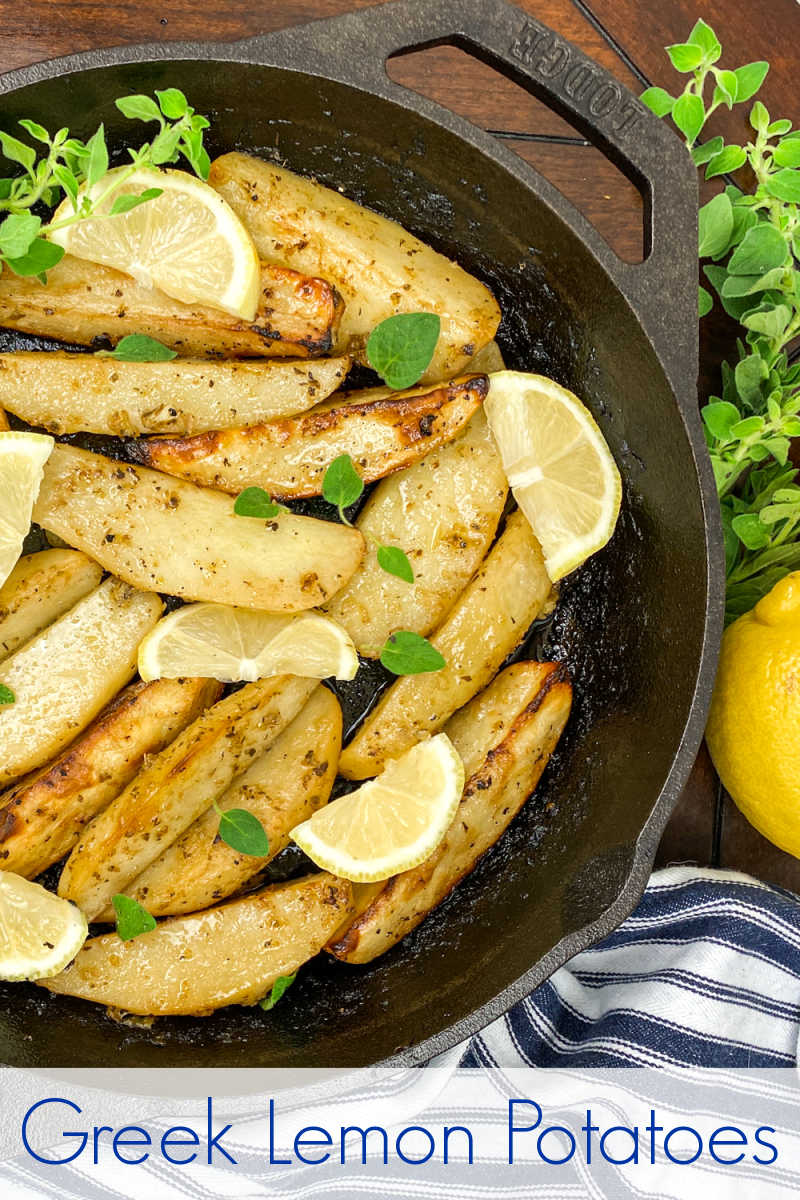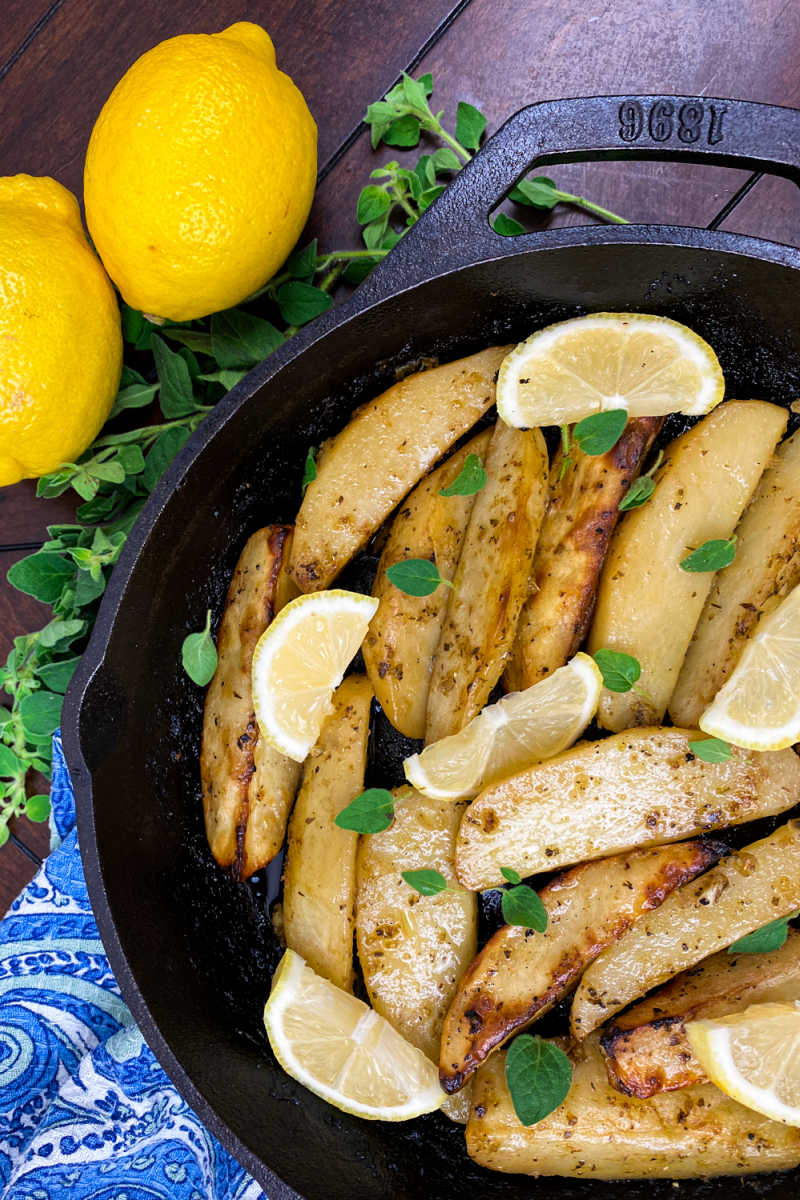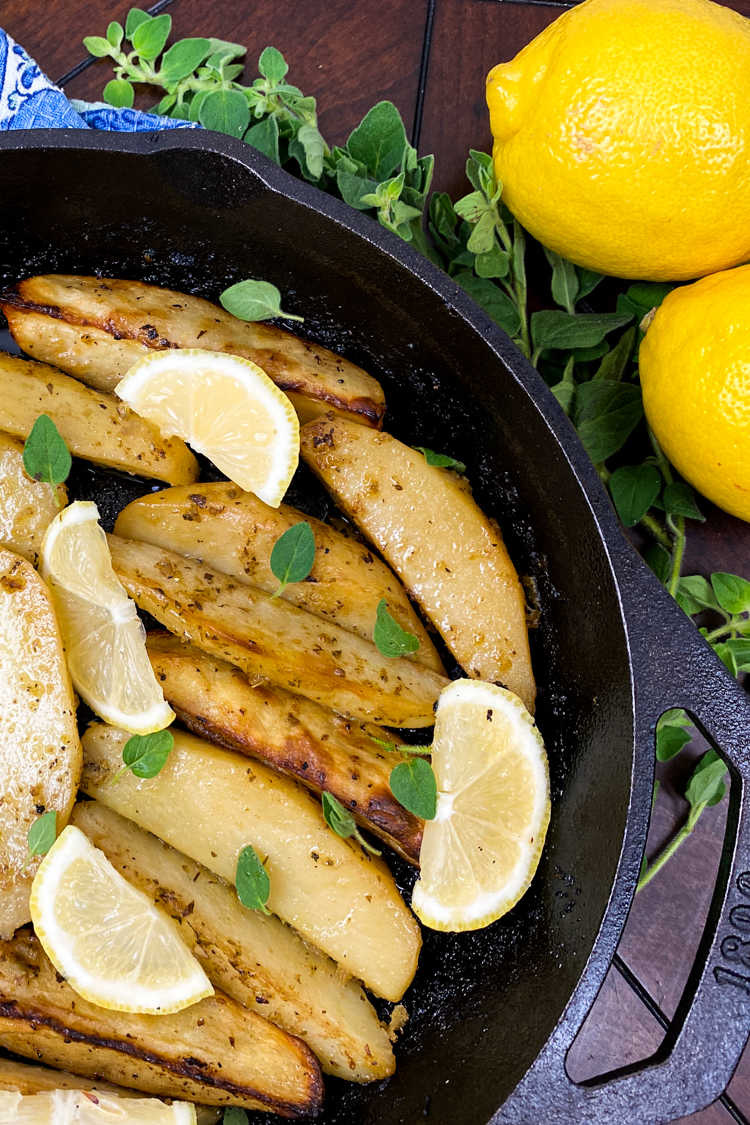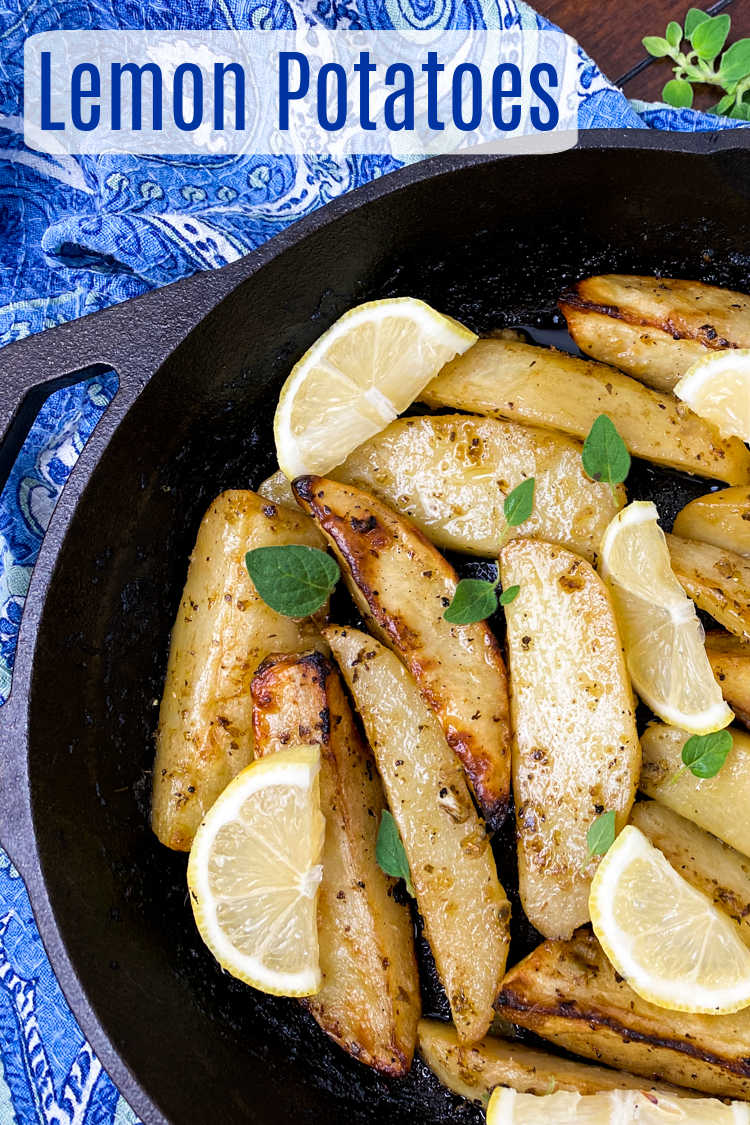 Skillet Lemon Potatoes
Greek-Style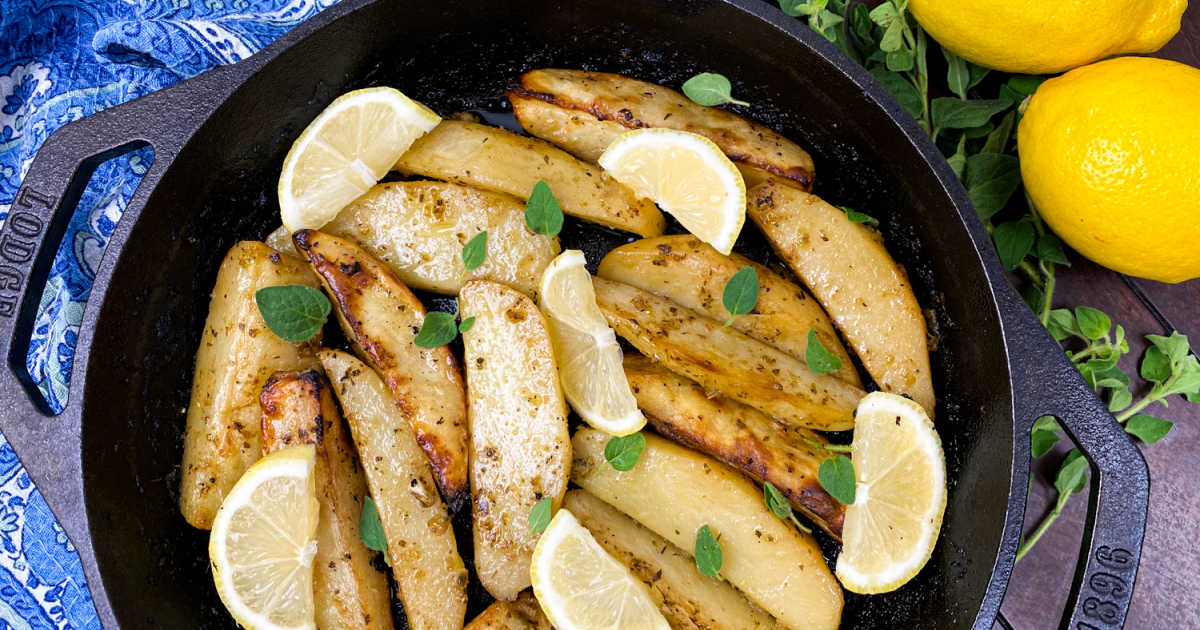 Enjoy these lemon cast iron skillet Greek potatoes, when you want a budget friendly dish that has traditional Mediterranean flavors.
This easy side dish is great anytime of year.
Serve it for an outdoor picnic in the Summer or as part of a soothing, warm comfort food meal when the weather is chilly.
The potatoes will fill you up and satisfy your tastebuds.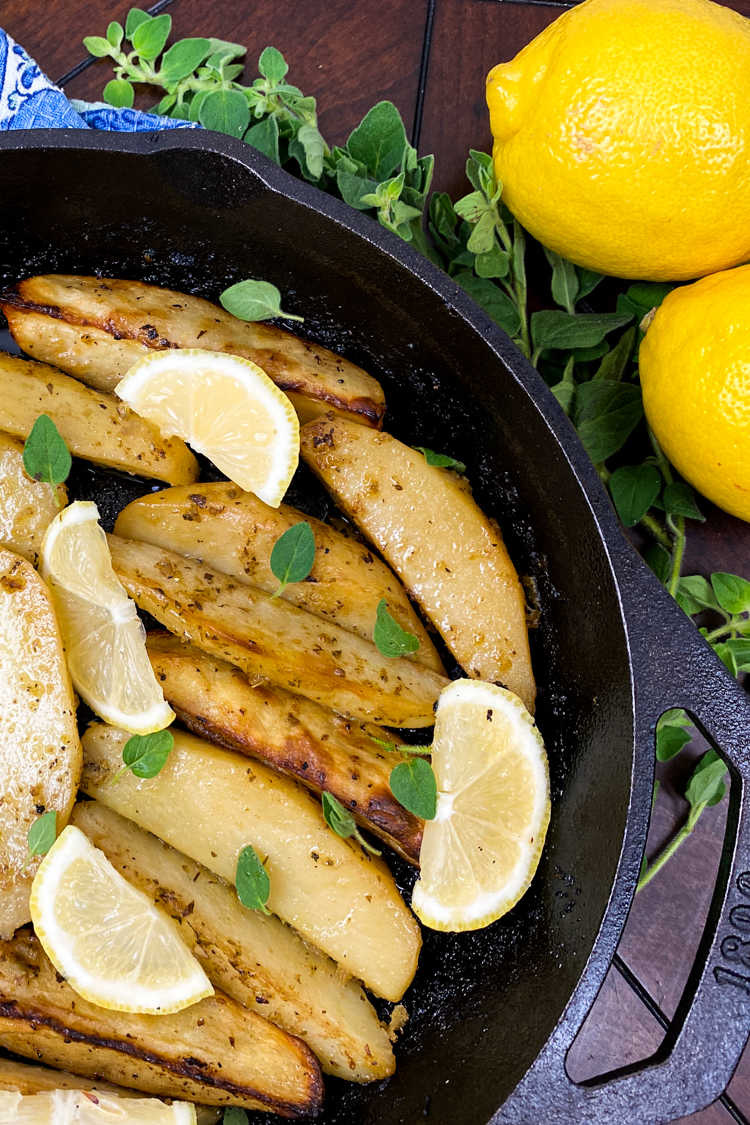 The lemons in this recipe give the potatoes a nice kick of flavor that makes me happy.
Fresh lemons are best, of course.
However, if necessary, you can use bottled lemon juice and dried lemon zest.
The same goes for the oregano.
Use fresh oregano when possible, but dried is an ok substitute.
The potatoes taste like a treat, even though they are simple to prepare.
Enjoy!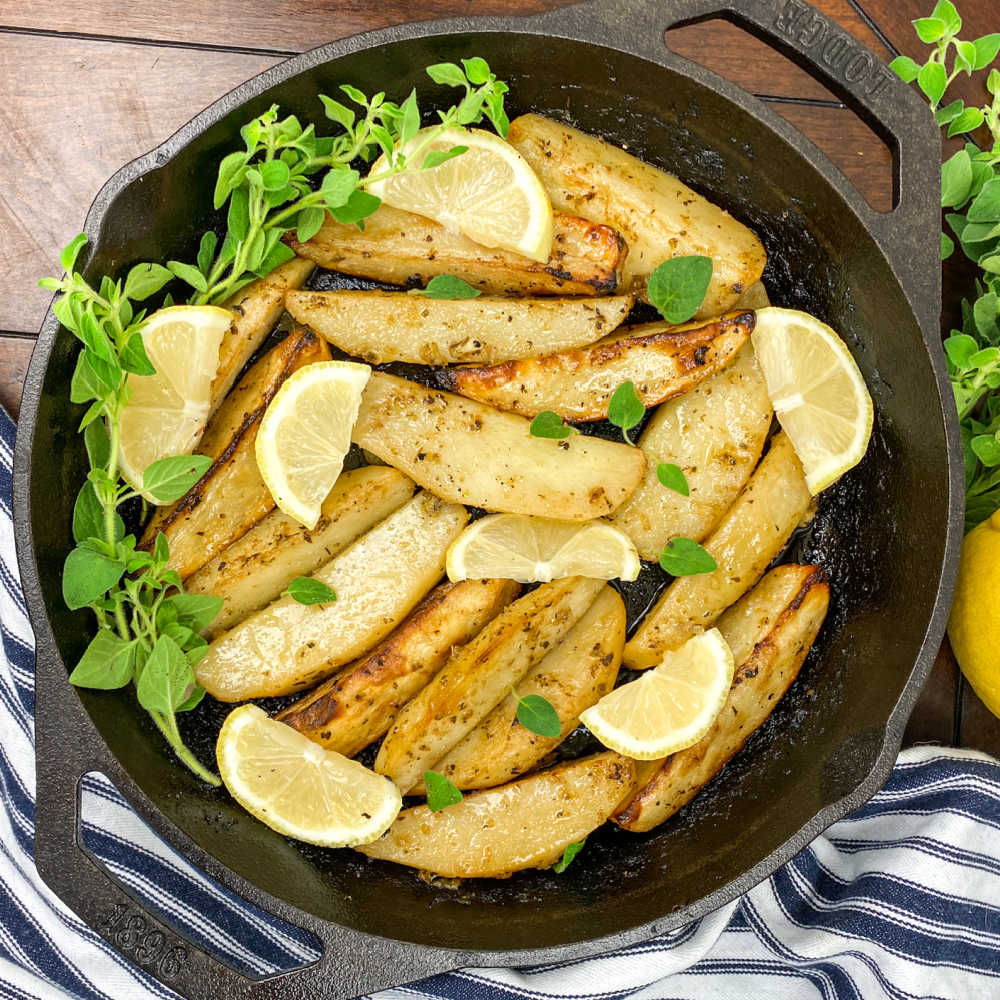 Prep time: 20 minutes
Cook time: 50-55 minutes
Serves: 4-6
Ingredients
2½ lbs. Potatoes
1 t Garlic Powder
Salt and Pepper to Taste
¼ cup Extra Virgin Olive Oil
¾ cup Vegetable Broth
½ cup Lemon Juice
2 t Lemon Zest
½ T Oregano
Optional: Additional Oregano and Lemon Wedges for Garnish
Supplies
17" Cast Iron Skillet
Chef Knife
Mixing Bowl
Measuring Cup
Measuring Spoons
Lemon Zester
Silicone Turner
Instructions
1) Preheat oven to 400°.
2) Either peel potatoes or leave them with the peel on and cut them into wedges. Arrange in a single layer in your cast iron skillet. Sprinkle with garlic powder, salt and black pepper. Set aside.
3) Add extra virgin olive oil, vegetable broth, lemon juice, lemon zest and oregano to a mixing bowl. Whisk together well and pour over potatoes.
4) Put the skillet in the preheated oven and cook for 25 minutes.
5) Remove from oven and turn the potatoes. Return to the oven for 25 minutes more.
6) Again, remove skillet from the oven. Carefully drain and reserve excess liquid. Return to the oven for another 5 minutes, so that the potatoes are browned.
7) Remove from the oven and let cool for a couple minutes.
8) Drizzle with the reserved cooking liquid. Serve and enjoy!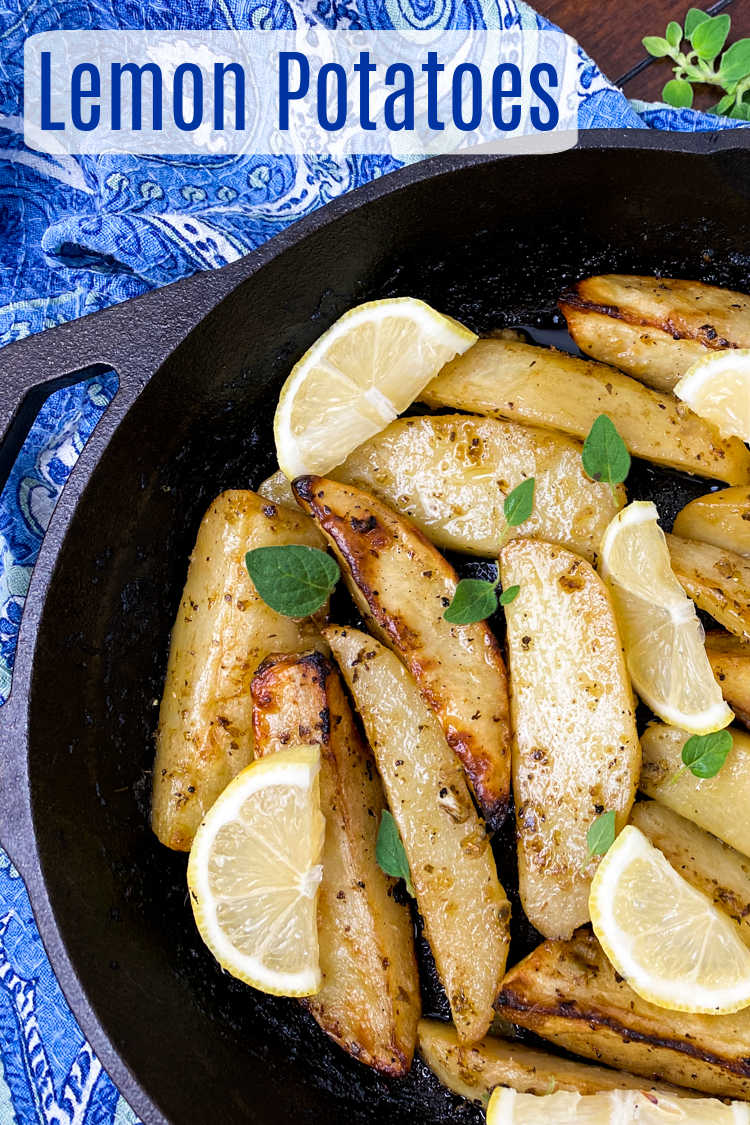 More from Mama Likes To Cook
Check out my vegetarian recipes, so you can get more great ideas for baking, cooking, blending and juicing.
Potato Recipes
Lemon Dessert Recipes
Dinner Lemon Recipes
Lemon Drink Recipes
Shopping Tips
Check out the latest deals on kitchen necessities and food gifts for the whole family, when you visit these online stores.
Are you ready to have some delicious fun in the kitchen?