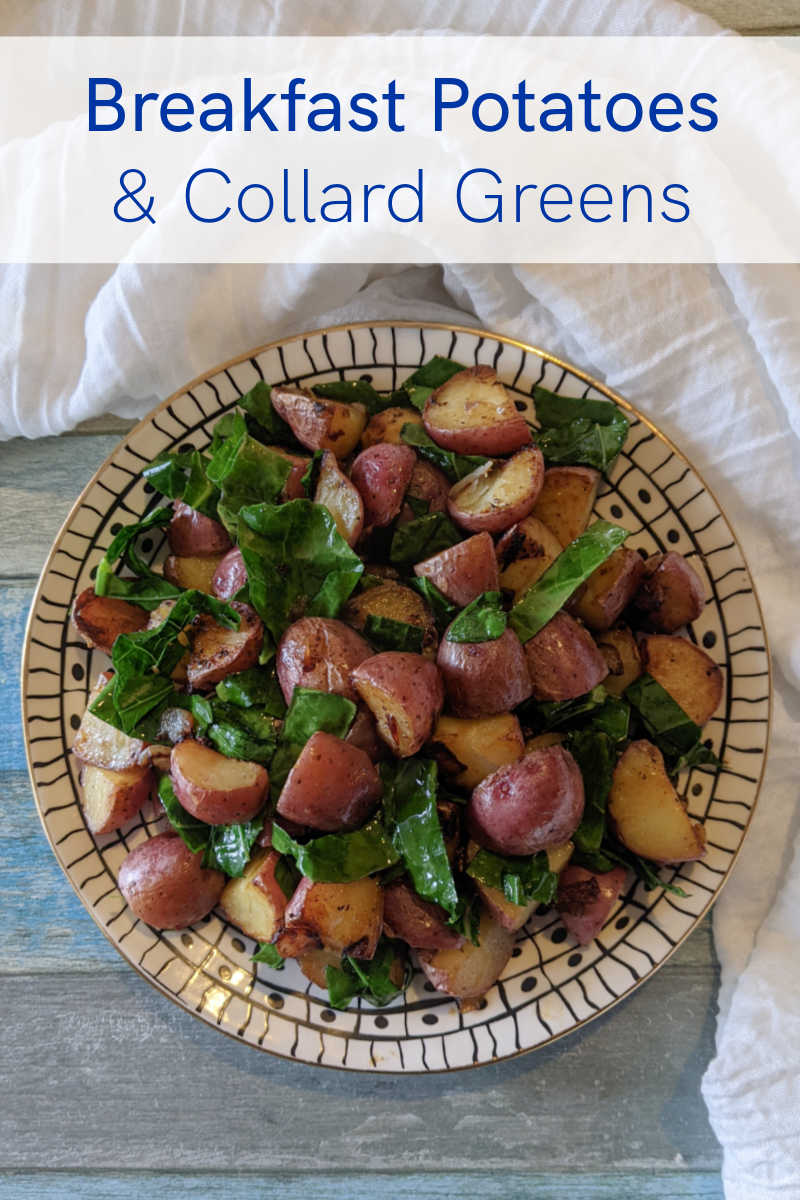 Simple and Satisfying Breakfast Potatoes with Greens
This breakfast potatoes and collards recipe is easy to make in a skillet for a weekday breakfast or weekend brunch.
I like to serve it with fresh eggs from my chickens for a simple and satisfying nutritious meal.
Of course, you can also serve it as a side dish for dinner, but at my house the potato and collard greens skillet dish is breakfast.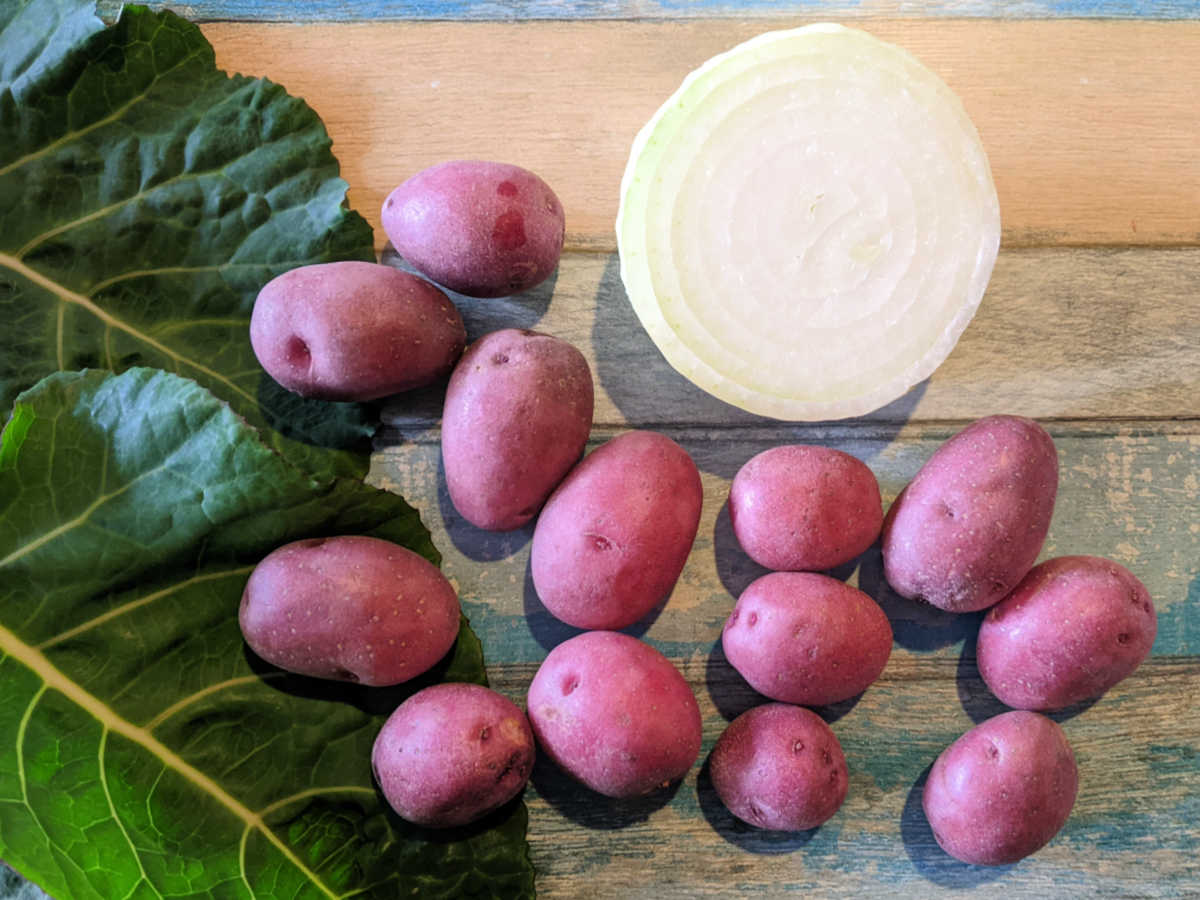 Dutch Red Potatoes
My family loves all of the Dutch Potatoes from Melissa's, since no matter how you cook them they have a wonderful buttery flavor.
I used the Dutch Red Potatoes for this recipe, but feel free to substitute the Baby Dutch Yellow Potatoes or even the Baby Purple Potatoes.
There is no need to peel the little potatoes as you can eat the whole thing.
Also, the red peel adds some nice color to this dish.
Collards
Collard greens are the tasty leaves of the collard plant that are packed full of nutrition, so they are both healthy and delicious.
Nutrients include fiber, Vitamin A, Vitamin B6, Calcium and even some protein.
They are my current favorite green, so I'm growing tree collards in the garden and we eat them several times a week.
If you'd like to substitute another green, like kale or or spinach, it would also work in this recipe.
It won't be exactly the same, but will still taste good.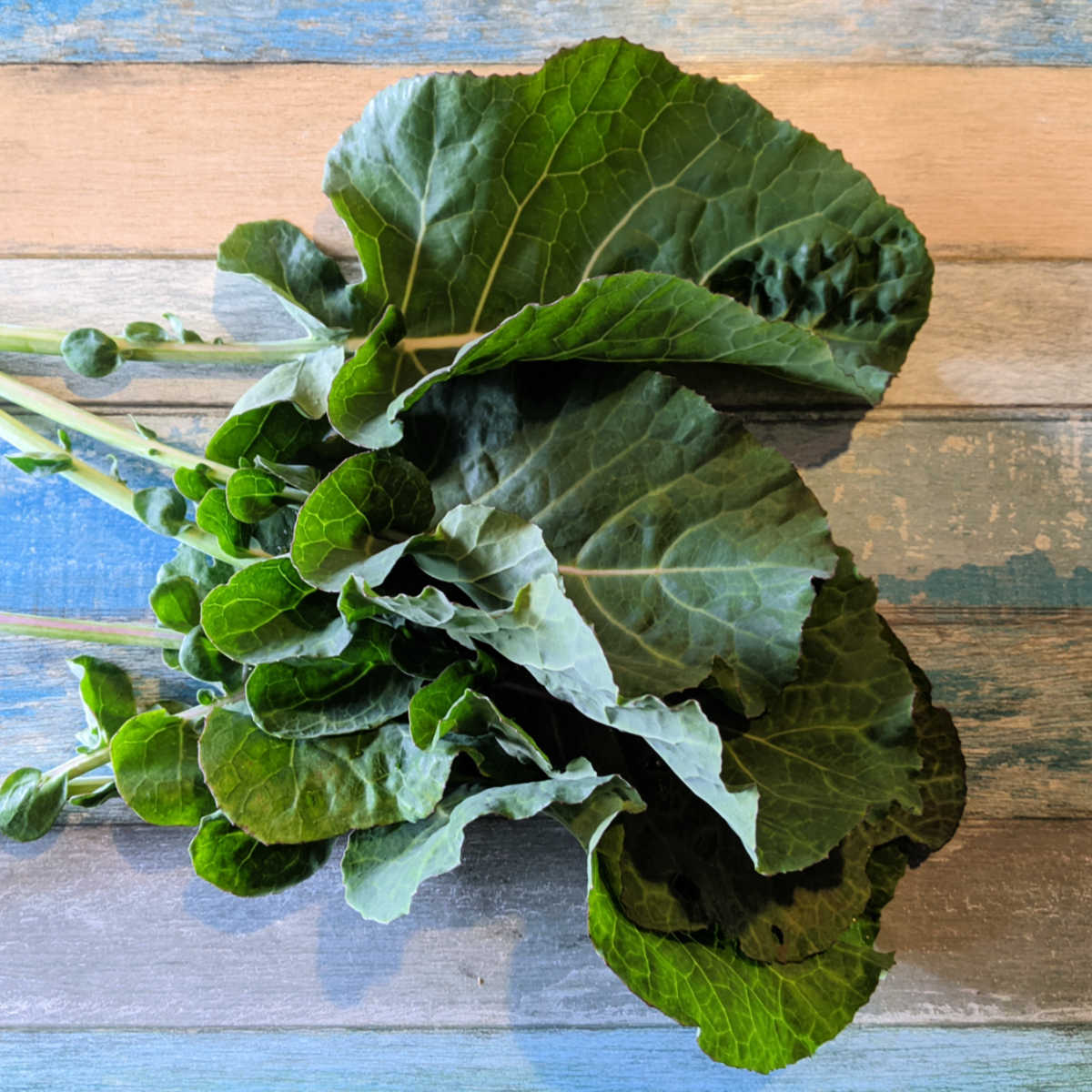 Garlic
Garlic is a bulb that has been cultivated as a food and medicine for thousands of years.
Yes, thousands of years.
It is related to onions, leeks, shallots and chives, but has it's own unique flavor.
Some use it for it's health benefits, while others just like the flavor it gives to many savory dishes and even some desserts.
We love garlic, so I'm pretty sure I cook with it at least once just about everyday.
Fresh garlic gives wonderful flavor to this dish.
You can either buy a whole garlic bulb and peel the cloves or you can opt for packaged fresh garlic that is peeled and ready to use.
If you don't have fresh, minced garlic in a jar can be substituted.
Fresh is always my first choice, but jarred garlic is good to keep on hand for those times when you are out of fresh.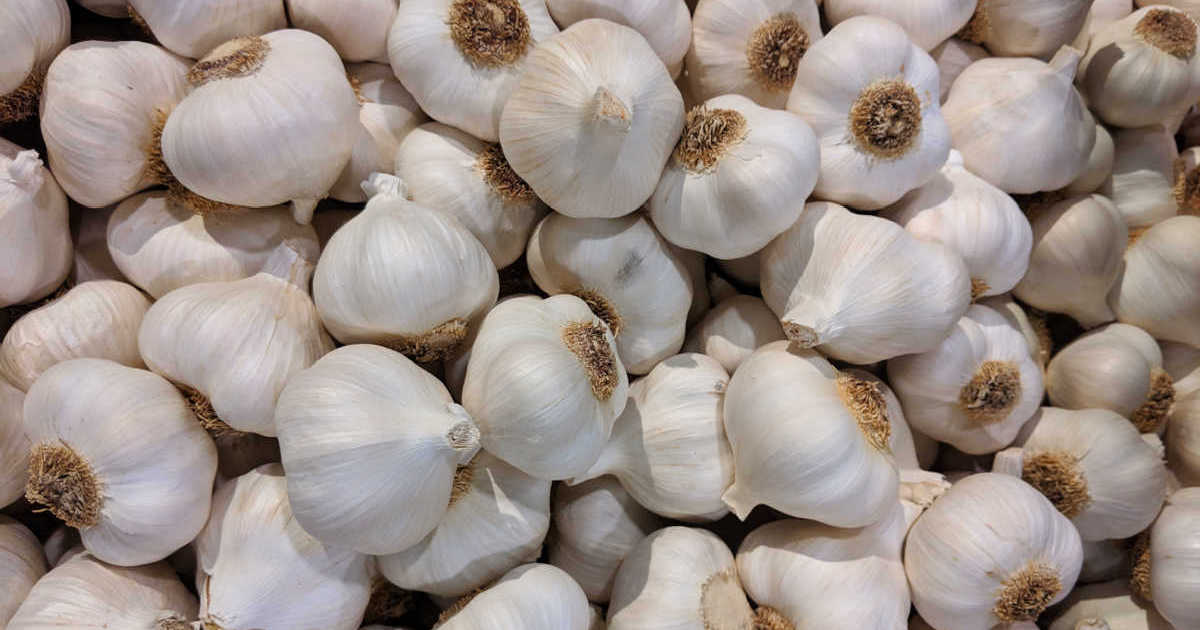 Sweet Onion
I used Perfect Sweet Onions from Melissa's Produce for this recipe, which added a nice touch of sweetness along with the onion flavor.
These onions are good raw, but the sugar also helps them caramelize well when cooked.
The potatoes soak up the onion flavor as they are cooked together, so each bite is delicious.
Another type of onion can be substituted, but these were really, really good.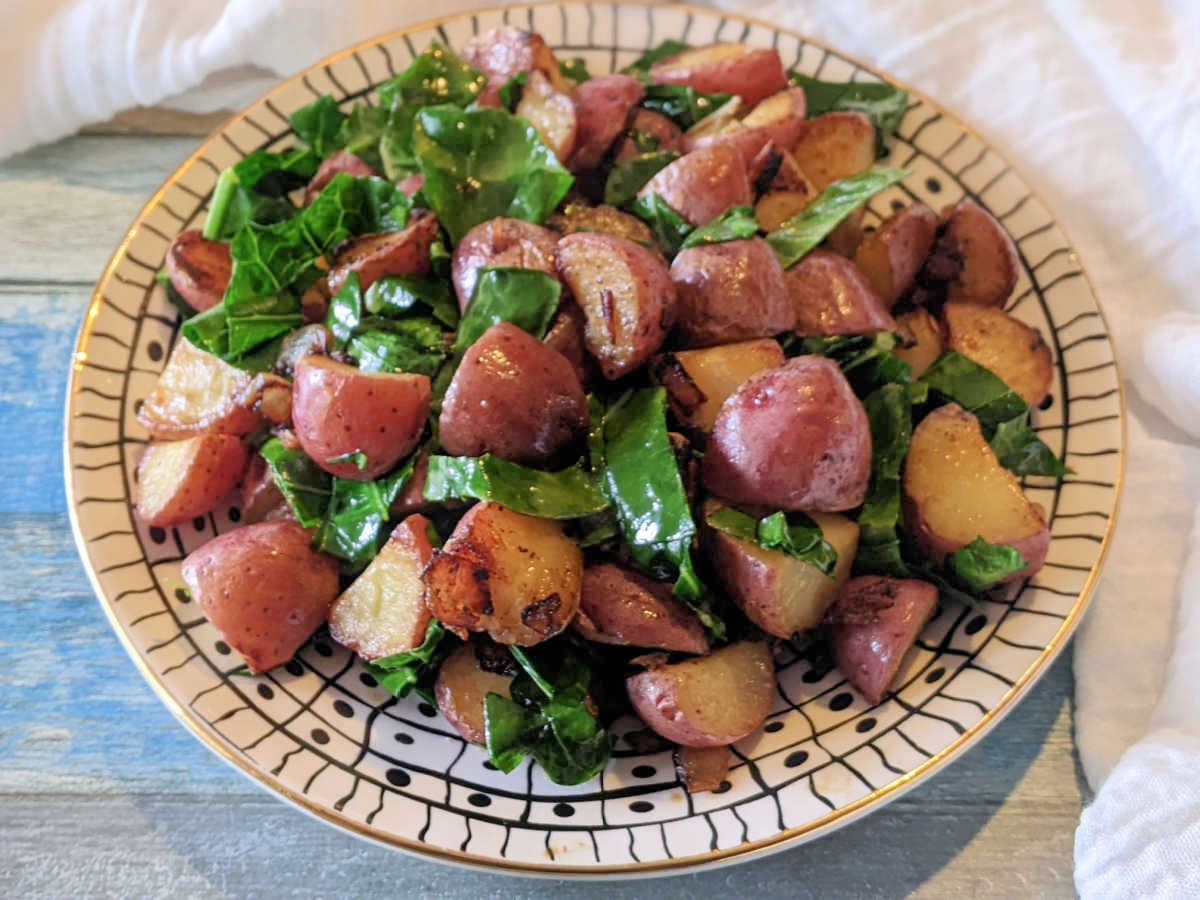 Breakfast Potatoes and Collards Recipe
Prep Time: 5 Minutes
Cook Time: 15 minutes
Yield: 4 Servings
Ingredients
1 1/2 lbs. Melissa's Dutch Red Potatoes
1/2 medium Sweet Onion
3 cloves Garlic
4-5 Collard Greens
Salt and Black Pepper to Taste
Extra Virgin Olive Oil
Supplies
Chef Knife
Skillet
Turner
Instructions
1) Cut potatoes into quarters and chop the onion.
2) Heat oil in skillet and add potato quarters and chopped onions. Cook for a a few minutes, stirring occasionally. Add salt and pepper to taste.
3) Mince garlic and add to pan. Continue cooking until potatoes are tender, stirring occasionally as needed.
4) Remove the hard stems from the collard greens and chop the leaves. Add the chopped leaves to the pan and cook briefly to warm the greens.
5) Serve and enjoy!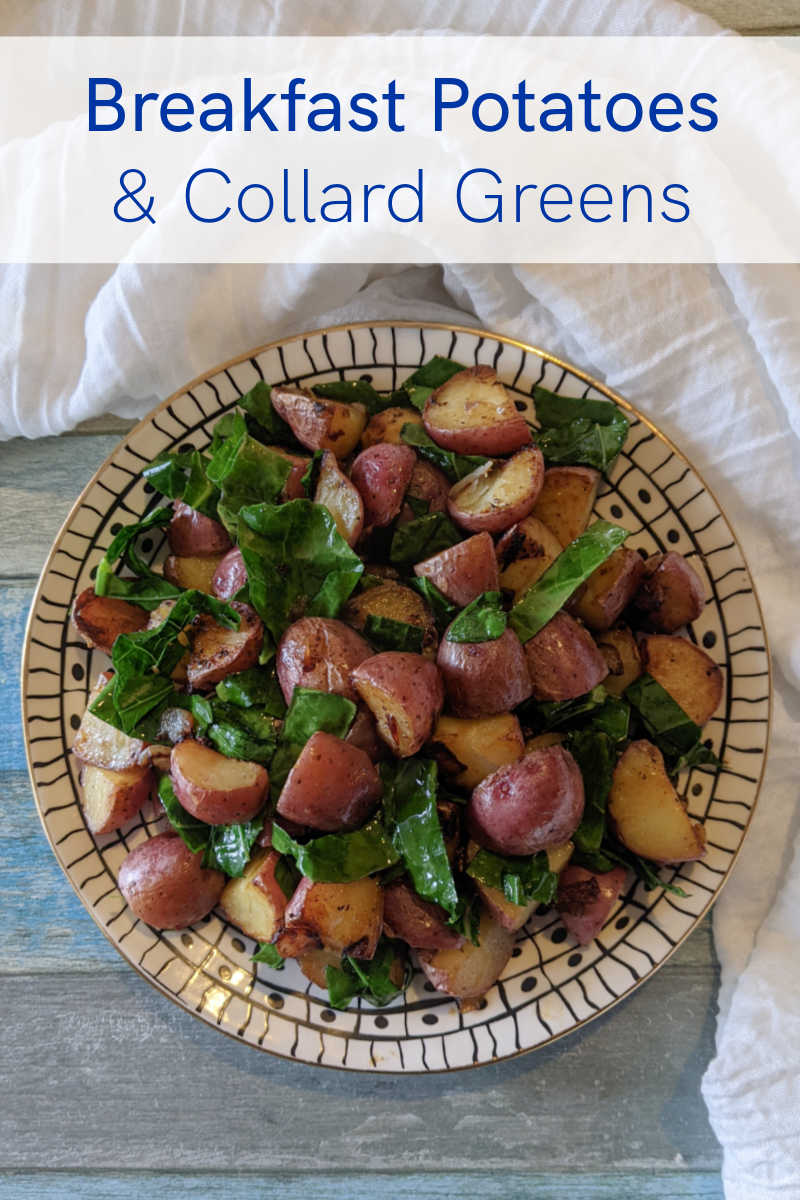 More from Mama Likes To Cook
Check out my vegetarian recipes, so you can get more great ideas for baking, cooking, blending and juicing.
Potato Recipes
Collard Recipes
Shop Now
For a beautiful assortment of kitchen necessities and food gifts for the whole family, check out the current deals at these online stores.
Are you ready to have some delicious fun in the kitchen?