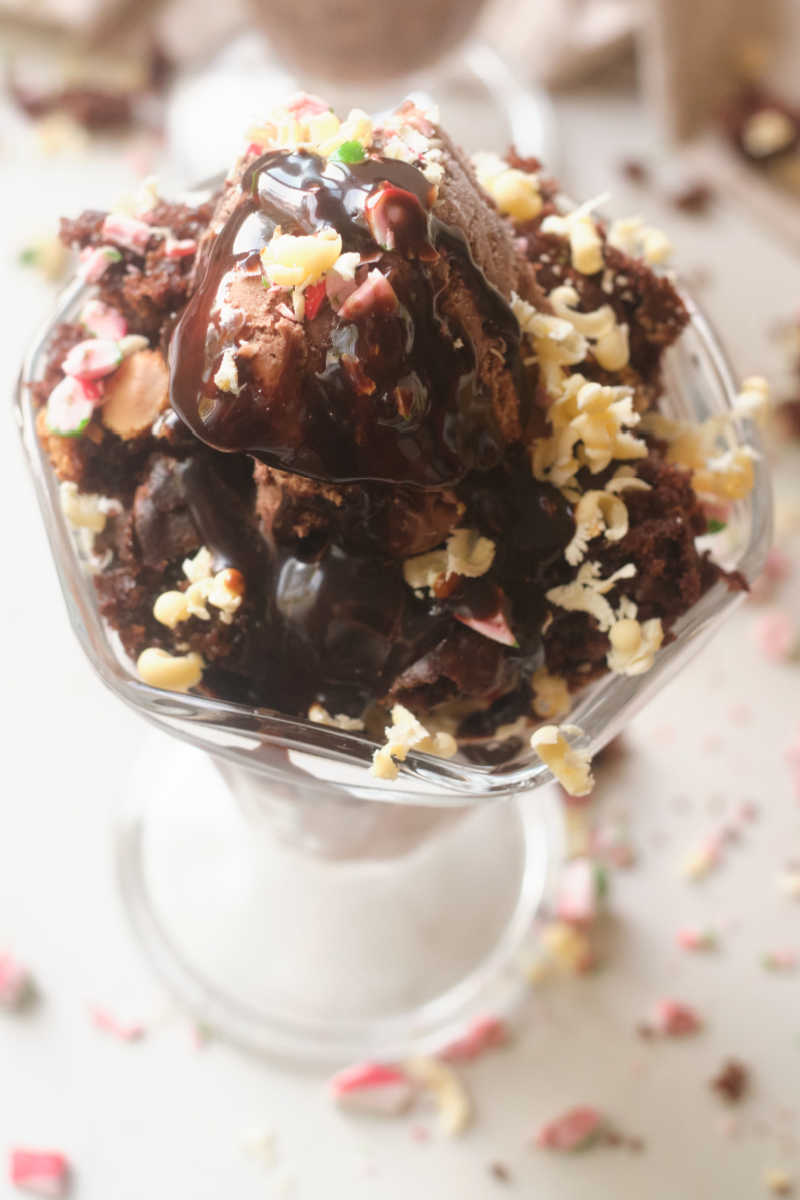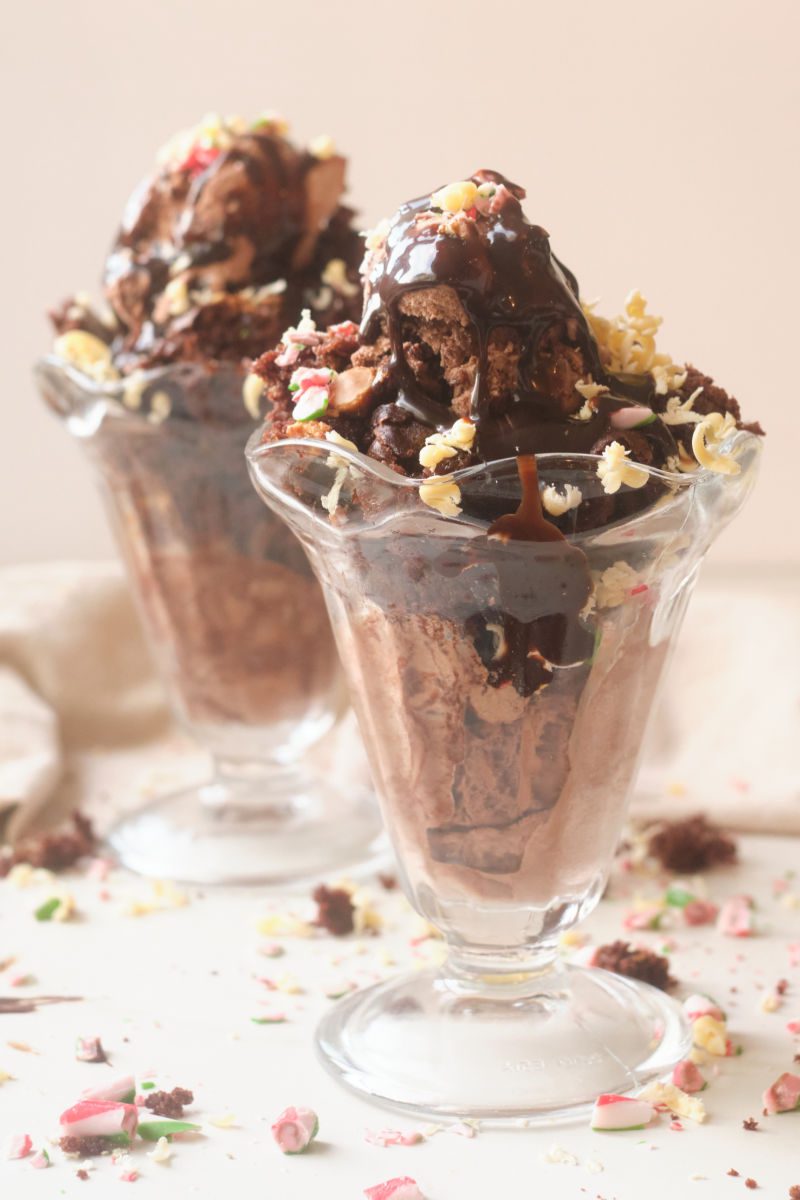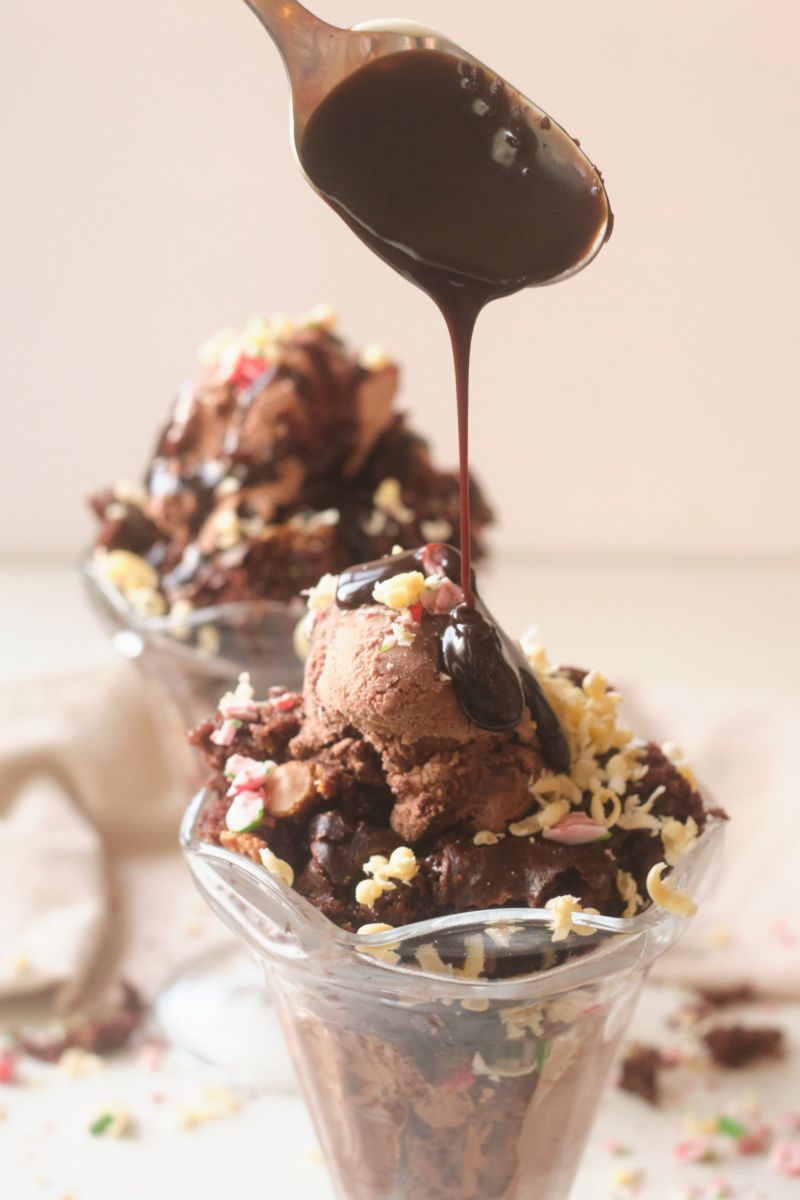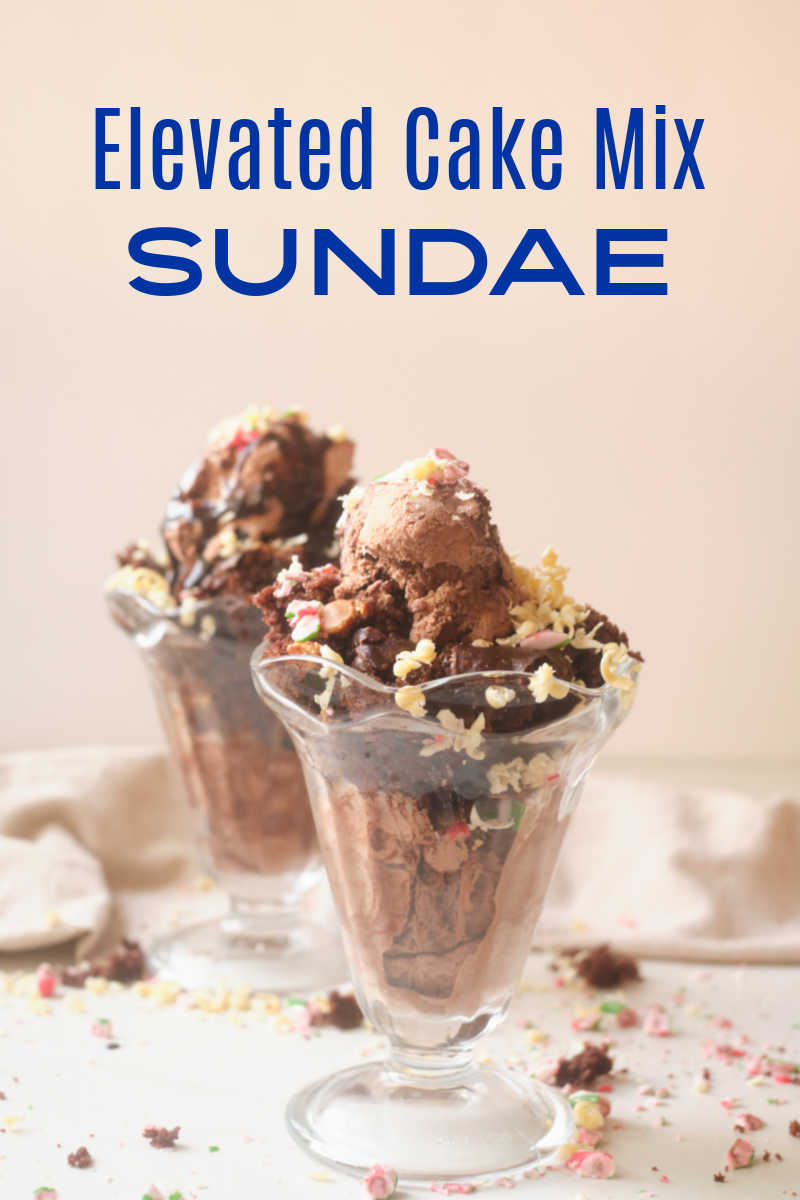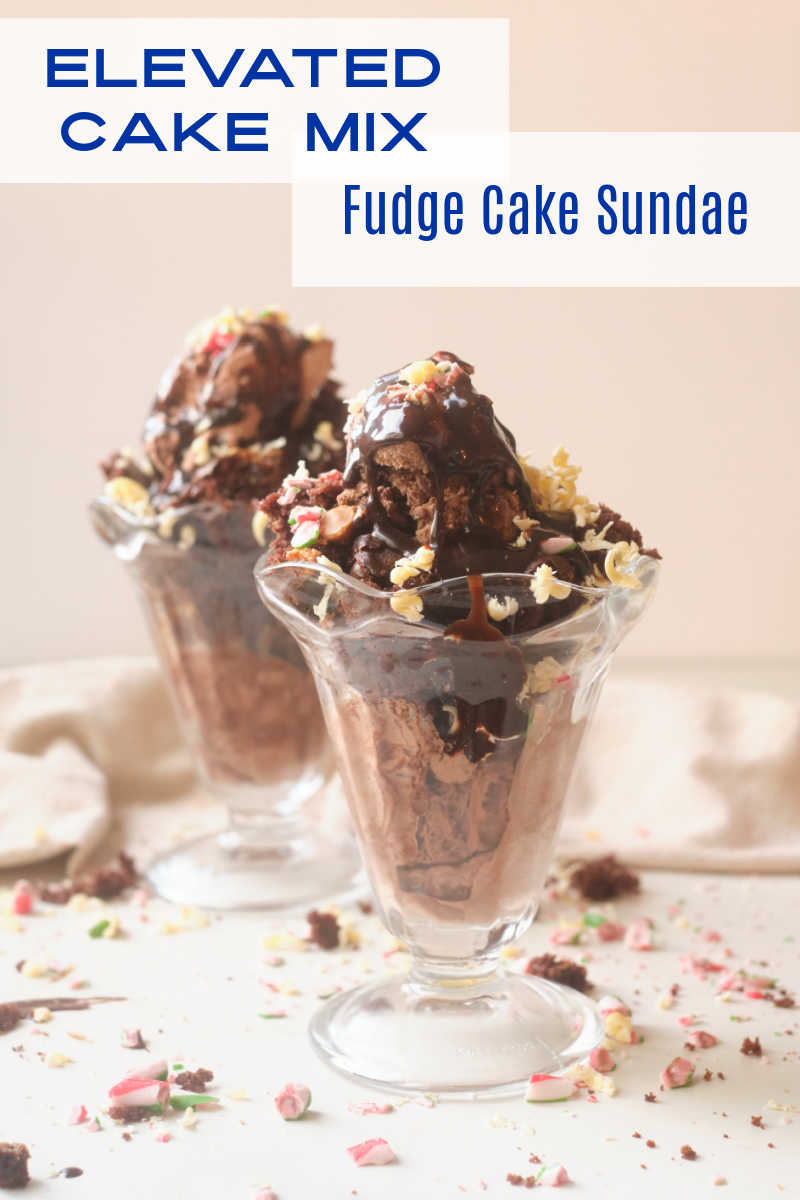 Fudge Cake Sundae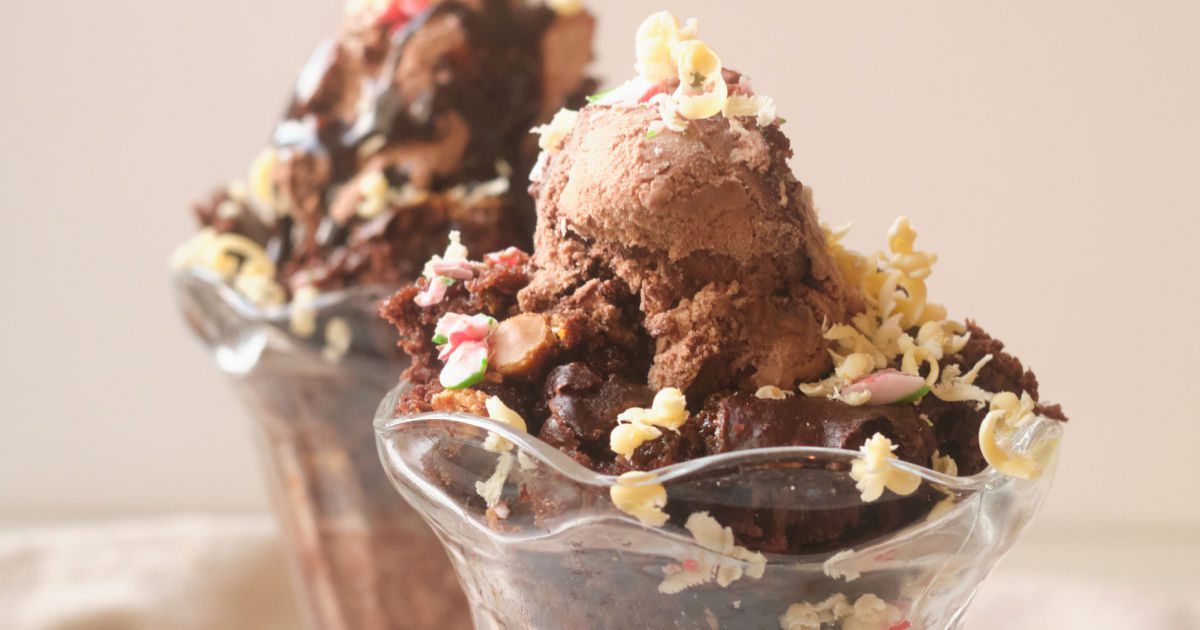 There is no need to follow the directions on the box, when you make this decadent elevated cake mix fudge cake sundae.
The typical boxed cake mix from Betty Crocker, Duncan Hines, Pillsbury or a similar brand calls for water, oil and eggs to be mixed in.
By changing it up a bit, you can turn this simple box mix into a rich cake that is perfect to use as a layer in an ice cream sundae.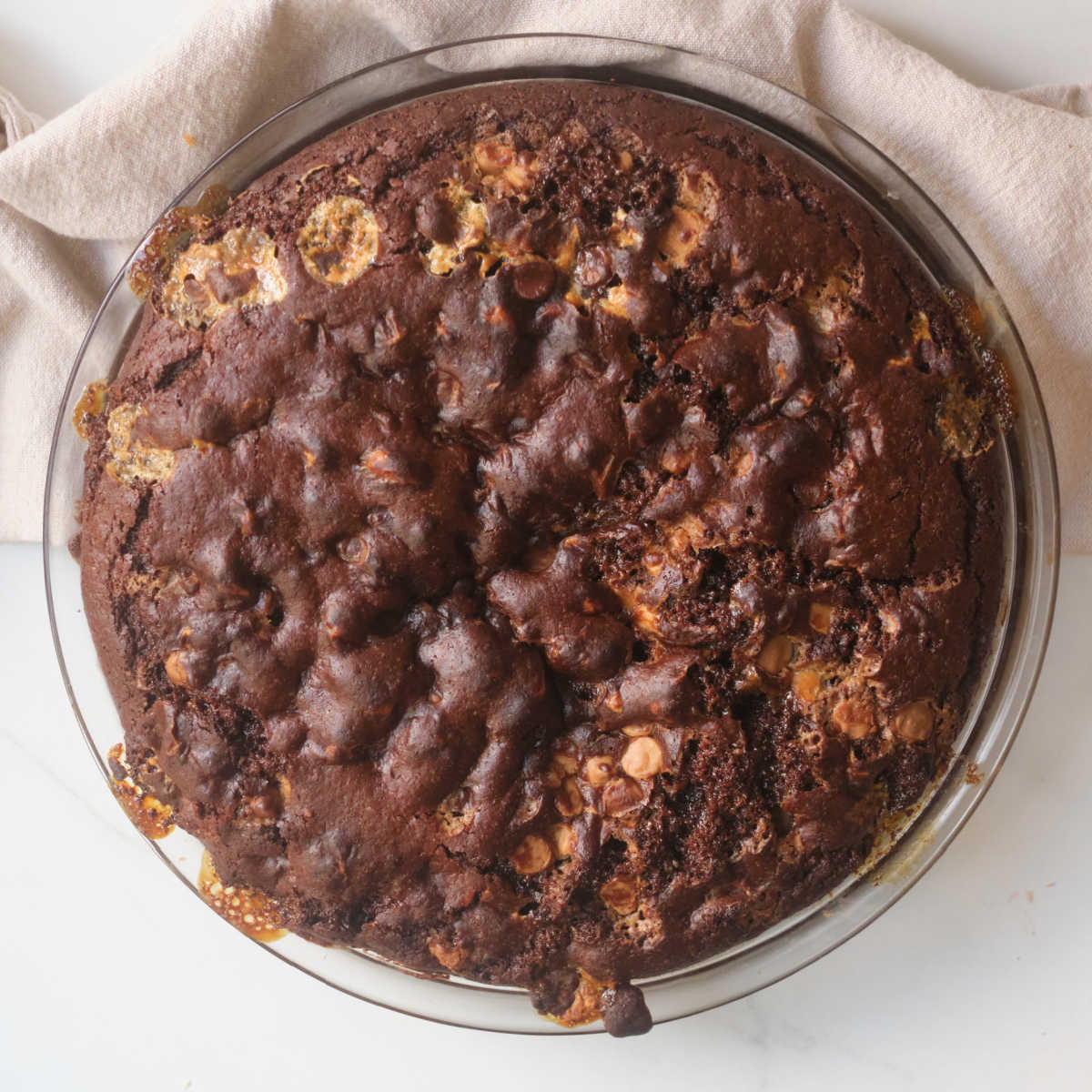 It is easy to elevate a regular cake mix and turn it into something special.
Instead of adding in the ingredients listed on the box, follow my recipe below that will give you a cake that is rich and fudgy.
The instructions on the box will be similar, when you elevate it.
However, you'll need to adjust the bake time and keep your eye on it.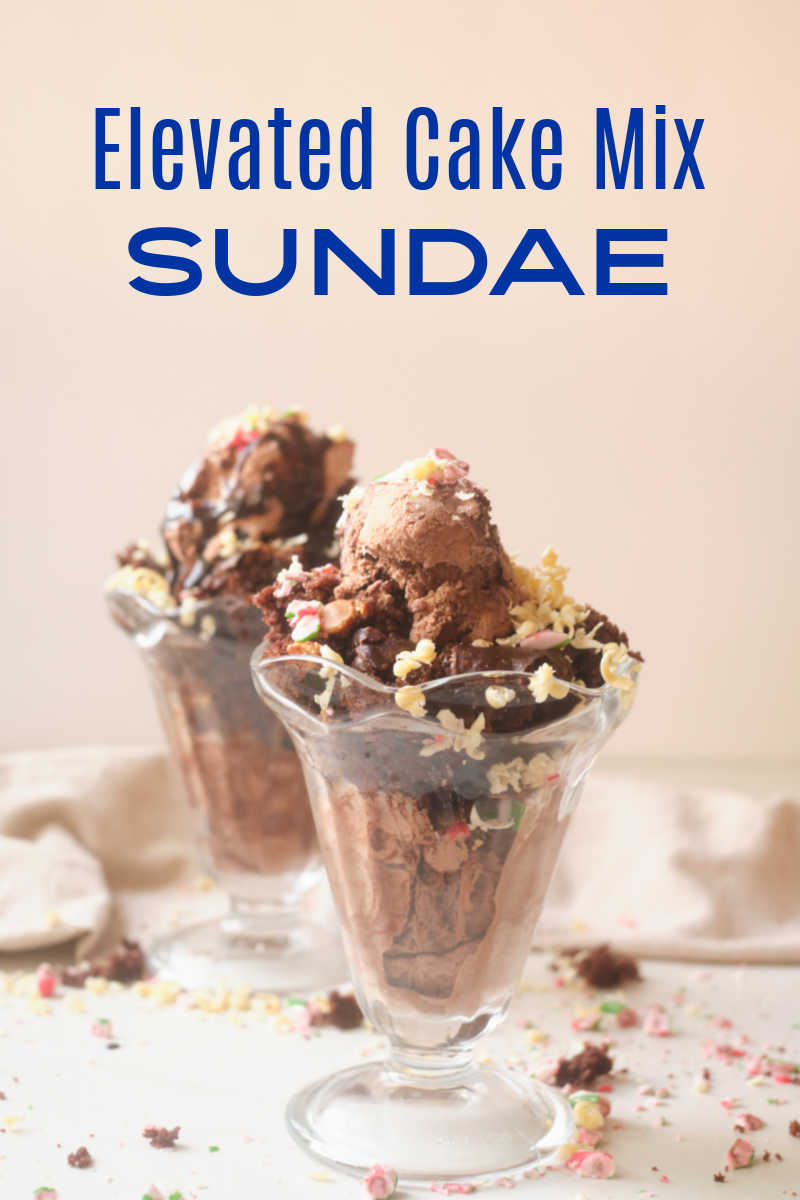 What Kind of Cake Mix Should I Use for The Fudge Cake?
Most big brand and store brand cake mixes are very similar in what they call for you to add in.
Use a box mix that asks you to add water, egg and oil and then you can make the adjustments to turn it into an elevated cake mix recipe.
Also, white chocolate chips are stirred into the batter.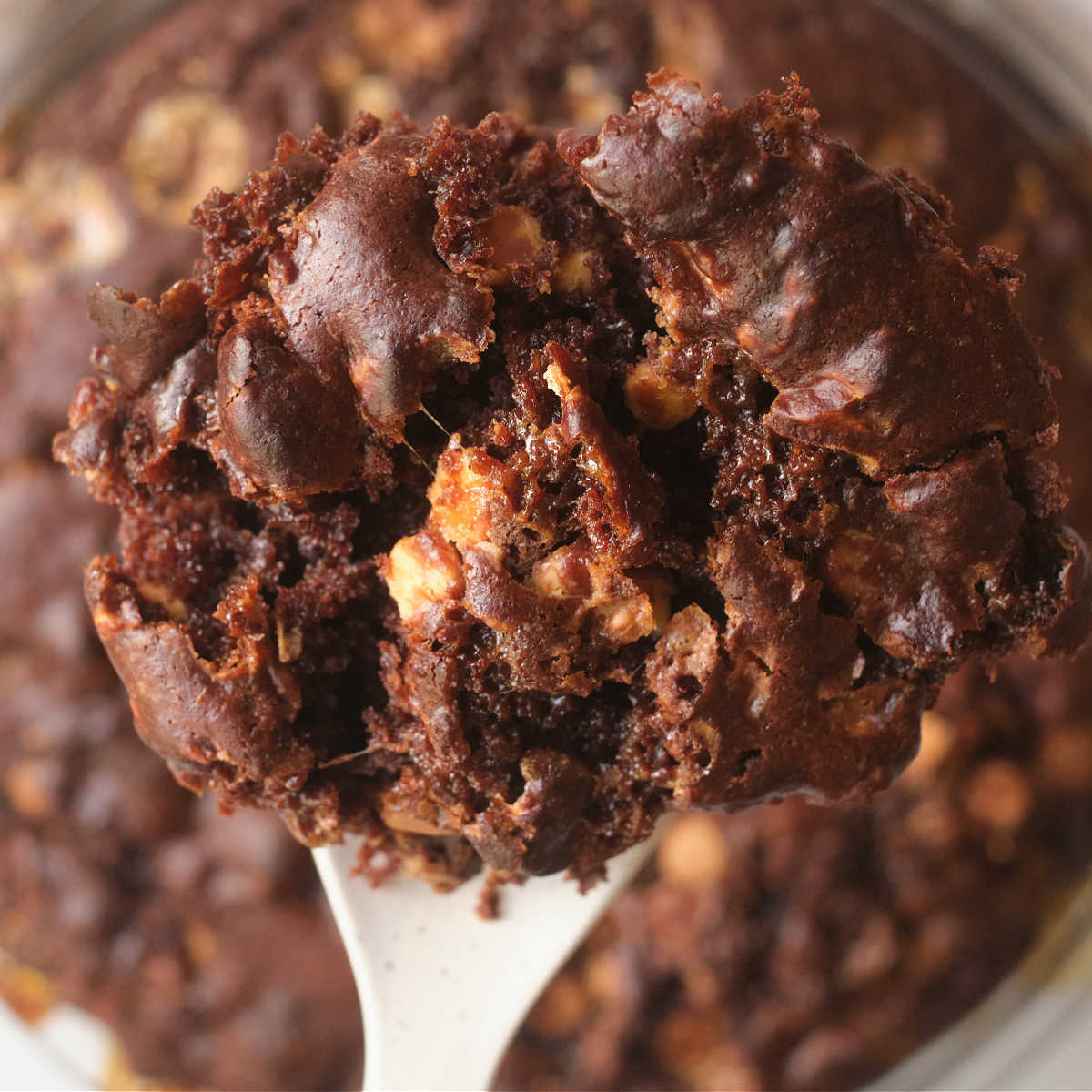 Is This Sundae Recipe Vegetarian?
This fudge cake sundae is vegetarian.
However, it is not vegan, since it has egg and dairy.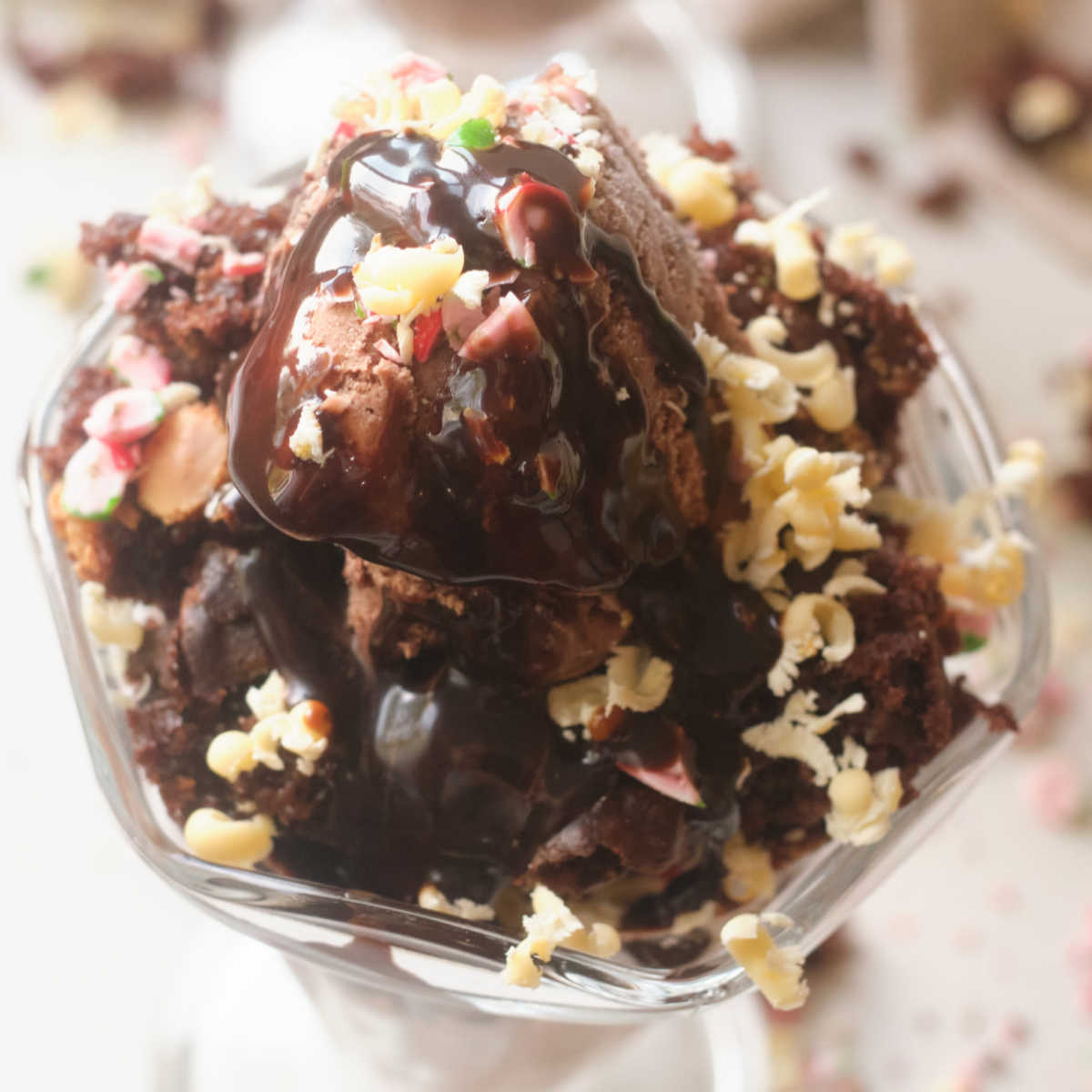 Can This Sundae Recipe Be Dairy-free?
I used dairy in mine, but you can make yours dairy-free if you want to.
Use almond milk or another milk alternative when mixing the cake and choose a dairy free ice cream.
Also, be sure to check labels for the cake mix and chocolate ingredients to make sure you use a dairy-free brand.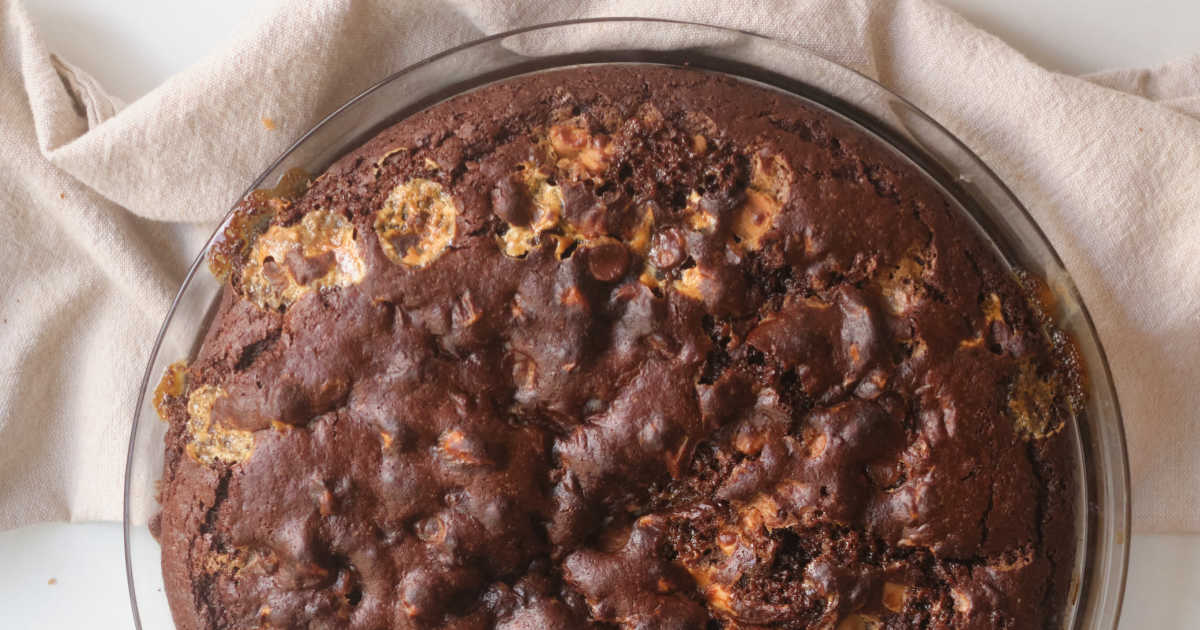 Is This Elevated Cake Mix Sundae Recipe Gluten-Free?
Mine is not gluten free, but you can make this recipe without gluten.
Choose a gluten-free boxed cake mix and check the labels on other ingredients for anything that would be problematic.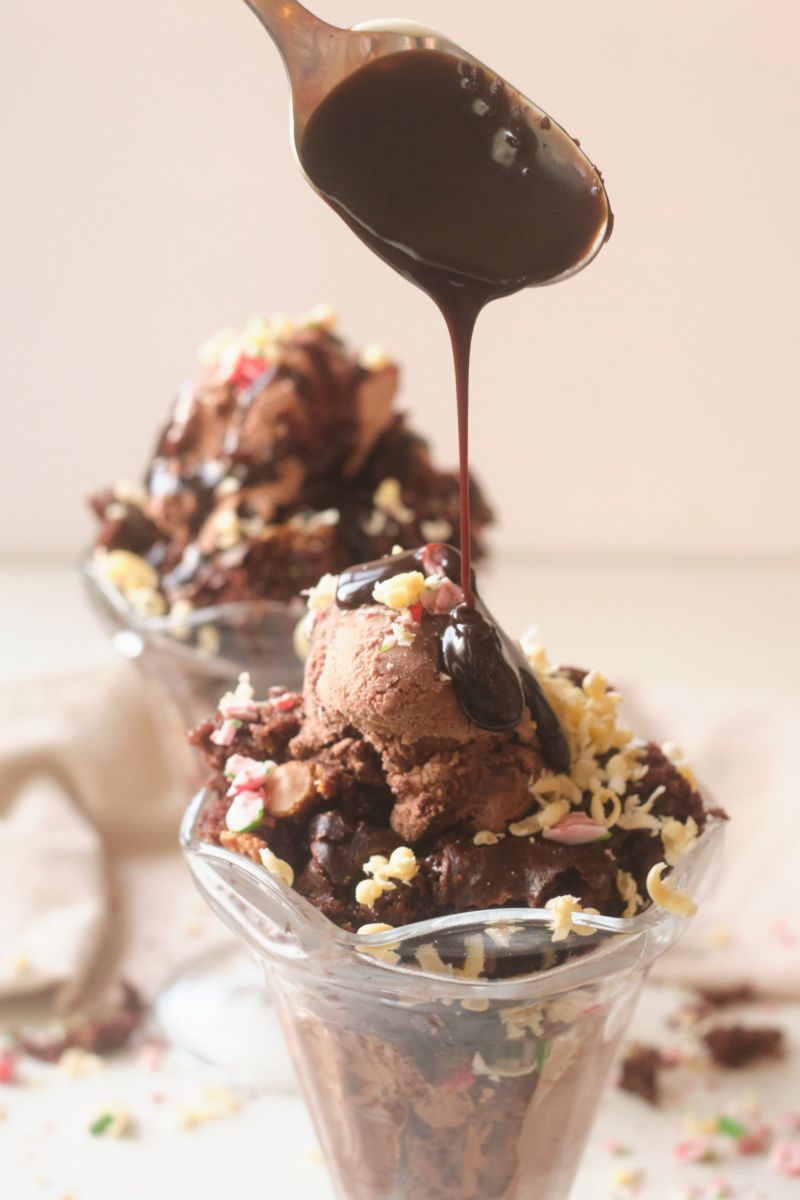 Will There Be Leftovers?
Yes. There will be leftover cake with this fudge cake sundae recipe.
It makes sense to bake the whole cake at once, instead of trying to only use part of the box.
You can cover the cake and save the leftovers for later.
Or you can get more ice cream and toppings out to make extra sundaes and use it all up at once.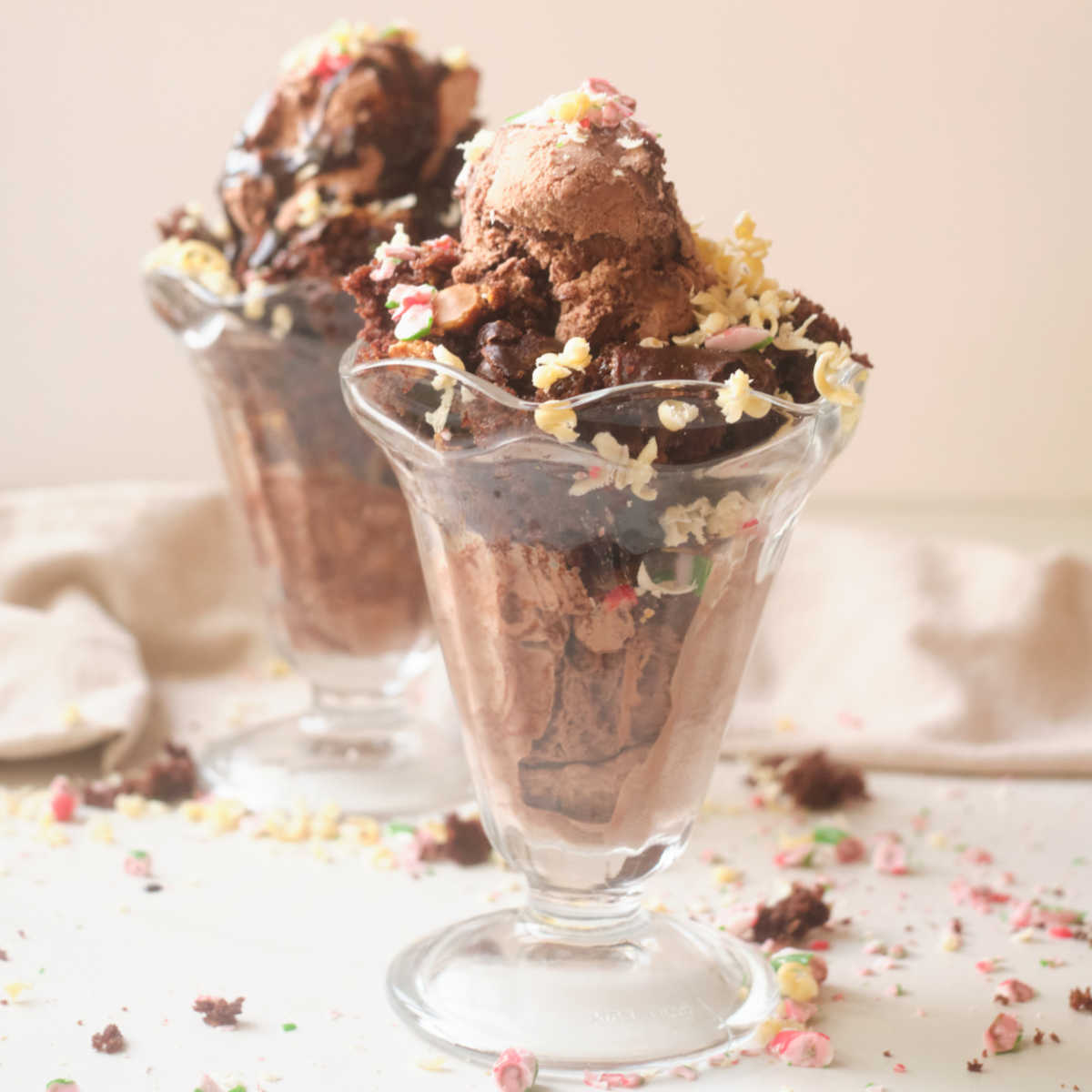 Elevated Cake Mix Recipe: Fudge Cake Sundae
Prep time: 10 minutes
Total time: 40 minutes
Serves: 4-6
Ingredients
1 box Chocolate Cake Mix
1 cup Milk
½ cup Vegetable Oil
2 Eggs
1 cup White Chocolate Chips
4 cups Chocolate Ice Cream
Chocolate Sauce
White Chocolate Bar
Crushed Candy Canes
Walnuts
Chocolate Chips
Supplies
Mixing Bowl
Measuring Cup
Hand Mixer of Stand Mixer
Cake Pan (rounds or rectangular)
Sundae Bowls or Glasses
Ice Cream Scoop
Grater for White Chocolate Garnish
Instructions
1) Preheat oven to 350.
2) Ignore the added ingredients the box mix calls for. Add cake mix, milk, vegetable oil and eggs and mix together. Stir in white chocolate chips.
3) Bake at 350 for about 30 minutes or until a toothpick comes out clean. Remove from oven and let the cake cool.
4) Add a scoop of ice cream to each sundae dish or glass. Top with cake and then another scoop of ice cream.
5) Garnish with chocolate sauce, grated white chocolate and crushed candy canes or whatever toppings you'd like.
6) Serve immediately and enjoy! There will be leftover cake to eat later or use for more sundaes.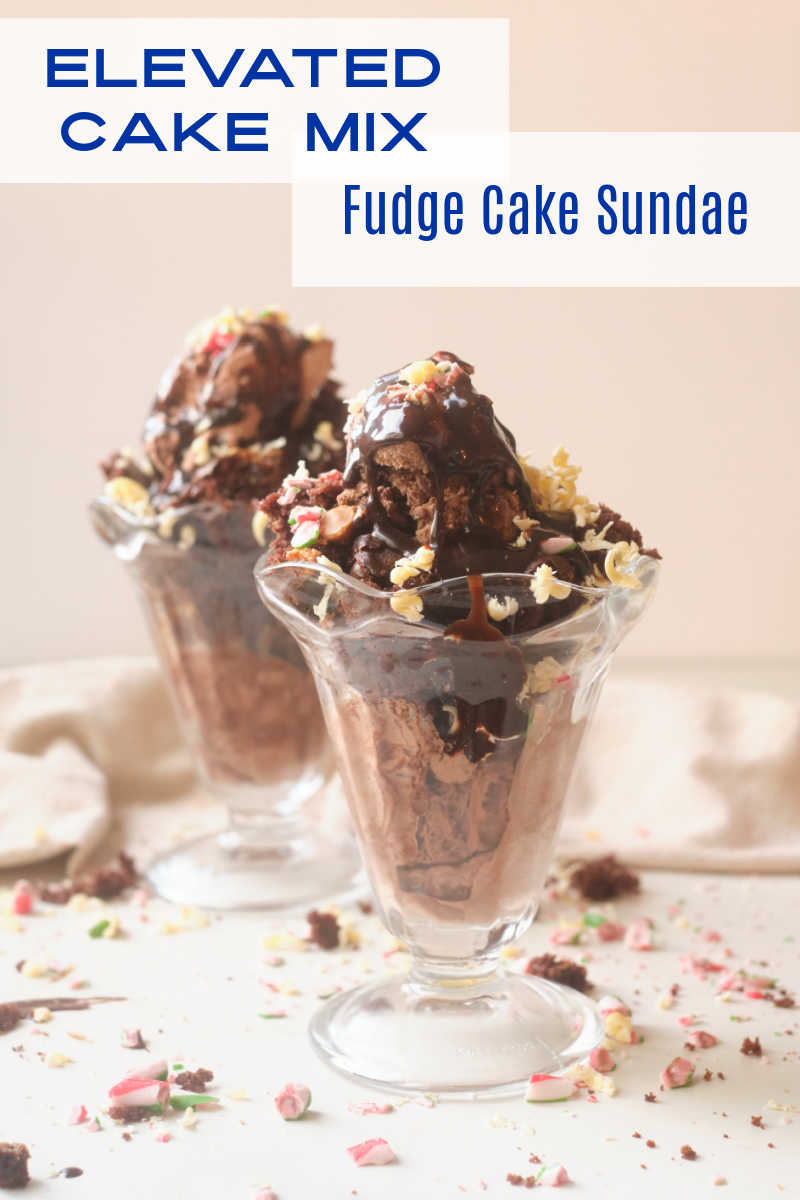 More from Mama Likes To Cook
Check out the rest of my vegetarian recipes, so you can get more great ideas for baking, cooking, blending and juicing.
Cake Mix Recipes
Cake Recipes
Following are more cake recipes that you can bake at home.
Ice Cream Recipes
Shop Now
For a beautiful assortment of kitchen necessities and food gifts for the whole family, check out the current deals at these online stores.
Are you ready to have some delicious fun in the kitchen?