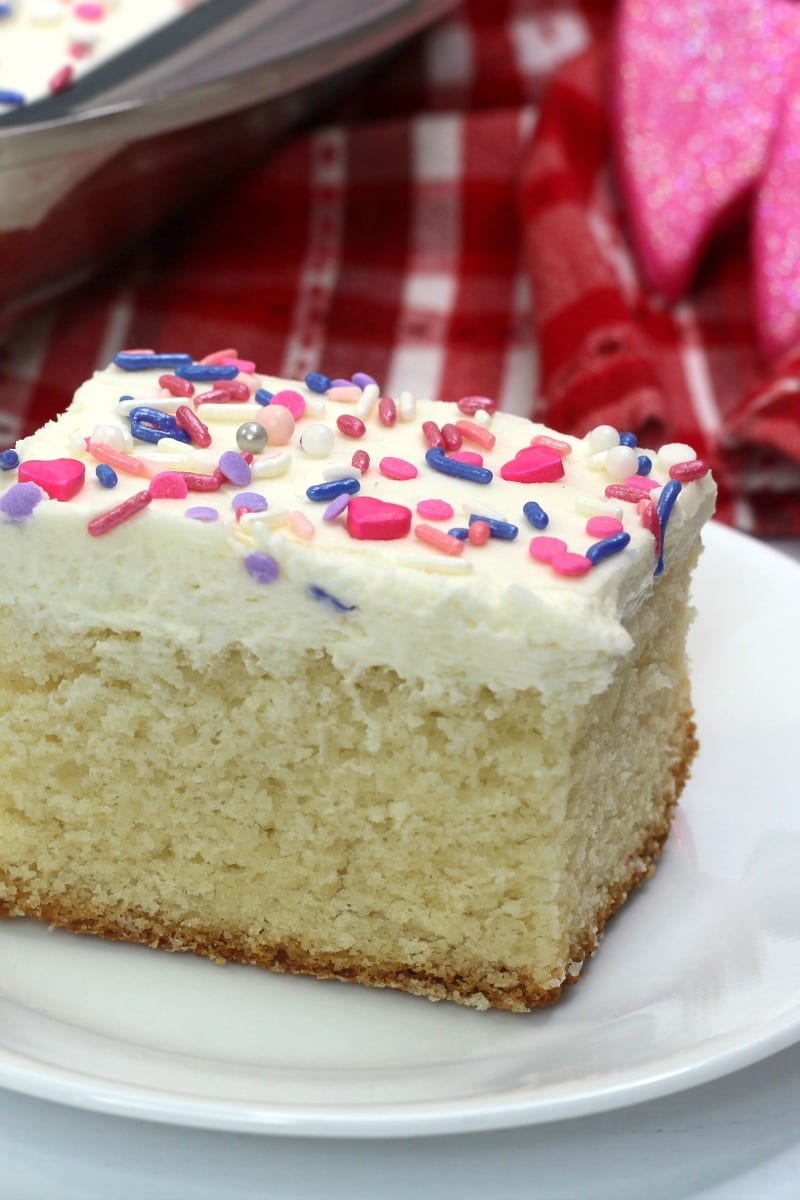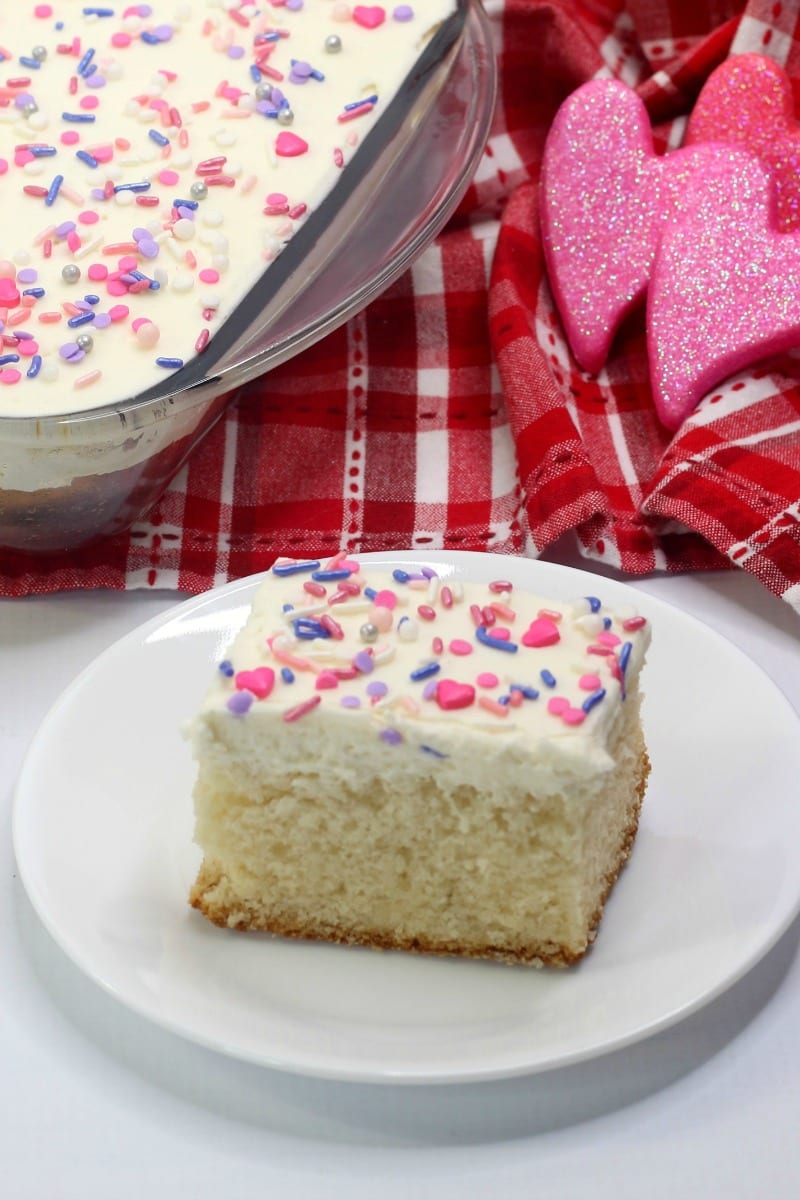 Valentine's Day Cake
White Sheet Cake from Scratch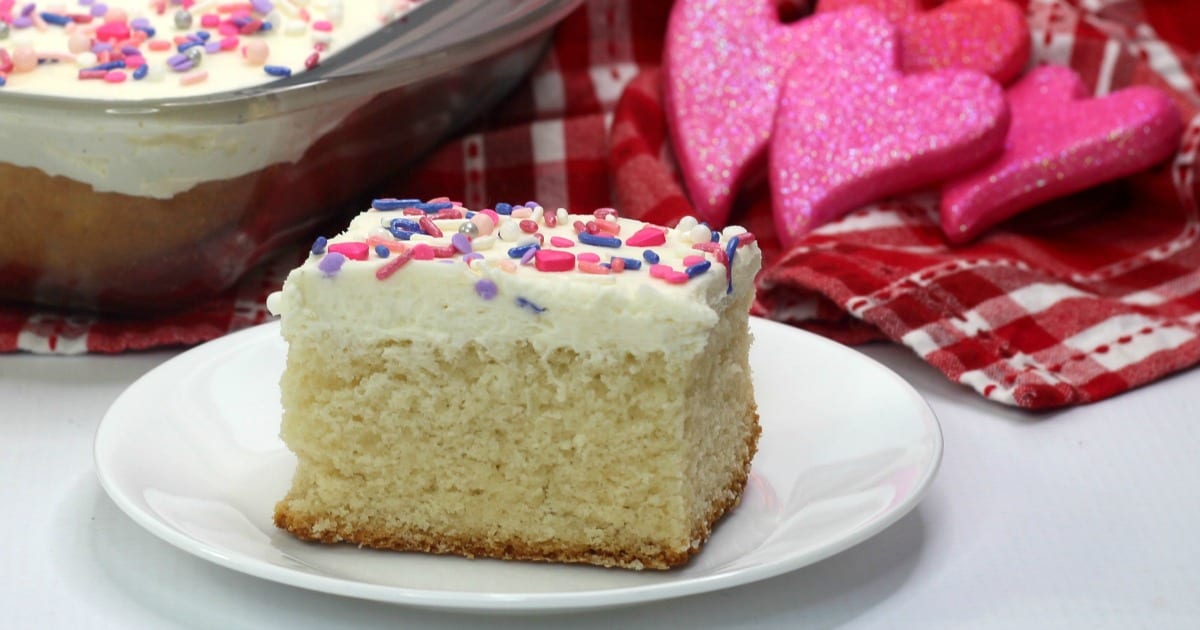 Bake a sheet cake for Valentine's Day, so you can share the love with friends and family.
The moist cake is topped with decadent buttercream frosting and festive sprinkles, and it is delish!
Sheet cakes are the best, since they are simple to make, quick to decorate and easy to share.
You can make one for your own family to eat, take one to the office or send one for your child's class party.
Then you can cut the from scratch cake into small pieces or big ones, when it is time to serve.
Happy Valentine's Day to you and your family!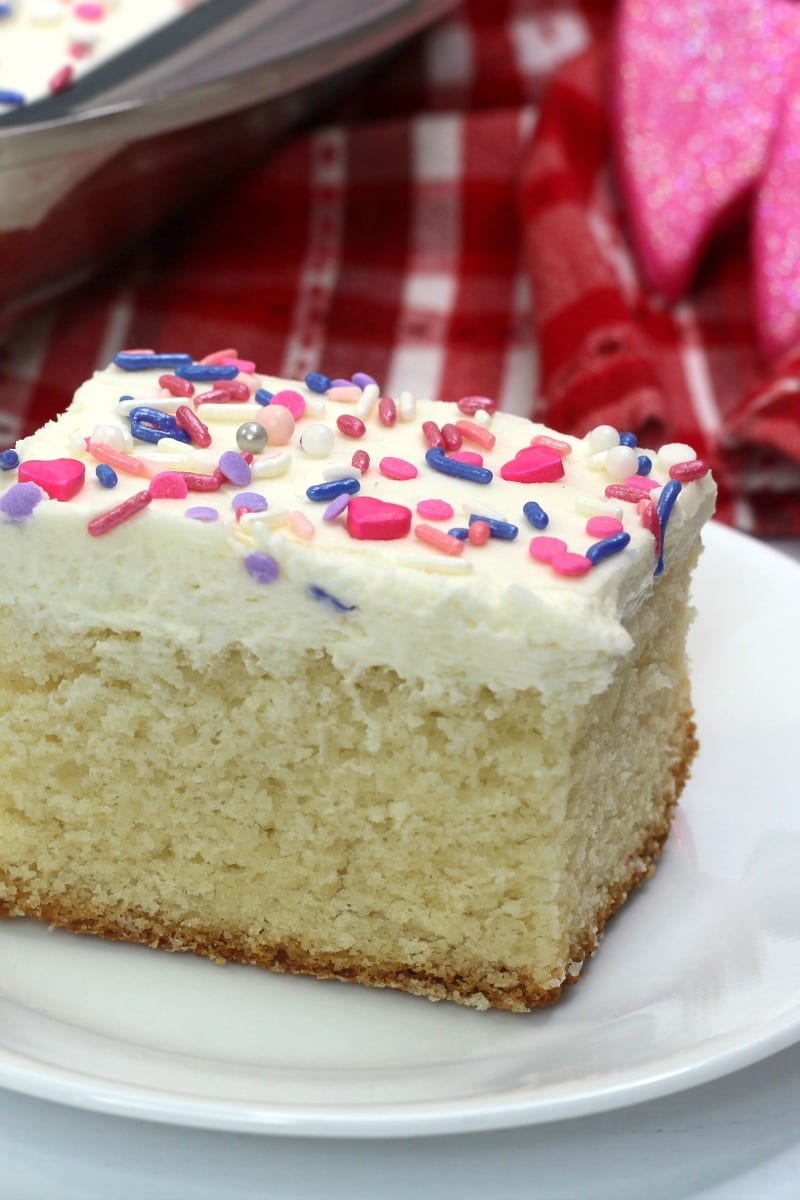 Best Sheet Cake for Valentine's Day Recipe
Ingredients
Cake
2 cups All-purpose Flour
1 t Baking Powder
1 t Baking Soda
2 cups Granulated Sugar
1 t Salt
1 cup Butter, unsalted
2/3 cup Sour Cream
1 cup water
2 eggs
1 t Almond Extract
Frosting
1 cup Unsalted Butter, room temperature
4 cups Powdered Sugar
2 t Vanilla Extract
¼ cup Whole Milk
Supplies
15″ x 10″ Baking Dish
Nonstick Baking Spray
Mixing Bowls
Whisk
Measuring Cup
Measuring Spoons
Saucepan
Mixer
Sifter
Wire Cooling Rack
Instructions
1) Preheat oven to 375° and spray a 15″ x 10″ pan with nonstick baking spray.
2) Add the flour, baking powder, baking soda, sugar and salt to a mixing bowl and whisk together.
3) Heat the butter and water to boil in a small saucepan. Bring to a boil and then quickly remove from the heat. Stir the hot liquid into the dry ingredients.
4) In a separate bowl, whisk together the eggs, sour cream and almond extract. When smooth, stir into the ingredients in the other bowl.
5) Spread batter in the prepared baking pan. Bake for 18-22 minutes until golden brown and a toothpick inserted in the center comes out clean. Cool on a wire rack for 15 minutes or more before frosting.
6) Make the frosting with a mixer, while the cake is cooling. Cream the butter. Then sift in the powdered sugar and add in vanilla. Slowly add milk, one tablespoon at a time until frosting is the desired consistency.
7) Frost cake and top with Valentine's Day sprinkles.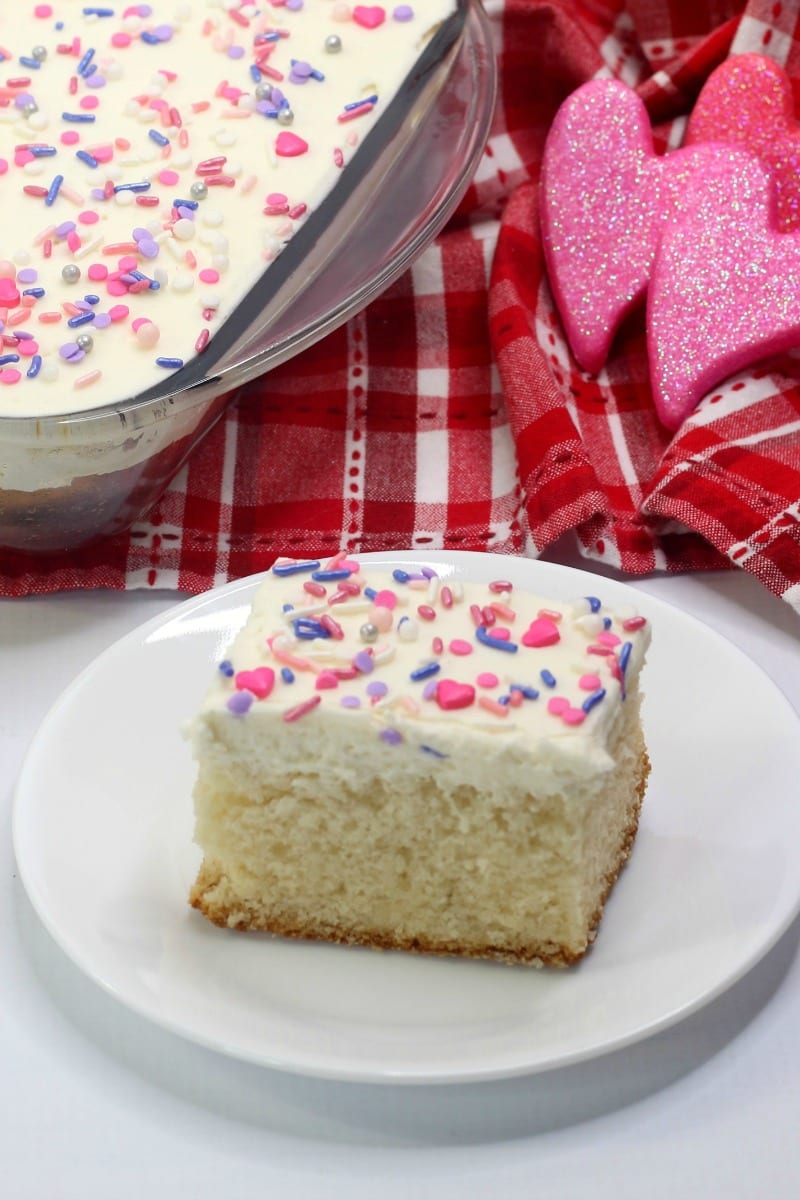 More from Mama Likes To Cook
Check out the rest of my vegetarian recipes, so you can get more great ideas for baking, cooking, blending and juicing.
Frosting Recipes
Cake Recipes
Cupcake Recipes
Shopping Tips
For a beautiful assortment of kitchen necessities and food gifts for the whole family, check out the deals at these online stores.
Are you ready to have some delicious fun in the kitchen?