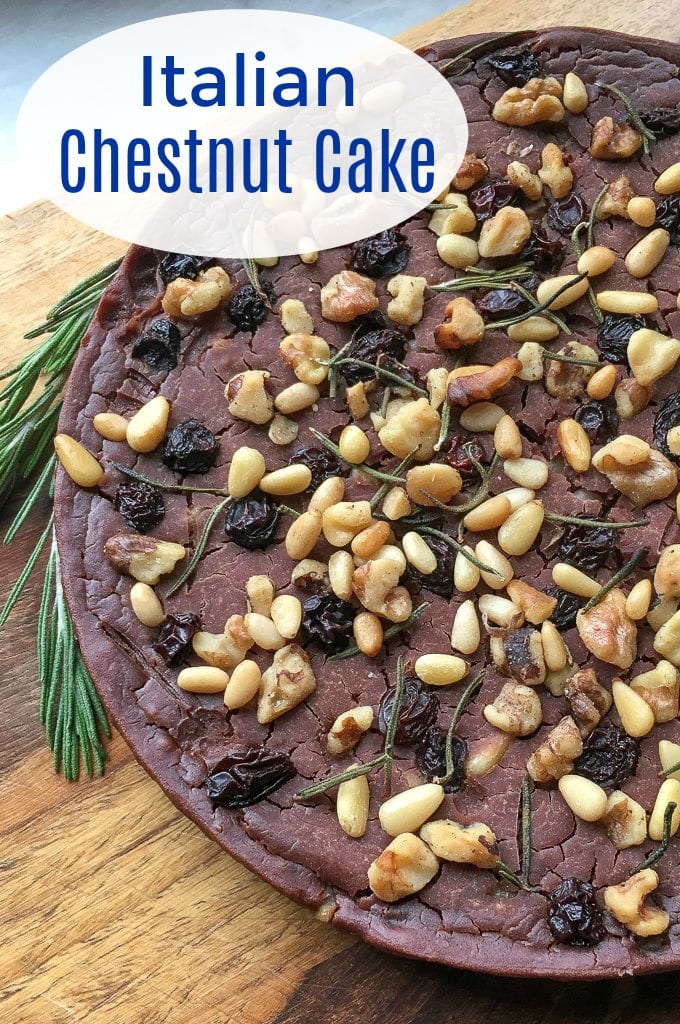 Castagnaccio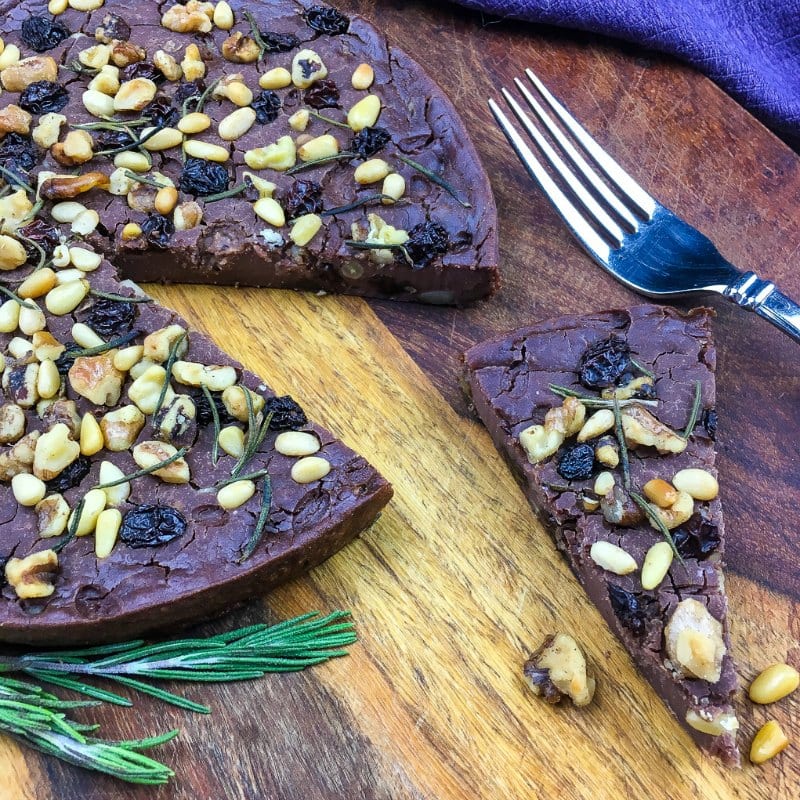 Enjoy a slice of gluten free Italian chestnut flour cake, when you want a traditional Tuscan dessert that is a little bit sweet.
It's Italian name is Castagnaccio, so you may have seen it listed that way on bakery menus.
This is a dessert, but it isn't super sweet. It tastes a bit like a cross between a cake and a bread.
There is no refined sugar added to the batter, but there are raisins and the chestnut flour has some natural sweetness.
It is also vegan, since no butter, eggs or milk are added to the cake batter.
The result is an earthy, nutty cake that is just a bit sweet.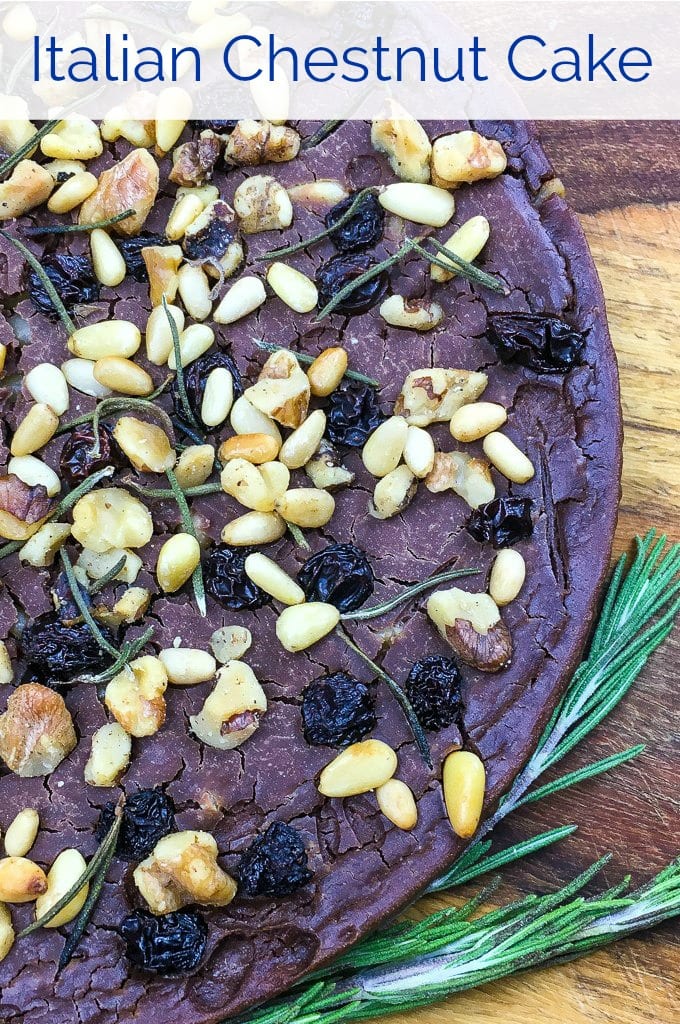 Chestnut flour is high in protein and naturally gluten free, so it's a tasty option for all anyone who is gluten sensitive.
It is topped with walnuts and pine nuts, which add even more protein.
They also had to the taste and texture of this uniquely Tuscan cake.
Enjoy!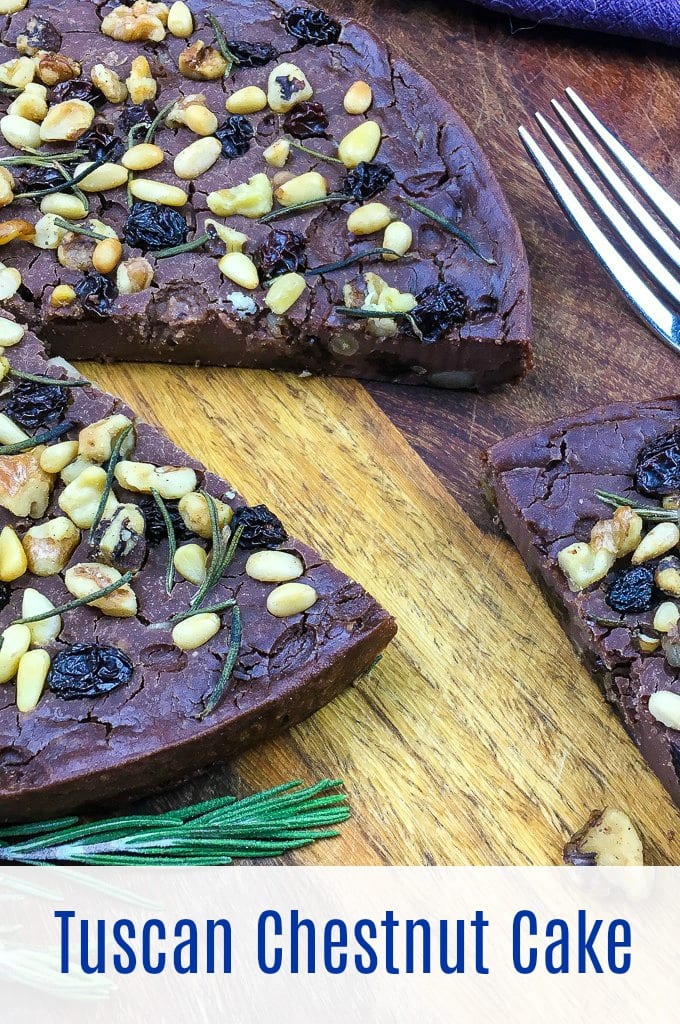 Prep time 15 minutes
Cook time 30-35 minutes
Serves 8 to 10
Ingredients
2 cups Water, lukewarm
1/3 cup Raisins
2 T Fresh Rosemary Leaves
2 T Extra Virgin Olive Oil
3 cups Chestnut Flour
¼ cup Walnuts, chopped
¼ cup Pine Nuts
Supplies
9″ Pie Pan
Non-stick Baking Spray
Mixing Bowl
Measuring Cup
Measuring Spoons
Sifter
Instructions
1) Put oven rack in the center position and preheat to 350°. Spray pie pan with non-stick baking spray.
2) Soak raisins in one dish of lukewarm water and rosemary in another.
3) Sift the chestnut flour into a mixing bowl. Add the extra virgin olive oil and stir with a fork until a smooth batter forms. If the dough is too thick, add a little bit of water.
4) Drain the raisins and rosemary leaves and pat dry. Add half of the raisins, pine nuts and walnuts to the batter and mix together with a fork.
5) Pour the batter into the prepared pie pan. Use a spatula, so that the batter is an even layer. Top with the rosemary and the remaining rasins, walnuts and pine nuts.
6) Bake for 30 to 35 minutes, so that they top of the cake is dry and is beginning to crack.
7) Allow to cool for a few minutes. Then, cut into slices to serve.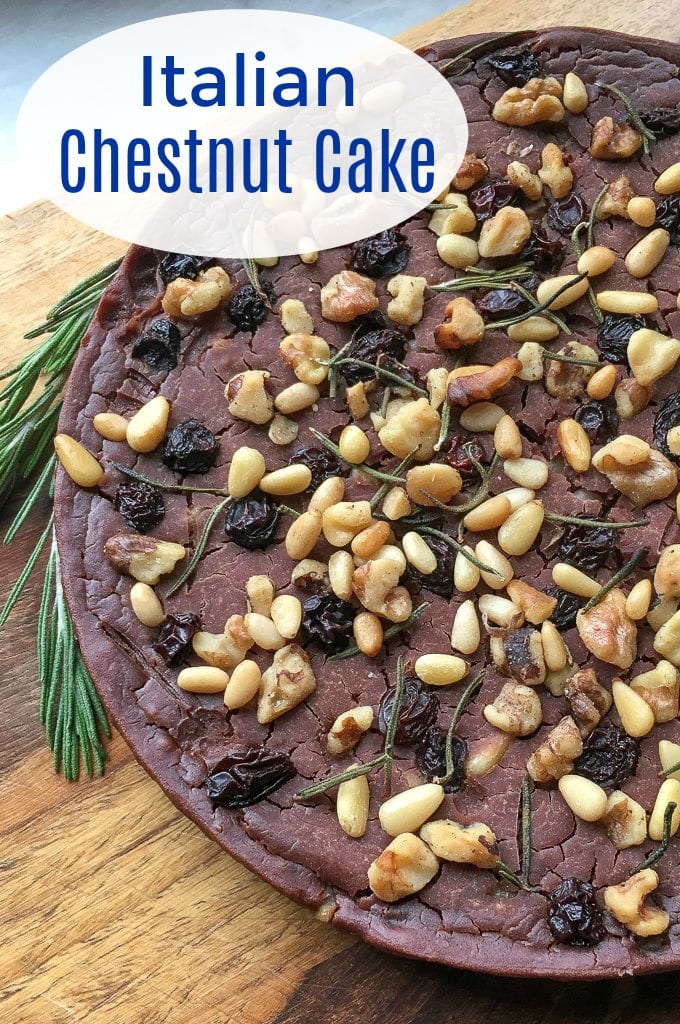 More from Mama Likes To Cook
Check out the rest of my vegetarian recipes, so you can get more great ideas for baking, cooking, blending and juicing.
Frosting Recipes
Cake Recipes
Cupcake Recipes
Shopping Tips
For a beautiful assortment of kitchen necessities and food gifts for the whole family, check out the deals at these online stores.
Are you ready to have some delicious fun in the kitchen?