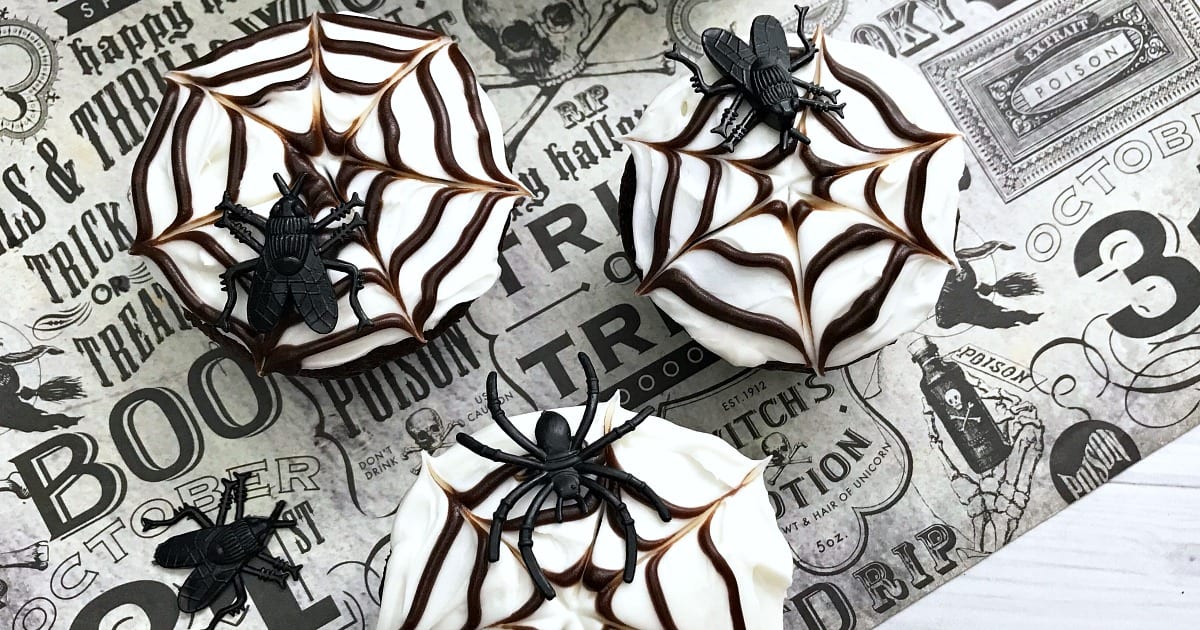 Easy Halloween Dessert
Enjoy my Halloween spider web cupcakes, when you are want a spooky treat!
The spider web design is easy to create, even if you have no previous cake decorating experience.
The cupcakes are perfect for a party at home, a classroom Halloween party or to take to the office.
They would also be a popular item, if you sell them at a bake sale.
This is a treat that is a little bit creepy, but not scary.
Adults and kids of all ages can enjoy them.
You can either bake your own cupcakes from scratch or from a box mix or you can use store bought ones.
Whatever cupcakes you use, it is the frosting that makes these cupcakes fun.
You may want to do a practice one first, but it is really easy once you get the hang of it.
This isn't a design that needs to be exactly the same on each cupcake.
It is alright, if you have circles and lines that aren't perfectly spaced and straight.
They will all look cute!
This project is perfect, if you have kids who want to help.
Frosting and decorating the cupcakes is a kid friendly activity, so it is a great way to get kids involved in the kitchen.
If you are having a party, you could even set up a table with supplies.
Then each guest can make their own spooky cupcake treat.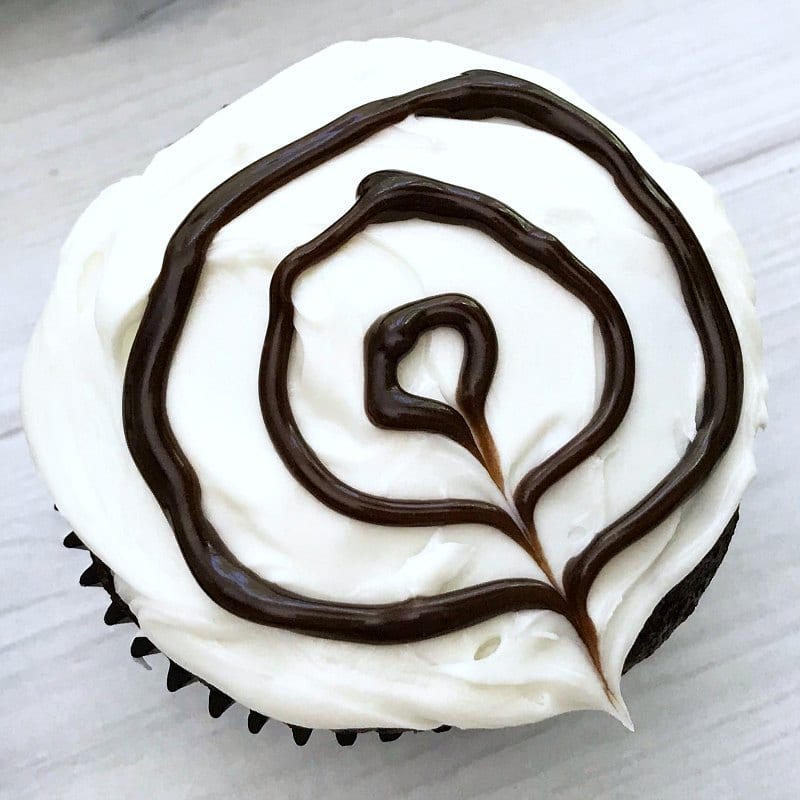 These easy to decorate spider cupcakes will be fun for your Halloween party buffet.
We love celebrating Halloween, so we are looking forward to enjoying more of these cute cupcakes.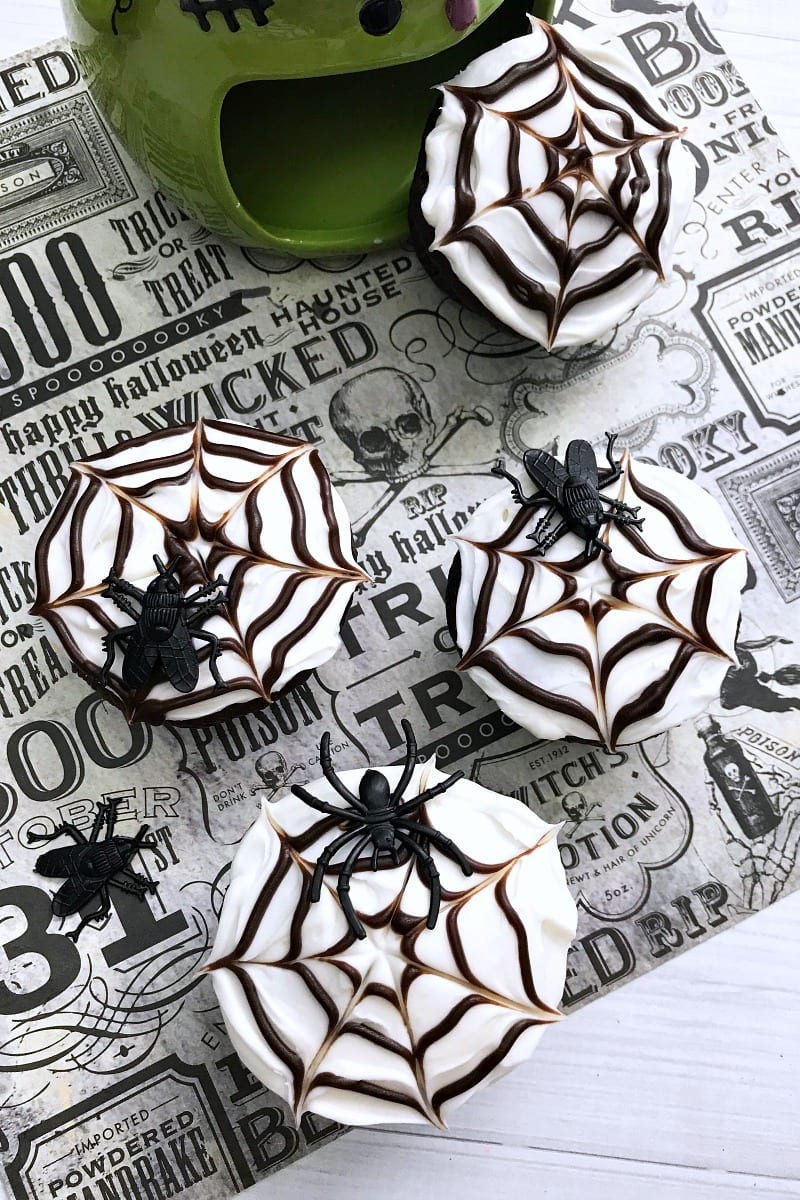 Halloween Spider Web Cupcakes Recipe
Ingredients:
24 Chocolate Cupcakes (Home baked or Store Bought)
16 oz. pkg.
White Frosting
1/2 cup
Chocolate Frosting
Supplies
Small Sandwich Baggie
Toothpicks
Scissors
Small Spider Cake Toppers
Instructions:
1) Frost each cupcake with white frosting.
2) Add 1/2 cup chocolate frosting to baggie.
3) Microwave the frosting baggie for 10 seconds, so that it softens.
4) Snip a small corner of the baggie.
5) Gently squeeze three chocolate rings on top of a cupcake. Feel free to make 'test rings' on a plate to learn how to control the flow prior to adding them to a cupcake.
6) Use a toothpick to make the spider web design. Start at the center and carefully drag a toothpick in a straight line to the outer edge. Make six of these lines evenly spaced around the cupcake.
7) Repeat until all cupcakes have a spider web on top of the white frosting.
8) Place a small spider on top of each cupcake.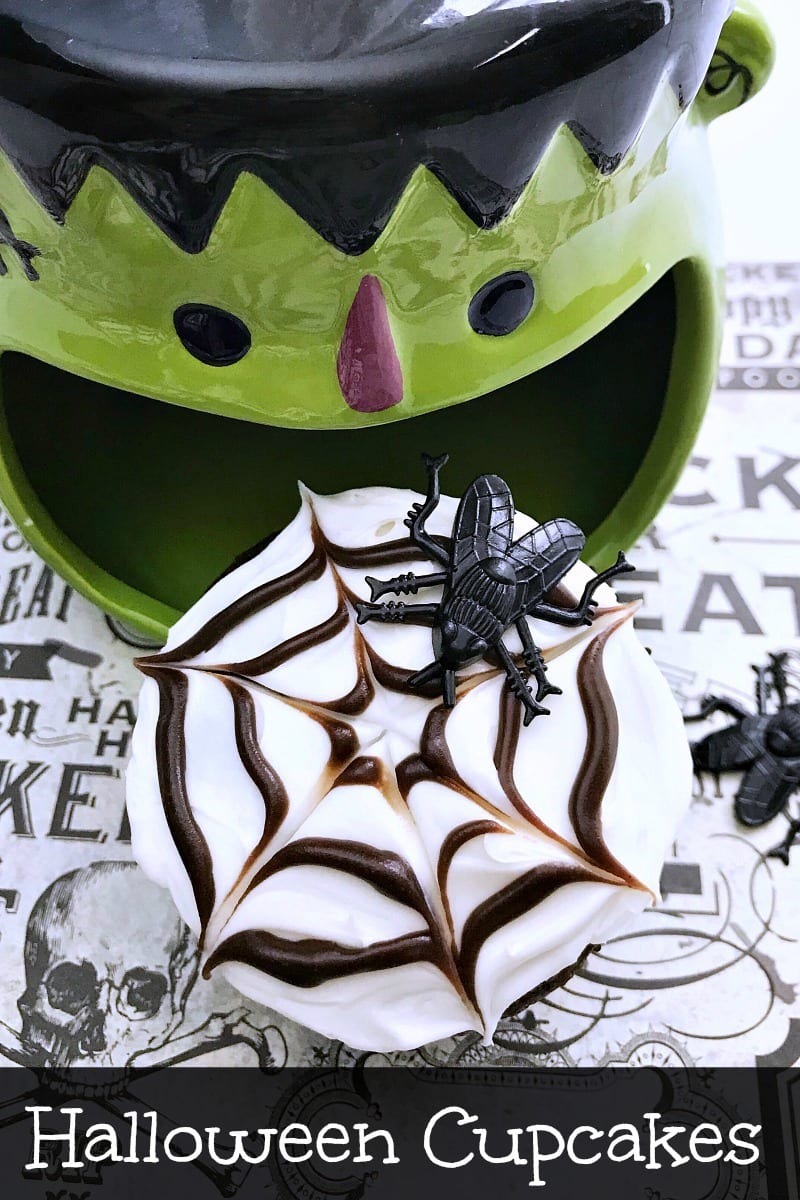 More from Mama Likes To Cook
Check out the rest of my vegetarian recipes, so you can get more great ideas for baking, cooking, blending and juicing.
Deals for Halloween
Halloween Drink Recipes
Halloween Food Recipes
Hotel Transylvania Recipes
Shopping Tips
For a beautiful assortment of kitchen necessities and food gifts for the whole family, check out the latest deals at these online stores.
Are you ready to have some delicious fun in the kitchen?