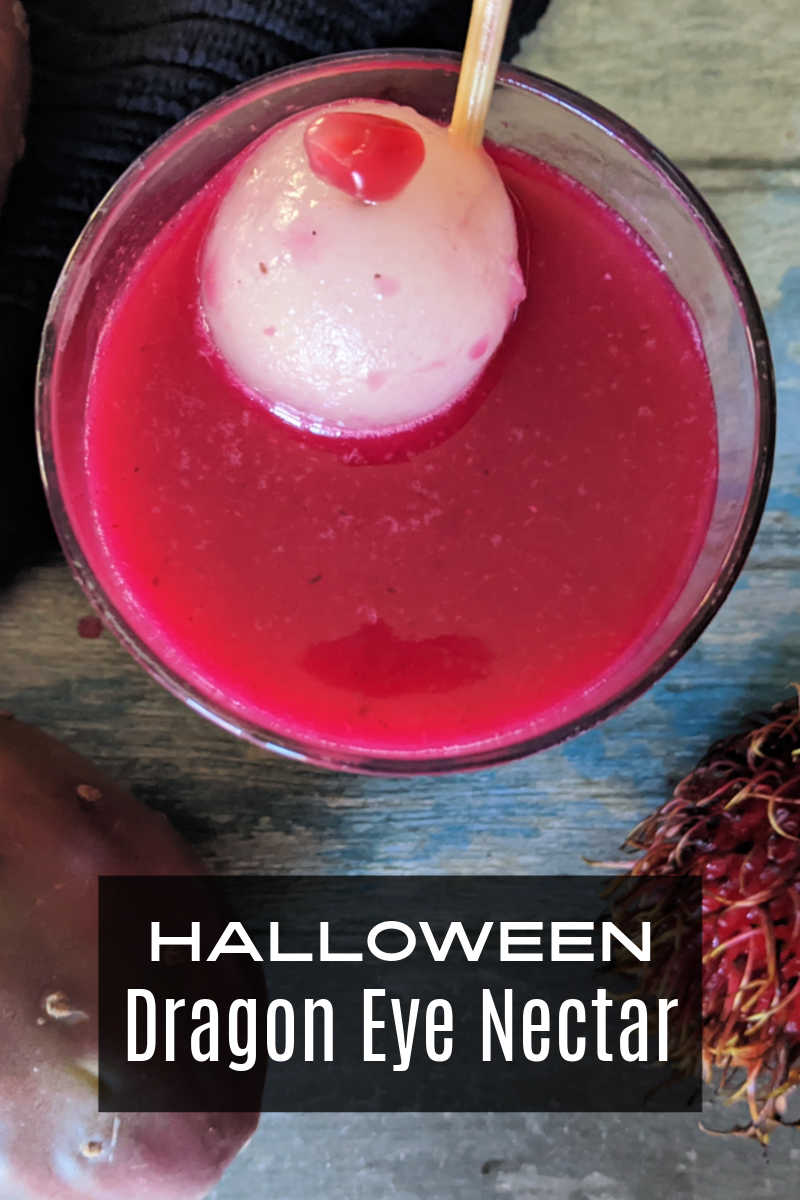 Halloween Party Drink: Bloody Dragon Eye Nectar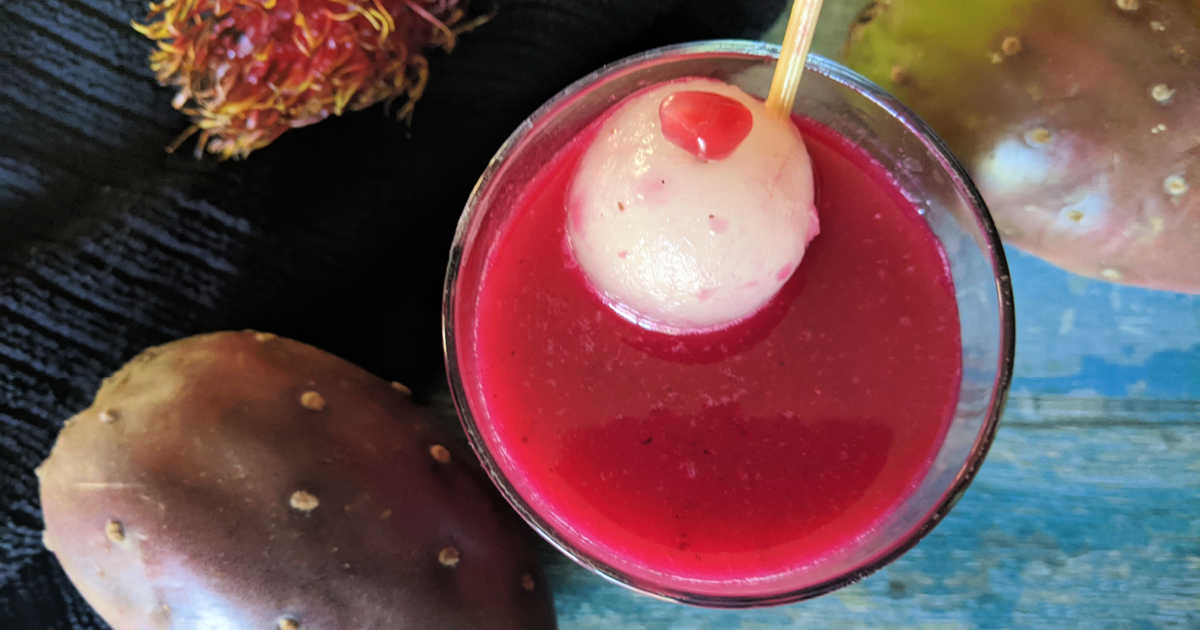 This bloody dragon eye nectar is a perfect drink for Halloween since it looks spooky, but it is made with delicious fruit.
It isn't actual blood, of course.
The beverage is made with fresh prickly pear, which can also be called by it's Spanish name, tuna.
Since it's made with the whole fruit instead of just the juice, the nectar is thick for a bloody look.
The "dragon eye" garnish is an edible treat, since it is also made with fresh fruit.
Halloween is a fun time to make good use of "freaky fruits" from Melissa's Produce.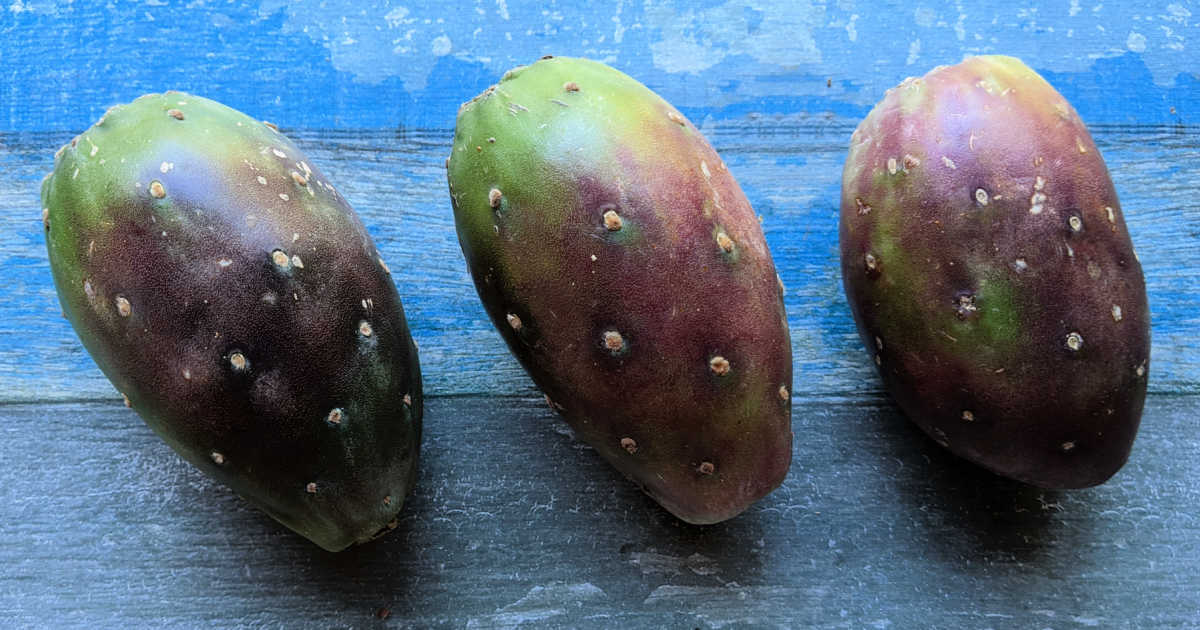 What Are Prickly Pear?
Prickly pear are the fruit from nopal cactus and they have rightfully earned their prickly name.
Like the rest of the cactus plant, the fruit has sharp spines on the outside and you really don't want to get pricked.
This type of cactus grows well in Southern California, so I often see it growing on the side of the road or near hiking trails.
I've also got some growing in my backyard.
The paddles (nopales) are edible and so is the fruit.
How to Handle Prickly Pear
If you are picking it fresh, you need to be very careful harvesting and handling the prickly pears.
Gloves are a must.
When you buy prickly pear in a store, most of the spines have likely been removed.
It's still good to be careful.
Hold the prickly pear on both ends where there aren't spines while you carefully remove the peel to reveal the brightly colored fruit inside.
The first time I handled prickly pear it was concerned I'd get poked.
I didn't.
Now I'm just mindful that there may be spines, but it really is easy and feels like a 'normal' food handling process to me.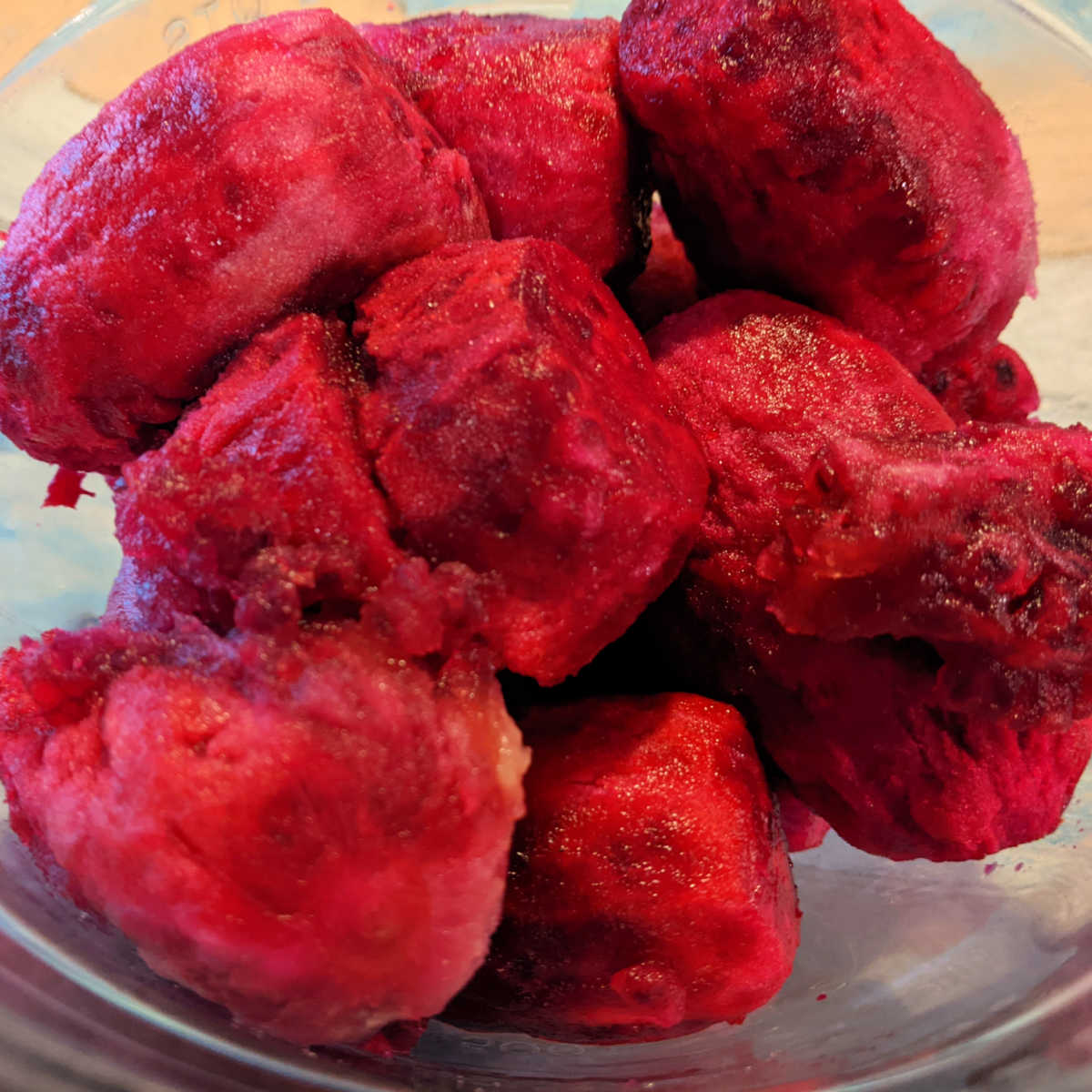 What Type of Blender Should I Use for The Prickly Pear Nectar?
I use a Vitamix Blender that is about a decade old, but still works as well as when I first got it.
Prickly pear have small hard seeds, so you want to use a blender that will blend those ingredients small enough to add texture without being too big.
A blender with less power may work for this recipe, if you blend it for a longer time.
However, I haven't tried using anything other than my Vitamix.
I do know that my high speed blender will get the job done quickly and efficiently.
If you are just now looking to purchase a blender, I'd recommend investing in a high quality one that you will be able to use efficiently for more recipes.
Also, a good blender typically lasts a long, long time.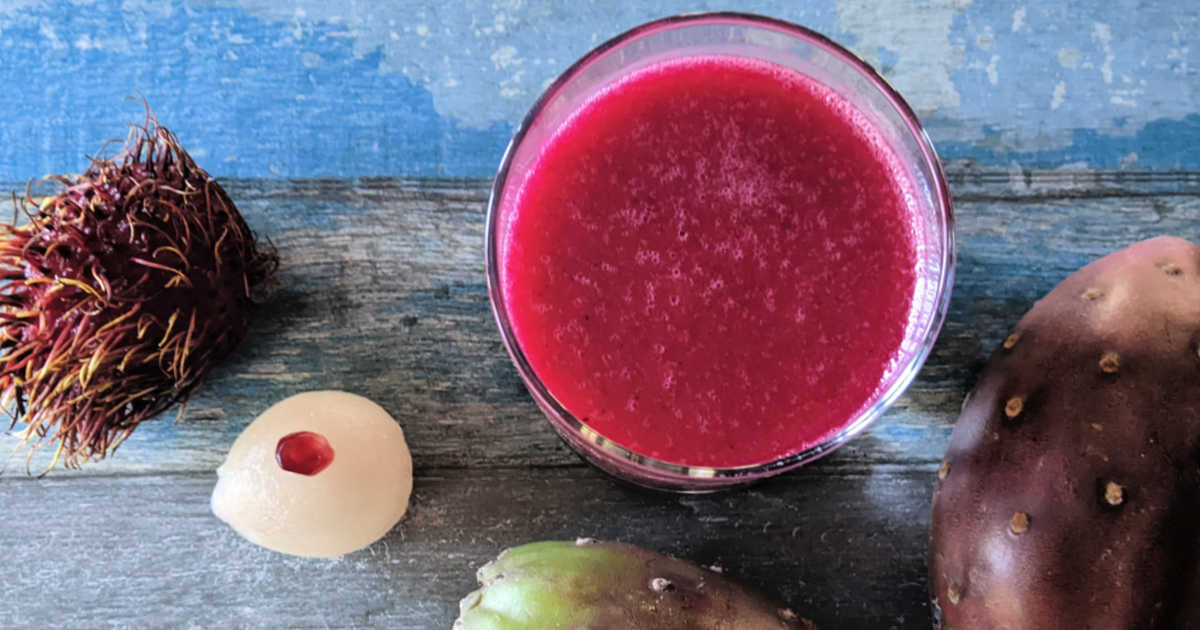 Does The Recipe Have Any Added Sugar?
We like this drink recipe as it is written with no added sugar, since there is natural sweetness in the fruit.
If you do like yours a little sweeter, I'd recommend using agave nectar or a liquid monkfruit sweetener.
Liquid sweeteners dissolve well, when you are making drinks that aren't hot.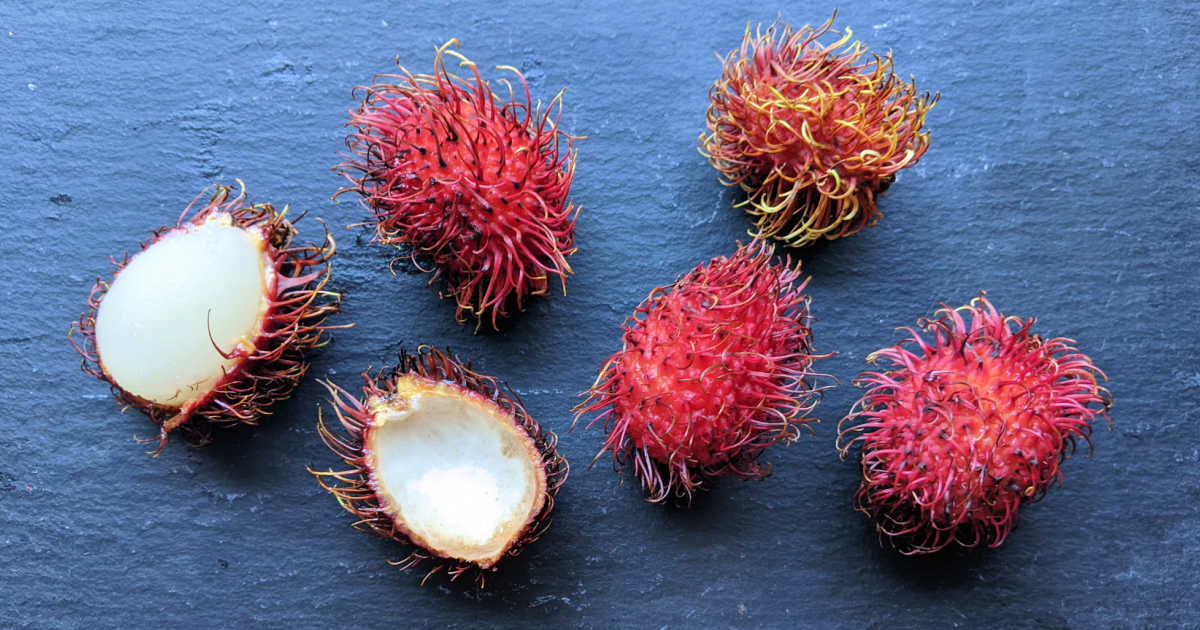 Are Rambutan, Lychee and Longan Related?
Yes!
Rambutan, lychee and longan are tropical fruits that are in the soapberry family.
The insides of these three fruits have a similar white translucent flesh, but the outsides look different.
Rambutan skin is covered with what looks like coarse hair, while longan are smoother and lychee look reptilian.
I used rambutan this time, but one of the others would be great, too.
Out of the three, my favorite to eat are lychee since I really like their light, floral taste.
You may use any of these 3 fruits to make the dragon eyeball for this spooky Halloween drink.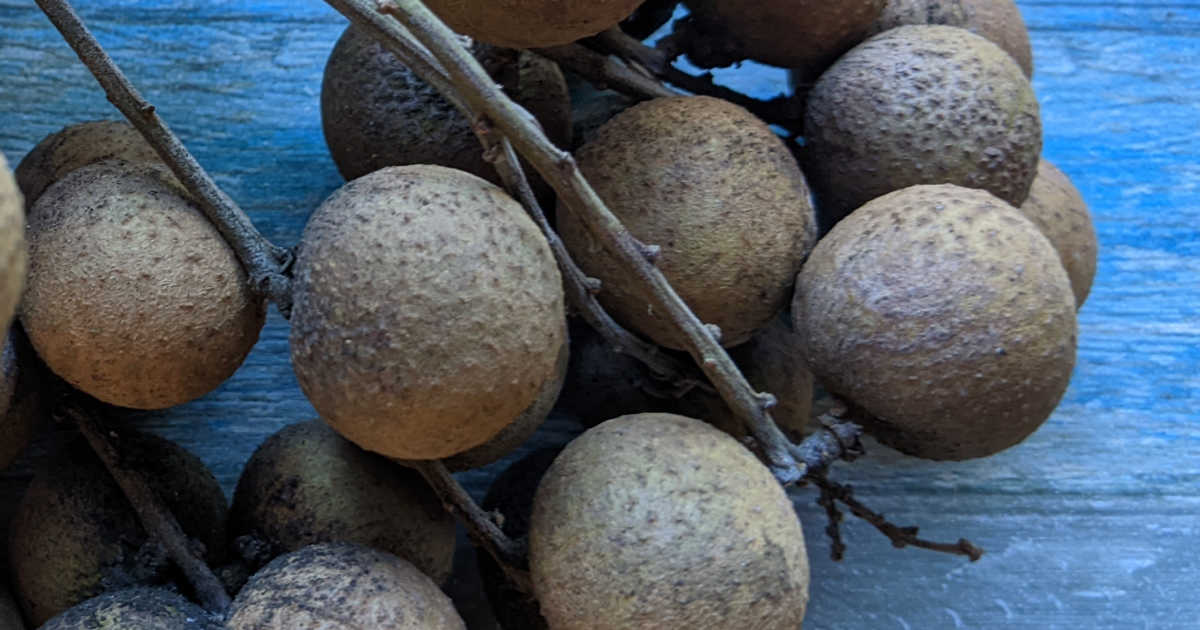 Help! I Can't Find Rambutan, Lychee Or Longan For The Recipe
No worries.
My first choice would be one of those three to make the dragon's eyeball, but a large peeled grape can be substituted.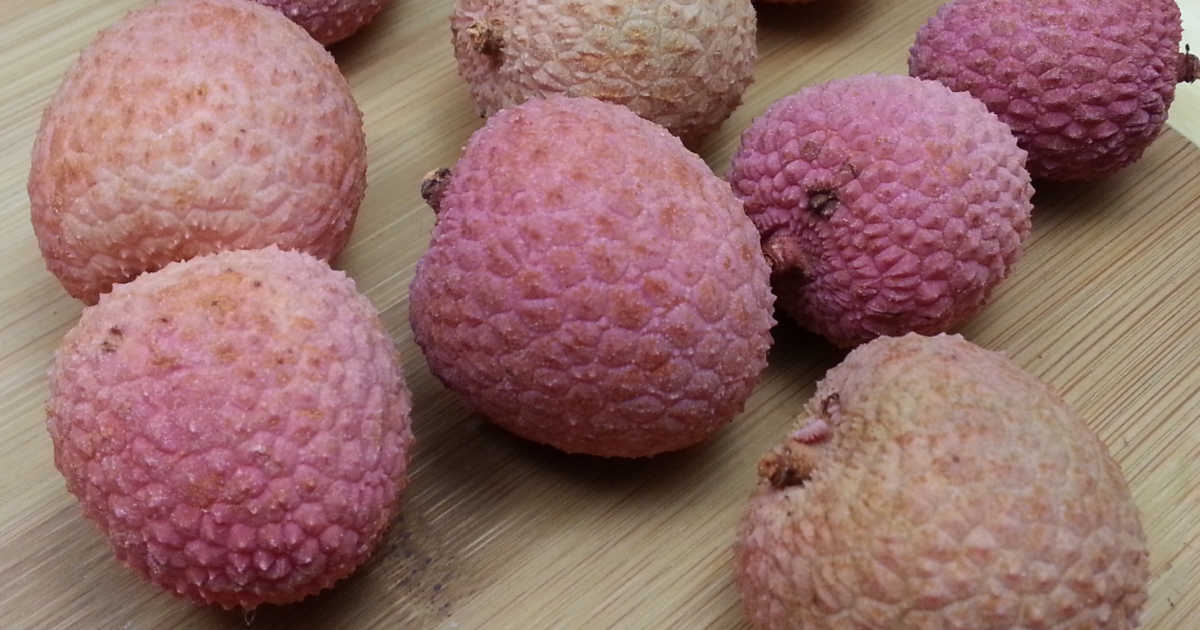 How To Prepare Pomegranate
The absolutely easiest way to use pomegranate arils is to purchase ready-to-eat ones that have already been removed from whole pomegranates.
Check your grocery store or shop online for fresh Melissa's pomegranate arils.
If you are using a whole pomegranate, start by slicing off the top and bottom of the fruit.
You'll be able to see how the sections are divided inside.
Use a sharp knife to score the outside layer of the pomegranate from top to bottom where the sections will separate.
Pull gently apart to get easily managed sections, so that the arils will pop right out.
Once you have practiced a few times with a whole pomegranate, it's an easy process.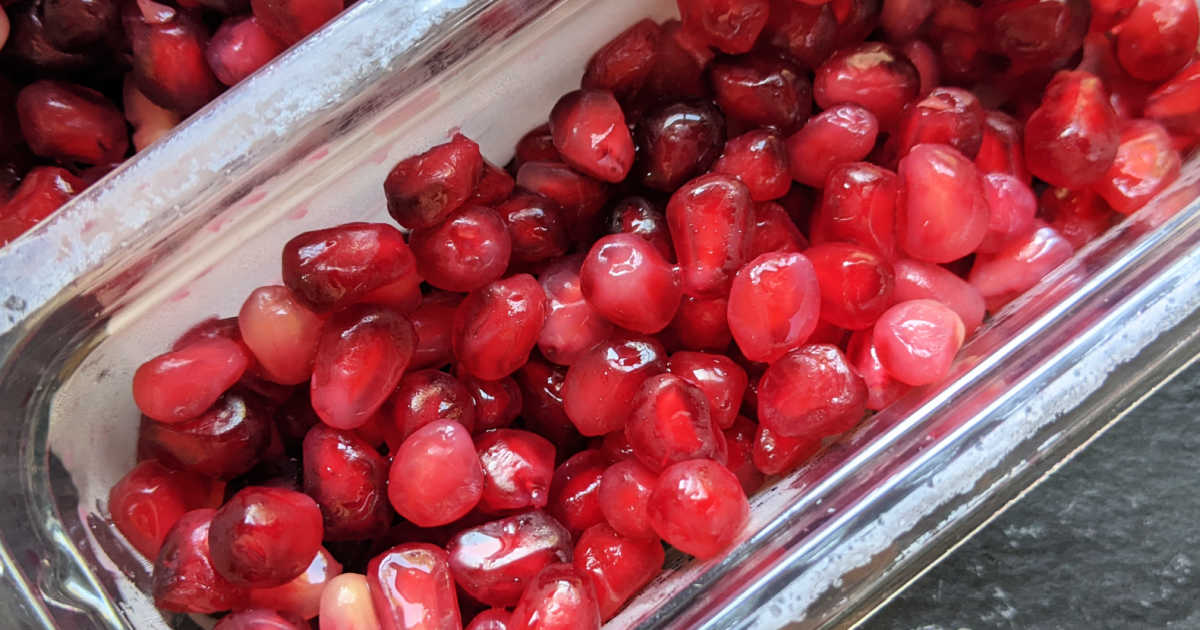 How Many Servings Does This Yield?
This recipe is flexible, so you can make a lot or a little.
I use about equal parts of blended prickly pear fruit and water.
You can make a small batch with a single prickly pear or fill your blender up with a lot of them.
Then you'll need an "eyeball" and pomegranate aril to garnish each dragon eye nectar drink to serve.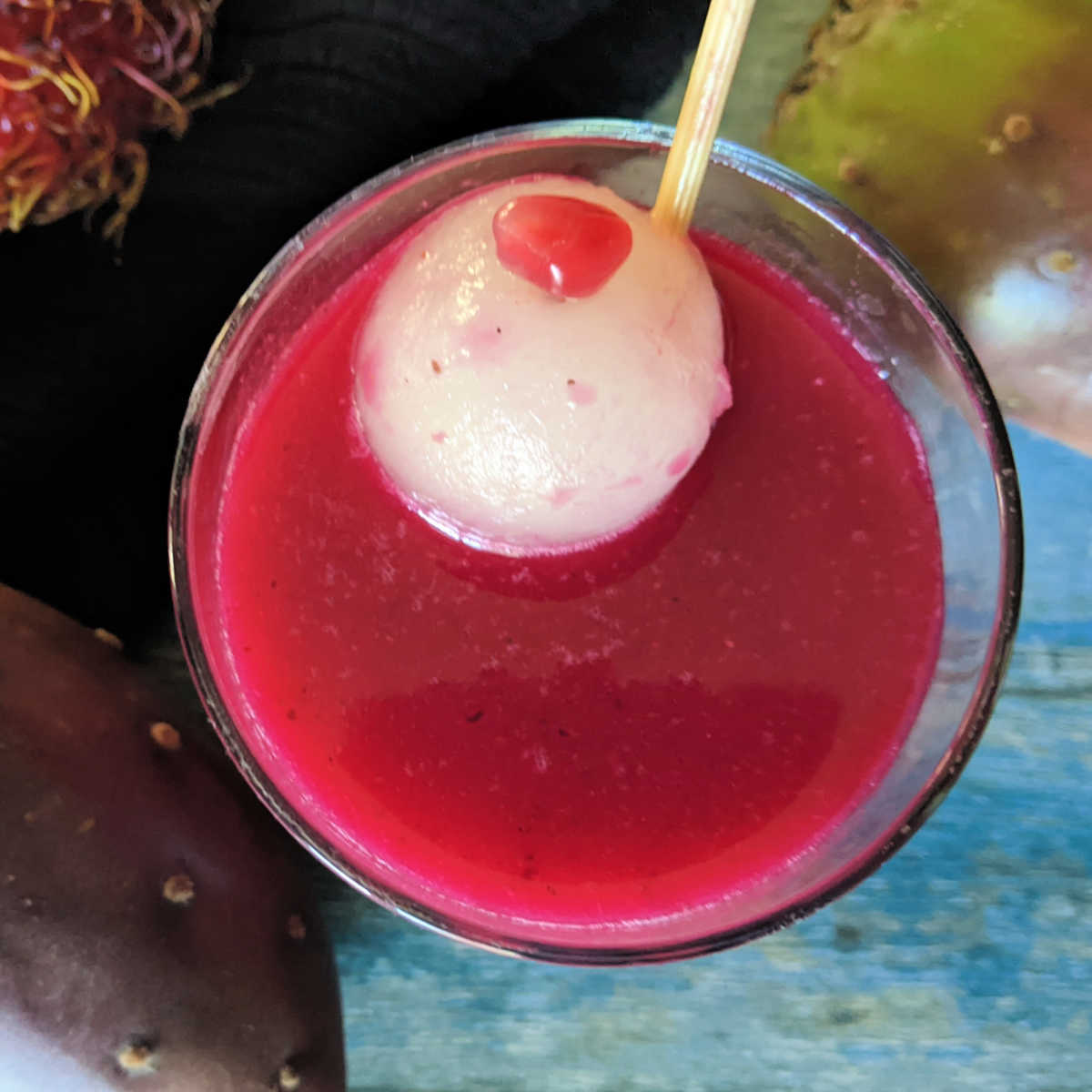 Bloody Dragon Eye Nectar Recipe
Ingredients
Prickly Pear
Water
Rambutan, Lychee or Longan
Pomegranate Aril
Supplies
Chef Knife
High Speed Blender
Glass
Cocktail Pick or Bamboo Skewer cut to the proper size for your glass
Instructions
1) Carefully peel the prickly pear and put the fruit in your blender.
2) Blend on high for at least 3 to 5 minutes to break down the hard prickly pear seeds. A little bit of texture is great, but you don't want the bits to be too hard or too sharp. If they seem to big, blend longer.
3) Pour the blended fruit and a roughly equal amount of water into a pitcher or individual serving glasses. Feel free to adjust the percentage of water to suit your taste. Chill or drink at room temperature.
4) Prepare your dragon eye garnish. Peel the fruit that you are using for the eyeball. Use a knife to cut a small crevice for the pomegranate aril in the center of the eyeball. Put the eyeball on the cocktail pick, so that it "floats" above the nectar.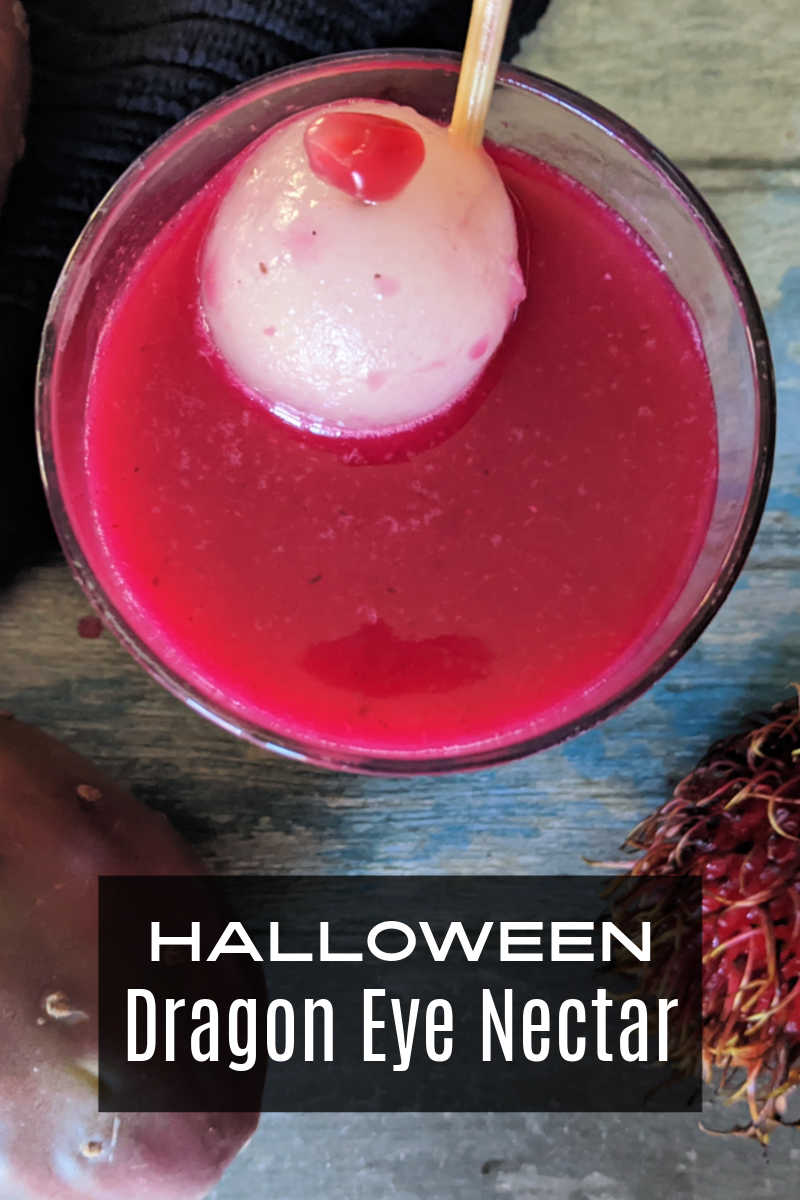 More from Mama Likes To Cook
Check out the rest of my vegetarian recipes, so you can get more great ideas for baking, cooking, blending and juicing.
Lychee Recipes
Halloween Drink Recipes
Halloween Food Recipes
Hotel Transylvania Recipes
Shop Now
For a beautiful assortment of kitchen necessities and food gifts for the whole family, check out the current deals at these online stores.
Are you ready to have some delicious fun in the kitchen?