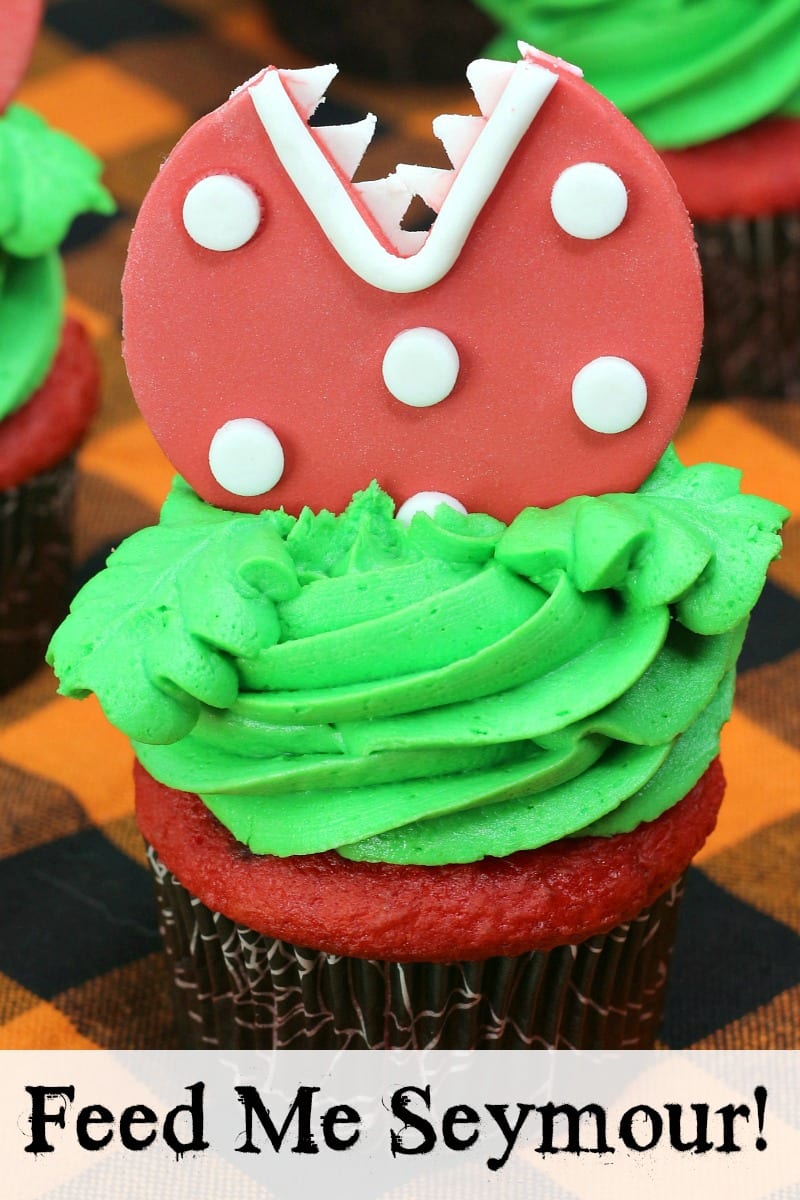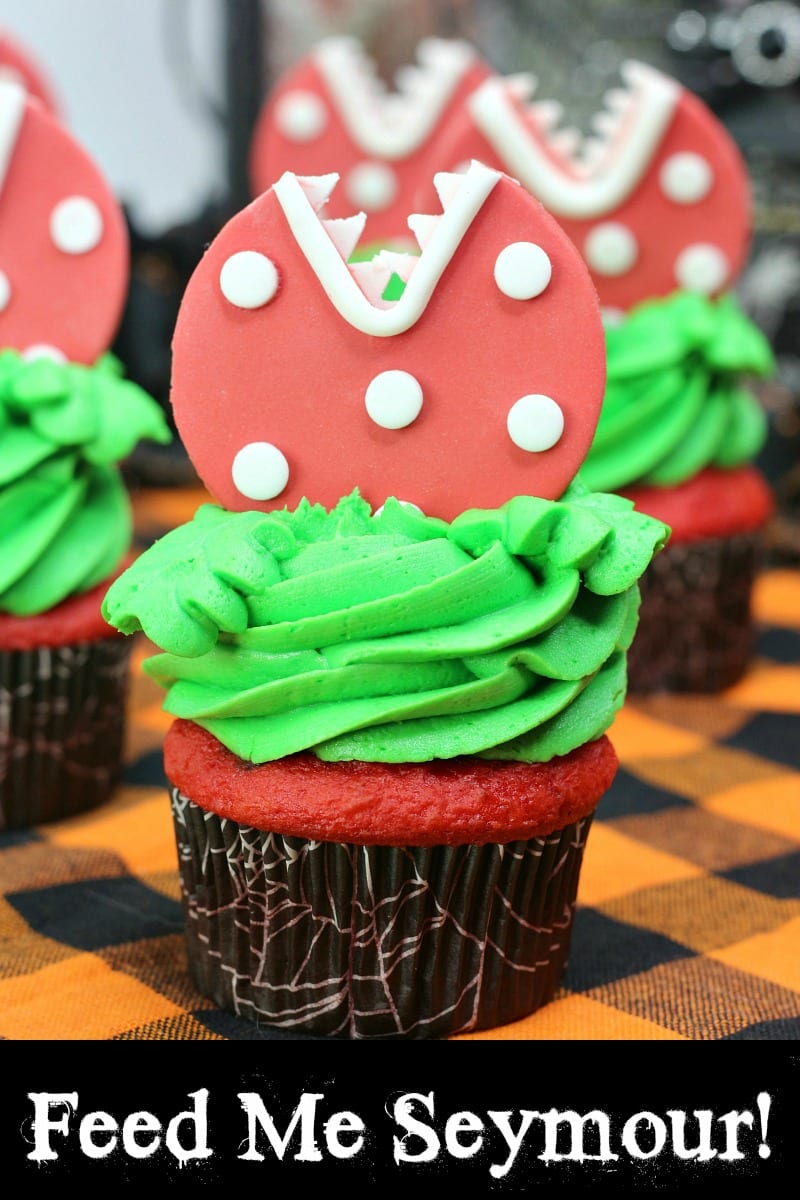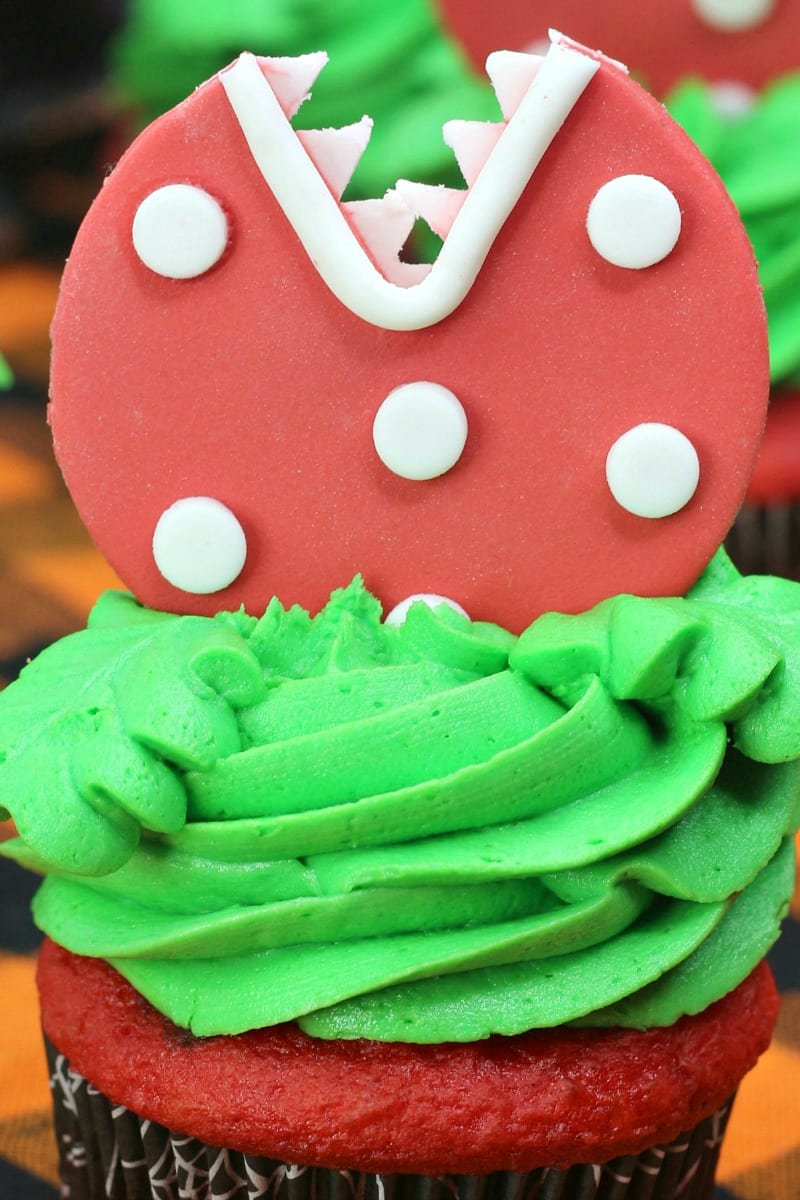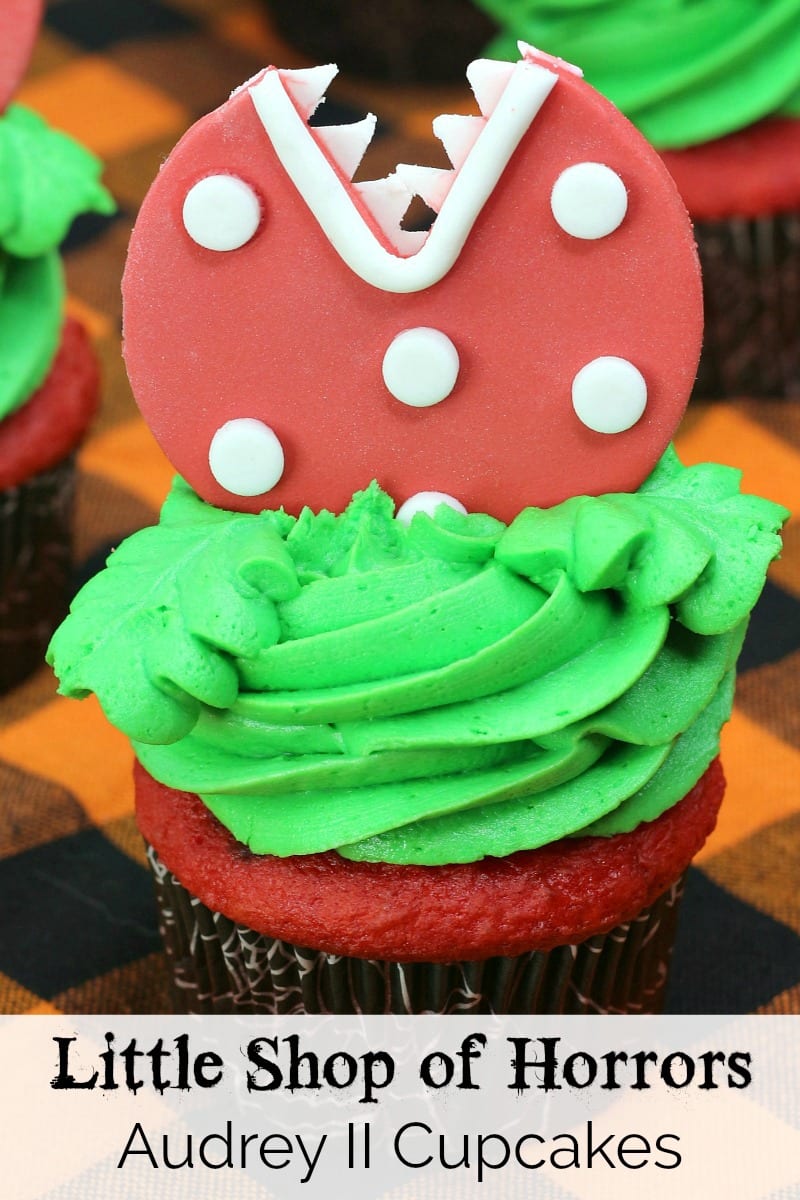 Audrey II Cupcakes
As a fan of Little Shop of Horrors, I love these Feed Me Seymour cupcakes that look like Audrey II.
This mean green mother from outer space is perfect anytime.
Enjoy the Audrey II cupcakes on family movie night or for a fun party treat.
They aren't just for October 31st, but will definitely fit right in at a Halloween party.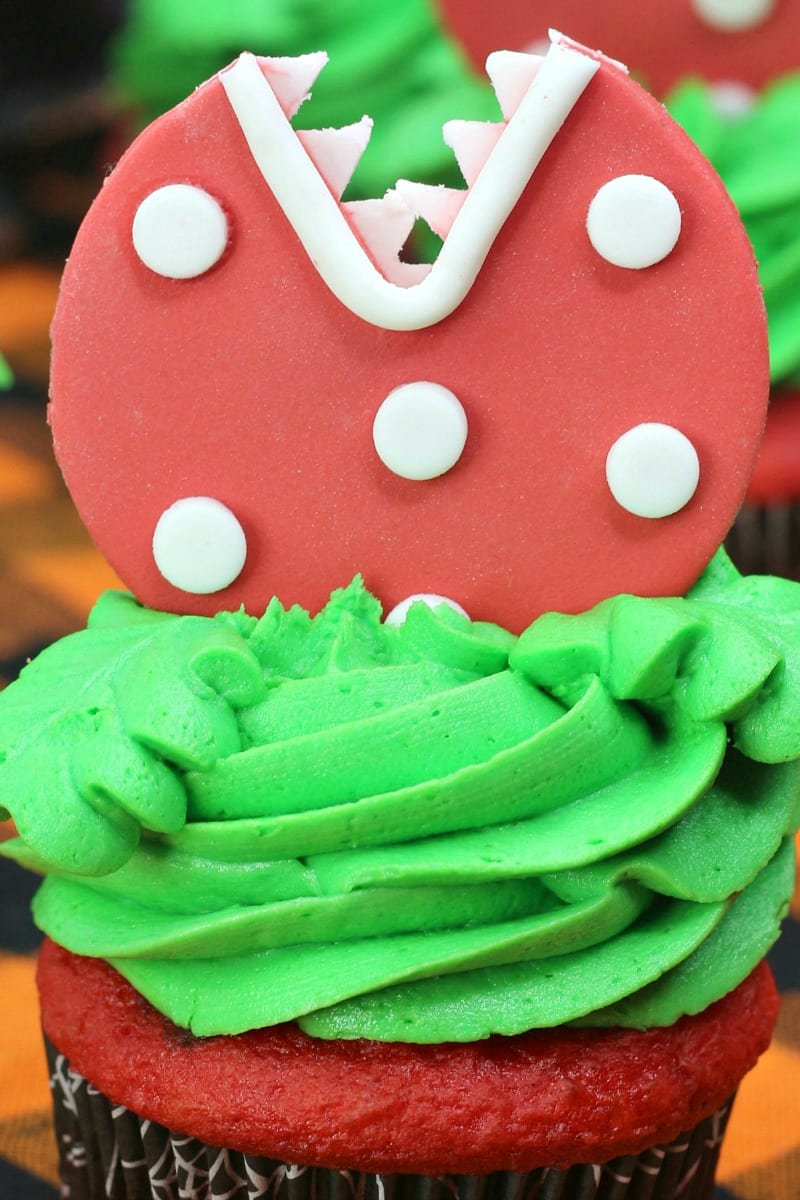 I saw Little Shop of Horrors several times, when it was first in theaters back in the 1980s.
A musical comedy horror movie is right up my alley.
I even bought the Little Shop of Horrors soundtrack at the mall, immediately after I saw the film for the first time. This was the 80's, so it was a record album that I bought.
Since then, I've seen the movie and live performances numerous times and I still love it.
Little Shop of Horrors Feed Me, Seymour
Feed me, Seymour.
Feed me all night long.
"That's right, boy!"
You can do it…
Feed me, Seymour.
Feed me all night long…
'Cause if you feed me, Seymour,
I can grow up, big and strong.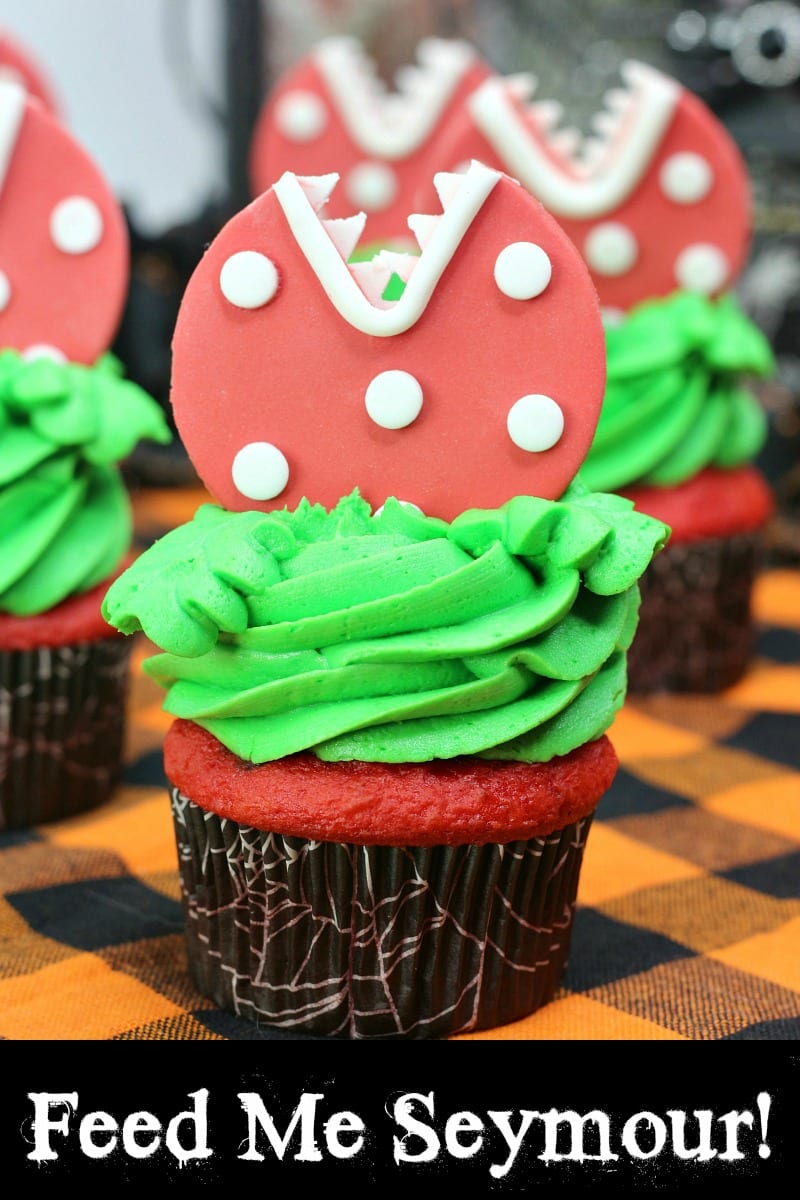 Feed Me Seymour Cupcakes Recipe
Makes 12 Audrey II Cupcakes
Ingredients
1 box Chocolate Cake Mix, baked as cupcakes according to package directions
Frosting Ingredients & Supplies
3 cups Unsalted Butter, softened
6 cups Powdered Sugar
7 T Heavy Whipping Cream
2 t Vanilla Extract
Green Gel Food Coloring
Large Piping Bag with Star Tip
Large Piping Bag with Large Leaf Tip
Fondant Decoration Ingredients & Supplies
1 pkg. Red Fondant
1 pkg. White Fondant
1/2 cup Powdered Sugar
3″ Round Cookie Cutter
Round Icing Tip (to make spots)
Cutting Board
Parchment Paper
Sharp Non-serrated Knife
Instructions
1) Bake cupcakes according to package directions or make from your favorite from scratch recipe.
2) Transfer the cupcakes to a cooling rack, so that they are completely cooled before frosting.
3) To make the frosting, mix the softened butter, powdered sugar, heavy whipping cream and vanilla extract on medium speed until smooth and completely mixed.
4) Stir in several drops of green gel food coloring. Add more drop by drop until you get your desired shade of green.
5) Chill the green frosting in the refrigerator, while you make the fondant decorations.
Fondant
6) Sprinkle some powdered sugar onto the cutting board and roll out the red fondant, so that it is approx. 1/8″ thick.
7) Cut out 12 fondant circles with the 3″ round cookie cutter.
8) Use the knife to cut out a triangle shape from each circle to form the mouth.
9) Set the red fondant circles aside on parchment paper.
10) Sprinkle powdered sugar on cutting board and roll out the white fondant so that it is approx. 1/8″ thick.
11) Use the knife to cut out 12 strips that you will use for the teeth. Cut small triangle shapes out of the white strips to make jagged teeth.
12) Use a round frosting tip to cut out 50 to 60 little circles that will be used as spots.
13) On the back side of a red circle, dab water on the edge of the mouth and press the teeth in place. Cut off excess white fondant and set aside to use for trim on the front.
14) Repeat until all teeth are in place. Let them sit for a few minutes, so that the teeth are secure.
15) Turn red circles over, so that the right side is up.
16) Dab a bit of water to each white fondant dot and then stick into place on the front.
17) Roll remaining white fondant into thin rolls and use it to add trim to the mouth.
Frosting and Assembly
18) Frost the cooled cupcakes with the chilled frosting using the round star tip. Set aside 1/2 cup of frosting.
19) Place the fondant Audrey II on top of the cupcake.
20) With the remaining green frosting, use the leaf tip to pipe a few leaves on each cupcake.
21) Feed me, Seymour!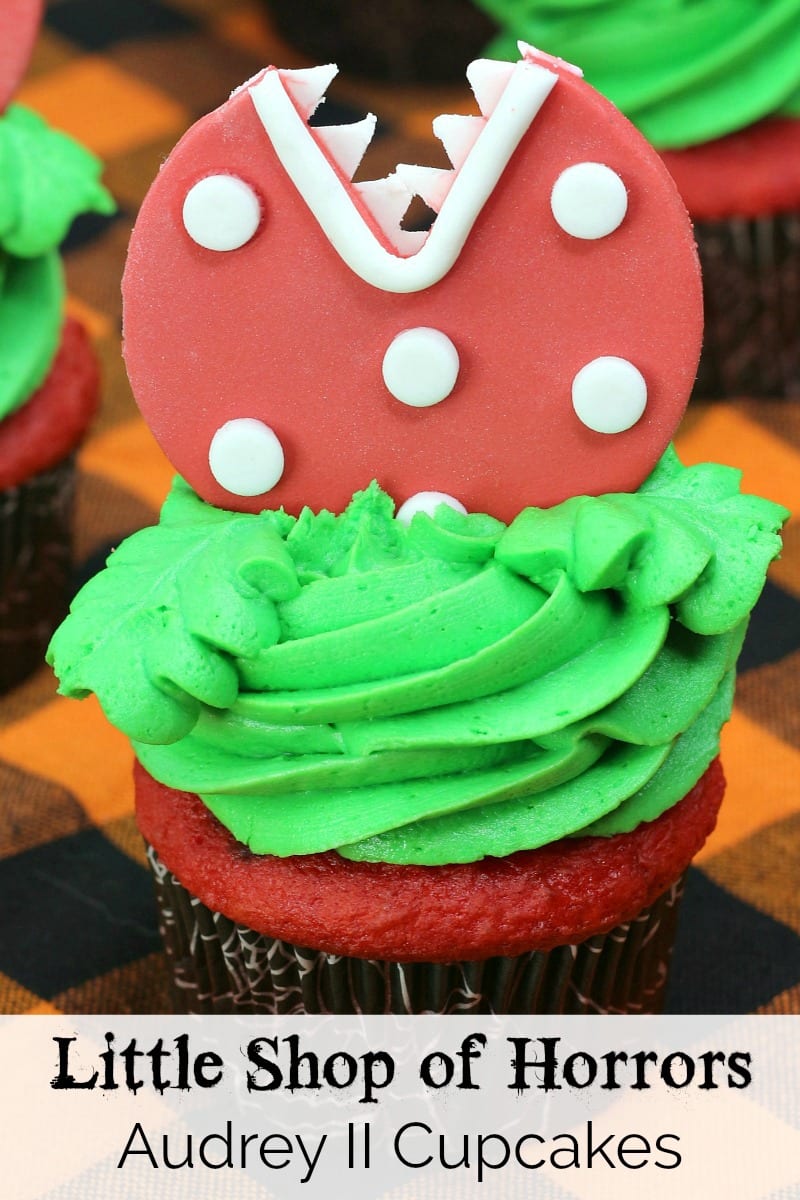 More from Mama Likes To Cook
Check out the rest of my vegetarian recipes, so you can get more great ideas for baking, cooking, blending and juicing.
Deals for Halloween
Halloween Drink Recipes
Halloween Food Recipes
Hotel Transylvania Recipes
Shopping Tips
For a beautiful assortment of kitchen necessities and food gifts for the whole family, check out the latest deals at these online stores.
Are you ready to have some delicious fun in the kitchen?