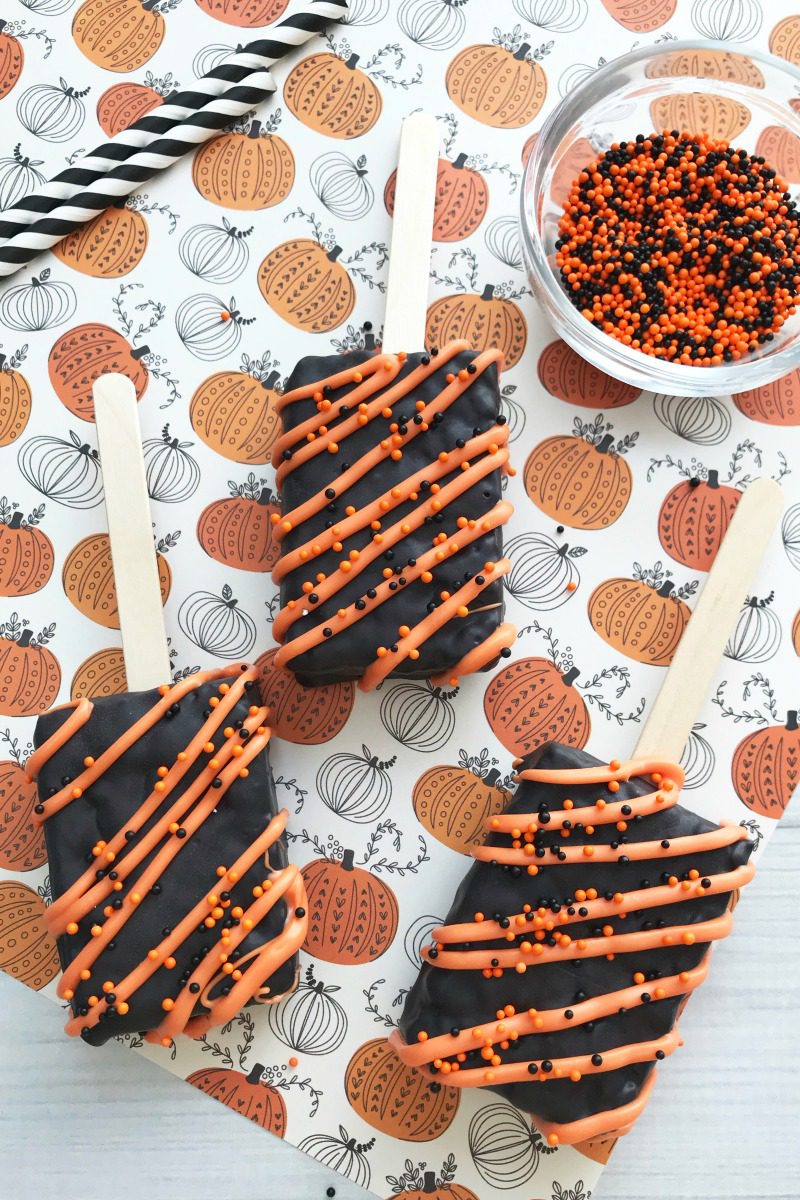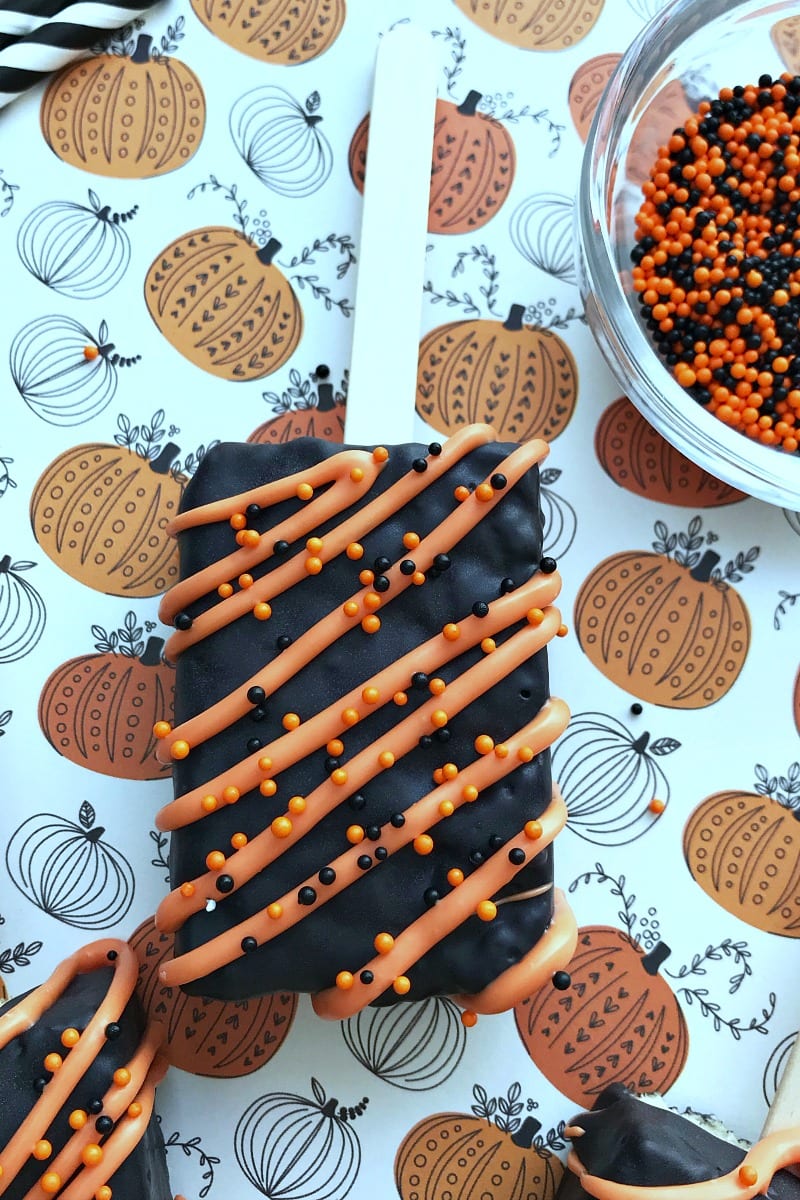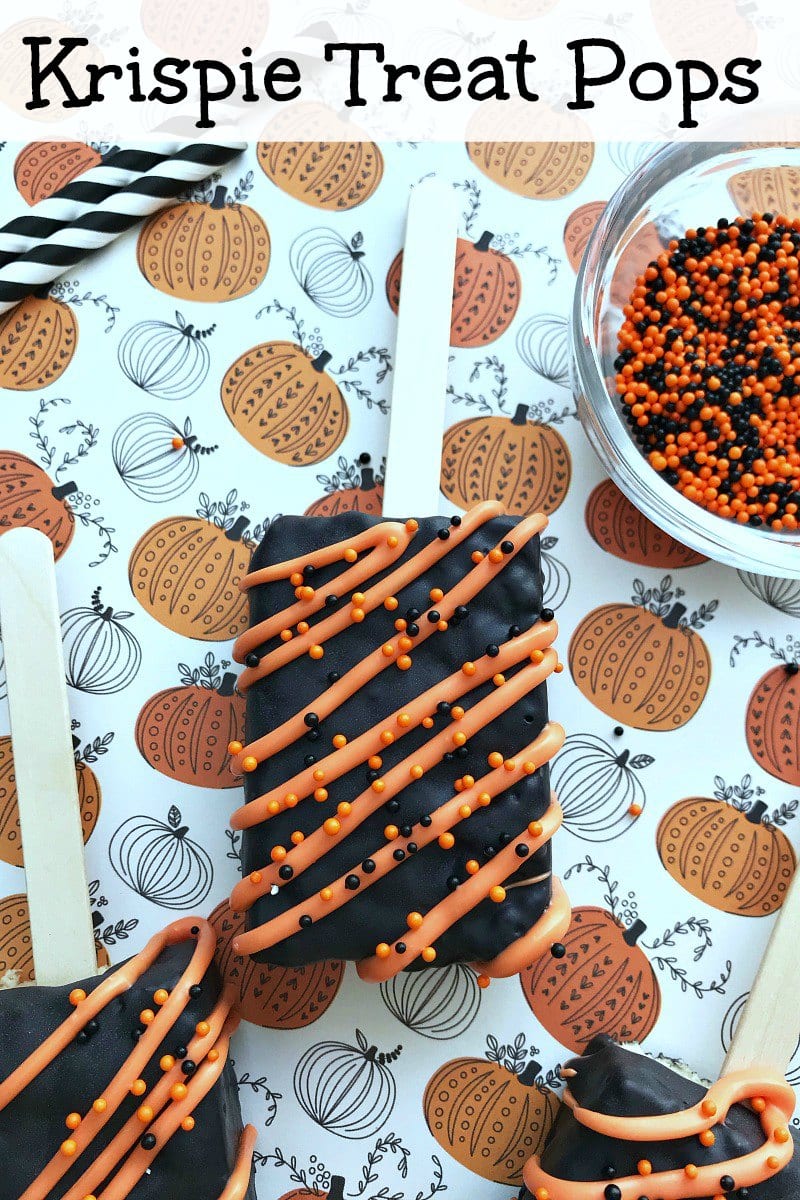 Fun Halloween Treats That Are Easy To Make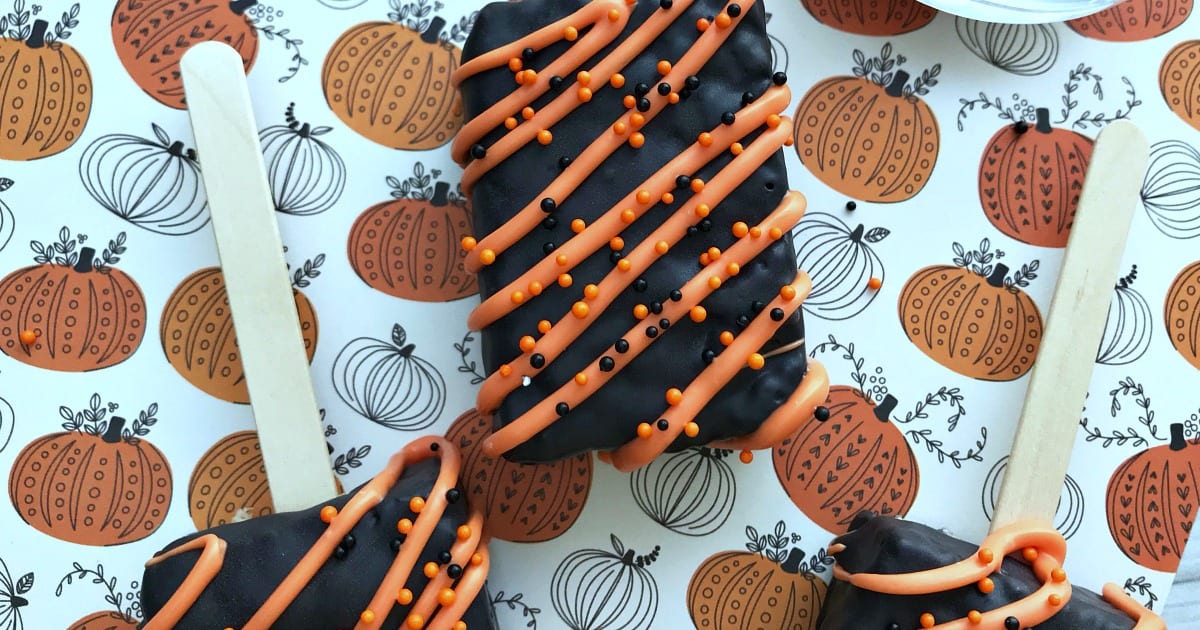 This holiday is meant for sweet fun, so you will want to make my easy orange and black Halloween Rice Rice Krispie pops.
The Krispie Treats are extra easy, since they start with prepacked ones.
They taste great, and I'm happy to avoid the melted marshmallow mess of doing them myself.
You can make your own treats, if you'd like. However, it isn't necessary.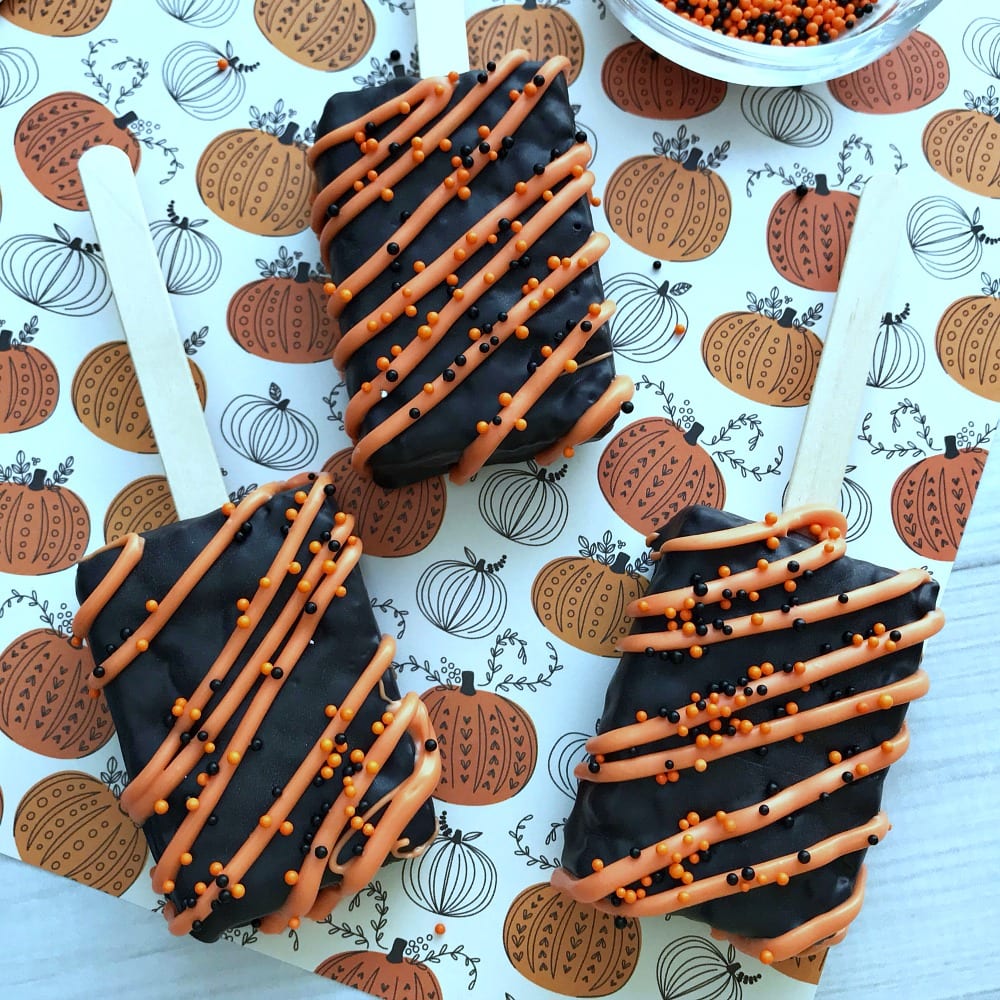 Making this Halloween dessert is a fun and easy project, so it is great to do as a family activity.
There is plenty of room for creativity, when it is time to add the orange candy melts and sprinkles.
Even a small child can make one that looks fantastic.
Of course, any treat is extra fun, when it is served on a stick.
It is that little something extra that doesn't take much effort, but gets rave reviews.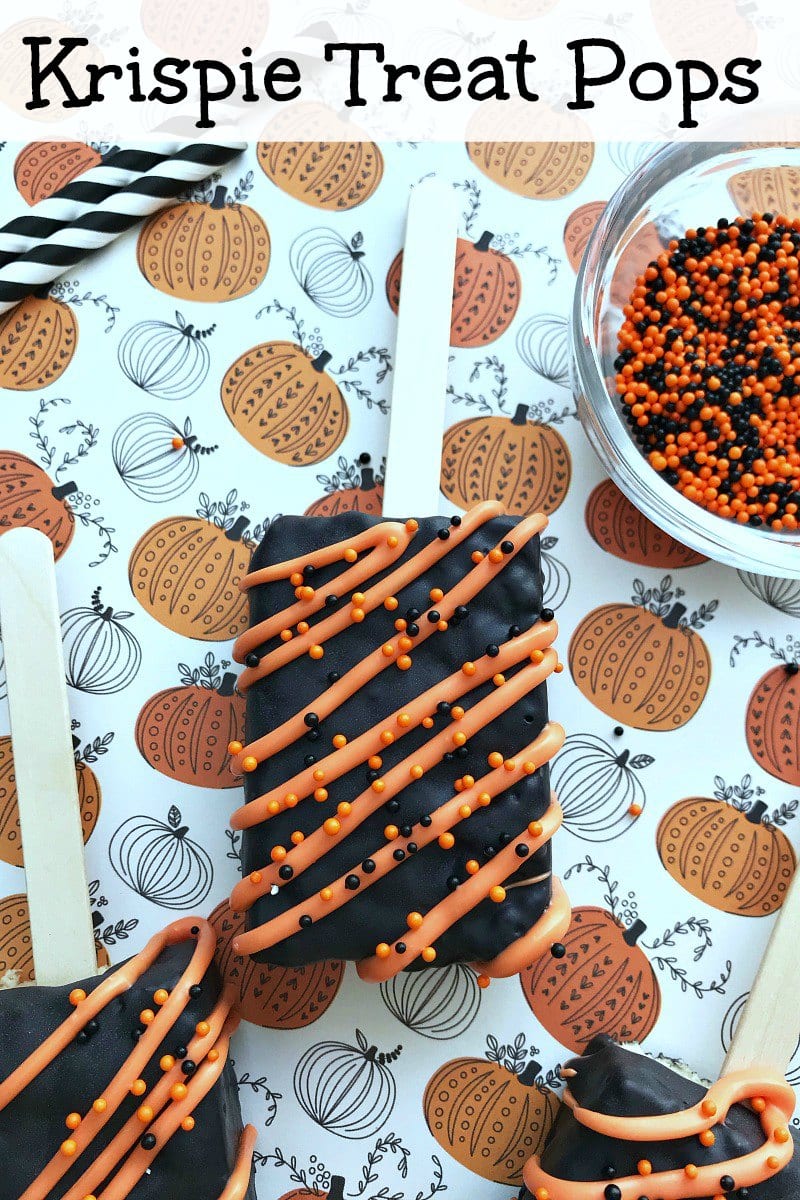 Treats are perfect for the holiday, so you will want to make sure you have plenty for your Halloween party buffet.
Are you ready to celebrate and have some spooky fun? We are!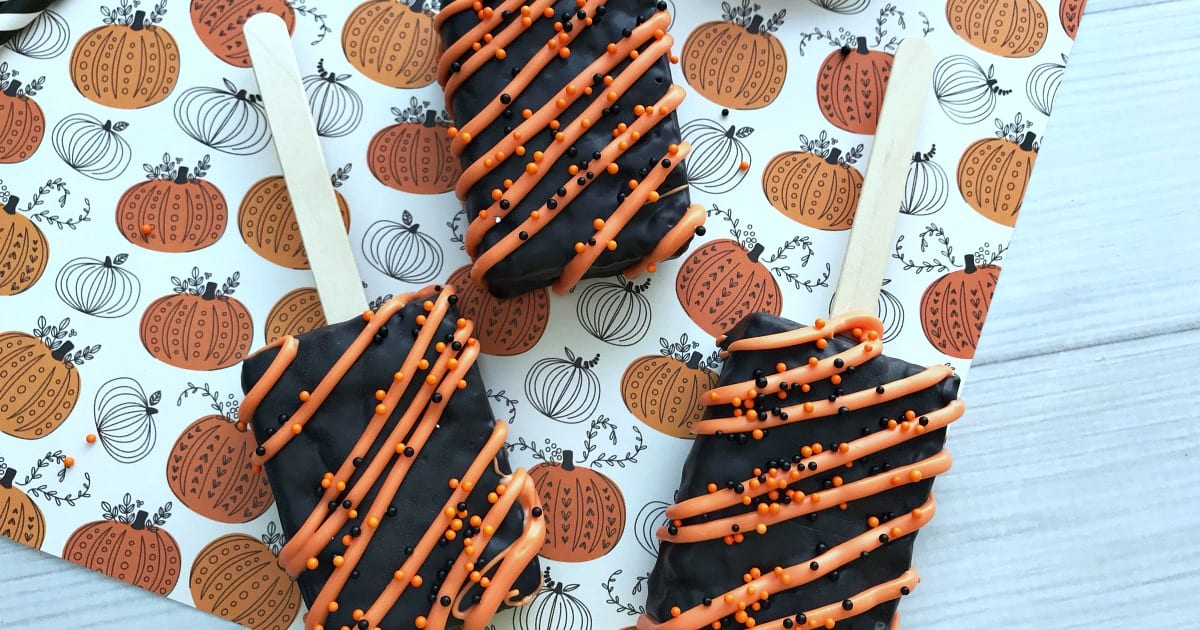 Ingredients:
8 count pkg. Kellogg's Rice Krispie Treats
12 oz. pkg. Black Candy Melts
1/2 cup Orange Candy Melts
Black and Orange Sprinkles
Supplies
Baking Sheet
Parchment Paper
8 Popsicle Sticks
1 Sandwich Baggie
Kitchen Scissors
Instructions:
1) Line a baking sheet with parchment paper.
2) Insert a popsicle into the base of each Rice Krispie Treat.
3) Place each treat pop on the baking sheet, so that they aren't touching.
4) Chill the treats by placing the baking sheet in the refrigerator for approx. 30 minutes.
5) Put the black candy melts into a microwave safe dish. Heat in 30 second increments, stirring occasionally until melted.
6) Dip the chilled Rice Krispie Treats into the melted black candy. Spoon it over the treat, so that it is completely coated. Allow any excess to trip back into the bowl.
7) Place the coated treats back on the parchment paper, so that there is space between each one. Chill again, so that they chocolate sets.
8) Put the orange candy melts into the sandwich bag. Heat in the microwave in 15 second increments, squeezing occasionally until melted.
9) Snip the corner of the bag, so that you can squeeze the orange candy melts over the treats in a back and forth motion, so that there are diagonal orange stripes on the treats.
10) Shake black and orange sprinkles over the treats.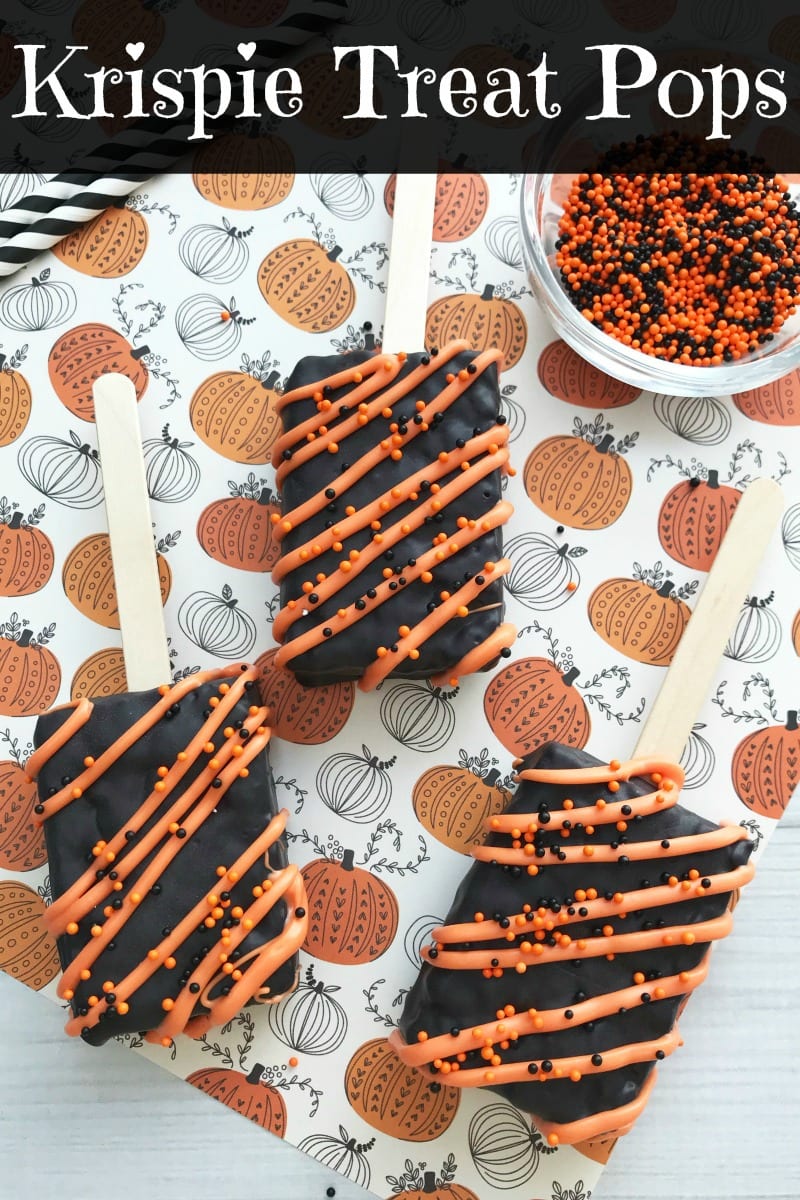 More from Mama Likes To Cook
Check out the rest of my vegetarian recipes, so you can get more great ideas for baking, cooking, blending and juicing.
Deals for Halloween
Halloween Drink Recipes
Halloween Food Recipes
Hotel Transylvania Recipes
Shopping Tips
For a beautiful assortment of kitchen necessities and food gifts for the whole family, check out the deals at these online stores.
Are you ready to have some delicious fun in the kitchen?