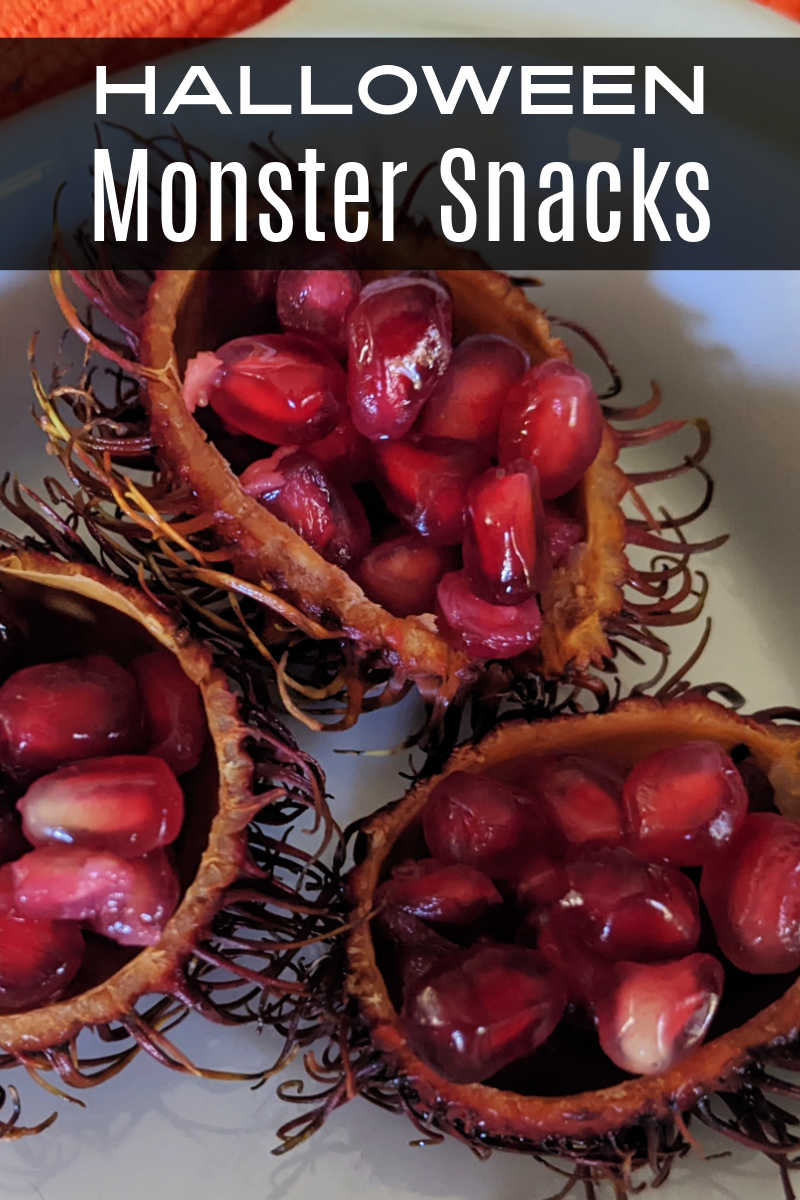 Halloween Party Food: Pomegranate Monster Snacks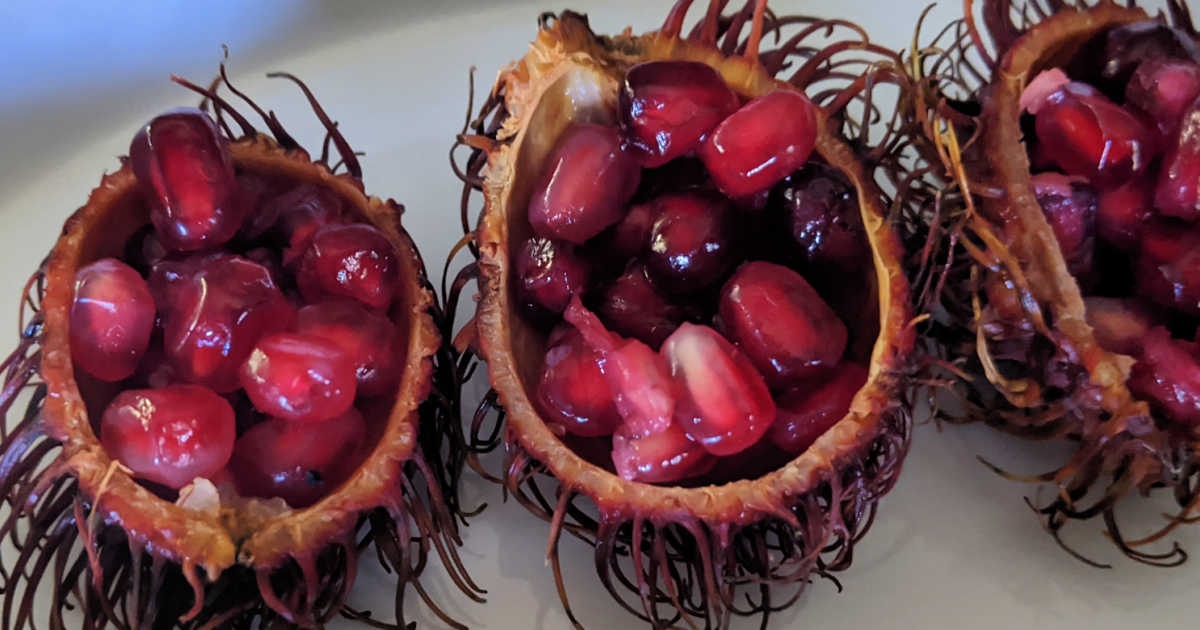 When you follow this easy Halloween monster snack recipe, kids will love eating healthy fruit on the candy filled holiday.
You'll need just 2 ingredients to make these spooky looking snacks, pomegranate and rambutan.
Pomegranate are so delicious and packed full of nutrition, so it's great to serve a snack that makes it easy to eat this fruit.
Every Halloween Melissa's Produce celebrates freaky fruits and I am here for it.
They inspired these creepy "hairy" treats and I hope you like the way mine came out.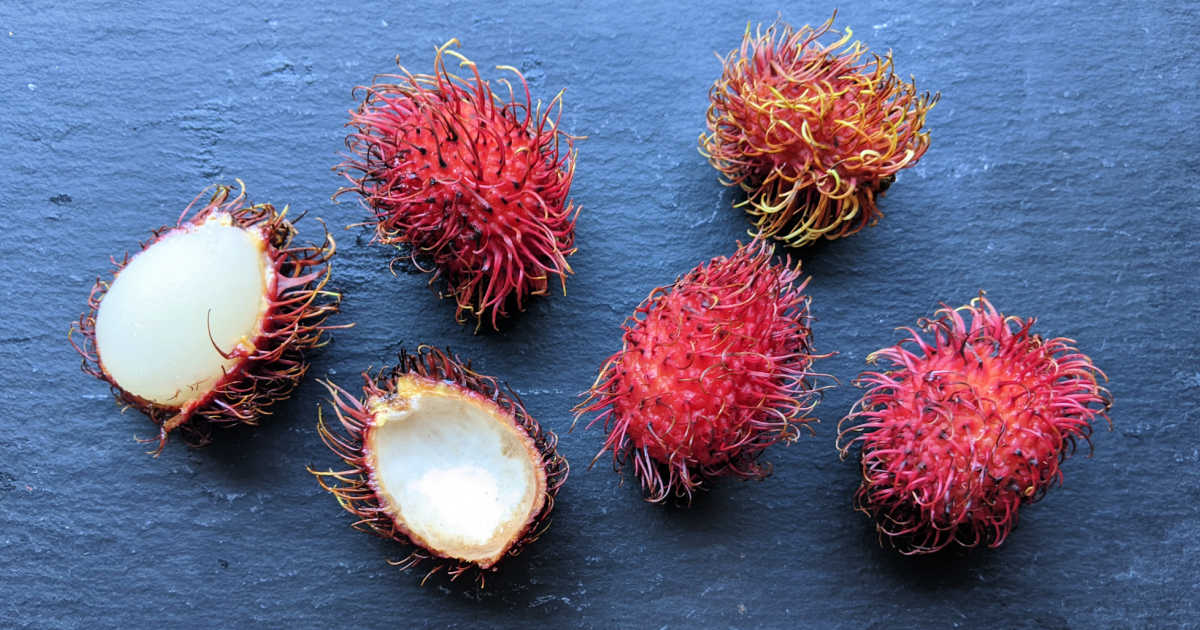 What Is A Rambutan?
Rambutan is a tropical fruit that is in the same family as lychee and longan.
The insides of these three fruits have a similar white translucent flesh, but the outsides look different.
Rambutan skin is covered with what looks like coarse hair, while longan are smoother and lychee look reptilian.
For this recipe, you are just using the hairy outer shell of the rambutan and not the sweet fruit inside.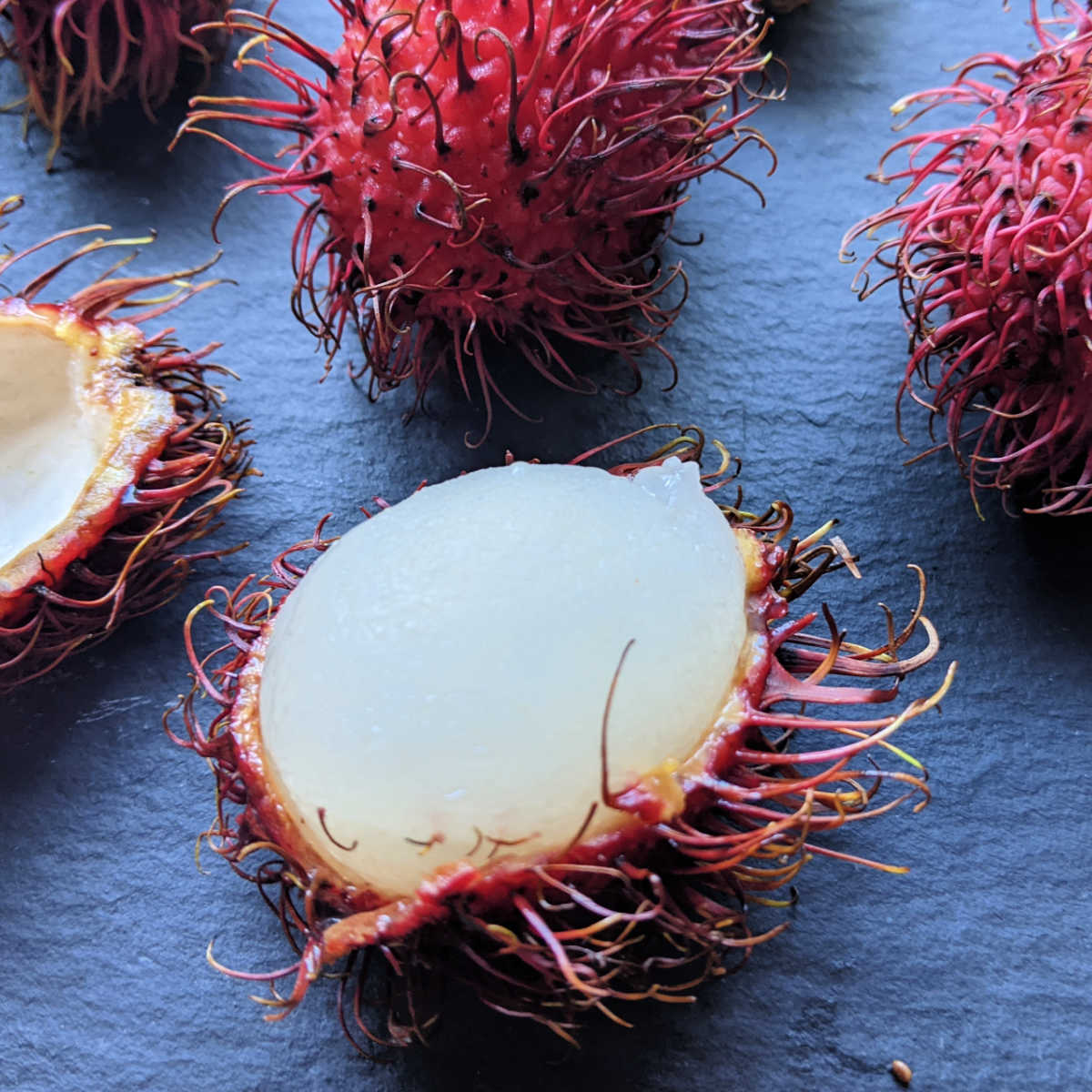 How To Prepare Pomegranate For Eating
The absolutely easiest way to use pomegranate arils is to purchase ready-to-eat ones that have already been removed from whole pomegranates.
Check your grocery store or shop online for fresh Melissa's pomegranate arils.
If you are using a whole pomegranate, start by slicing off the top and bottom of the fruit.
You'll be able to see how the sections are divided inside.
Score the outside layer of the pomegranate from top to bottom where the sections will separate.
Pull gently apart to get easily managed sections, so that the arils will pop right out.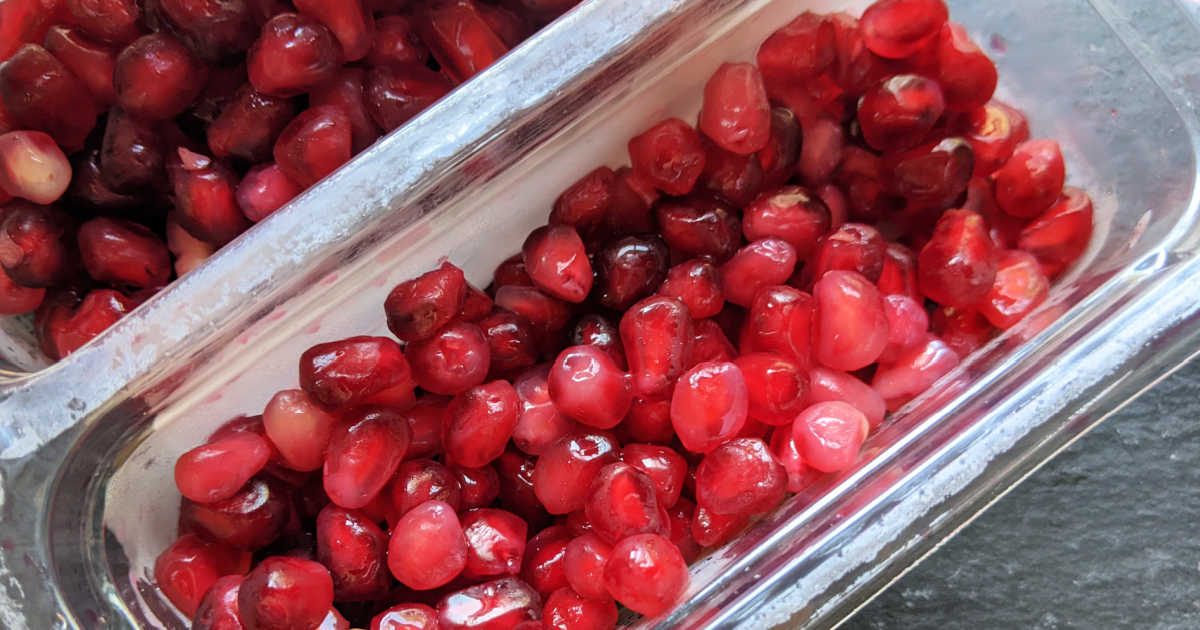 Can Monster Snacks Be Made Ahead Of Time For A Party?
Pomegranate monster snacks can be assembled quickly, so they are an easy last minute addition to your Halloween party spread.
If you want to put them together earlier in the day, they can be plated, covered with plastic wrap and store in the refrigerator.
Another option is to prepare the 'rambutan snack cups' ahead of time, and then fill them at the last minute before serving.
I hope your little monsters love these fun and healthy Halloween fruit treats.
Happy Halloween!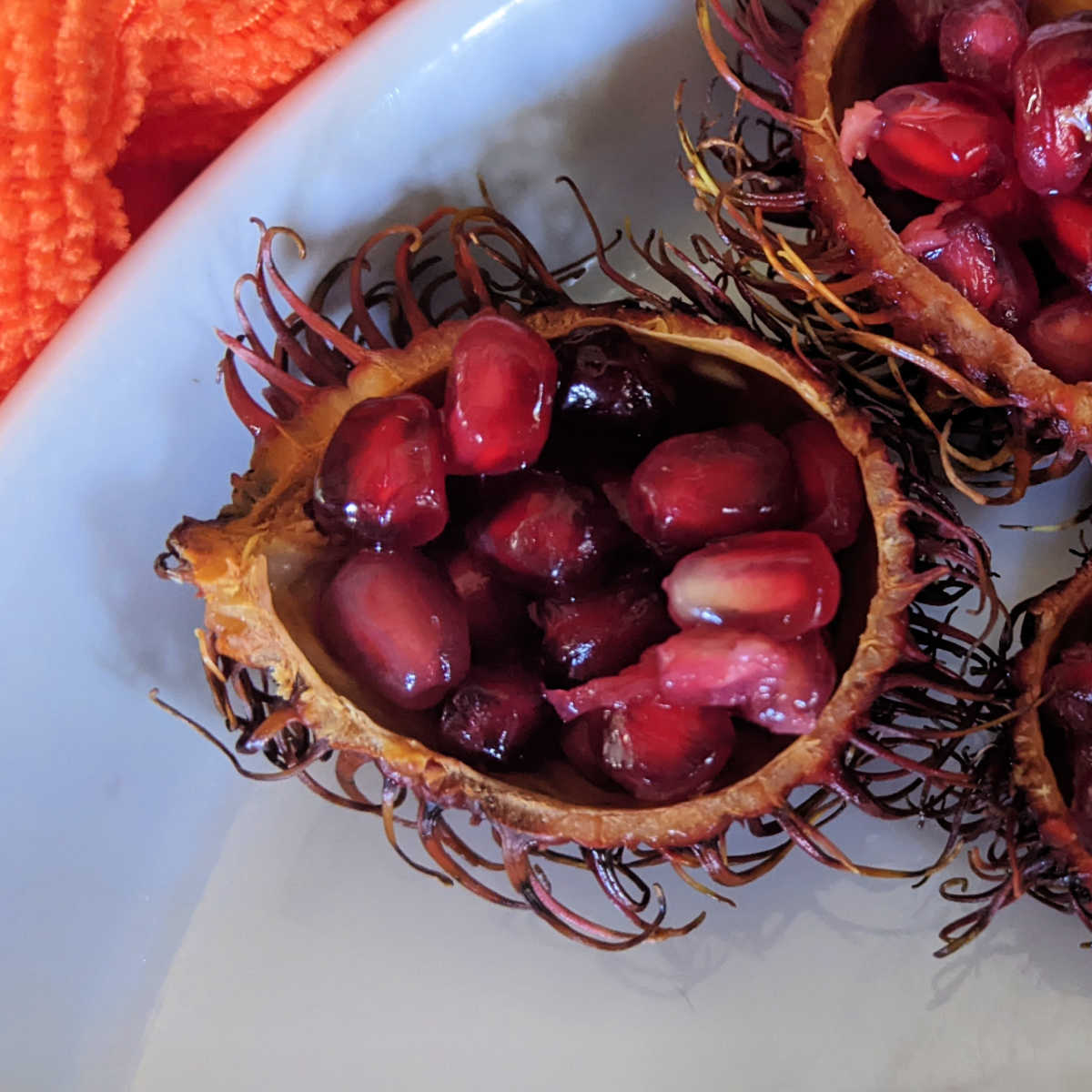 Halloween Monster Snack Recipe
Ingredients
Rambutan
Pomegranate Arils
Supplies
Sharp Paring Knife
Instructions
1) With a sharp knife, slice the rambutan skin in a circle around the fruit lengthwise. Cut just the skin, not the fruit. When you've cut all the way around, the inner fruit will pop out to make two oblong oval serving cups. Set aside the fruit to eat fresh or use in another recipe.
2) Fill each 'rambutan cup' with pomegranate arils.
3) Arrange on tray or platter to serve. Enjoy your creepy, hairy monster snacks!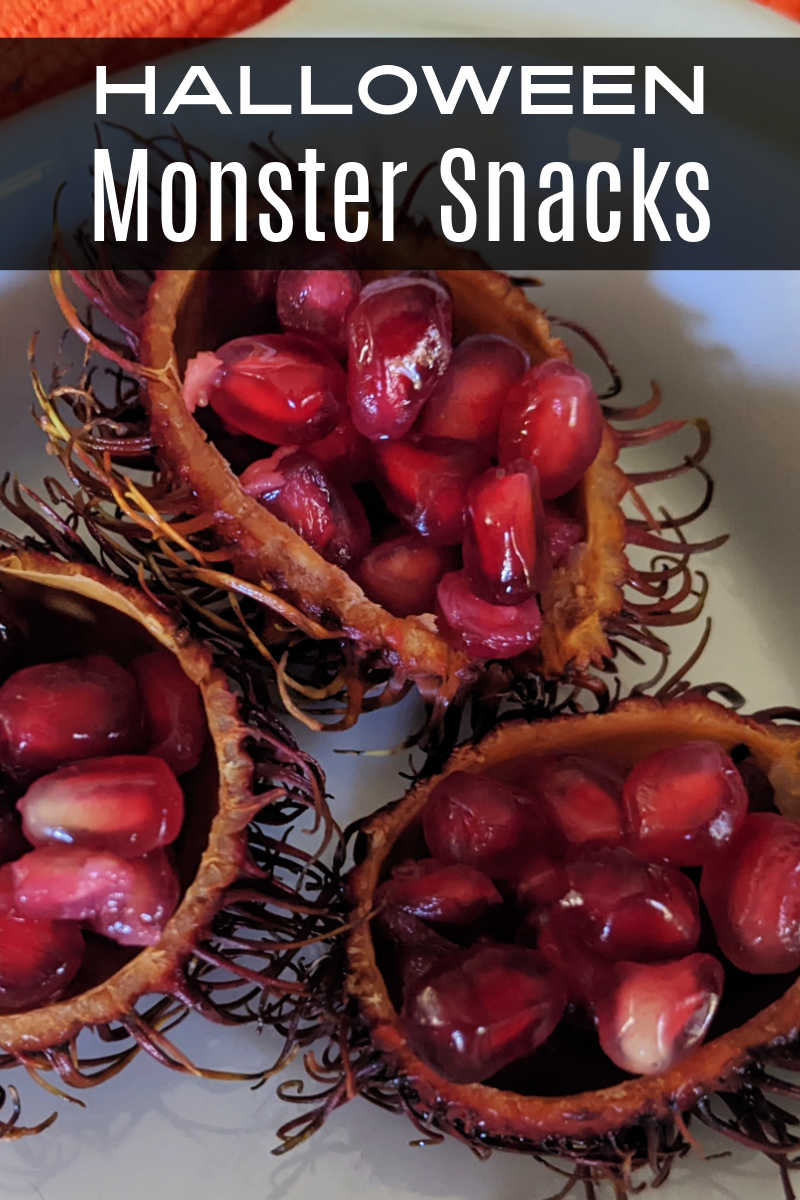 More from Mama Likes To Cook
Check out the rest of my vegetarian recipes, so you can get more great ideas for baking, cooking, blending and juicing.
Deals for Halloween
Halloween Drink Recipes
Halloween Food Recipes
Hotel Transylvania Recipes
Shop Now
For a beautiful assortment of kitchen necessities and food gifts for the whole family, check out the current deals at these online stores.
Are you ready to have some delicious fun in the kitchen?