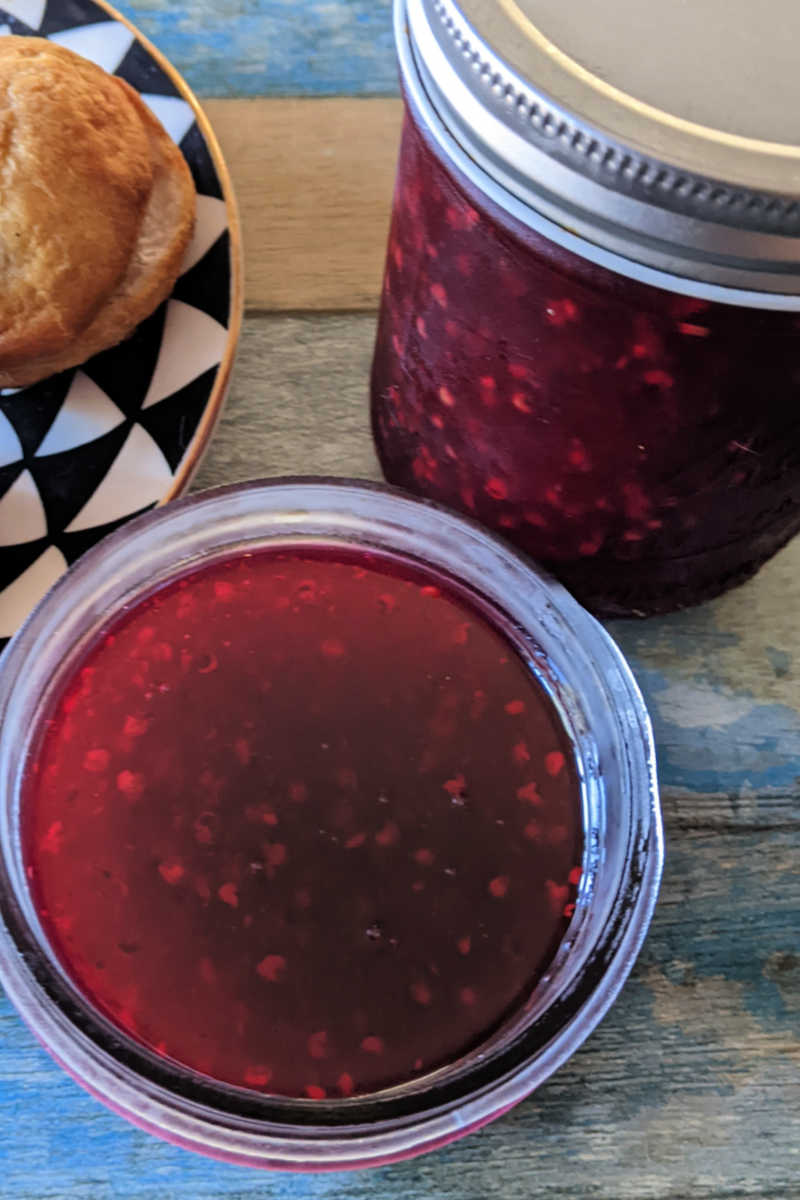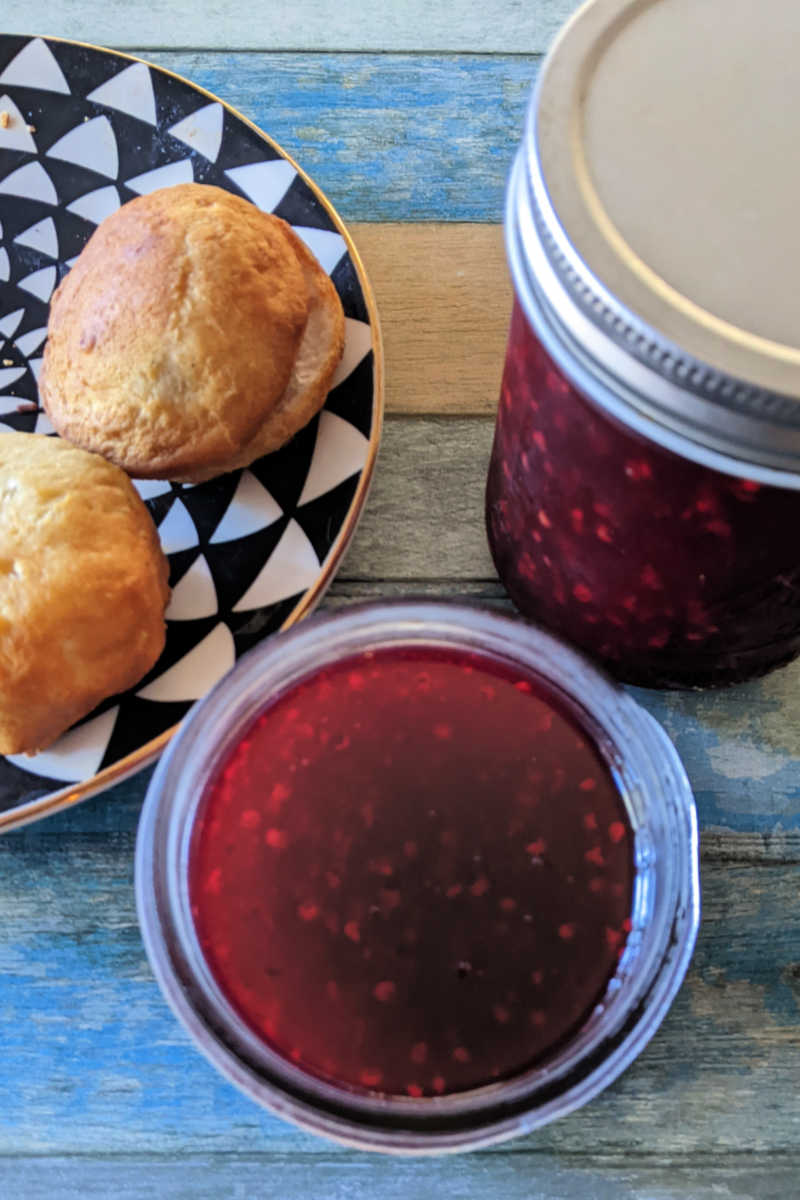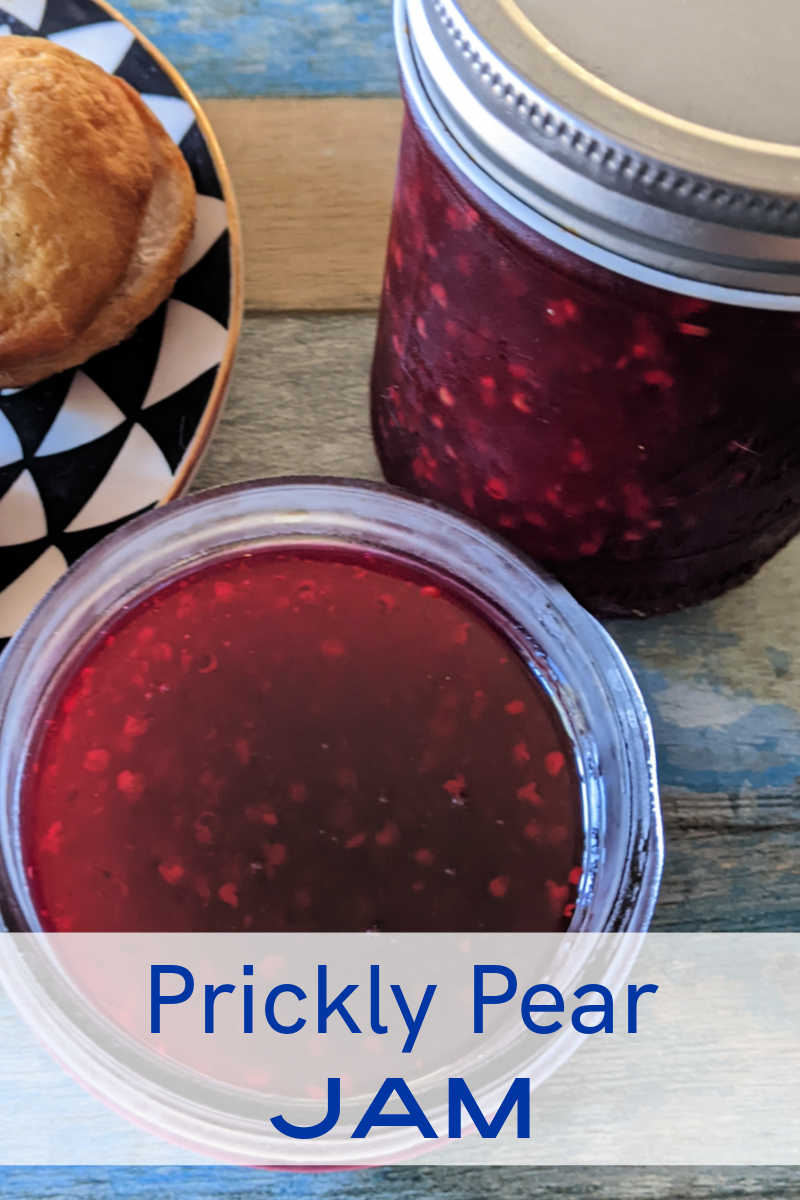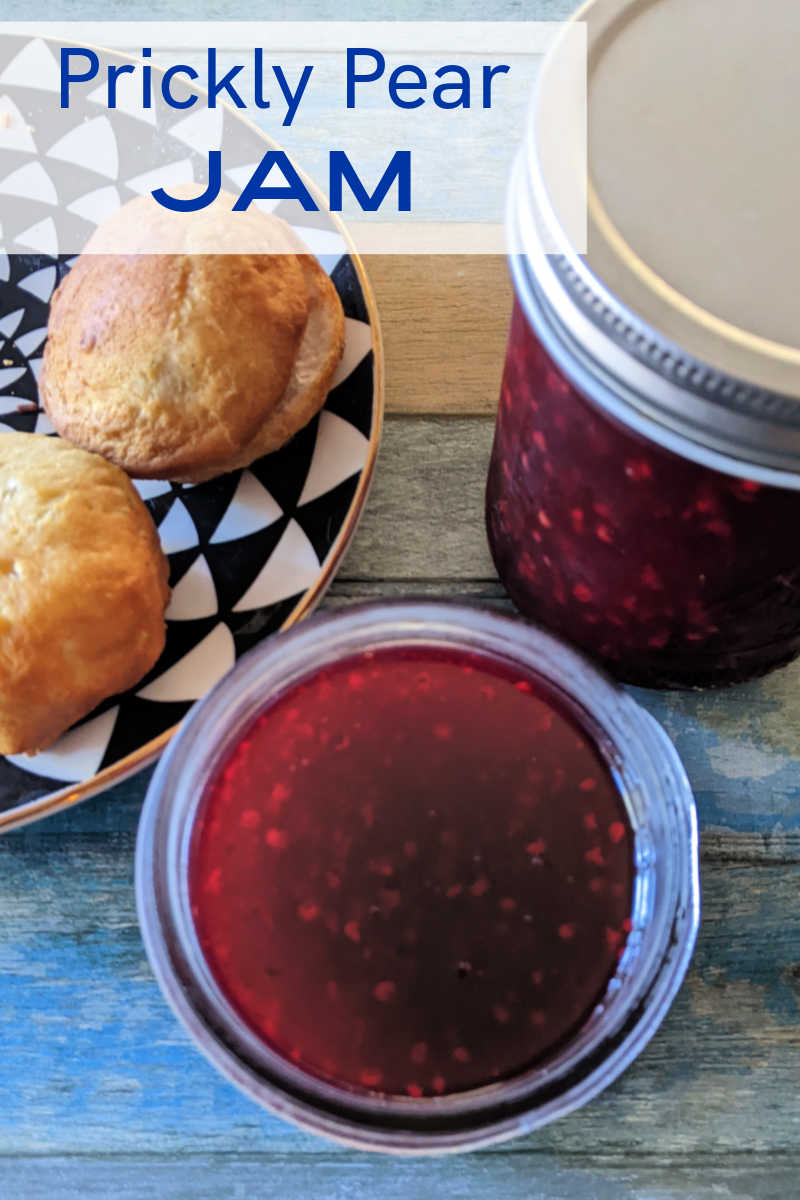 Refrigerator Jam: Prickly Pear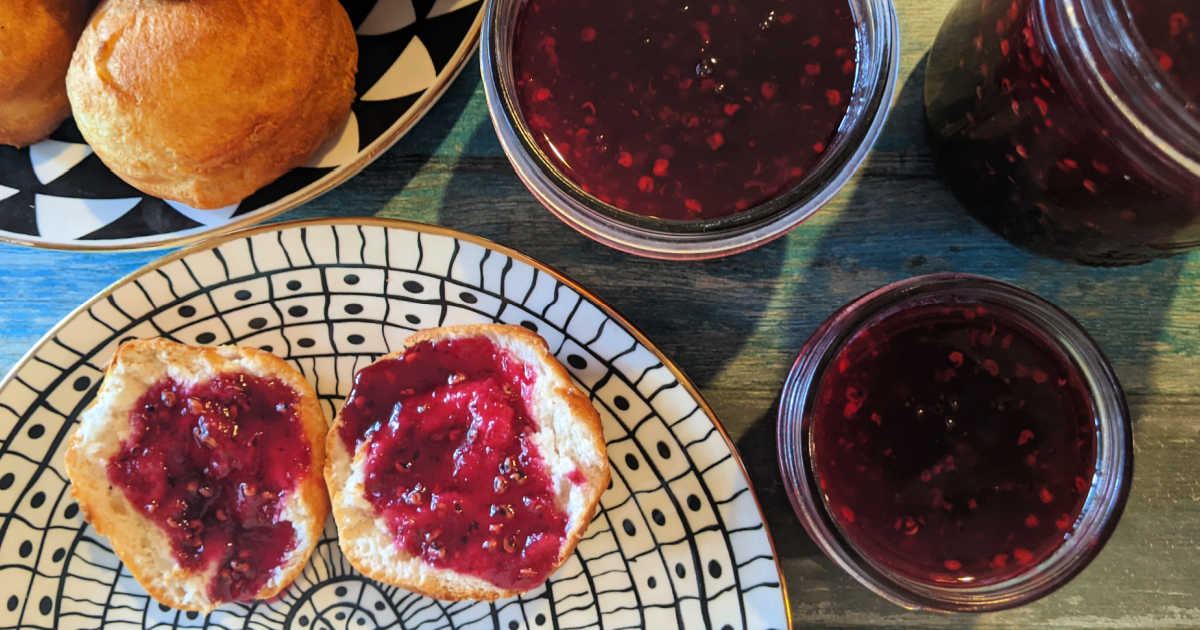 Make a small batch of prickly pear jam without added pectin, so you can enjoy this delicious fruit at home anytime.
Whether this is your first time making jam or you are a seasoned pro, you can make this unique spread that is pretty and tastes amazing.
Everything about it is lovely – the flavor, the gorgeous color and the little crunch from the bits of seeds.
No Pectin Added for This Jam Recipe
Pectin is a naturally occurring component of fruit which is packaged and sold as a thickener.
Many people add pectin, when they make jams and jellies.
I like making jam without adding pectin, so this recipe doesn't call for any and it can still get thick.
This saves money, since I don't need to buy a package of pectin to make jam.
Also, some pectin brands add an "off" taste to the jam.
This jam can be made without pectin by simply cooking the fruit down to get it thick.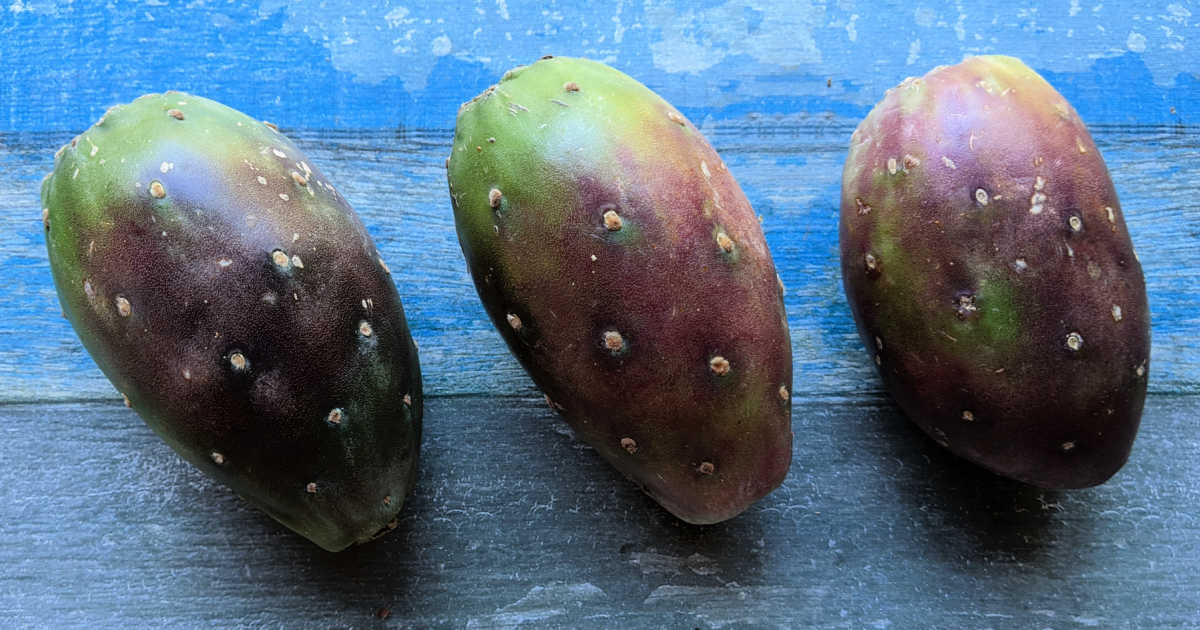 What Are Prickly Pear?
Prickly pear are the fruit from nopal cactus and they have rightfully earned their prickly name.
Like the rest of the cactus plant, the fruit has sharp spines on the outside and you really don't want to get pricked.
This type of cactus grows well in Southern California, so I often see it growing on the side of the road or near hiking trails.
Also, I have some growing in my backyard.
The paddles (nopales) are edible and so is the fruit, so this drought tolerant plant is a good food source.
Other Names for Prickly Pear?
Prickly Pear (or cactus pear) is the common name for this cactus fruit, which is what I was taught to call it as a child.
It isn't similar to a pear, but is definitely prickly.
The other name that I've been hearing more and more is the Spanish name for the fruit, tuna.
I've seen them with either of these labels in the grocery store, so keep your eyes open for both names and know that they are the exact same fruit.
I'm told that a fruit can also be called an Indian fig, mission cactus or Barbary fig.
However, I don't think I've heard any of those names used here in Southern California where the fruit grows wild.
Whatever it is called in your region, this is a delicious fruit.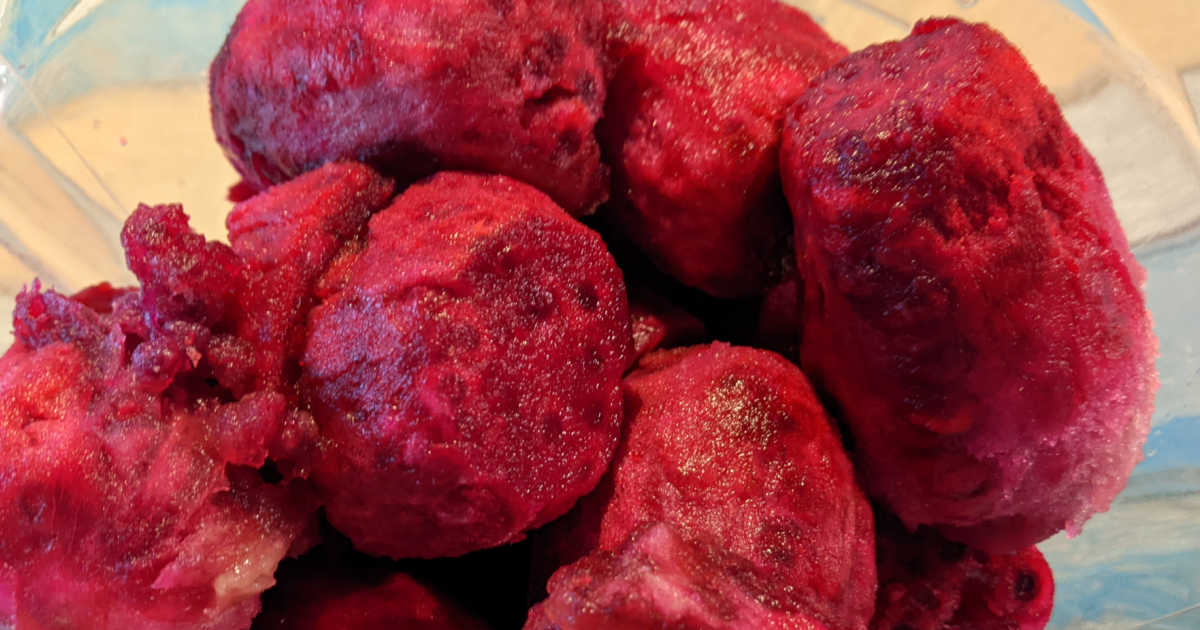 How to Handle Prickly Pear
If you are picking it fresh, you need to be very careful harvesting and handling the prickly pears.
Gloves are a must.
When you buy prickly pear in a store, most of the spines have likely been removed.
It's still good to be careful.
Hold the prickly pear on both ends where there aren't spines while you carefully remove the peel to reveal the brightly colored fruit inside.
The first time I handled prickly pear it was concerned I'd get poked.
I didn't.
Now I'm just mindful that there may be spines, but it really is easy and feels like a 'normal' food handling process to me.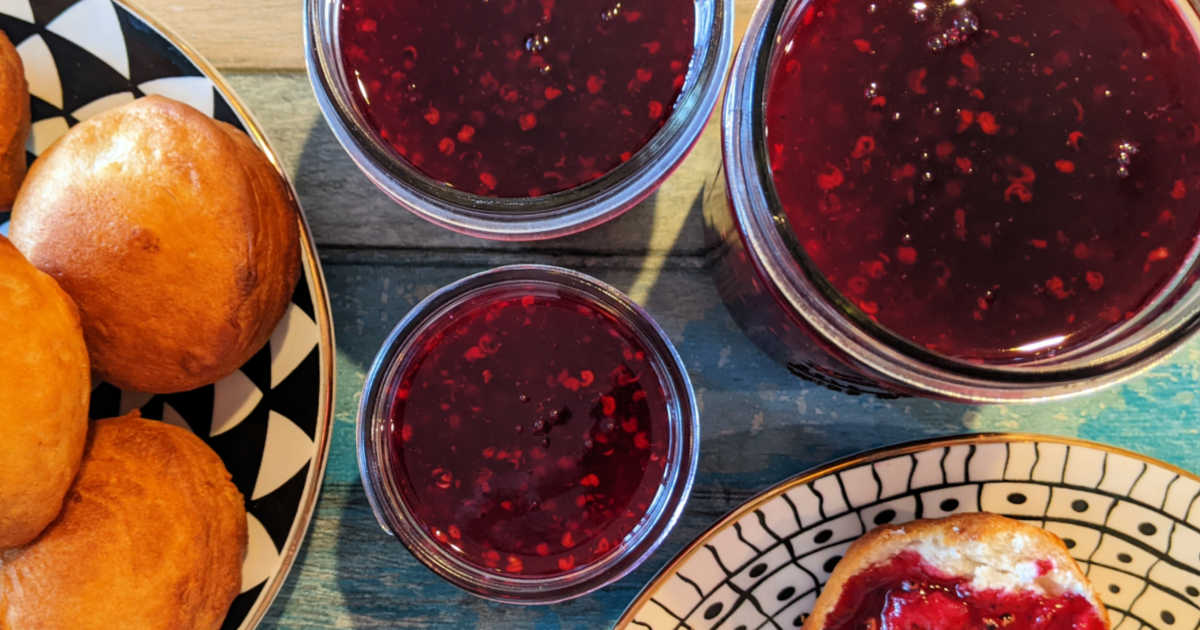 Jelly, Jam & Preserves – What Is The Difference?
Sometimes people use the terms jelly, jam and preserves interchangeably, but they are not the same thing.
Jelly is made from just the juice of the fruit, so there are no bits of fruit in it.
Jam, on the other hand, uses more than just the juice.
With Jam you get texture from mashed or blended fruit and sometimes the seeds, too.
Preserves have big chunks or whole fruit.
My family and I like the texture of jam, so that is what I make most often.
What Is A Refrigerator Jam?
Refrigerator jam tastes just like a canned jam that is shelf stable, but it hasn't been processed with a water bath or pressure canner.
It needs to be stored in the refrigerator, so that it won't spoil.
Refrigerator jam is great for small batches, since it is easy to make.
Also, no special equipment is needed to make a refrigerator jam, so you don't need to invest in a pricey canner.
I have made many large batches of jam using the water bath method, but this recipe is for a small batch and is easy to make.
How To Store Refrigerator Jam
The jam needs to be stored in the refrigerator after it has cooled.
I like using mason jars, but another container with a lid can be used, too.
Mason jars with a straight side are preferred for serving jam instead of rounded jars, since it it easier to get every last drop of the sweet fruit spread.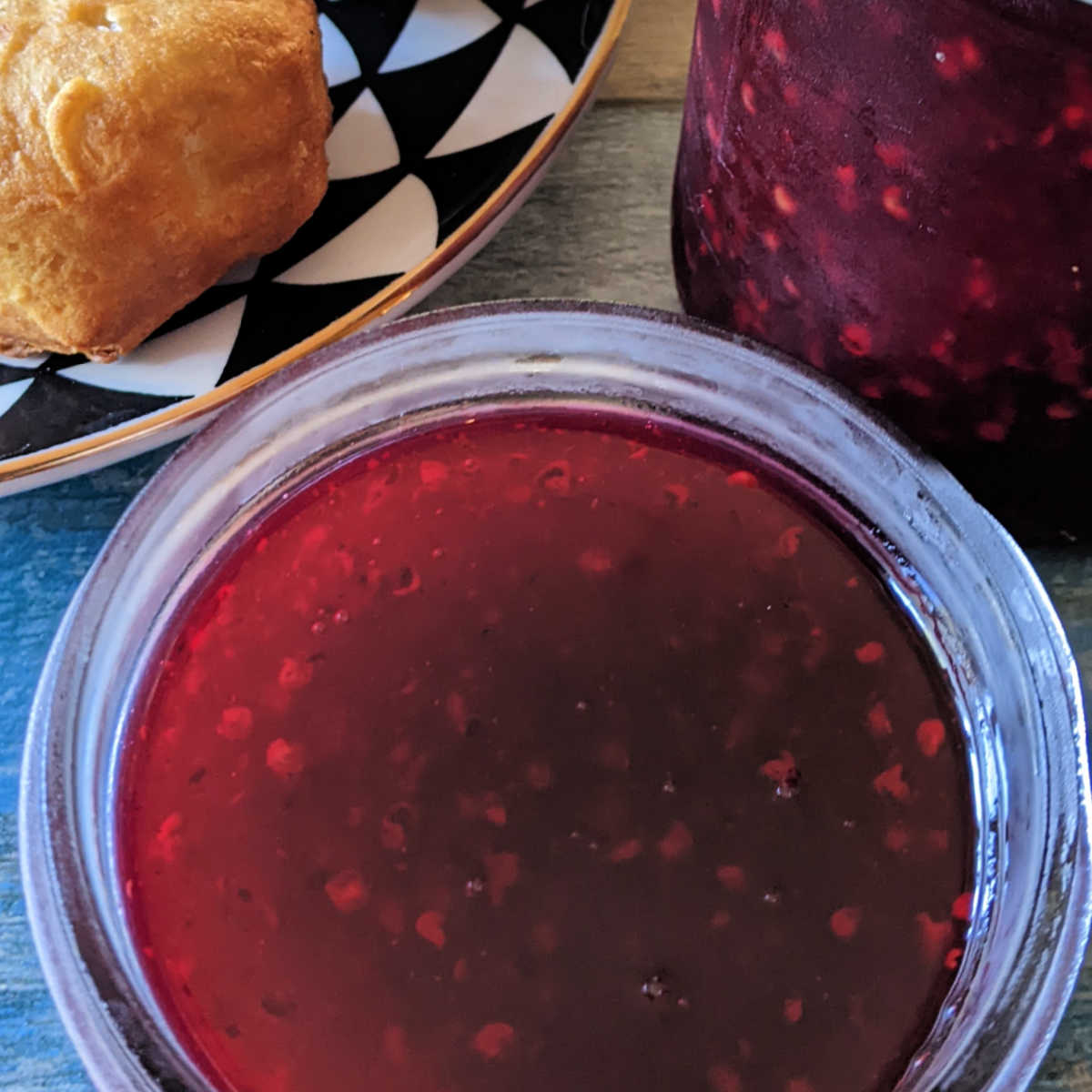 Which Type of Blender Do I Need to Make Prickly Pear Jam?
I use a Vitamix Blender that is about a decade old, but still works as well as when I first got it.
Prickly pear have small hard seeds, so you want to use a blender that will blend those ingredients small enough to add texture without being too big.
The whole seeds are edible, but they are large so I like them broken up into smaller bits.
Adjust your blending time to get the seeds down to a size that works for you.
A blender with less power may work for this recipe, if you blend it for a longer time.
However, I haven't tried using anything other than my Vitamix.
I do know that my high speed blender will get the job done quickly and efficiently.
If you are just now looking to purchase a blender, I'd recommend investing in a high quality one that you will be able to use efficiently for more recipes.
Also, a good blender typically lasts a long, long time.
Help! My Jam is Runny!
No worries.
Jam does thicken as it cools, so it will still be a liquid when you remove it from the heat and put it in your jars.
Overcooked jam becomes a solid "brick" that I haven't found a way to save.
Runny jam may not be exactly what you wanted, but is still delicious.
You can just call it syrup and enjoy!
Spoon Test for Thickness While Cooking
When your jam has begun to thicken, you can test it with a cool spoon.
Dip the spoon into the jam and let the liquid drip off of it.
If it pours off in a steady stream, it isn't thick enough, yet.
When it drips off the spoon in drops, the jam is beginning to thicken.
When the drops form a bigger clump, it is ready to be removed from the heat and transferred to your jars.
Test as many times as you'd like as you are cooking the jam, but use a cool spoon each time for accurate results.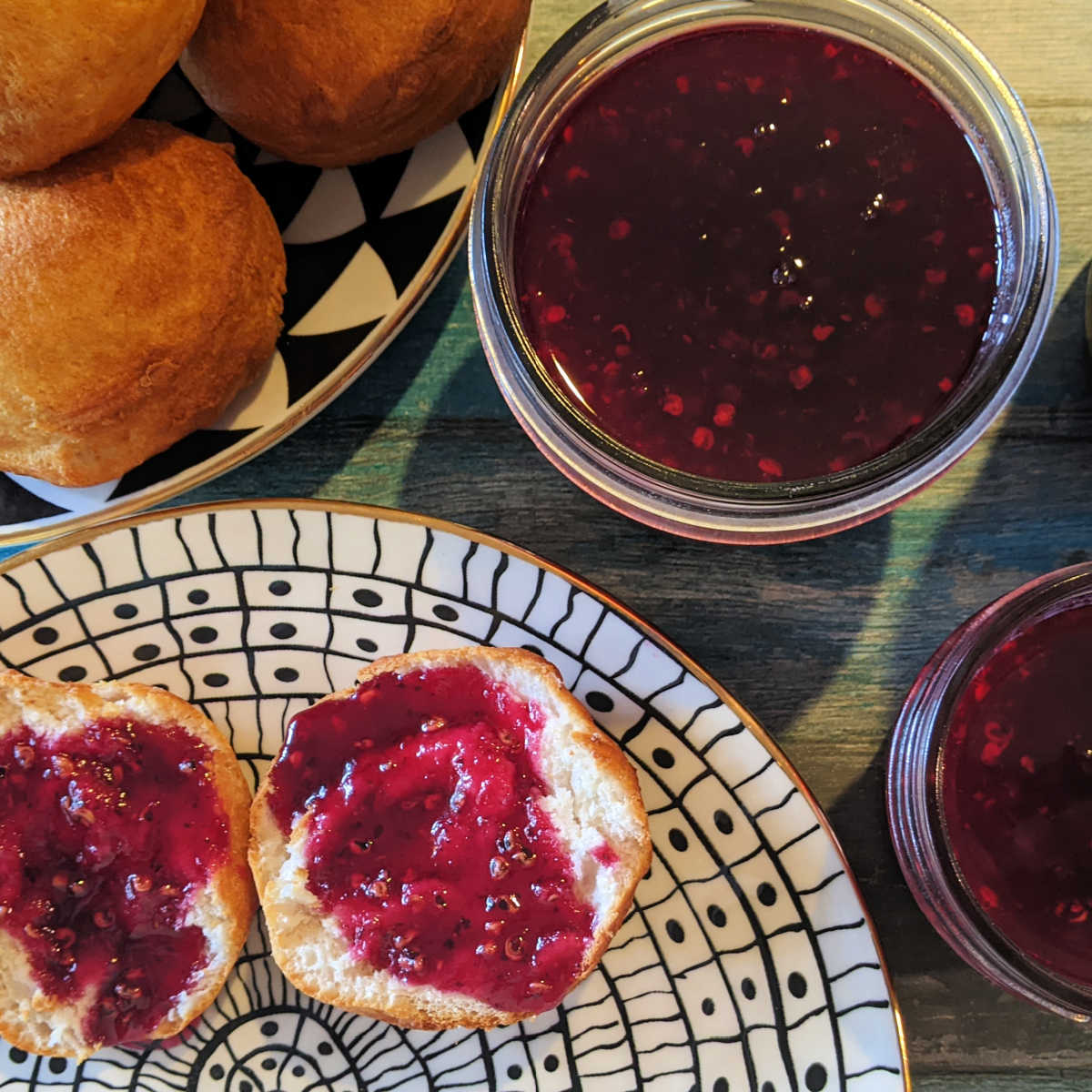 Prickly Pear Jam Recipe (without added pectin)
Prep Time: 10 minutes
Cook Time: 20 minutes
Yield: 2 pints
Ingredients
4 cups Blended Prickly Pear Fruit (about a dozen prickly pears)
3 cups Sugar
3 T Lemon Juice
Supplies
Chef Knife
High Speed Blender
Measuring Cups
Measuring Spoon
Stainless Steel Stock Pot
Stainless Steel Spoon
Mason Jars or Other Container
Instructions
1) Carefully peel the prickly pear and put the fruit in your blender. You can cut it into chunks or put it in whole.
2) Make the prickly pear puree. Blend on high for at least 3 to 5 minutes to break down the hard prickly pear seeds. A little bit of texture is great, but you don't want the bits to be too hard or too sharp. If they seem to big, blend longer.
3) Add prickly pear puree, lemon juice and sugar to a stainless steel stock pot. Stir and bring to a boil.
4) Reduce to a medium boil and cook for 15 to 20 minutes, stirring often. Keep your eye on it, so it doesn't boil over.
5) Test thickness using the spoon test method (explained above) or another method of your choosing. When jam has thickened, remove from heat and ladle into mason jars.
6) Let cool and store in the refrigerator.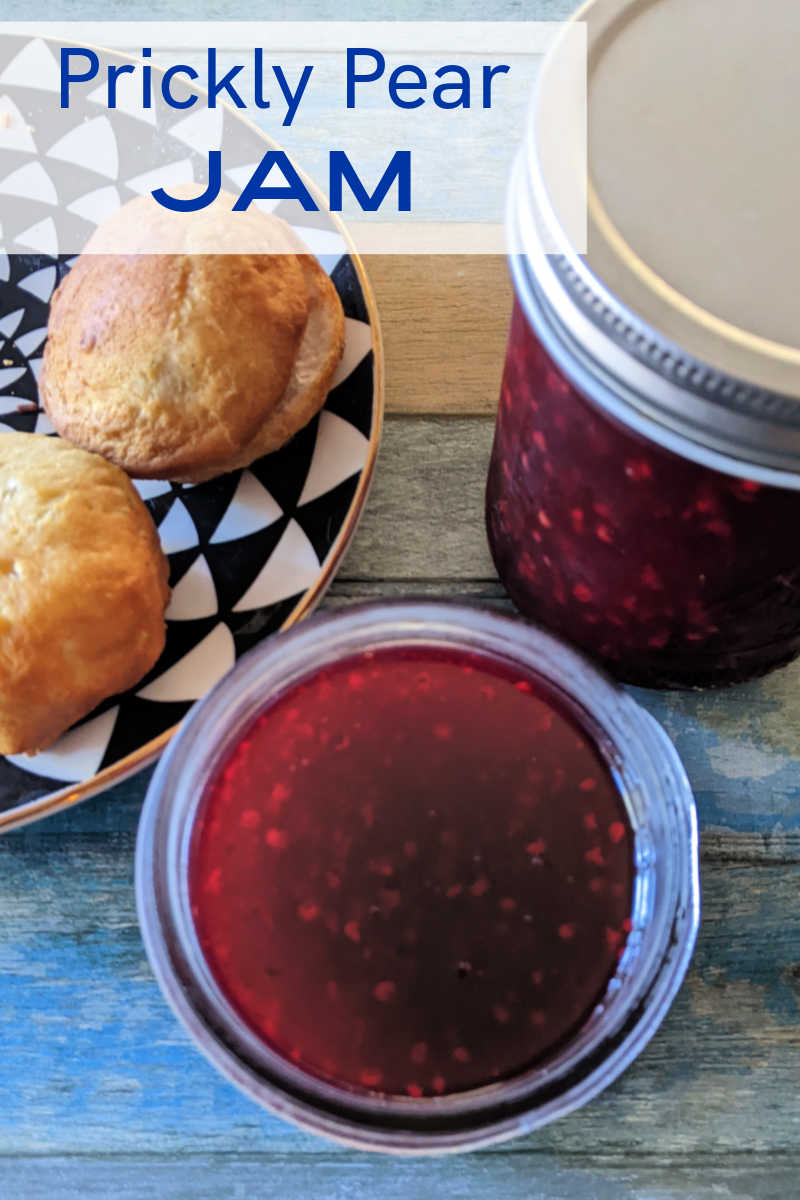 More from Mama Likes To Cook
Check out my vegetarian recipes, so you can get more great ideas for baking, cooking, blending and juicing.
Jam Recipes
Marmalade Recipes
Shop Now
For a beautiful assortment of kitchen necessities and food gifts for the whole family, check out the current deals at these online stores.
Are you ready to have some delicious fun in the kitchen?