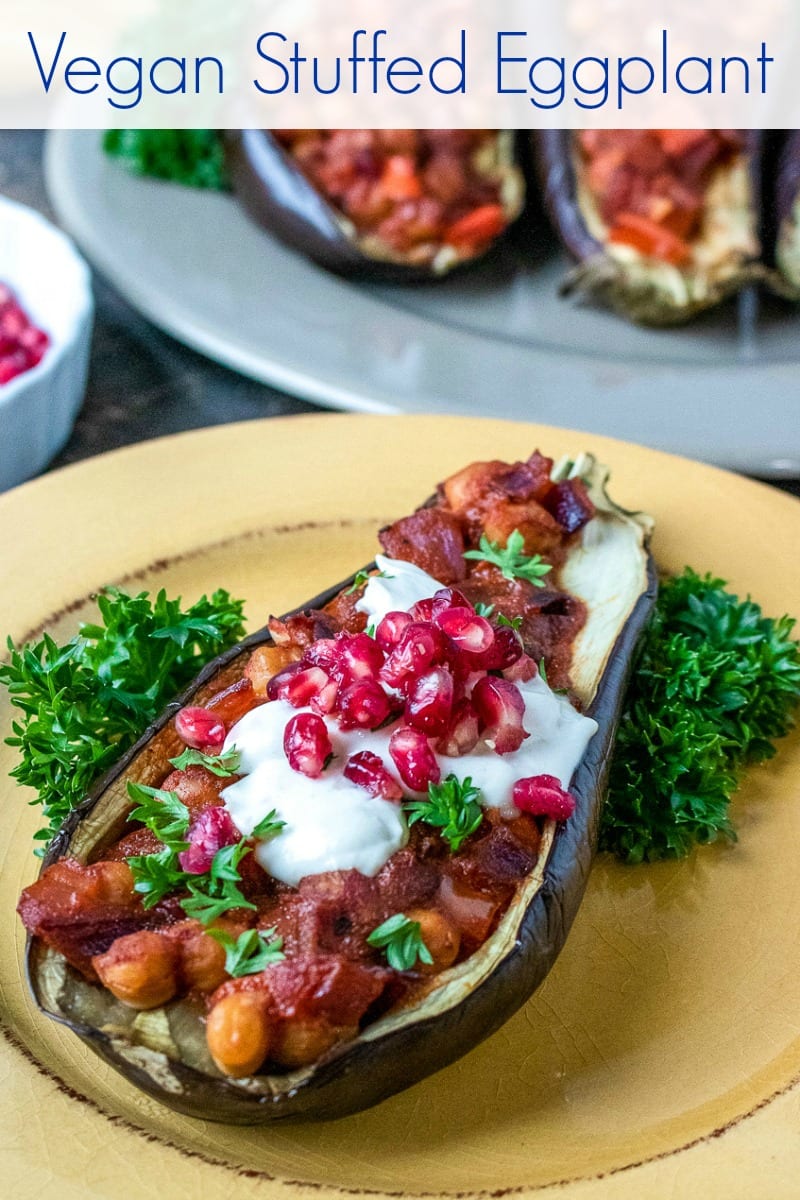 Mediterranean Stuffed Eggplant
with Tahini Dressing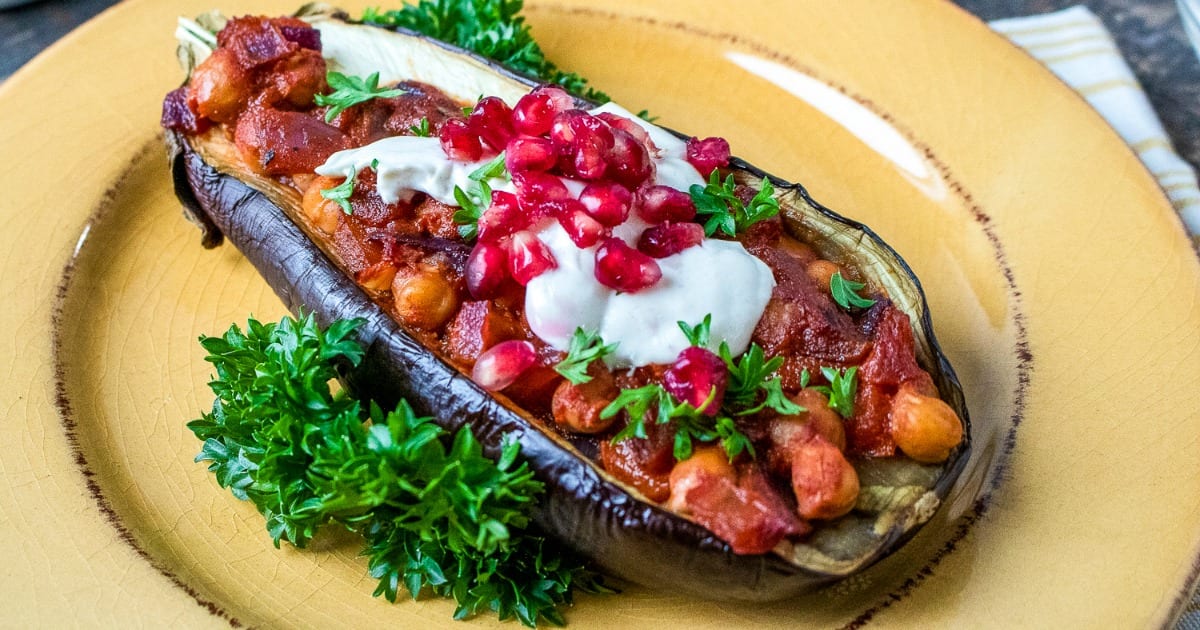 Make this vegan stuffed eggplant recipe, when you want a delicious, easy meal.
The tahini dressing and pomegranate arils are the perfect toppings, so it really looks and tastes like something special.
Ingredients in the stuffing include protein packed chickpeas (garbanzo beans) and tomato, which make this a satisfying dish.
You can have one as a side dish or you can make a meal of it.
If you happen to have leftovers, just refrigerate the stuffed eggplant and reheat for lunch the following day.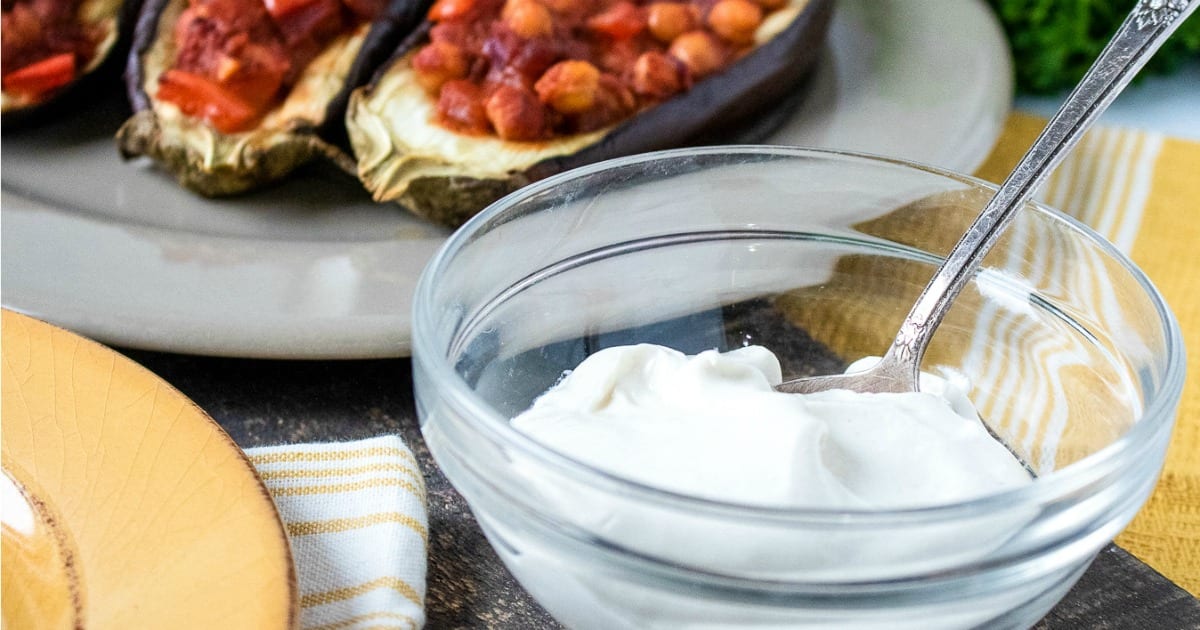 The creamy tahini dressing is delicious, and, yes, it is vegan.
Here in Southern California, grocery stores tend to have a lot of options for non-dairy yogurt.
My first choice for this is coconut milk yogurt, but almond, soy or another dairy alternative will work, too.
Just make sure you choose a plain, unsweetened yogurt.
The pomegranate arils are a fun touch that add flavor, natural sweetness and a nice crunch.
Enjoy!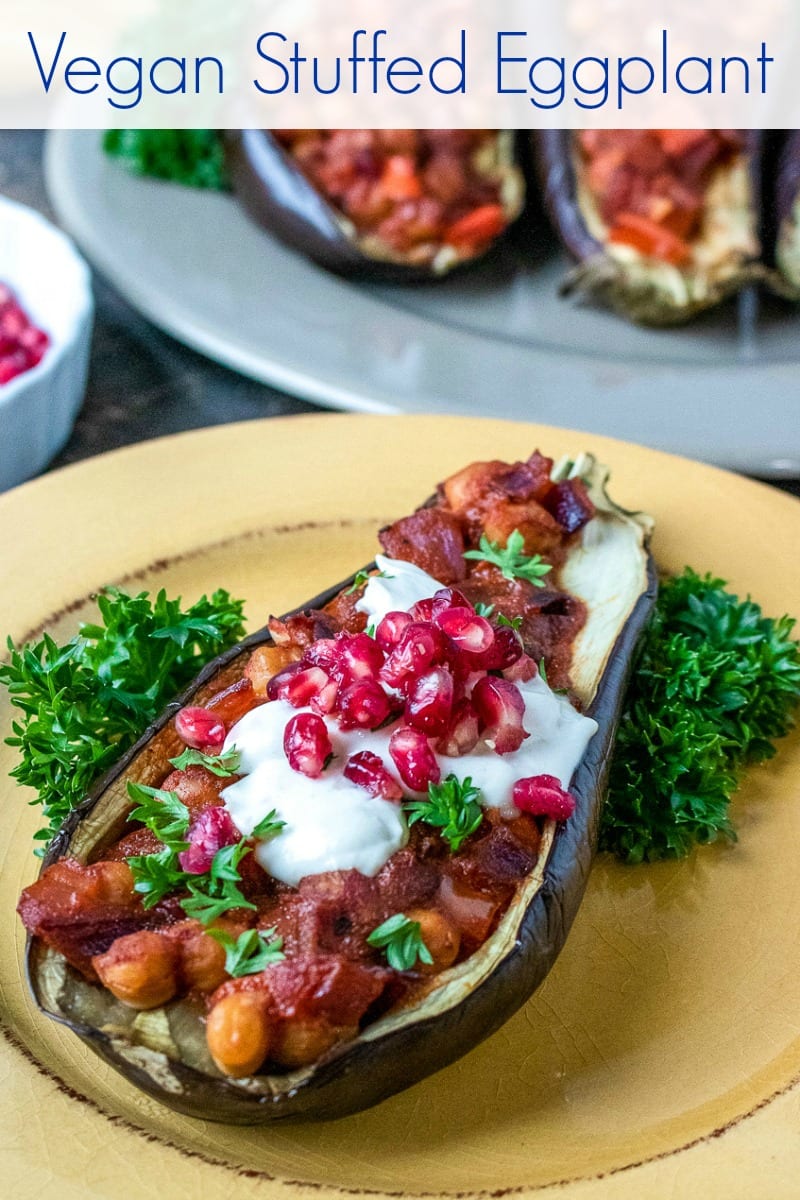 Vegan Stuffed Eggplant Recipe
Prep time 20 minutes
Cook time 40 minutes
Serves 4-6
Ingredients
3 Small Eggplants
2 T Extra Virgin Olive Oil
½ Red Onion, chopped
Salt to Taste
3 cloves Garlic, minced
2 T Tomato Paste
¼ t Dried Oregano
2 t Ground Cumin
1 15-oz. can Crushed Tomatoes
1 15-oz. can Chickpeas, rinsed and drained
Sauce
½ cup Plain Non-dairy Yogurt
2 T Lemon Juice
3 T Tahini
Garnish
½ cup Pomegranate Seeds
½ cup Fresh Parsley, chopped
Supplies
Large Rimmed Baking Sheet
Parchment Paper
Chef Knife
Skillet
Small Bowl
Whisk
Instructions
1) Pre-heat oven to 400° and line a large rimmed baking sheet with parchment paper.
2) Cut eggplants in half lengthwise and place cut side down onto the parchment paper covered baking sheet. Roast in the oven for about 20 minutes until eggplants begin to soften.
3) While eggplants are in the oven, heat the extra virgin olive oil in a skillet. Add the onion and cook for a few minutes, so that the onion becomes soft and translucent.
4) Add the minced garlic, tomato paste, ground cumin and oregano and cook for a couple of minutes.
5) Stir in the crushed tomatoes and chickpeas. Add salt, if desired. Reduce heat to a low simmer, cover and cook for about 10 minutes.
6) Remove the eggplant from the oven. Flip each one over, so that the cut side is up. When cool enough to handle, scoop out the seeded part of the eggplants and discard.
7) Fill each eggplant half with the warm tomato chickpea mixture and return to the oven. Roast for about 15 minutes, so that the eggplant is really soft.
8) To make the sauce, whisk together the vegan yogurt, lemon juice and tahini in a small bowl. Add salt, if desired.
9) Removed stuffed eggplants from the oven and allow to cool slightly.
10) Top each stuffed eggplant with the non-dairy yogurt dressing. Then, sprinkle with pomegranate seeds and fresh parsley.
More from Mama Likes to Cook
Check out my other dinner recipes, so you can get more tasty inspiration.
Following are a few of my delicious soup recipes.
Then take a look at the rest of my vegetarian recipes, so you can have even more delicious fun in the kitchen!