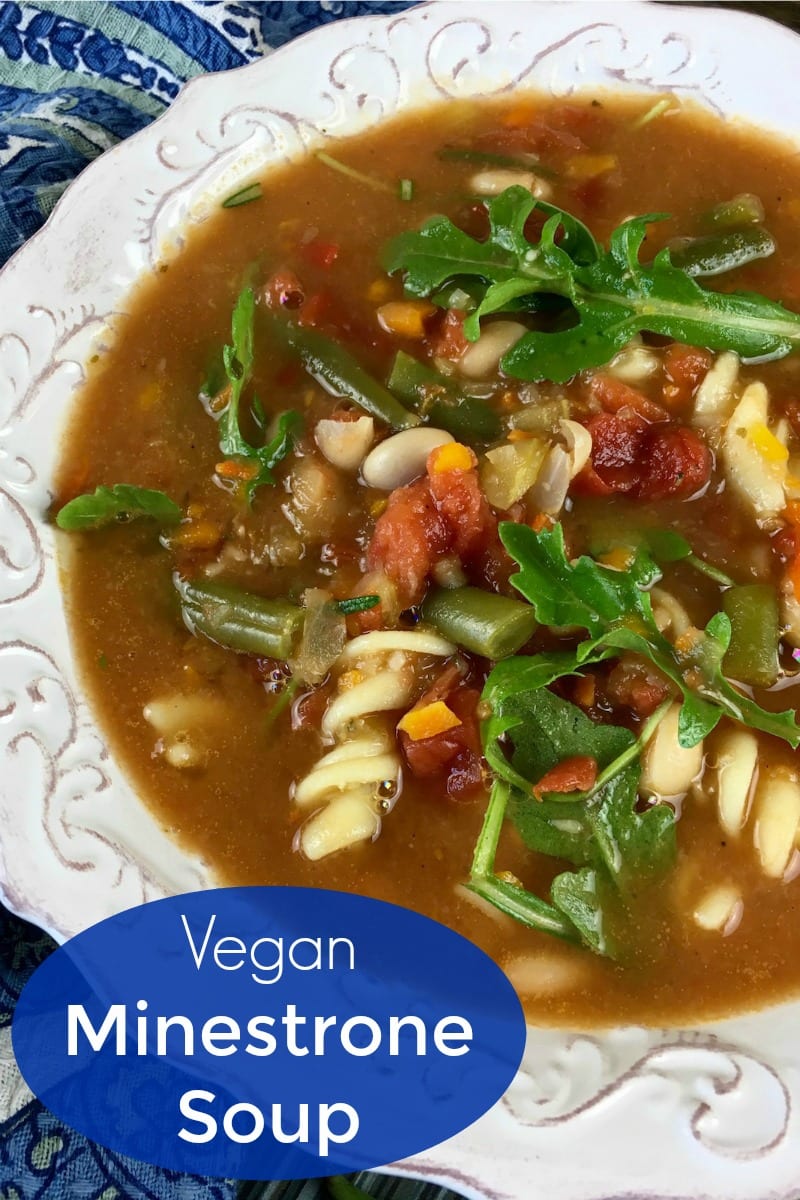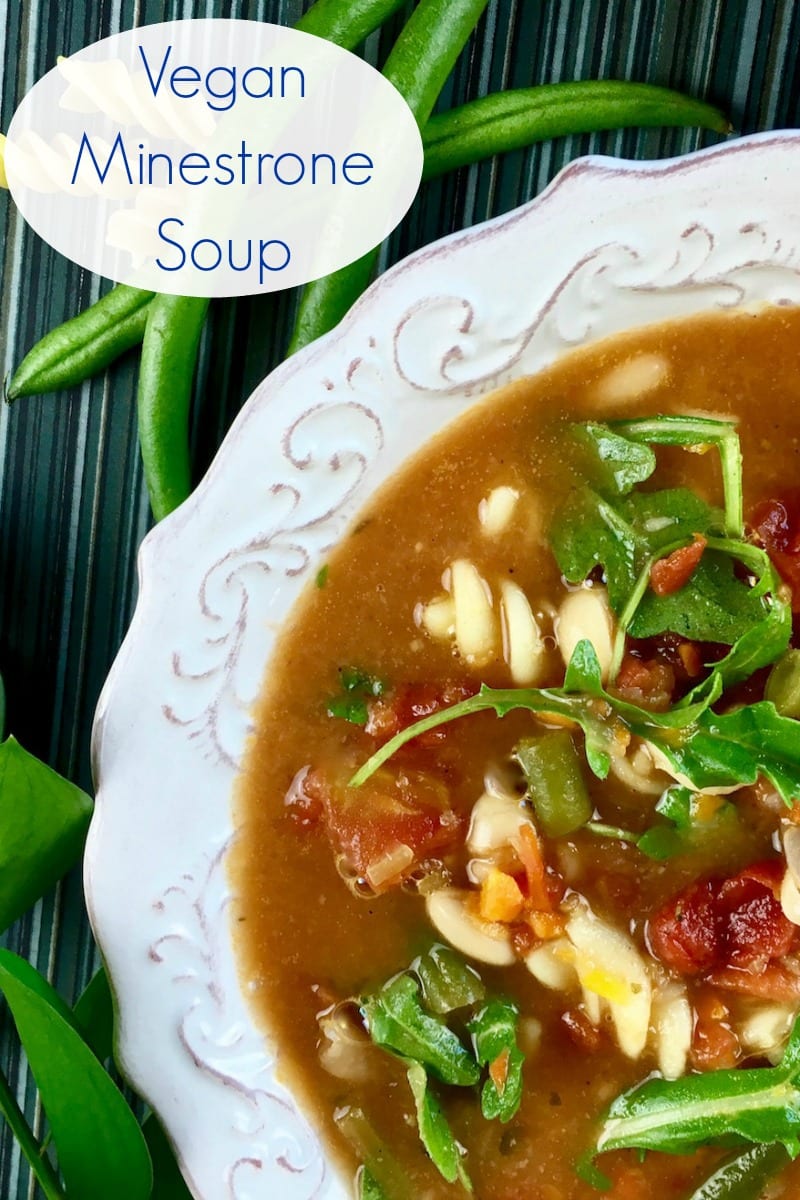 Comfort Food Vegan Soup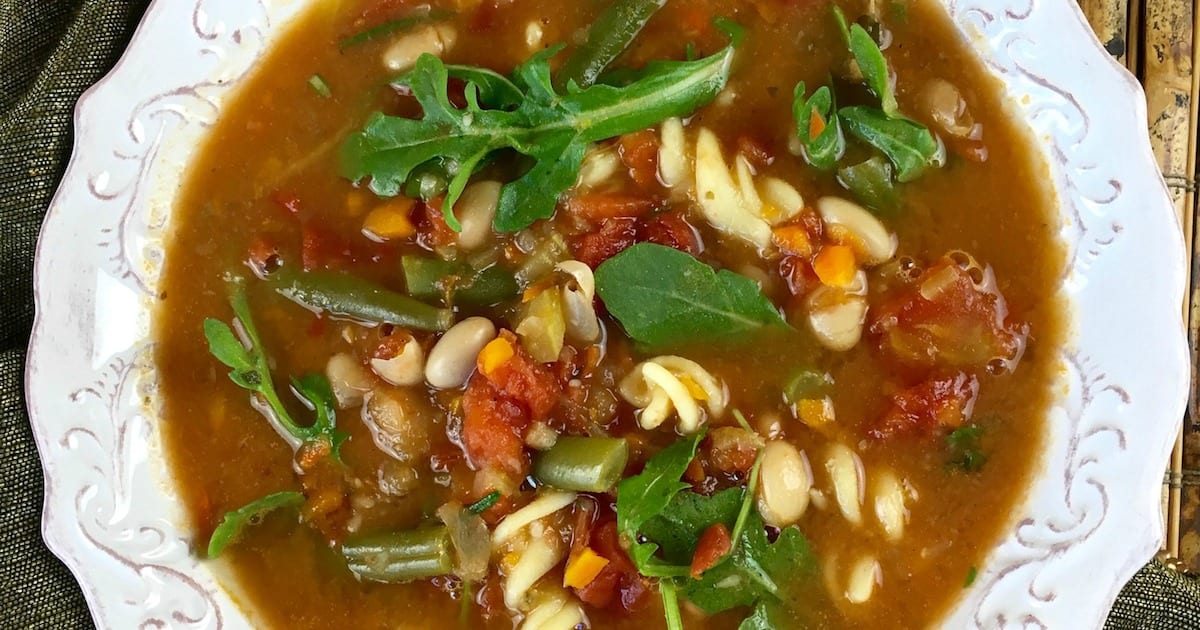 When you want vegan comfort food at its finest, sit down with a bowl of dutch oven minestrone soup.
It will fill your belly and warm your soul.
By cooking this soup in a dutch oven, the flavor is wonderful and my home smells fantastic as it simmers on the stove.
A dutch oven is a must have in my kitchen, since I use it often.
The first one I got is the one that my mom used, when I was growing up.
Since then, I have added a few more to my collection.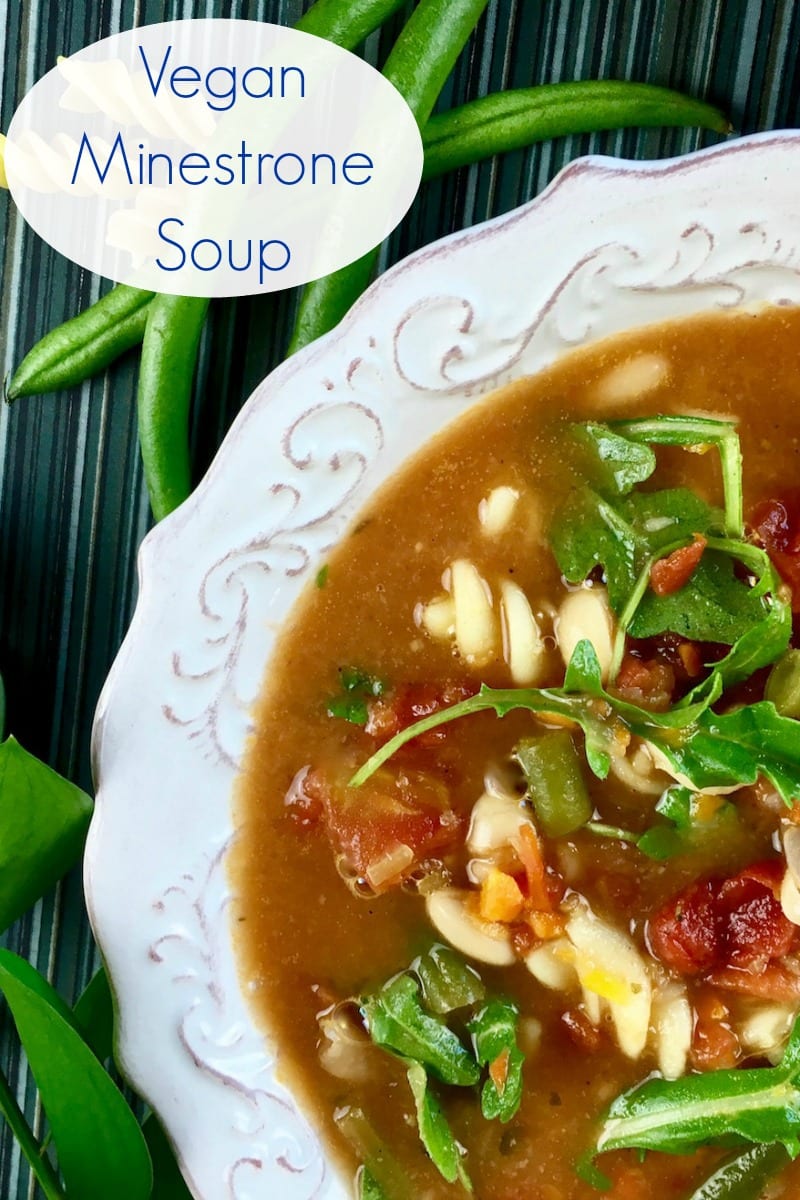 The Minestrone soup is hearty, so you can make a meal of it as is.
A side salad or some crusty bread will complement it well or you can just stick with a bowl of soup.
This batch is made with regular pasta, but you can easily substitute a gluten free pasta for those of you who avoid gluten.
The recipe is perfectly delicious as written, but this is a flexible recipe. Feel free to make adjustments to the ingredients or quantities to suit your taste and make use of what you have in your pantry.
Enjoy this soup with lively conversation at the dinner table or have a bowl alone while curled up in a blanket reading a good book.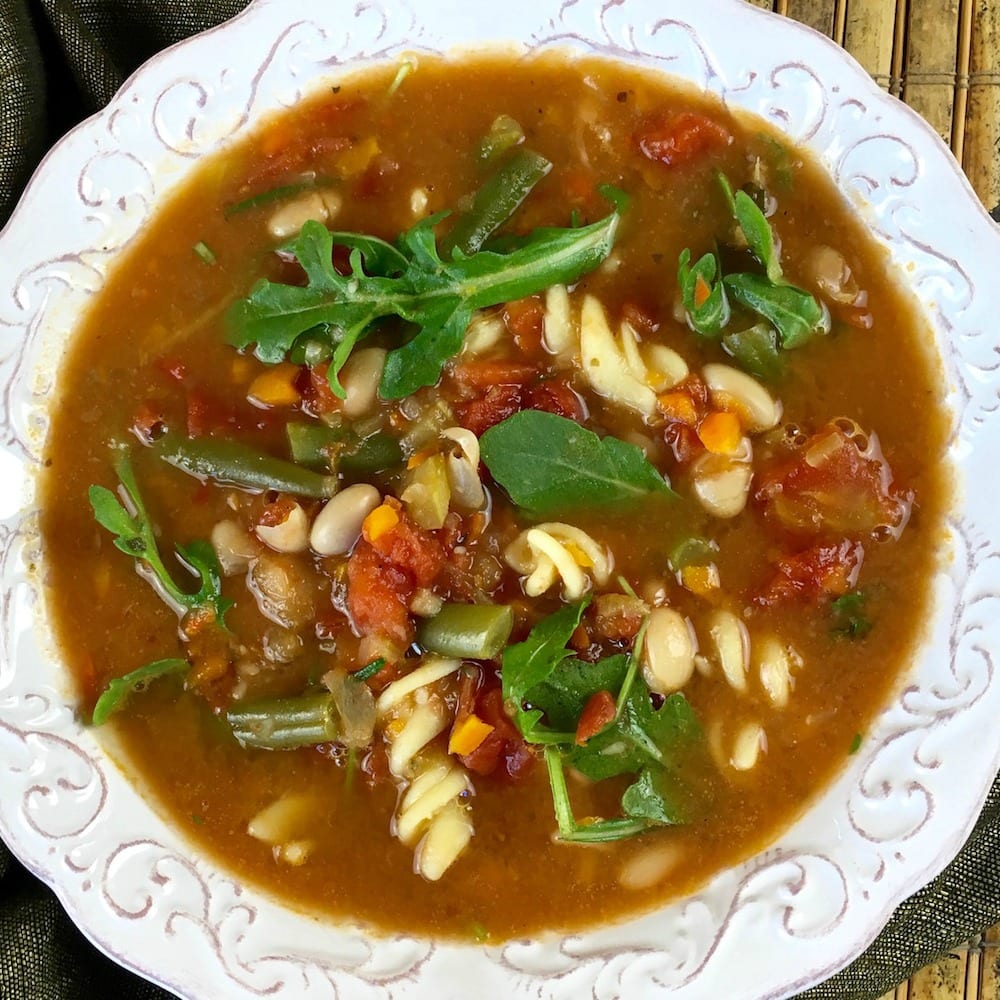 Dutch Oven Minestrone Soup Recipe
Prep time – 10 minutes
Cook time – 50 minutes
Serves – 6-8
Ingredients
2 T Extra Virgin Olive Oil
4 cloves Garlic, minced
3 medium Carrots, finely chopped
1/2 medium Onion, chopped
3 stalks Celery, finely chopped
4 cups Diced Tomatoes
1 can Cannellini Beans (15.5 oz.), drained
4 cups Vegetable Broth
1 t Rosemary
1 t Thyme
Salt and Pepper to Taste
1 t Oregano
2 cups Fusilli Pasta
1 cups Green Beans, cute into bite sized pieces
2 cups Arugula
Supplies
Dutch Oven
Chef Knife
Soup Ladle
Soup Bowls
Instructions
1) Add extra virgin olive oil and minced garlic to a dutch oven and saute on medium heat for 2 minutes, stirring occasionally.
2) Stir in carrots, onion and celery. Cook for a few more minutes until veggies are tender.
3) Add tomatoes, cannellini beans, vegetable broth, rosemary, thyme, oregano, salt and pepper to the pot and stir. Bring to a boil, then reduce heat to medium low. Put the lid on the dutch oven and simmer for 20 minutes.
4) As soup simmers in the dutch oven, cook pasta according to package direction until al dente (firm). Save 1 cup of the pasta liquid to add to the soup.
4) When soup has simmered for 20 minutes, add green beans and the cup of pasta liquid. Cook uncovered for another 20 minutes.
5) Add in arugula, so that it wilts a bit. Sprinkle in additional salt and pepper, if needed.
6) Divide cooked pasta among individual soup bowls and ladle soup into bowls on top of the pasta.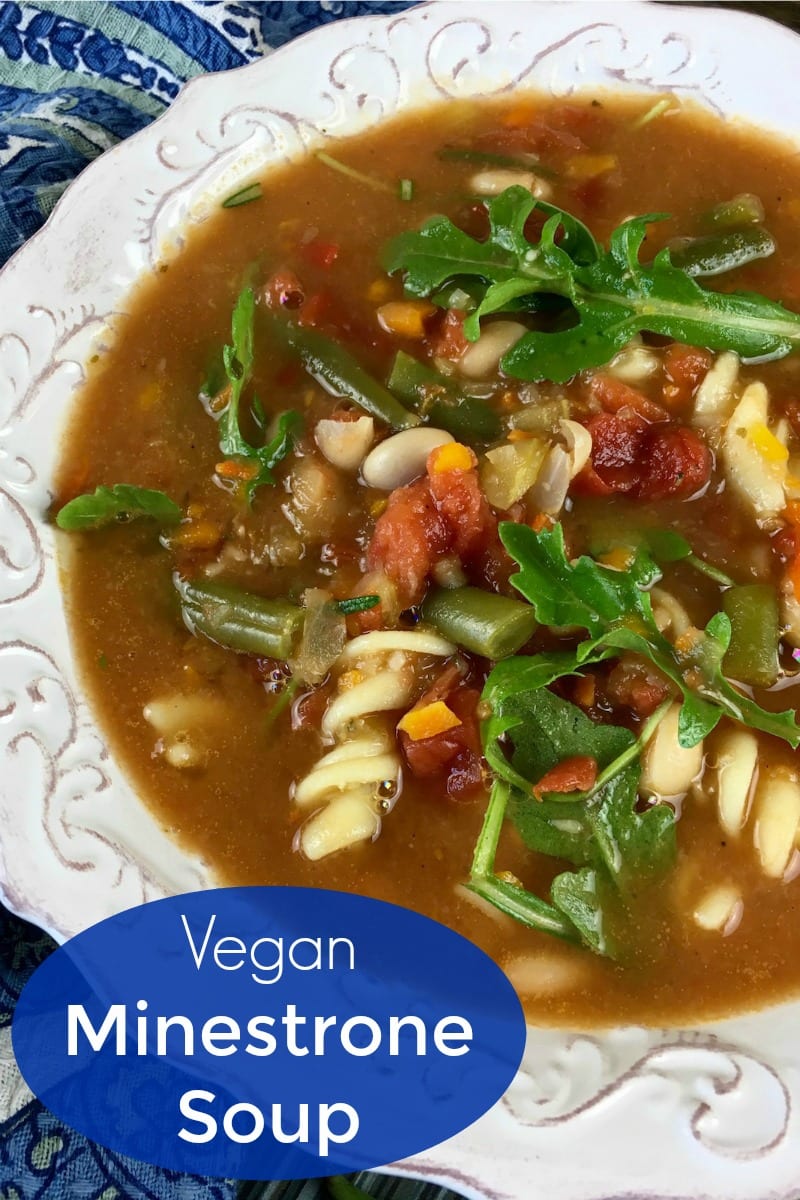 Check out my other
dinner recipes
, so you can get more foodie inspiration.
Following are a few of my other favorite soup recipes:
Then take a look at the rest of my vegetarian recipes, so you can have even more delicious fun in the kitchen!